Abstract
Reaginic antibodies (IgE and some IgG subclasses) and mast cells play important roles in the induction of type I immediate hypersensitivity reactions. These antibodies bind through their Fc fragment to high affinity receptors (FcεRI) present in the membrane of mast cells and basophils. The cross-linking of the receptor initiates a coordinated sequence of biochemical and morphological events that results in exocytosis of secretory granules containing pre-formed inflammatory mediators, secretion of newly formed lipid mediators, and secretion of cytokines. Previously, several studies have investigated the role of reaginic antibodies in the pathogenesis of Recurrent Airway Obstruction (RAO). However, whereas the immunological aspects of RAO have been extensively studied, the precise sequence of events involved in the pathogenesis remains not completely understood, and the role of IgE in this disease remains controversial. Therefore, in this study, several bioassays were conducted to determine whether reaginic antibodies from RAO-affected horses have the ability to activate mast cells. These bioassays involved measuring degranulation of rat peritoneal mast cells, activation of NF-κB and morphological changes in basophilic leukemia cells (RBL-2H3) following incubation with horse serum from RAO-affected horses that were sensitive and insensitive to Aspergillus fumigatus (A. fumigatus) or from unaffected horses. Our results show that reaginic antibodies from horses sensitive to A. fumigatus were able to degranulate rat peritoneal mast cells. In additon, there was an increase in the activity of the transcription factor NF-κB in RBL-2H3 cells, and morphological changes were observed in these cells once cross-linking was produced. These findings were not found in horses not sensitive to A. fumigatus and healthy horses. These bioassays demonstrate the ability of reaginic antibodies to stimulate mast cells and indicate that these antibodies could be involved in the immunological mechanisms leading to RAO.
This is a preview of subscription content,
to check access.
Access this article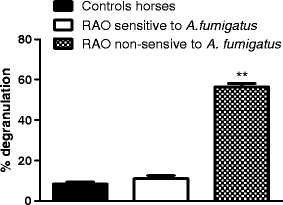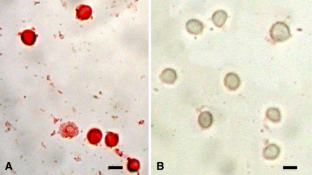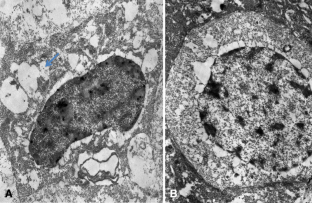 Abbreviations
BALF:

Bronchoalveolar lavage fluid

FCS:

Fetal calves´ serum

HBSS:

Hank´s balanced salt solution

NF-κB:

Nuclear factor- κB

PBS:

Phosphate buffered saline

RAO:

Recurrent airway obstruction
References
Ali H, Maeyama K, Sagi-Eisenberg R, Beaven MA (2001) Antigen and thapsigargin promote influx of Ca2+ in rat basophilic RBL-2H3 cells by ostensibly similar mechanisms that allow filling of inositol 1,4,5-triphosphate-sensitive and mitochondrial Ca2+ stores. Biochem J 304:431–440

Astorquiza MI, Fernández S (1999) Anaphylaxis inhibitory factor in IgE-dependent mast cell stimulation. J Investig Allergol Clin Immunol 9:330–334

Astorquiza MI, Helle B, Vergara RE (1980) Effect of vitamin A on the in vitro degranulation of mouse mast cells]. Allergol Immunopathol 8:87–90

Baldwin AS Jr (1996) The NF-kappa B and I kappa B proteins: new discoveries and insights. Annu Rev Immunol 14:649–693

Barnes PJ, Adcock IM (1998) Transcription factors and asthma. Eur Respir J 2:221–234

Barnes PJ, Karin M (1997) Nuclear factor-kB: a pivotal transcription factor in chronic inflammatory diseases. N Engl J Med 336:1066–1071

Barnes PJ, Fan K, Chung C (1998) Inflammatory mediators of asthma: an update. Pharmacol Rev 50:515–596

Bureau F, Bonizzi G, Kirschvink N, Delhalle S, Desmecht D, Merville MP, Bours V, Lekeux P (2000a) Correlation between nuclear factor-κB activity in bronchial brushing samples and lung dysfunction in an animal model of asthma. Am J Respir Crit Care Med 161:1314–1321

Bureau F, Delhalle S, Bonizzi G, Fievez L, Dogne S, Kirschvink N, Vanderplasschen A, Merville MP, Bours V, Lekeux P (2000b) Mechanisms of persistent NF- κB activity in the bronchi of an animal model of asthma. J Immunol 165:5822–5830

Chen ZJ, Parent L, Maniatis T (1996) Site-specific phosphorylation of IkBa by a novel ubiquitination-dependent protein kinase activity. Cell 84:853–862

Ching TT, Hsu AL, Johnson AJ, Chen CS (2001) Phosphoinositide 3-kinase facilitates antigen-stimulated Ca(2+) influx in RBL-2H3 mast cells via a phosphatidylinositol 3,4,5-trisphosphate-sensitive Ca(2+) entry mechanism. J Biol Chem 276:14814–14820

Couetil LL, Art T, De Moffarts B, Becker M, Melotte D, Jaspar F, Bureau F, Lekeux P (2006) DNA binding activity of transcription factors in bronchial cells of horses with recurrent airway obstruction. Vet Immunol Immunopathol 113:11–20

Curik I, Fraser D, Eder C, Achmann R, Swinburne J, Binns M, Crameri R, Brem G, Sölkner J, Marti E (2003) Association between MHC gene region and variation of serum IgE levels against specific mould allergens in the horse. Genet Select Evol 35:117–190

Derksen FJ, Robinson NE, Armstrong PJ, Slocombe RF (1985) Airway reactivity in ponies with recurrent airway obstruction ("heaves"). J Appl Physiol 58:598–604

Dowdall SM, Proudman CJ, Klei TR, Mair T, Matthews JB (2004) Characterisation of IgG(T) serum antibody responses to two larval antigen complexes in horses naturally- or experimentally-infected with cyathostomins. Int J Parasitol 34:101–108

Eder C, Crameri R, Mayer C, Eicher R, Straub R, Gerber H, Lazary S, Marti E (2000) Allergen-specific IgE levels against crude mould and storage mite extracts and recombinant mould allergens in sera from horses affected with chronic bronchitis. Vet Immunol Immunopathol 73:241–253

Eder C, Curik I, Brem G, Crameri R, Bodo I, Habe F, Lazary S, Sölkner J, Marti E (2001) Influence of environmental and genetic factors on allergen-specific immunoglobulin E levels in sera from Lipizzan horses. Equine Vet J 33:714–720

Fewtrell C, Metzger H (1980) Larger oligomers of IgE are more effective than dimers in stimulating rat basophilic leukemia cells. J Immunol 125:701–710

Finotto S, De Sanctis G, Lehr H, Herz U, Buerke M, Schipp M, Bartsch B, Atreya R, Schmitt E, Galle P, Renz H, Neurath M (2001) Treatment of allergic airway inflammation and hyperresponsiveness by antisense-induced local blockade of GATA-3 expression. J Exp Med 193:1247–1260

Galli SJ, Nakae S, Tsai M (2005) Mast cells in the development of adaptive immune responses. Nat Immunol 6:135–142

Gerber V, Lindberg A, Berney C, Robinson NE (2004) Airway mucus in recurrent airway obstruction-short-term response to environmental challenge. J Vet Intern Med 18:92–97

Halliwell RE, McGorum BC, Irving P, Dixon PM (1993) Local and systemic antibody production in horses affected with chronic obstructive pulmonary disease. Vet Immunol Immunopathol 38:201–215

Hellberg W, Wilson AD, Mellor P, Doherr MG, Torsteinsdottir S, Zurbriggen A, Jungi T, Marti E (2006) Equine insect bite hypersensitivity: immunoblot analysis of IgE and IgG subclass responses to Culicoides nubeculosus salivary gland extract. Vet Immunol Immunopathol 113:99–112

Hill DE, Forbes L, Kramer M, Gajadhar A, Gamble HR (2007) Larval viability and serological response in horses with long-term Trichinella spiralis infection. Vet Parasitol 146:107–116

Ikawati Z, Wahyuono S, Maeyama K (2001) Screening of several Indonesian medicinal plants for their inhibitory effect on histamine release from RBL-2H3 cells. J Ethnopharmacol 75:249–256

Ishizaka K, Ishizaka T (1966) Physicochemical properties of reaginic antibody. 1. Association of reaginic activity with an immunoglobulin other than gammaA- or gammaG- globulin. J Allergy 37:169–185

Jackson KA, Stott JL, Horohov DW, Watson JL (2004) IL-4 induced CD23 (FcεRII) up-regulation in equine peripheral blood mononuclear cells and pulmonary alveolar macrophages. Vet Immunol Immunopathol 101:243–250

Katz HR, Lobell RB (1995) Expression and function of FcεR in mouse mast cells. Int Arch Allergy Immunol 107:76–78

Kim TD, Eddlestone GT, Mahmoud SF, Kuchtey J, Fewtrell C (1997) Correlating Ca2+ responses and secretion in individual RBL-2H3 mucosal mast cells. J Biol Chem 272:31225–31229

Kobayashi H, Okayama Y, Ishizuka T, Pawankar R, Ra C, Mori M (1998) Production of IL-13 by human lung mast cells in response to Fcepsilon receptor cross-linkage. Clin Exp Allergy 10:1219–1227

Kulczycki A Jr, Isersky C, Metzger H (1974) The interaction of IgE with rat basophilic leukemia cells. I. Evidence for specific binding of IgE. J Exp Med 139:600–616

Künzle F, Gerber V, van der Haegen A, Wampfler B, Straub R, Marti E (2007) IgE-bearing cells in bronchoalveolar lavage fluid and allergen-specific IgE levels in sera from RAO-affected horses. J Vet Med A Physiol Pathol Clin Med 54:40–47

Latour S, Bonnerot C, Fridman WH, Daeron M (1992) Induction of TNF-α production by mast cells via FcγR: role of the FcγRIII γ subunit. J Immunol 149:2155–2162

Maeyama K, Hohman RJ, Metzger H, Beaven MA (1986) Quantitative relationships between aggregation of IgE receptors, generation of intracellular signals, and histamine secretion in rat basophilic leukemia (2 H3) cells. Enhanced responses with heavy water. J Biol Chem 261:2583–2592

Marti E, Gerber V, Wilson AD, Lavoie JP, Horohov D, Crameri R, Lunn P, Antczak D, Björnsdottir S, Björnsdottir TS, Cunningham F, Derer M, Frey E, Hamza E, Horin P, Heimann M, Kolm-Stark G, Olafsdottir G, Ramery E, Russell C, Schaffartzik A, Svansson V, Torsteinsdottir S, Wagner B (2008) Report of the 3rd Havemeyer Workshop on Allergic Diseases of the Horse, Iceland, June 2007. Vet Immunol Immunopathol 126:351–361

Mezzano SA, Barría M, Droguett MA, Burgos ME, Ardiles LG, Flores C, Egido J (2001) Tubular NF-kappaB and AP-1 activation in human proteinuric renal disease. Kidney Int 60:1366–1377

Morán G, Folch H (2011) Recurrent airway obstruction in horses – an allergic inflammation: a review. Vet Med-Czech 56:1–13

Morán G, Burgos R, Araya O, Folch H (2010a) In vitro bioassay to detect reaginic antibodies from the serum of horses affected with recurrent airway obstruction. Vet Res Commun 34:91–99

Morán G, Folch H, Burgos R, Araya O, Barria M (2010b) Detection of reaginic antibodies against Faenia rectivirgula from the serum of horses affected with recurrent airway obstruction by an in vitro bioassay. Vet Res Commun 34:719–726

Nguyen C, Teo JL, Matsuda A, Eguchi M, Chi E, Henderson W Jr, Kahn M (2003) Chemogenomic identification of Ref-1/AP-1 as a therapeutic target for asthma. PNAS 100:1169–1173

Okayama Y, Hagaman DD, Metcalfe DD (2001) A comparison of mediators released or generated by IFN-γ-treated human mast cells following aggregation of FcγRI or FcεRI. J Immunol 166:4705–4712

Okayama Y, Tkaczyk C, Metcalfe DD, Gilfillan AM (2003) Comparison of FcεRI- and FcγRImediated degranulation and TNF- γ synthesis in human mast cells: selective utilization of phosphatidylinositol-3-kinase for FcγRI-induced degranulation. Eur J Immunol 33:1450–1459

Ortloff A, Folch H, Morán G (2011) Polymorphonuclear eosinophils cells in lung tissue in two Chilean Criollo horses with exacerbated Recurrent Airway Obstructions "Heaves". Turk J Vet Anim Sci 35:93–97

Pelletier C, Varin-Blank N, Rivera J, Iannascoli B, Marchand F, David B, Weyer A, Blank U (1998) FcεRI-mediated induction of TNF-γ gene expression in the RBL-2H3 mast cell line: regulation by a novel NF-κB-like nuclear binding complex. J Immunol 161:4768–4776

Prouvost-Danon A, Binaghi RA, Abadie A (1977) Effect of heating at 56 degrees C on mouse IgE antibodies. Immunochemistry 14:81–84

Robertson D, Holowka D, Baird B (1986) Cross-linking of immunoglobulin E-receptor complexes induces their interaction with the cytoskeleton of rat basophilic leukemia cells. J Immunol 136:4565–4572

Robinson NE (2001) International Workshop on Equine Chronic Airway Disease Michigan State University. Equine Vet J 33:5–19

Robinson NE, Derksen FJ, Olszewski M, Buechner-Maxwell VA (1996) The pathogenesis of chronic obstructive pulmonary disease of horses. Br Vet J 152:283–306

Robinson NE, Olszewski MA, Boehler D (2000) Relationship between clinical signs and lung function in horses with recurrent airway obstruction (heaves) during a bronchodilator trial. Equine Vet J 32:393–400

Saunders C, Bureau F, Turlej R, Fievez L, Dogne S, Kirschvink N, Lekeux P (2001) p65 Homodimer activity distal airway cells determines lung dysfuction in equine heaves. Vet Immunol Immonolpathol 80:315–326

Schmallenbach KH, Rahman I, Sasse HH, Dixon PM, Halliwell RE, McGorum BC, Miller HR (1998) Studies on pulmonary and systemic Aspergillus Fumigatus-specific IgE and IgG antibodies in horses affected with chronic obstructive pulmonary disease (COPD). Vet Immunol Immunopathol 66:245–256

Suter M, Fey H (1981) Isolation and characterization of horse IgE. Zbl Vet Med B 28:414–420

Tahon L, Baselgia S, Gerber V, Doherr MG, Straub R, Robinson NE, Marti E (2009) In vitro allergy test compared to intradermal testing in horses with recurrent airway obstruction. Vet Immunol Immunopathol 127:85–93

Tkaczyk C, Gilfillan A (2001) FceRI-Dependent Signaling Pathways in Human Mast Cells. Clin Immunol 99:198–210

van der Haegen A, Künzle F, Gerber V, Welle M, Robinson NE, Marti E (2005) Mast cells and IgE-bearing cells in lungs of RAO-affected horses. Vet Immunol Immunopathol 15:325–334

Wagner B (2009) IgE in horses: Occurrence in health and disease. Vet Immunol Immunopathol 132:21–30

Yamashita M, Onodera A, Nakayama T (2007) Immune mechanism of allergic airway disease: regulation by transcriptions factors. Cri Rev Immunol 26:539–546
Acknowledgments
This work was supported by FONDECYT Nº 11100196 (Conicyt- Chilean Government).
Conflict of interest statement
None of the authors have any financial or personal relationships that could inappropriately influence or bias the content of the paper.
About this article
Cite this article
Moran, G., Folch, H., Henriquez, C. et al. Reaginic antibodies from horses with Recurrent Airway Obstruction produce mast cell stimulation. Vet Res Commun 36, 251–258 (2012). https://doi.org/10.1007/s11259-012-9534-x
Accepted:

Published:

Issue Date:

DOI: https://doi.org/10.1007/s11259-012-9534-x
Keyword