Abstract
In the dog, mesenchymal stem cells (MSCs) have been shown to reside in the bone marrow (bone marrow-derived mesenchymal stem cells: BM-MSCs) as well as in the adipose tissue (adipose tissue-derived stem cells: ADSCs). Potential application fields for these multipotent MSCs in small animal practice are joint diseases as MSCs of both sources have shown to possess chondrogenic differentiation ability. However, it is not clear whether the chondrogenic differentiation potential of cells of these two distinct tissues is truly equal. Therefore, we compared MSCs of both origins in this study in terms of their chondrogenic differentiation ability and suitability for clinical application. BM-MSCs harvested from the femoral neck and ADSCs from intra-abdominal fat tissue were examined for their morphology, population doubling time (PDT) and CD90 surface antigen expression. RT-PCR served to assess expression of pluripotency marker Oct4 and early differentiation marker genes. Chondrogenic differentiation ability was compared and validated using histochemistry, transmission electron microscopy (TEM) and quantitative RT-PCR. Both cell populations presented a highly similar morphology and marker expression in an undifferentiated stage except that freshly isolated ADSCs demonstrated a significantly faster PDT than BM-MSCs. In contrast, BM-MSCs revealed a morphological superior cartilage formation by the production of a more abundant and structured hyaline matrix and higher expression of lineage specific genes under the applied standard differentiation protocol. However, further investigations are necessary in order to find out if chondrogenic differentiation can be improved in canine ADSCs using different protocols and/or supplements.
This is a preview of subscription content, log in to check access.
Access options
Buy single article
Instant access to the full article PDF.
US$ 39.95
Price includes VAT for USA
Subscribe to journal
Immediate online access to all issues from 2019. Subscription will auto renew annually.
US$ 99
This is the net price. Taxes to be calculated in checkout.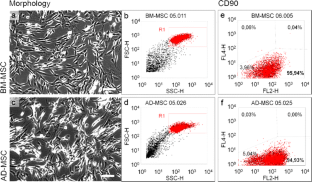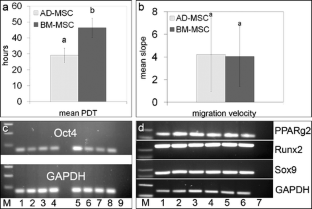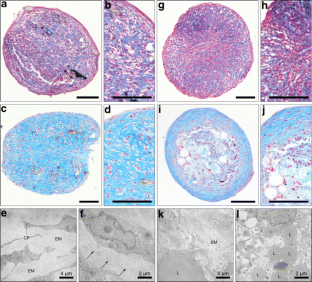 References
Arnhold S, Heiduschka P, Klein H, Absenger Y, Basnaoglu S, Kreppel F, Henke-Fahle S, Kochanek S, Bartz-Schmidt K, Addicks K, Schraermeyer U (2006a) Adenovirally transduced bone marrow stromal cells differentiate into pigment epithelial cells and induce rescue effects in RCS rats. Invest Ophthalmol Vis Sci 9:4121–4129. doi:10.1167/iovs.04-1501

Arnhold S, Klein H, Klinz F, Absenger Y, Schmidt A, Schinköthe T, Brixius K, Kozlowski J, Desai B, Bloch W, Addicks K (2006b) Human bone marrow stroma cells display certain neural characteristics and integrate in the subventricular compartment after injection into the liquor system. Eur J Cell Biol 6:551–565. doi:10.1016/j.ejcb.2006.01.015

Arnhold SJ, Goletz I, Klein H, Stumpf G, Beluche LA, Rohde C, Addicks K, Litzke LF (2007) Isolation and characterization of bone marrow-derived equine mesenchymal stem cells. Am J Vet Res 10:1095–1105. doi:10.2460/ajvr.68.10.1095

Arthur A, Zannettino A, Gronthos S (2009) The therapeutic applications of multipotential mesenchymal/stromal stem cells in skeletal tissue repair. J Cell Physiol 2:237–245. doi:10.1002/jcp.21592

Awad HA, Halvorsen YC, Gimble JM, Guilak F (2003) Effects of transforming growth factor beta1 and dexamethasone on the growth and chondrogenic differentiation of adipose-derived stromal cells. Tissue Eng 6:1301–1312. doi:10.1089/10763270360728215

Barry FP, Murphy JM (2004) Mesenchymal stem cells: clinical applications and biological characterization. Int J Biochem Cell Biol 4:568–584. doi:10.1016/j.biocel.2003.11.001

Bell DM, Leung KK, Wheatley SC, Ng LJ, Zhou S, Ling KW, Sham MH, Koopman P, Tam PP, Cheah KS (1997) SOX9 directly regulates the type-II collagen gene. Nat Genet 2:174–178. doi:10.1038/ng0697-174

Black LL, Gaynor J, Gahring D, Adams C, Aron D, Harman S, Gingerich DA, Harman R (2007) Effect of adipose-derived mesenchymal stem and regenerative cells on lameness in dogs with chronic osteoarthritis of the coxofemoral joints: a randomized, double-blinded, multicenter, controlled trial. Vet Ther 4:272–284

Black LL, Gaynor J, Adams C, Dhupa S, Sams AE, Taylor R, Harman S, Gingerich DA, Harman R (2008) Effect of intraarticular injection of autologous adipose-derived mesenchymal stem and regenerative cells on clinical signs of chronic osteoarthritis of the elbow joint in dogs. Vet Ther 3:192–200

Caplan AI, Dennis JE (2006) Mesenchymal stem cells as trophic mediators. J Cell Biochem 5:1076–1084. doi:10.1002/jcb.20886

Chawla A, Schwarz EJ, Dimaculangan DD, Lazar MA (1994) Peroxisome proliferator-activated receptor (PPAR) gamma: adipose-predominant expression and induction early in adipocyte differentiation. Endocrinology 2:798–800

Chen FH, Tuan RS (2008) Mesenchymal stem cells in arthritic diseases. Arthritis Res Ther 5:223. doi:10.1186/ar2514

Colleoni S, Bottani E, Tessaro I, Mari G, Merlo B, Romagnoli N, Spadari A, Galli C, Lazzari G (2009) Isolation, growth and differentiation of equine mesenchymal stem cells: effect of donor, source, amount of tissue and supplementation with basic fibroblast growth factor. Vet Res Commun 8:811–821. doi:10.1007/s11259-009-9229-0

Csaki C, Matis U, Mobasheri A, Ye H, Shakibaei M (2007) Chondrogenesis, osteogenesis and adipogenesis of canine mesenchymal stem cells: a biochemical, morphological and ultrastructural study. Histochem Cell Biol 6:507–520. doi:10.1007/s00418-007-0337-z

Csaki C, Schneider PRA, Shakibaei M (2008) Mesenchymal stem cells as a potential pool for cartilage tissue engineering. Ann Anat 5:395–412. doi:10.1016/j.aanat.2008.07.007

Csaki C, Matis U, Mobasheri A, Shakibaei M (2009) Co-culture of canine mesenchymal stem cells with primary bone-derived osteoblasts promotes osteogenic differentiation. Histochem Cell Biol 2:251–266. doi:10.1007/s00418-008-0524-6

Dominici M, Le Blanc K, Mueller I, Slaper-Cortenbach I, Marini F, Krause D, Deans R, Keating A, Prockop D, Horwitz E (2006) Minimal criteria for defining multipotent mesenchymal stromal cells. The International Society for Cellular Therapy position statement. Cytotherapy 4:315–317. doi:10.1080/14653240600855905

Estes BT, Wu AW, Guilak F (2006) Potent induction of chondrocytic differentiation of human adipose-derived adult stem cells by bone morphogenetic protein 6. Arthritis Rheum 4:1222–1232. doi:10.1002/art.21779

Frisbie DD, Smith RKW (2010) Clinical update on the use of mesenchymal stem cells in equine orthopaedics. Equine Vet J 1:86–89. doi:10.2746/042516409X477263

Frisbie DD, Kisiday JD, Kawcak CE, Werpy NM, McIlwraith CW (2009) Evaluation of adipose-derived stromal vascular fraction or bone marrow-derived mesenchymal stem cells for treatment of osteoarthritis. J Orthop Res 12:1675–1680. doi:10.1002/jor.20933

Godwin EE, Young NJ, Dudhia J, Beamish IC, Smith RKW (2011) Implantation of bone marrow-derived mesenchymal stem cells demonstrates improved outcome in horses with overstrain injury of the superficial digital flexor tendon. Equine Vet J 1:25–32. doi:10.1111/j.2042-3306.2011.00363.x

Hennig T, Lorenz H, Thiel A, Goetzke K, Dickhut A, Geiger F, Richter W (2007) Reduced chondrogenic potential of adipose tissue derived stromal cells correlates with an altered TGFbeta receptor and BMP profile and is overcome by BMP-6. J Cell Physiol 3:682–691. doi:10.1002/jcp.20977

Huang JI, Kazmi N, Durbhakula MM, Hering TM, Yoo JU, Johnstone B (2005) Chondrogenic potential of progenitor cells derived from human bone marrow and adipose tissue: a patient-matched comparison. J Orthop Res 6:1383–1389. doi:10.1016/j.orthres.2005.03.008.1100230621

Im G, Shin Y, Lee K (2005) Do adipose tissue-derived mesenchymal stem cells have the same osteogenic and chondrogenic potential as bone marrow-derived cells? Osteoarthr Cartil 10:845–853. doi:10.1016/j.joca.2005.05.005

Izadpanah R, Trygg C, Patel B, Kriedt C, Dufour J, Gimble JM, Bunnell BA (2006) Biologic properties of mesenchymal stem cells derived from bone marrow and adipose tissue. J Cell Biochem 5:1285–1297. doi:10.1002/jcb.20904

Jung M, Kaszap B, Redöhl A, Steck E, Breusch S, Richter W, Gotterbarm T (2009) Enhanced early tissue regeneration after matrix-assisted autologous mesenchymal stem cell transplantation in full thickness chondral defects in a minipig model. Cell Transplant 8:923–932. doi:10.3727/096368909X471297

Kadiyala S, Young RG, Thiede MA, Bruder SP (1997) Culture expanded canine mesenchymal stem cells possess osteochondrogenic potential in vivo and in vitro. Cell Transplant 2:125–134

Kamishina H, Deng J, Oji T, Cheeseman JA, Clemmons RM (2006) Expression of neural markers on bone marrow-derived canine mesenchymal stem cells. Am J Vet Res 11:1921–1928. doi:10.2460/ajvr.67.11.1921

Kang JW, Kang K, Koo HC, Park JR, Choi EW, Park YH (2008) Soluble factors-mediated immunomodulatory effects of canine adipose tissue-derived mesenchymal stem cells. Stem Cell Dev 4:681–693. doi:10.1089/scd.2007.0153

Koch TG, Berg LC, Betts DH (2009) Current and future regenerative medicine–principles, concepts, and therapeutic use of stem cell therapy and tissue engineering in equine medicine. Can Vet J 2:155–165

Kuroda R, Ishida K, Matsumoto T, Akisue T, Fujioka H, Mizuno K, Ohgushi H, Wakitani S, Kurosaka M (2007) Treatment of a full-thickness articular cartilage defect in the femoral condyle of an athlete with autologous bone-marrow stromal cells. Osteoarthr Cartil 2:226–231. doi:10.1016/j.joca.2006.08.008

Le Blanc K, Ringdén O (2007) Immunomodulation by mesenchymal stem cells and clinical experience. J Intern Med 5:509–525. doi:10.1111/j.1365-2796.2007.01844.x

Lee RH, Kim B, Choi I, Kim H, Choi HS, Suh K, Bae YC, Jung JS (2004) Characterization and expression analysis of mesenchymal stem cells from human bone marrow and adipose tissue. Cell Physiol Biochem 4–6:311–324. doi:10.1159/000080341

Lee KBL, Hui JHP, Im Song C, Ardany L, Lee EH (2007) Injectable mesenchymal stem cell therapy for large cartilage defects—a porcine model. Stem Cell 11:2964–2971. doi:10.1634/stemcells.2006-0311

Lee RH, Oh JY, Choi H, Bazhanov N (2011) Therapeutic factors secreted by mesenchymal stromal cells and tissue repair. J Cell Biochem 11:3073–3078. doi:10.1002/jcb.23250

Lefebvre V, de Crombrugghe B (1998) Toward understanding SOX9 function in chondrocyte differentiation. Matrix Biol 9:529–540

Liang C, Park AY, Guan J (2007) In vitro scratch assay: a convenient and inexpensive method for analysis of cell migration in vitro. Nat Protoc 2:329–333. doi:10.1038/nprot.2007.30

Lin Y, Luo E, Chen X, Liu L, Qiao J, Yan Z, Li Z, Tang W, Zheng X, Tian W (2005) Molecular and cellular characterization during chondrogenic differentiation of adipose tissue-derived stromal cells in vitro and cartilage formation in vivo. J Cell Mol Med 4:929–939

Liu TM, Martina M, Hutmacher DW, Hui JHP, Lee EH, Lim B (2007) Identification of common pathways mediating differentiation of bone marrow- and adipose tissue-derived human mesenchymal stem cells into three mesenchymal lineages. Stem Cell 3:750–760. doi:10.1634/stemcells.2006-0394

Marie PJ (2008) Transcription factors controlling osteoblastogenesis. Arch Biochem Biophys 2:98–105. doi:10.1016/j.abb.2008.02.030

Murphy JM, Fink DJ, Hunziker EB, Barry FP (2003) Stem cell therapy in a caprine model of osteoarthritis. Arthritis Rheum 12:3464–3474. doi:10.1002/art.11365

Neupane M, Chang C, Kiupel M, Yuzbasiyan-Gurkan V (2008) Isolation and characterization of canine adipose-derived mesenchymal stem cells. Tissue Eng Part A 6:1007–1015

Nixon AJ, Dahlgren LA, Haupt JL, Yeager AE, Ward DL (2008) Effect of adipose-derived nucleated cell fractions on tendon repair in horses with collagenase-induced tendinitis. Am J Vet Res 7:928–937. doi:10.2460/ajvr.69.7.928

Nöth U, Steinert AF, Tuan RS (2008) Technology insight: adult mesenchymal stem cells for osteoarthritis therapy. Nature clinical practice. Rheumatology 7:371–380. doi:10.1038/ncprheum0816

Pan GJ, Chang ZY, Schöler HR, Pei D (2002) Stem cell pluripotency and transcription factor Oct4. Cell Res 5–6:321–329. doi:10.1038/sj.cr.7290134

Phinney DG, Kopen G, Righter W, Webster S, Tremain N, Prockop DJ (1999) Donor variation in the growth properties and osteogenic potential of human marrow stromal cells. J Cell Biochem 3:424–436

Pittenger MF, Mackay AM, Beck SC, Jaiswal RK, Douglas R, Mosca JD, Moorman MA, Simonetti DW, Craig S, Marshak DR (1999) Multilineage potential of adult human mesenchymal stem cells. Science 5411:143–147

Raabe O, Reich C, Wenisch S, Hild A, Burg-Roderfeld M, Siebert H, Arnhold S (2010) Hydrolyzed fish collagen induced chondrogenic differentiation of equine adipose tissue-derived stromal cells. Histochem Cell Biol 6:545–554. doi:10.1007/s00418-010-0760-4

Raabe O, Shell K, Würtz A, Reich CM, Wenisch S, Arnhold S (2011) Further insights into the characterization of equine adipose tissue-derived mesenchymal stem cells. Vet Res Commun 6:355–365. doi:10.1007/s11259-011-9480-z

Sanderson RO, Beata C, Flipo R, Genevois J, Macias C, Tacke S, Vezzoni A, Innes JF (2009) Systematic review of the management of canine osteoarthritis. Vet Rec 14:418–424

Sekiya I, Koopman P, Tsuji K, Mertin S, Harley V, Yamada Y, Shinomiya K, Nifuji A, Noda M (2001) Dexamethasone enhances SOX9 expression in chondrocytes. J Endocrinol 3:573–579

Smith RKW (2008) Mesenchymal stem cell therapy for equine tendinopathy. Disabil Rehabil 20–22:1752–1758. doi:10.1080/09638280701788241

Tondreau T, Lagneaux L, Dejeneffe M, Massy M, Mortier C, Delforge A, Bron D (2004) Bone marrow-derived mesenchymal stem cells already express specific neural proteins before any differentiation. Differentiation 7:319–326. doi:10.1111/j.1432-0436.2004.07207003.x

Vidal MA, Kilroy GE, Lopez MJ, Johnson JR, Moore RM, Gimble JM (2007) Characterization of equine adipose tissue-derived stromal cells: adipogenic and osteogenic capacity and comparison with bone marrow-derived mesenchymal stromal cells. Vet Surg 7:613–622. doi:10.1111/j.1532-950X.2007.00313.x

Vidal MA, Robinson SO, Lopez MJ, Paulsen DB, Borkhsenious O, Johnson JR, Moore RM, Gimble JM (2008) Comparison of chondrogenic potential in equine mesenchymal stromal cells derived from adipose tissue and bone marrow. Vet Surg 8:713–724. doi:10.1111/j.1532-950X.2008.00462.x

Vieira NM, Brandalise V, Zucconi E, Secco M, Strauss BE, Zatz M (2010) Isolation, characterization, and differentiation potential of canine adipose-derived stem cells. Cell Transplant 3:279–289. doi:10.3727/096368909X481764

Weiss C, Rosenberg L, Helfet AJ (1968) An ultrastructural study of normal young adult human articular cartilage. J Bone Joint Surg 4:663–674

Zuk PA, Zhu M, Ashjian P, de Ugarte DA, Huang JI, Mizuno H, Alfonso ZC, Fraser JK, Benhaim P, Hedrick MH (2002) Human adipose tissue is a source of multipotent stem cells. Mol Biol Cell 12:4279–4295. doi:10.1091/mbc.E02-02-0105
Conflict of interest
None of the authors of this paper has a financial or personal relationship with other people or organisations that could inappropriately influence or bias the content of the paper.
About this article
Cite this article
Reich, C.M., Raabe, O., Wenisch, S. et al. Isolation, culture and chondrogenic differentiation of canine adipose tissue- and bone marrow-derived mesenchymal stem cells–a comparative study. Vet Res Commun 36, 139–148 (2012). https://doi.org/10.1007/s11259-012-9523-0
Accepted:

Published:

Issue Date:
Keywords
Dog

Mesenchymal stem cells

Chondrogenic differentiation

Cartilage

Osteoarthritis