Abstract
A 12/13 kDa antigen, tapeworm ELISA test, developed for use in horses, was used to detect parasite-specific serum antibody, IgG(T), in the serum of donkeys. In a pilot study the 12/13 kDa antigen was tested and proved to detect the antibody, IgG(T), in donkey sera. Blood samples from 797 donkeys, naturally exposed to cestode infection, from four geographical localities were collected and sera were prepared and analysed. There was substantial serological evidence that donkeys were potentially infected with A. perfoliata. A range of ELISA OD values were obtained from the serological assay. Over 26% and 7.5% of the donkeys were moderately and highly infected, respectively, showing at least a 34% sero-prevalence. The rest, 66.1%, were either with low infection intensity or negative for A. perfoliata infection. The risk of infections, both in sero-prevalence and intensity, as determined by ELISA optical density (OD), were highest in the highland areas of Ethiopia where pastures are low-lying and wet, and permanent pasture management is regularly practised. Sex, age and body condition of the donkeys had no significant effect either on prevalence of the infection or on the serum antibody level. These results indicate a risk of intestinal disorders, particularly, colic, associated with A. perfoliata infection in donkeys.
Access options
Buy single article
Instant access to the full article PDF.
USD 39.95
Price excludes VAT (USA)
Tax calculation will be finalised during checkout.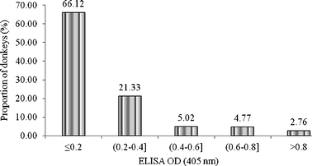 References
Abbott JB, Mellor DJ, Barrett EJ, Proudman CJ, Love S (2008) Serological changes observed in horses infected with Anoplocephala perfoliata after treatment with praziquantel and natural re-infection. Vet Rec 162:50–53

Boswinkel M, Sloet van Oldruitenborgh-Oosterbaan MM (2007) Correlation between colic and antibody levels against Anoplocephala perfoliata in horses in The Netherlands. Tijdschr Diergeneeskd 32:508-12

Drogemuller M, Beelitz P, Pfister K, Schnieder T, von Samson-Himmelstjerna G (2004) Amplification of ribosomal DNA of Anoplocephalidae: Anoplocephala perfoliata diagnosis by PCR as a possible alternative to coprological methods. Vet Parasitol 124:205–215

Fogarty U, del Piero F, Purnell RE, Mosurski KR (1994) Incidence of A. perfoliata in horses examined at the Irish abattoir. Vet Rec 134:515–518

French DD, Chapman MR (1992) Tape worms of the equine gastrointestinal tract. Compend Contin Educ Pract Vet 14:655–661

Gasser RB, Williamson RMC, Beveridge I (2005) Anoplocephala perfoliata of horses – significant scope for further research, improved diagnosis and control. Parasitology 131:1–13

Getachew MA (2006) Endoparasites of working donkeys in Ethiopia: sero-epidemiological study and mathematical modelling. PhD Thesis. University of Glasgow, UK

Hoglund J, Ljungstrom B, Nilsson O, Uggla A (1995) Enzyme-linked immunosorbent assay (ELISA) for the detection of antibodies to A. perfoliata in horse sera. Vet Parasitol 59:97–106

Ihler CF, Rootwelt V, Heyeraas A, Dolvik NI (1995) The prevalence and epidemiology of Anoplocephala perfoliata infection in Norway. Vet Res Commun 16:487–494

Kania SA, Reinemeyer CR (2005) Anoplocephala perfoliata coproantigen detection: a preliminary study. Vet Parasitol 127:115–119

Kjaer LN, Lungholt MM, Nielsen MK, Olsen SN, Maddox-Hyttel C (2007) Interpretation of serum antibody response to Anoplocephala perfoliata in relation to parasite burden and faecal egg count. Equine Vet J 39:529–533

Lyons ET, Tolliver SC, Drudge JH, Swerczek TW, Crowe MW (1984) Prevalence of A. perfoliata and lesions of D. megastoma in thoroughbreds in Kentucky at necropsy. Am J Vet Res 45:996–999

Matthews JB, Hodgkinson JE, Dawodall SM, Proudman CJ (2004) Recent developments in research into the Cyathostominae and Anoplocephala perfoliata. Vet Res 35:371–381

Meana A, Pato NF, Martın R, Mateos A, Perez-Garcıa J, Luzon M (2005) Epidemiological studies on equine cestodes in central Spain: infection pattern and population dynamics. Vet Parasitol 130:233–240

Nilsson O, Ljungstrom BL, Hoglund J, Lundquis H, Uggla A (1995) Anoplocephala perfoliata in horses in Sweden: prevalence, infection levels and intestinal lesions. Acta Vet Scand 36:319–328

Olsen OW (1938) Anoplocephalosis in Minnesota horses. J Am Vet Med Assoc 92:557–559

Owen R, Jagger DW, Quan-Taylor R (1988) Prevalence of A. perfoliata in horses and ponies in Clwyd, Powys and adjacent English marshes. Vet Rec 123:562–563

Owen R, Jagger DW, Quan-Taylor R (1989) Caecal intussusceptions in horses and the significance of Anoplocephala perfoliata. Vet Rec 124:34–37

Pavone S, Veronesi F, Genchi C, Fioretti DP, Brianti E, Mandara MT (2011) Pathological changes caused by Anoplocephala perfoliata in the mucosa/submucosa and in the enteric nervous system of equine ileocecal junction. Vet Parasitol 176:43–52

Pavone S, Veronesi F, Fioretti DP, Mandara MT (2010) Pathological changes caused by Anoplocephala perfoliata in the equine ileocecal junction. Vet Res Commun 34(Suppl 1):S53–S56

Pearson GR, Davies LW, White AL, O'Brien JK (1993) Pathological lesions associated with Anoplocephala perfoliata at the ileo-caecal junction of horses. Vet Rec 132:179–182

Proudman CJ, Edwards GB (1993) Are tapeworms associated with equine colic? A case control study. Equine Vet J 25:224–226

Proudman CJ, Ellis RNW (1992) Tapeworm infection in donkeys. Vet Rec 131:71

Proudman CJ, Holdstock NB (2000) Investigation of an outbreak of tapeworm-associated colic in a training yard. Equine Vet J (Suppl) 32:37–41

Proudman CJ, Trees AJ (1996a) Use of excretory/secretory antigens for the serodiagnosis of A. perfoliata cestodosis. Vet Parasitol 61:239–247

Proudman CJ, Trees AJ (1996b) Correlation of antigen specific IgG and IgG(T) responses with A. perfoliata infection intensity in the horse. Parasite Immunol 18:499–506

Proudman CJ, Trees AJ (1999) Tapeworms as a cause of intestinal disease in horses. Parasitol Today 15:156–159

Proudman CJ, French NP, Trees AJ (1998) Tapeworm infection is a significant risk factor for spasmodic colic and ileal impaction colic in the horse. Equine Vet J 30:194–199

Proudman CJ, Holmes MA, Sheoran AS, Edwards SER, Trees AJ (1997) Immunoepidemiology of the equine tapeworm A. perfoliata: age-intensity profile and age-dependency of antibody subtype responses. Parasitology 114:89–94

R Development Core Team (2009) R: A language and environment for statistical computing. R Foundation for Statistical Computing, Version 2.8.0, Vienna, Australia. ISBN 3-900051-07-0, URL http://www.R-project.org

Rehbein S, Lindner T, Visser M, Winter R (2011) Evaluation of a double centrifugation technique for the detection of Anoplocephala eggs in horse faeces. J Helminthol 85:409–414

Rodriguez-Bertos A, Corchero J, Castano M, Pena L, Luzon M (1999) Pathological alterations caused by Anoplocephala perfoliata infection in the ileocaecal junction of equids. J Vet Med A Physiol Pathol Clin Med 46:261–269

Skotarek SL, Colwell DD, Goater CP (2010) Evaluation of diagnostic techniques for Anoplocephala perfoliata in horses from Alberta, Canada. Vet Parasitol 172:249–255

Soulsby EJL (1982) Helminths, arthropods and protozoa of domesticated animals, 7th edn. Baillier Tindall, London

Svendsen ED (1997) The professional handbook of the donkey, 3rd edn. Whittet Books Limited, London

Taylor MA, Coop RL, Wall RL (2007) Veterinary parasitology, 3rd edn. Blackwell Publishing Ltd, UK

Traversa D, Fichi G, Campigli M, Rondolotti A, Iorio R, Proudman CJ, Pellegrini D, Perrucci S (2008) A comparison of coprological, serological and molecular methods for the diagnosis of horse infection with Anoplocephala perfoliata (Cestoda, Cyclophyllidea). Vet Parasitol 152:271–277

Trotz-Williams L, Physick-Sheard P, McFarlane H, Pearl DL, Martin SW, Peregrine AS (2008) Occurrence of Anoplocephala perfoliata infection in horses in Ontario, Canada and associations with colic and management practices. Vet Parasitol 153:73–84

Veronesi F, Diaferia M, Fioretti DP (2009) Anoplocephala perfoliata infestation and colics in horses. Vet Res Commun 33(suppl 1):S161–S163

Williamson RMC, Gasser RB, Middleton D, Beveridge I (1997) The distribution of Anoplocephala perfoliata in the intestine of the horse and associated pathological changes. Vet Parasitol 73:225–241
Acknowledgement
The work was generously funded by The Donkey Sanctuary, UK. We are grateful to Almaz Sharew of the National Veterinary Institute (NVI) and staff of the Donkey Sanctuary in Ethiopia for their support during data collection and laboratory works. The schools of veterinary medicine of Glasgow and Addis Ababa Universities and the faculty of veterinary medicine of Liverpool University are highly acknowledged for facilitating this study.
Conflict of Interest
The authors have no conflict of interest.
About this article
Cite this article
Getachew, A.M., Innocent, G., Proudman, C.J. et al. Equine cestodosis: a sero-epidemiological study of Anoplocephala perfoliata infection in Ethiopia. Vet Res Commun 36, 93–98 (2012). https://doi.org/10.1007/s11259-012-9516-z
Accepted:

Published:

Issue Date:

DOI: https://doi.org/10.1007/s11259-012-9516-z
Keywords