Abstract
Alterations of the lipid expression in the skin of human and canine atopic subjects may be one of the key factors in the disease development. We have analyzed the ultrastructure of the clinically uninvolved skin of atopic dogs and compared it with the lipid composition of their tape-stripped stratum corneum (SC). The effect of a 2 month treatment of atopic dogs by food supplementation with a mixture of essential fatty acids was evaluated on skin samples taken before and after the treatment period. Electron microscopy revealed that the non-lesional skin of atopic dogs exhibited an abnormal and largely incomplete structure of the lamellar lipids with little cohesion between the corneocyte strata. The SC of atopic dogs was characterized by a significant decrease in the lipid content when compared to the healthy controls. Following oral supplementation with the mixture of essential fatty acids, the overall lipid content of the SC markedly increased. This feature was observed both with the free and, most importantly, with the protein-bound lipids (cholesterol, fatty acids and ceramides), the latter constituting the corneocyte-bound scaffold for ordinate organisation of the extracellular lipid bi-layers. Indeed, the semi-quantitative electron microscopy study revealed that the treatment resulted in a significantly improved organization of the lamellar lipids in the lower SC, comparable to that of the healthy dogs. Our results indicate the potential interest of long-term alimentary supplementation with omega-6 and omega-3 essential fatty acids in canine atopic dermatitis.
Access options
Buy single article
Instant access to the full article PDF.
USD 39.95
Price excludes VAT (USA)
Tax calculation will be finalised during checkout.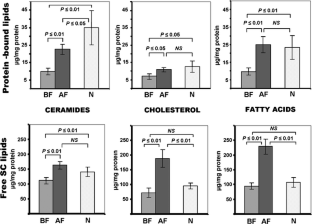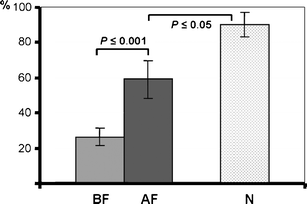 Abbreviations
AD:

Atopic dermatitis

SC:

Stratum corneum

EFA:

Essential fatty acids
References
Barros Roque J, O'Leary CA, Kyaw-Tanner M et al (2009) Haplotype sharing excludes canine orthologous filaggrin locus in atopy in West Highland White Terriers. Anim Gen 40:788–794

Behne M, Uchida Y, Seki T et al (2000) Omega-hydroxyceramides are required for corneocyte lipid envelope (CLE) formation and normal epidermal permeability barrier function. J Invest Dermatol 114:185–192

Bouwstra JA, Pilgram GSK, Ponec M (2006) Structure of the skin barrier. In: Elias PM, Feingold KR (eds) Skin barrier. Taylor & Francis, New York, pp 65–96

Chervet L, Galichet A, McLean WHI, Chen H, Suter MM, Roosje PJ, Müller EJ (2010) Missing C-terminal filaggrin expression, NFkappaB activation and hyperproliferation identify the dog as a putative model to study epidermal dysfunction in atopic dermatitis. Exp Dermatol 19:e343–e346

Di Nardo A, Wertz P, Giannetti A et al (1998) Ceramide and cholesterol composition of the skin of patients with atopic dermatitis. Acta Derm Venereol 78:27–30

Elias PM (2006) Improving barrier function. In: Elias PM, Feingold KR (eds) Skin barrier. Taylor & Francis, New York, pp 591–600

Elias PM, Hatano Y, Williams M (2008) Basis for the barrier abnormality in atopic dermatitis: outside-inside-outside pathogenic mechanisms. J Allergy Clin Immunol 121:1337–1343

Favrot C, Steffan C, Seewald W et al (2010) A prospective study on the clinical features of chronic canine atopic dermatitis and its diagnosis. Vet Dermatol 21:23–31

Garson JC, Doucet J, Levèque JL et al (1991) Oriented structure in human stratum corneum revealed by X-ray diffraction. J Invest Dermatol 96:43–49

Griffin CE, DeBoer DJ (2001) The ACVD task force on canine atopic dermatitis (XIV): clinical manifestations of canine atopic dermatitis. Vet Immunol Immunopathol 81:255–269

Hillier A, Olivry T (2004) Spontaneous canine model of atopic dermatitis. In: Chan LS (ed) Animal models of human inflammatory skin diseases. CRC, Boca Raton, pp 353–370

Holleran WM, Takagi Y (2006) Stratum corneum lipid processing: the final steps in barrier formation. In: Elias PM, Feingold KR (eds) Skin barrier. Taylor & Francis, New York, pp 231–260

Imokawa G, Abe A, Jin K et al (1991) Decreased level of ceramides in stratum corneum of atopic dermatitis: an etiologic factor in atopic dry skin? J Invest Dermatol 96:523–526

Inman AO, Olivry T, Dunston SM et al (2001) Electron microscopic observations of stratum corneum intercellular lipids in normal and atopic dogs. Vet Pathol 38:720–723

Jakasa I, Koster ES, Calkoen F et al (2011) Skin barrier function in healthy subjects and patients with atopic dermatitis in relation to filaggrin loss-of-function mutations. J Invest Dermatol 131:540–542

Jungersted JM, Scheer H, Mempel M et al (2010) Stratum corneum lipids, skin barrier function and filaggrin mutations in patients with atopic eczema. Allergy 65:911–918

Macheleidt O, Kaiser HW, Sandhoff K (2002) Deficiency of epidermal protein-bound omega-hydroxyceramides in atopic dermatitis. J Invest Dermatol 119:166–173

Mao-Qiang M, Brown BE, Wu-Pong S et al (1995) Exogenous nonphysiologic vs physiologic lipids. Divergent mechanisms for correction of permeability barrier dysfunction. Arch Dermatol 131:809–816

Meguro S, Arai Y, Masukawa Y et al (2000) Relationship between covalently bound ceramides and transepidermal water loss (TEWL). Arch Dermatol Res 292:463–468

Menon GK (2006) What makes a good barrier? Adaptive features of vertebrate integument. In: Elias PM, Feingold KR (eds) Skin barrier. Taylor & Francis, New York, pp 211–222

Motta S, Monti M, Sesana S et al (1993) Ceramide composition of the psoriatic scale. Biochem Biophys Acta 1182:147–151

Naoi M, Lee YC, Roseman S (1974) Rapid and sensitive determination of sphingosine bases and sphingolipids with fluorescamine. Anal Biochem 58:571–577

Olivry T, Hill PB (2001) The ACVD task force on canine atopic dermatitis: is the epidermal lipid barrier defective? Vet Immunol Immunopathol 81:215–218

O'Regan GM, Kemperman PM, Sandilands A et al (2010) Raman profiles of the stratum corneum define 3 filaggrin genotype-determined atopic dermatitis endophenotypes. J Allergy Clin Immunol 126:574–580

Piekutowska A, Pin D, Rème CA et al (2008) Effects of a topically applied preparation of epidermal lipids on the stratum corneum barrier of atopic dogs. J Comp Pathol 138:197–203

Pilgram GSK, Vissers DCJ, van der Meulen H, Pavel S, Lavrijsen SPM, Bouwstra JA, Koerten HK (2001) Aberrant lipid organization in stratum corneum of patients with atopic dermatitis and lamellar ichthyosis. J Invest Dermatol 117:710–717

Ponec M, Boelsma E, Weerheim A (2000) Covalently bound lipids in reconstructed human epithelia. Acta Derm Venereol (Stockh) 80:89–93

Popa I, Thuy LH, Colsch B et al (2010) Analysis of free and protein-bound ceramides by tape stripping of stratum corneum of dogs. Arch Dermatol Res 302:639–644

Popa I, Remoué N, Thuy LH et al (2011) Atopic dermatitis in dogs is associated with a high heterogeneity in the distribution of protein-bound lipids within the stratum corneum. Arch Dermatol Res. doi:10.1007/s00403-011-1120-5

Potts RO, Francoeur ML (1991) The influence of stratum corneum morphology on water permeability. J Invest Dermatol 96:495–499

Proksch E, Jensen JM, Elias PM (2003) Skin lipids and epidermal differentiation in atopic dermatitis. Clin Dermatol 21:134–144

Reiter LV, Torres SMF, Wertz PW (2009) Characterization and quantification of ceramides in the nonlesional skin of canine patients with atopic dermatitis compared with controls. Vet Dermatol 20:260–266

Sandilands A, Terron-Kwiatkowski A, Hull PR et al (2007) Comprehensive analysis of the gene encoding filaggrin uncovers prevalent and rare mutations in ichthyosis vulgaris and atopic eczema. Nat Genet 39:650–654

Shimada K, Yoon JS, Yoshihara T et al (2009) Increased transepidermal water loss and decreased ceramide content in lesional and non-lesional skin of dogs with atopic dermatitis. Vet Dermatol 20:541–546

Wertz PW, Madison KC, Downing DT (1989) Covalently bound lipids of human stratum corneum. J Invest Dermatol 92:109–111

Willemse T (1986) Atopic skin disease: a review and a reconsideration of diagnostic criteria. J Small Anim Pract 27:771–778
Acknowledgements
This study was supported by the European COST action BM0903 (SkinBAD, skin barrier in atopic dermatitis) and the European Epidermal Barrier Research Network (E²BRN).
Electron microscopy samples were examined at the Centre Technologique des Microstructures (CTμ) de l'Université de Lyon1, La Doua, Villeurbanne, France.
The results reported in this paper have been partially presented at the Sixth World Congress of Veterinary Dermatology, Hong Kong, November 2008 (abstract in Vet. Dermatol. 2008; 19 (suppl 1): 68) and at the European Society for Dermatological Research meeting, Helsinki, September 2010 (abstract in J Invest Dermatol 130: S13, 2010).
Conflict of interest
This study was partially financed by Virbac S.A., France.
About this article
Cite this article
Popa, I., Pin, D., Remoué, N. et al. Analysis of epidermal lipids in normal and atopic dogs, before and after administration of an oral omega-6/omega-3 fatty acid feed supplement. A pilot study. Vet Res Commun 35, 501–509 (2011). https://doi.org/10.1007/s11259-011-9493-7
Accepted:

Published:

Issue Date:

DOI: https://doi.org/10.1007/s11259-011-9493-7
Keywords
Canine atopic dermatitis

Lipid analysis

Stratum corneum

Feed supplement

Dogs