Abstract
The purpose of this review is to summarize the effectiveness, modes of action and commercial application of herbal plants and their derivatives as growth promoters for animal. Feed supplements are a group of feed ingredients that can cause a desired animal response in a non-nutrient role such as pH shift, growth, or metabolic modifier (Hutjens, 1991). Common feed additives used in animal diets include immunostimulators, antimicrobials, antioxidants, pH control agents and enzymes. Herbal plants, are a new class of growth promoters and in recent years this feed additives have gained extensive attention in the feed industry. They are a wide variety of herbs, spices, and products derived thereof, and are mainly essential oils. Although numerous reports have demonstrated antioxidative and antimicrobial and immune stimulation efficacy in vitro, respective experimental in vivo evidence is still quite limited. A limited number of experimental comparisons of herbal plants feed additives with antibiotics or organic acid have suggested similar effects on the animal gut microflora. Gut microflora has significant effects on host nutrition, health, and growth performance by interacting with nutrient utilization and the development of gut system of the host. In addition, some phytogenic compounds seem to promote intestinal mucus production. However, the future of using herbs in animal feeding will in great measure depend on the knowledge of chemical structure, their value and characteristics of practical herbs or their extract physiological needs and well-being of animal, and, above all on consumer's preferences and expectations.
Access options
Buy single article
Instant access to the full article PDF.
US$ 39.95
Tax calculation will be finalised during checkout.
Subscribe to journal
Immediate online access to all issues from 2019. Subscription will auto renew annually.
US$ 79
Tax calculation will be finalised during checkout.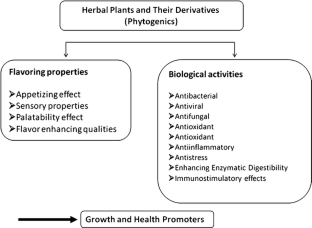 References
Aktug SE, Karapinar M (1986) Sensitivity of some common food poisoning bacteria to thyme, mint and bay leaves. Int J Food Microbiol 3:349–354

Alçiçek A, Bozkurt M, Çabuk M (2003) The effect of essential oil combination derived from selected herbs growing wild in Turkey on broiler performance. S Afr J Anim Sci 33:89–94

Alçiçek A, Bozkurt M, Çabuk M (2004) The effect of a mixture of herbal essential oils, an organic acid or a probiotic on broiler performance. S Afr J Anim Sci 34:217–222

Al-Kassie GAM, Jameel YJ (2009) The effect of adding Thyme vulgaris and Cinnamomuim zeylanicum on productive performance in broilers. Proceeding of 9th Veterinary Scientific Conference, College Vet. Med., Univ. Baghdad, Iraq

Bampidis VA, Christodoulou V, Florou-Paneri P, Christaki E, Chatzopoulou PS, Tsiligianni T, Spais AB (2005) Effect of dietary dried oregano leaves on growth performance, carcase characteristics and serum cholesterol of female early maturing turkeys. Br Poult Sci 46:595–601

Barnes EM, Mead GC, Impey CS, Adams BW (1978) The effect of dietary bacitracin on the incidence of Streptococcus faecalis subspecies liquefaciens and related streptococci in the intestines of young chicks. Br Poult Sci 19:713–723

Basmacioglu H, Tokusoglu Ö, Ergül M (2004) The effect of oregano and rosemary essential oils or alpha-tocopherol acetate on performance and lipid oxidation of meat enriched with n-3 PUFA's in broilers. S Afr J Anim Sci 34:197–210

Borris RP (1996) Natural product research. Perspective from a major pharmaceutical company. J Ethnopharmacol 51:29–38

Botsoglou NA, Florou-Paneri P, Christaki E, Fletouris DJ, Spais AB (2002) Effect of dietary oregano essential oil on performance of chickens and on iron-induced lipid oxidation of breast, thigh, and abdominal fat tissues. Br Poult Sci 43:223–230

Botsoglou NA, Florou-Paneri P, Christaki E, Giannenas I, Spais AB (2004a) Performance of rabbits and oxidative stability of muscle tissues as affected by dietary supplementation with oregano essential oil. Arch Anim Nutr 58:209–218

Botsoglou NA, Christaki E, Florou-Paneri P, Giannenas I, Papageorgiou G, Spais AB (2004b) The effect of a mixture of herbal essential oils or α-tocopheryl acetate on performance parameters and oxidation of body lipid in broilers. S Afr J Anim Sci 34:52–61

Bowles BL, Miller AJ (1993) Antibotulinal properties of selected aromatic and aliphatic aldehydes. J Food Prod 56:788–794

Cabuk M, Bozkurt M, Alcicek A, Akbas Y, Küçükyılmaz K (2006) Effect of a herbal essential oil mixture on growth and internal organ weight of broilers from young to old breeder flocks. S Afr J Anim Sci 36:135–141

Castanon JIR (2007) History of the use of antibiotic as growth promoters in European poultry feeds. Poult Sci 86:2466–2471

Chattopadhyay D, Arunachalam G, Ghosh L, Rajendran K, Mandal AB, Bhattacharya SK (2005) Antipyretic activity of Alstonia macrophylla Wall ex A. DC: an ethnomedicine of Andaman Islands. J Pharm Pharma Sci 8:558–564

Chung KT, Stevens SE Jr, Lin WF, Wie CI (1993) Growth inhibition of selected food borne bacteria by tannic acid, propyl gallate and related compounds. Lett Appl Microbiol 17:29–32

Cornner DE (1993) Naturally occurring compounds. In: Antimicrobials in Foods. Davidson, P. M. and Al-Branen (eds), New York, USA, pp:441–468

Cowan MM (1999) Plant products as antimicrobial agents. Clin Microbiol Rev 12:564–582

Cross DE, Mcdevitt RM, Hillman K, Acamovic T (2007) The effect of herbs and theirassociated essential oils on performance, dietary digestibility and gut microflora in chickens from 7 to 28 days of age. Br Poult Sci 48:496–506

Dang HC, Visek WJ (1960) Effect of urease injection on body weights of growing rats and chicks. Exp Biol Med 105:164–167

Denli M, Okan F, Uluocak AN (2004) Effect of dietary supplementation of herb essential oils on the growth performance, carcass and intestinal characteristics of quail (Coturnix coturnix japonica). S Afr J Anim Sci 34:174–179

Djeraba A, Quere P (2000) In vivo macrophage activation in chickens with Acemannan, a complex carbohydrate ex- tracted from Aloe vera. Int J Immunopharmacol 22:365–372

Dorman HJD, Deans SG, Surai P (1995) Evaluation in vitro of plant essential oils as natural antioxidants. J Essent Oil Res 7:645–651

Ertas ON, Güler T, Çiftçi M, Dalkiliç B, Simsek ÜG (2005) The effect of an essential oil mix derived from oregano, clove to anise on broiler performance. Int J Poult Sci 4:879–884

Eyssen H (1962) The additive effects of nucleic acids and antibiotics as individual growth promotants for chicks. Poult Sci 41:1822–1828

Farag RS, Badei AZMA, Hewedi FM, El-Baroty GSA (1989a) Antioxidant activity of some spice essential oils on linoleic acid oxidation in aqueous media. J Am Oil Chem Soc 66:792–799

Farag RS, Daw ZY, Abo-Raya SH (1989b) Influence of some spice essential oils on Aspergillus parasiticus growth and production of aflatoxins in a synthetic medium. Food Sci 54:74–76

Farag RS, Daw ZY, Hewed FM, El-Baroty GSA (1989c) Antimicrobial activity of some Egyption spice essential oils. J Food Protect 52:665–667

Ferket PR, Santos Jr AA, Oviedo-Rondón EO (2005) Dietary Factors that Affect Gut Health and Pathogen Colonization. 32nd Annual Carolina Poultry Nutrition Conference Sheraton Imperial Hotel, RTP, NC. October 27, 2005

Florou-Paneri P, Giannenas I, Christaki E, Govaris A, Botsoglou NA (2006) Performance of chickens and oxidative stability of the produced meat as affected by feed supplementation with oregano, vitamin C, vitamin E and their combinations. Arch Geflugelkd 70:232–240

Franco-Jimenez DJ, Scheideler SE, Kittok RJ, Brown-Brandl TM, Robeson LR, Taira H, Beck MM (2007) Differential effects of heat stresss in three strains of laying hens. Appl Poult Research 16:628–634

Frost AJ (1991) Antibiotics and animal production. In: Woolcock JB (ed) World animal science microbiology of animals and animal products. Elsevier, New York, pp 181–194, 6

Fulton RM, Nersessian BN, Reed WM (2002) Prevention ofSalmonella enteritidis infection in commercial ducklings by oral chicken egg-derived antibody alone or in combination with probiotics. Poult Sci 81:34–40

Garcia V, Catala-Gregori P, Hernandez F, Megias MD, Madrid J (2007) Effect of formic acid and plant extracts on growth, nutrient digestibility, intestine mucosa morphology, and meat yield of broilers. J Appl Poult Res 16:555–562

Gauthier R (2002) XVIII Congreso Lantioamericano de Avicultura 2002. Poultry Therapeutics: Newalternatives. Accessed in 2006. http://www.jefo.ca/pdf/ALA2003_en.pdf

Giannenas AI, Florou-Paneri P, Papazahariadou M, Christaki E, Botsoglou NA, Spais AB (2003) Dietary oregano essential oil supplementation on performance of broilers challenged with Eimeria tenella. Arch Anim Nutr 57:99–106

Guler T, Erta ON, Ciftci M, Dalkilic B (2005) The effect of coriander seed (Coriandrum sativum L.) as diet ingredient on the performance of Japanese quail. S Afr J Anim Sci 35:261–267

Guo FC, Savelkoul HFJ, Kwakkel RP, Williams BA, Verstegen MWA (2003) Immunoactive, medicinal properties of mushroom and herb polysaccharides and their potential use in chicken diets. Worlds Poult Sci J59:427–440

Guo FC, Williams BA, Kwakkel RP, Li HS, Li XP, Luo JY, Li WK, Verstegen MW (2004a) Effects of mushroom and herb polysaccharides, as alternatives for an antibiotic, on the caecal microbial ecosystem in broiler chickens. Poult Sci 83:175–182

Guo FC, Kwakkel RP, Williams BA, Parmentier HK, Lis WK, Yang ZQ, Verstegen MWA (2004b) Effects of mushroom and herb polysaccharides on cellular and humoral immune responses of Emeria tenella-infacted chickens. Poult Sci 83:1124–1132

Halle I, Thomann R, Bauermann U, Henning M, Köhler P (2004) Effects of a graded supplementation of herbs and essential oils in broiler feed on growth and carcass traits. Landbauforsh Volkenrode 54:219–229

Hashemi SR, Zulkifli I, Hair Bejo M, Farida A, Somchit MN (2008) Acute toxicity study and phytochemical screening of selected herbal aqueous extract in broiler chickens. Int J Pharmacol 4:352–360

Hashemi SR, Zulkifli I, Hair-Bejo M, Karami M, Soleimani AF (2009a) The effects of Euphorbia hirta and acidifier supplementation on growth performance and antioxidant activity in broiler chickens. In: Proceedings of the 21st Veterinary Association Malaysia (VAM) Congress, 7–9 August, Port Dickson, Malaysia. pp: 215–217

Hashemi SR, Zulkifli I, Zunita Z, Hair-Bejo M, Loh TC, Somchit MN, Kok PC, Davoodi H (2009b) Effects of dietary supplementation with Euphorbia hirta and acidifier on performance and Salmonella colonization in broiler chickens. In: Proceedings of the 30th Malaysia Society of Animal Production Annual Conference, 2–5 June, Kota Kinabalu, Malaysia. pp: 69–70

Hashemi SR, Davoodi H (2010) Phytogenics as new class of feed additive in poultry industry. J Anim Vet Adv 9:2955–2304

Helander IM, Alakomi HL, Latva-Kala K, Mattila-Sandholm T, Pol I, Smid EJ, Gorris LGM, Von-Wright A (1998) Characterization of the action of selected essential oil components on Gram-negative bacteria. J Agric Food Chem 46:3590–3595

Hernandez F, Madrid J, Garcia V, Orengo J, Megias MD (2004) Influence of two plant extracts on broiler performance, digestibility, and digestive organ size. Poult Sci 83:169–174

Horosava K, Bujnakova D, Kmet V (2006) Effect of oregano essential oil on chicken Lactobacilli and E coli. Folia Microbiol 51:278–280

Hutjens MF (1991) Feed additives. Vet Clinics North Am. Food Anim Pract 7(2):525

Jamroz D, Wiliczkiewicz A, Wertelecki T, Orda J, Sukorupinska J (2005) Use of active substances of plant origin in chicken diets based on maize and locally grown cereals. Br Poult Sci 46:485–493

Jamroz D, Orda J, Kamel C, Wiliczkiewicz A, Wertelecki T, Skorupinska J (2003) The influence of phytogenic extracts on performance, nutrient digestibility, carcass characteristics, and gut microbial status in broiler chickens. J Anim Feed Sci 12:583–596

Jang IS, Ko YH, Yang HY, Ha JS, Kim JY, Kim JY, Kang SY, Yoo DH, Nam DS, Kim DH, Lee CY (2004) Influence of essential oil components on growth performance and the functional activity of the pancreas and small intestine in broiler chickens. Asian Australas J Anim Sci 17:394–400

Jang IS, Ko YH, Kang SY, Lee CY (2007) Effect of a commercial essential oil on growth performance, digestive enzyme activity and intestinal microflora population in broiler chickens. Anim Feed Sci Technol 134:304–315

Jugl-Chizzola M, Spergser J, Schilcher F, Novak J, Bucher A, Gabler C, Hagmüller W, Zitterl-Eglseer K (2005) Effects of Thymus vulgaris L. as feed additive in piglets and against haemolytic E. coli in vitro. Berl Münch Tierärztl Wochenschr 118:495–501

Karou D, Savadogo A, Canini A, Yameogo S, Montesano C, Simpore J, Colizzi V, Traore AS (2006) Antibacterial activity of alkaloids from Sida acuta. Afr J Biotechnol 5:195–200

Kattak S, Rahman SU, Shah HU, Ahmad W, Ahmad M (2005) Biological effect of indigenous medicinal plants Curcuma longa and Alpina galangal. Fitoterpia 76:254–257

Kroismayr A, Sehm J, Pfaffl M, Plitzner C, Foissy H, Ettle T, Mayer H, Schreiner M, Windisch W (2008) Effects of essential oils or Avilamycin on gut microbiology and blood parameters of weaned piglets. Czech J Anim Sci 53:377–387

Lee KW, Everts H, Kappert HJ, Frehner M, Losa R, Beynen AC (2003) Effects of dietary essential oil components on growth performance, digestive enzymes and lipid metabolism in female broiler chickens. Br Poult Sci 44:450–457

Lee KW, Everts H, Kappert HJ, Wouterse H, Frehner M, Beynen AC (2004a) Cinnamaldehyde, but notthymol, counteracts the carboxymethyl cellulose-induced growth depression in female broiler chickens. Int J Poult Sci 3:608–612

Lee KW, Everts H, Kappert HJ, Van Der Kuilen J, Lemmens AG, Frehner M, Beynen AC (2004b) Growth performance, intestinal viscosity, fat digestibility and plasma cholesterol in broiler chickens fed a rye-containing diet without or with essential oil components. Int J Poult Sci 3:613–618

Lee KW, Everts H, Kappert HJ, Beynen AC (2004c) Growth performance of broiler chickens fed acarboxymethyl cellulose containing diet with supplemental carvacrol and/or cinnamaldehyde. Int J Poult Sci 3:619–622

Mao XF, Piao XS, Lai CH, Li DF, Xing JJ, Shi BL (2005) Effects of β-glucan obtained from the Chinese herb Astragalus membranaceus and lipopolysaccharide challenge on performance, immunological, adrenal, and somatotropic responses of weanling pigs. J Anim Sci 83:2775–2782

Marino M, Bersani C, Comi G (1999) Antimicrobial activity of the essential oils ofThymus vulgaris L. measured using a bioimpedometric method. J Food Protect 62:1017–1023

Mitsch P, Zitterl-Eglseer K, Köhler B, Gabler C, Losa R, Zimpernik I (2004) The effect of two different blends of essential oil components on the proliferation of Clostridium perfringens in the intestines of broiler chickens. Poult Sci 83:669–675

Mitsch P, Kohler B, Gabler C, Losa R, Zitterl-Eglseer K (2002) CRINA poultry reduces colonisation and proliferation of Clostridium perfringens in the intestine and faeces of broiler chickens. Abstracts from the Eleventh European Poultry Conference. Bremen, Germany, pp 06–10

Morrissey JP, Osbourn AE (1999) Fungal resistance to plant antibiotics as a mechanism of pathogenesis. Microbiol Mol Biol Rev 63:708–724

Namkung H, Li M, Gong J, Yu H, Cottrill M, deLange CFM (2004) Impact of feeding blends of organic acids and herbalextracts on growth performance, gut microbiota and digestivefunction in newly weaned pigs. Can J Anim Sci 84:697–704

Onyeagba RA, Ugbogu OC, Okeke CU, Iroakasi O (2004) Studies on the antimicrobial effects of garlic (Allium sativum Linn), ginger (Zingiber officinale Roscoe) and lime (Citrus aurantifolia Linn). Afr J Biotechnol 3:552–554

Oviedo-Rondón EO, Hume ME, Salvador F, Clemente-Hernández S (2005a) Dynamics of duodenal and ileal microbial ecology in chickens fed diets supplemented with essential oils and challenge with mixed Eimeria spp. Poult Sci 84(suppl 1):100–142

Oviedo-Rondón EO, Hume ME, Clemente-Hernández S (2005b) Dynamics of duodenal and ileal microbial ecology in chickens vaccinated and challenge with mixed Eimeria spp. Poult Sci 84(suppl 1):164–172

Oviedo-Rondón EO, Clemente-Hernández S, Caldwell D, Ameiss K, Williams P, Losa R (2005c) Essential oils to enhance gut immunity against a challenge of Eimeria spp. and replace growth-promotant antibiotics and ionophores. Poult Sci 84(suppl 1):S47–S102

Oviedo-Rondón EO, Clemente Hernandez S, Williams P, Losa R (2005d) Responses of broilers vaccinated against coccidia to essential oil blends supplementation: live performance in a 49 production period. J Appl Poult Res 14:657–664

Platel K, Srinivasan K (2000) Influence of dietary spices and their active principles on pancreatic digestive enzymes in albino rats. Nahrung 44:42–46

Peric L, Zikic D, Lukic M (2009) Application of alternative growth promoters in broiler production. Biotech Anim Husb 25:387–397

Polasa K, Nirmala K (2003) Ginger: it's role xenobiotic metabolism. ICMR Bull 33:58–63

Ristic M, Damme K (2001) Changing from animal to vegetable protein at fattening: consequences on carcass and meat quality of broilers. Fleischwirtschaft 81:114–116

Sarica S, Ciftci A, Demir E, Kilinc K, Yıldırım Y (2005) Use of an antibiotic growth promoter and two herbal natural feed additives with and without exogenous enzymes in wheat based broiler diets. S Afr J Anim Sci 35:61–72

Saini R, Davis S, Dudley-Cash W (2003a) Oregano essential oil reduces necrotic enteritis in broilers. Pages95–97 in Proc. 52th West. Poult. Dis. Conf., Sacramento, CA

Saini R, Davis S, Dudley-Cash W (2003b) Oregano essential oil reduces the expression of coccidiosis in broilers. Pages 97–98 in Proc. 52th West. Poult. Dis. Conf., Sacramento, CA

Saricoban C, Ozcan M (2004) Antioxidative activity of rosemary (Rosmarinus officinalis L.) and sage (Salvia fruticosa L.) essential oils in chicken fat. J Essent Oil Bear Plants 7:91–95

Scalbert A (1991) Antimicrobial properties of tannins. Phytochem 30:3875–3883

Spais AB, Giannenas LA, Fluorou-Paneri P, Christaki E, Botsoglou NA (2002) Effect of Genex, a feed additive containing organic acids and herb extracts, on the performance of broiler chickens. Hell Vet 53:247–256

Soo Park B, Kim JG, Kim MR, Lee SE, Takeoka GR, KB OH, Kim JH (2005) Curcuma longa L. Constituents inhibit sortase A and staphylococcus aureus cell adhesion to fibronectin. J Agric Food Chem 53:9005–9009

Steiner T (2006) Managing gut health. Natural growth promoters as a key to animal performance. Nottingham University Press, Nottingham, UK

Steiner T (2009) Phytogenic in animal nutrition. Natural concepts to optimize gut health and performance. 1st Ed. Nottingham University Press, Nottingham, p 181

Sudhakar M, Rao CV, Rao PM, Raju DB, Venkateswarlu Y (2006) Antimicrobial activity of Caesalpinia pulcherrima, Euphorbia hirta and Asystasia gangeticum. Fitoterpia 77:378–380

Suk JC, Lim HS, Paik IK (2003) Effects of blended essential oil (CRINA®) supplementation on the performance, nutrient digestibility, small intestine microflora and fatty acid composition of meat in broiler chickens. Anim Feed Sci Technol 45:777–786

Swann MN (1969) Joint committee on the use of antibiotics in animal husbandry and veterinary medicine. Her Majesty's Stationery Office, London

Vogt H (1990) The effect of a mixture of essential oils in broiler diets. Landbauforsh Volkenrode 40:157–159

Vogt H (1991) Essential oils in broiler diets. Landbauforsh Volkenrode 41:94–97

Waihenya RK, Mtambo MMA, Nkwengalila G, Minga UM (2002) Efficacy of crude extracts of Aloe secundiflora against Salmonella gallinarum in experimentally infected

Waldenstet L (2003) Effect of vaccination against coccidiosis in combination with an antibacterial oregano (Origanum vulgare) compound in organic broiler production. Acta Agr Scand 53:101–109

Wang R, Li D, and Bourne S (1998) Can 2000 years of herbal medicine history help us solve problems in the year 2000? Biotechnology in the feed industry: Proceedings of Alltech's 14th Annual Symposium, Kentucky, USA, 273–291

Wiart CS, Mogana S, Khalifah M, Mahan S, Ismail M, Buckle A, Narayana K, Sulaiman M (2004) Antimicrobial screening of plants used for traditional medicine in the Stat of Perak, Peninsular Malaysia. Fitoterapia 75:68–73

Williams P, Losa R (2002) Blending essential oils for poultry. Feed Mix 10:8–9

Windisch WM, Schedle K, Plitzner C, Kroismayr A (2008) Use of phytogenic products as feed additives for swine and poultry. J Anim Sci 86:140–148

Windisch W, Kroismayr A (2006) The effects of phytobiotics on performance and gut function in monogastrics. Accessed in 2006. www.feedinfo.com

Yang Y, Iji PA, Choct M (2009) Dietary modulation of gut microflora in broiler chickens: a review of the role of six kinds of alternatives to in-feed antibiotics. Worlds Poult Sci 65:97–114

Yano Y, Satomi M, Oikawa H (2006) Antibacterial effects of spices and herbs onVibrio parahaemolyticus. Int J Food Microbiol 111:6–11

Yeo J, Kim KI (1997) Effect of feeding diets containing an antibiotic, a probiotic, or yucca extract on growth and intestinal urease activity in broiler chicks. Poult Sci 76:381–385

Zhang KY, Yan F, Keen CA, Waldroup PW (2005) Evaluation of microencapsulated essential oils and organic acids in diets for broiler chickens. Int J Poult Sci 4:612–619
About this article
Cite this article
Hashemi, S.R., Davoodi, H. Herbal plants and their derivatives as growth and health promoters in animal nutrition. Vet Res Commun 35, 169–180 (2011). https://doi.org/10.1007/s11259-010-9458-2
Accepted:

Published:

Issue Date:
Keywords
Antimicrobial

Feed additive

Phytogenic

Herbal plant

Poultry