Abstract
Shelly hoof in sheep occurs when the hoof wall becomes detached from the laminar corium; it often then becomes impacted with debris leading to infection, pain and lameness. The problem of shelly hoof is under-reported and is often confused with classical footrot. A study was conducted using data on 9,169 Blackface and Texel sheep from 22 farms in the UK. The aim of the study was to estimate the prevalence of shelly hoof in these breeds, to quantify the genetic basis to shelly hoof, and to describe a pilot trail to characterise the physical properties of horn using Transmission Electron Microscopy (TEM). The results showed that shelly hoof has a high prevalence (47% for Blackface and 24% for Texel ewes) and is under moderate genetic control (h2 = 0.3). The TEM images showed fragmented dorsal wall horn, microscopic crevices leading deeper into the hoof accompanied by bacteria and other micro-organisms. The invasion of bacteria was facilitated by separation of the cells in a characteristic 'un-zipping' phenomenon, poor attachment of the keratin to the cell membranes, poor cell membrane quality with a 'lace-chain' effect and incomplete keratinisation of the cells.
Access options
Buy single article
Instant access to the full article PDF.
USD 39.95
Price includes VAT (USA)
Tax calculation will be finalised during checkout.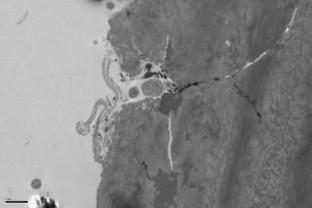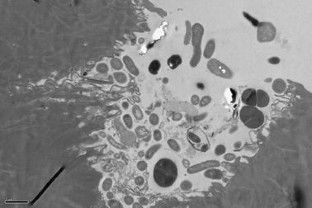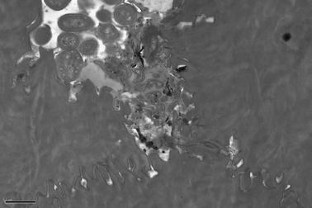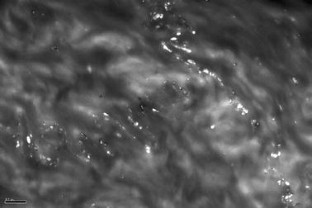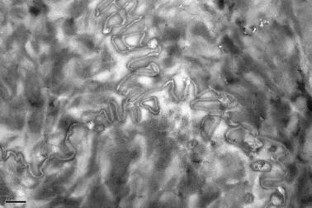 References
Conington J., Bishop, S.C., and Bünger L. (2010). Genetic, environmental and welfare aspects of Footrot in UK Texel sheep. In preparation for Livestock Science Journal.

Conington, J., Nieuwhof, G.J., Hosie, B., Bishop S.C. and L.Bünger (2007). Breeding for resistance to Footrot. Abstract No. 1363. Proc. EAAP Annual Meeting, August 26–29, Dublin, Ireland.

Conington, J, Hosie, B., Nieuwhof, G.J., Bishop, S.C., and Bünger, L. (2008). Breeding for resistance to footrot — the use of hoof scoring to quantify footrot in sheep. Veterinary Research Communications 14 May 2008. ISSN = 0165-7380 (Print) 1573–7446 (Online).

Conington, J. Nieuwhof, G.J., McLaren, A., Hosie, B., Bishop, S.C. and Bünger, L. (2008a). Breeding for resistance to footrot in UK sheep EAAP S25 Breeding goals including environment behaviour and welfare Considerations' Paper No. 3133. Lithuania, August 24–27.

Falconer, D.S. and Mackay, T.F.C. (1996). Introduction to Quantitative Genetics 4th Ed. Essex. Longman Group Ltd. 1–464.

Galbraith, H and Scaife, J.R. (2007). Lameness in dairy cows: influence of nutrition on claw composition and health. In Recent Advances in Animal Nutrition. Edited by P C Garnsworthy and J Wiseman . pp 91–126. Nottingham University Press. Nottingham, UK.

Gilmour, A.R., Gogel, B.J., Cullis, B.R and Thompson, R. (2009). ASREML Release 3.0 User guide. http://www.vsni.co.uk/downloads/asreml/release3/UserGuide.pdf

Kempson, S.A. and Logue, D.N. (1993). Ultrastructural observations of hoof horn from dairy cows: changes in the white line during first lactation. Veterinary Record 132; 524–527.

McLaren, A., Conington, J., Lambe, N.L., Nieuwhof, G.J., Bishop, S.C. and Bünger, L. (2008). Analysis of genetic relationships among footrot and performance data in Scottish Blackface sheep Abstract 107. Proc BSAS, Scarborough 31st Mar-2nd Apr, 2008.

Nieuwhof, G.J., Conington, J., Bünger, L., and Bishop, S.C. (2008). Genetic and phenotypic aspects of resistance to footrot in sheep of different breeds and ages. Animal 2 issue 9: 1289–1296

Nieuwhof, G.J., Conington, J., and Bishop, S.C. (2009). A genetic epidemiological model to describe resistance to an endemic bacterial disease in livestock: application to footrot in sheep. Genetics Selection Evolution 41:19. d.o.i: 10.1186/1297-9686-41-19

Offer, J.E., Leach, K.A., Brocklehurst, S.E., Logue, D.N. (2003) Effect of forage type on claw horn lesion development in dairy heifers. Veterinary Journal 165(3) 221–227.

Robertson A., and Lerner I.M. (1949). The heritability of all-or-none traits: viability of poultry. Genetics 34: 395–411

Ryan, K.J. Watson, L.A. Birnie, M. and Galbraith, H. (2002). Maternal Nutrition and fetal hoof development up to 112 days gestation in sheep. Proc. 12 Int Symp. on Lameness in Ruminants (Ed. J.K. Shearer) pp 171–174.

Winter, A.C. and Arsenos, G. (2006). White line lesions in sheep. In: Proc. Sheep Vet Soc. Vol 30: 141–142

Winter, A.C. (2008). Lameness in sheep. Small Ruminant Research 76: 49–153.

Winter, A.C and Arsenos, G. (2009). Diagnosis of white line lesions in sheep. In Practice 31: 17–21.
Acknowledgements
Thanks to Sue Kempson of the Royal (Dick) School of Veterinary Science, Edinburgh University for her time and help for analysing the TEM images. Invaluable technical assistance was given by SAC staff at Bush and SAC's Hill and Mountain Research Centre for data collection and to the farmers who put up with us repeatedly visiting their farms and interrupting their routines. This study was funded by Defra, the Scottish Government, English Beef and Lamb Executive, (Eblex), Quality Meat Scotland (QMS), and Hybu Cig Cymru (HCC) through the Sustainable Livestock Production LINK programme.
About this article
Cite this article
Conington, J., Nicoll, L., Mitchell, S. et al. Characterisation of white line degeneration in sheep and evidence for genetic influences on its occurrence. Vet Res Commun 34, 481–489 (2010). https://doi.org/10.1007/s11259-010-9416-z
Accepted:

Published:

Issue Date:
Keywords
Lameness

White line degeneration

Shelly hoof

Footrot

Genetic resistance

Sheep

Welfare

Heritability