Abstract
Alpine and subalpine moorland communities have been altered by global warming and associated environmental changes. Vegetation changes in moorlands are of concern given the loss of biodiversity, especially among endemic biota, and the potential degradation of important ecosystem services, such as climate regulation and recreation. Although long-term analyses of vegetation data are urgently needed to assess potential vegetation shifts over the past century, when global warming has accelerated, such data are rarely available. In this study, we resurveyed historical moorland plots in 2020, which were surveyed once in 1933, in subalpine ecosystems in northern Japan that have been subjected to little direct human disturbance. We observed a landscape-wide increase in the occurrence of woody species and non-moorland species despite potential resampling errors. Such vegetation changes in moorlands are notable because they have occurred in parallel with the accelerating global warming. Warming can lead to an extended growing season and peat drying, which would explain the changes in vegetation that we observed. We thus provide valuable insights into the very long-term (over 90 years) changes in moorland plant communities. Our study fills a knowledge gap in the inferences of global change effects on mountainous moorlands and adds to the growing evidence that solutions are needed to mitigate the effects of climate change.
Access options
Buy single article
Instant access to the full article PDF.
USD 39.95
Price excludes VAT (USA)
Tax calculation will be finalised during checkout.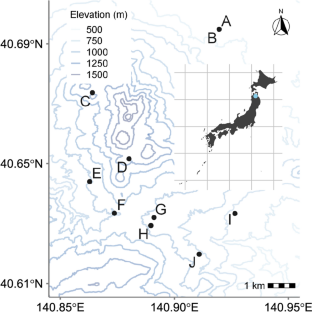 Availability of data and material
The data supporting the results of this study is presented in Table S1.
References
Chapin FS, Mcguire AD, Randerson J, Pielke R, Baldocchi D, Hobbie SE, Roulet N, Eugster W, Kasischke E, Rastetter EB, Zimov SA, Running SW (2000) Arctic and boreal ecosystems of western North America as components of the climate system. Glob Chang Biol 6:211–223

Dullinger S, Gattringer A, Thuiller W, Moser D, Zimmermann NE, Guisan A, Willner W, Plutzar C, Leitner M, Mang T, Caccianiga M, Dirnböck T, Ertl S, Fischer A, Lenoir J, Svenning J-C, Psomas A, Schmatz DR, Silc U, Vittoz P, Hülber K (2012) Extinction debt of high-mountain plants under twenty-first-century climate change. Nat Clim Chang 2:619–622

Durak T, Żywiec M, Kapusta P, Holeksa J (2015) Impact of land use and climate changes on expansion of woody species on subalpine meadows in the Eastern Carpathians. For Ecol Manage 339:127–135

Forrest JRK (2015) Plant-pollinator interactions and phenological change: what can we learn about climate impacts from experiments and observations? Oikos 124:4–13

Geospatial Information Authority of Japan (2000) The reports of changes in wetland area in Japan. https://www.gsi.go.jp/kankyochiri/shicchimenseki2.html. Accessed 30 Jan 2023.

Giarrizzo E, Burrascano S, Chiti T, de Bello F, Lepš J, Zavattero L, Blasi C (2017) Re-visiting historical semi-natural grasslands in the Apennines to assess patterns of changes in species composition and functional traits. Appl Veg Sci 20:247–258

Graves RA, Pearson SM, Turner MG (2017) Species richness alone does not predict cultural ecosystem service value. Proc Natl Acad Sci U S A 114:3774–3779

Hájková P, Hájek M, Apostolova I (2006) Diversity of wetland vegetation in the Bulgarian high mountains, main gradients and context-dependence of the pH role. Plant Ecol 184:111–130

Hédl R, Bernhardt-Römermann M, Grytnes J-A, Jurasinski G, Ewald J (2017) Resurvey of historical vegetation plots: a tool for understanding long-term dynamics of plant communities. Appl Veg Sci 20:161–163

Holmgren M, Lin C-Y, Murillo JE, Nieuwenhuis A, Penninkhof J, Sanders N, van Bart T, van Veen H, Vasander H, Vollebregt ME, Limpens J (2015) Positive shrub-tree interactions facilitate woody encroachment in boreal peatlands. J Ecol 103:58–66

Jackson MM, Topp E, Gergel SE, Martin K, Pirotti F, Sitzia T (2016) Expansion of subalpine woody vegetation over 40 years on Vancouver Island, British Columbia, Canada. Can J for Res 46:437–443

Jamin A, Peintinger M, Gimmi U, Holderegger R, Bergamini A (2020) Evidence for a possible extinction debt in Swiss wetland specialist plants. Ecol Evol 10:1264–1277

Jandt U, Bruelheide H, Jansen F, Bonn A, Grescho V, Klenke RA, Sabatini FM, Bernhardt-Römermann M, Blüml V, Dengler J, Diekmann M, Doerfler I, Döring U, Dullinger S, Haider S, Heinken T, Horchler P, Kuhn G, Lindner M, Metze K, Müller N, Naaf T, Peppler-Lisbach C, Poschlod P, Roscher C, Rosenthal G, Rumpf SB, Schmidt W, Schrautzer J, Schwabe A, Schwartze P, Sperle T, Stanik N, Storm C, Voigt W, Wegener U, Wesche K, Wittig B, Wulf M (2022) More losses than gains during one century of plant biodiversity change in Germany. Nature 611:512–518

Kapfer J, Hédl R, Jurasinski G, Kopecký M, Schei FH, Grytnes J-A (2016) Resurveying historical vegetation data—opportunities and challenges. Appl Veg Sci 20:164–171

Keith DA, Rodoreda S, Bedward M (2010) Decadal change in wetland–woodland boundaries during the late 20th century reflects climatic trends. Glob Chang Biol

Kudo G, Kawai Y, Amagai Y, Winkler DE (2017) Degradation and recovery of an alpine plant community: experimental removal of an encroaching dwarf bamboo. Alp Bot 127:75–83

Lee S-Y, Ryan ME, Hamlet AF, Palen WJ, Lawler JJ, Halabisky M (2015) Correction: Projecting the Hydrologic Impacts of Climate Change on Montane Wetlands. PLoS ONE 10:e0142960

Lefebvre V, Villemant C, Fontaine C, Daugeron C (2018) Altitudinal, temporal and trophic partitioning of flower-visitors in Alpine communities. Sci Rep 8:1–12

Lenoir J, Gégout JC, Marquet PA, de Ruffray P, Brisse H (2008) A significant upward shift in plant species optimum elevation during the 20th century. Science 320:1768–1771

Makishima D, Sutou R, Goto A, Kawai Y, Ishii N, Taniguchi H, Uchida K, Shimazaki M, Nakashizuka T, Suyama Y, Hikosaka K, Sasaki T (2021) Potential extinction debt due to habitat loss and fragmentation in subalpine moorland ecosystems. Plant Ecol 222:445–457

Makishima D, Ishii N, Sutoh R, Goto A, Kawai Y, Taniguchi H, Uchida K, Shimazaki M, Nakashizuka T, Suyama Y, Hikosaka K, Sasaki T (2022) Predicting diversity changes in subalpine moorland ecosystems based on geometry of species distributions and realistic area loss. J Veg Sci. https://doi.org/10.1111/jvs.13150

Matsubara N, Goto A, Uchida K, Sasaki T (2023) Patterns of flower-visiting insects depend on flowering phenological shifts along an altitudinal gradient in subalpine moorland ecosystems. Biologia 78:809–818

Miller-Struttmann NE, Geib JC, Franklin JD, Kevan PG, Holdo RM, Ebert-May D, Lynn AM, Kettenbach JA, Hedrick E, Galen C (2015) Functional mismatch in a bumble bee pollination mutualism under climate change. Science 349:1541–1544

Moore PD (2002) The future of cool temperate bogs. Environ Conserv 29:3–20

R Development Core Team (2021) R: a language and environment for statistical computing. R Foundation for Statistical Computing, Vienna

Rojo LD, Mehl AE, Pietrelli M, Durán V, Barberena R (2022) Mid- to late Holocene environmental evolution of a high mountain wetland in the subtropical Andes cordillera of Argentina. Wetlands. https://doi.org/10.1007/s13157-022-01549-3

Sasaki T, Katabuchi M, Kamiyama C, Shimazaki M, Nakashizuka T, Hikosaka K (2013) Variations in species composition of moorland plant communities along environmental gradients within a subalpine zone in northern japan. Wetlands 33:269–277

Sasaki T, Katabuchi M, Kamiyama C, Shimazaki M, Nakashizuka T, Hikosaka K (2014) Vulnerability of moorland plant communities to environmental change: consequences of realistic species loss on functional diversity. J Appl Ecol 51:299–308

Sasaki T, Ishii NI, Makishima D, Sutou R, Goto A, Kawai Y, Taniguchi H, Okano K, Matsuo A, Lochner A, Cesarz S, Suyama Y, Hikosaka K, Eisenhauer N (2022) Plant and microbial community composition jointly determine moorland multifunctionality. J Ecol. https://doi.org/10.1111/1365-2745.13969

Shutoh K, Yamanouchi T, Yamaguchi M, Kato S, Shiga T. (2019) A checklist of wetland plants in Japan ver. 1.00. http://wetlands.info/tools/plantsdb/wetlandplants-checklist/. Accessed 30 Jan 2023.

Tomitaka M, Uchihara S, Goto A, Sasaki T (2021) Species richness and flower color diversity determine aesthetic preferences of natural-park and urban-park visitors for plant communities. Environ Sustainabil Indicat 11:100130

Yonebayashi C (2001) Reconstruction of local vegetation in ad 915 at an oligotrophic mire in northern Japan from pollen, present-day vegetation and tephra data. Ecol Res 16:275–288

Satake Y, Hara H, Watari S, Tominari T (eds) (1989) Wild flowers of Japan: woody plants. Heibonsha, Tokyo, Japan (in Japanese)

Satake Y, Ohwi J, Kitamura S, Watari S, Tominari T (eds) (1982) Wild flowers of Japan: herbaceous plants. Heibonsha, Tokyo, Japan (in Japanese)
Acknowledgements
We thank Koji Yonekura for standardizing the nomenclature between the historical and survey data. This work was financially supported by Grants-in-Aid for Scientific Research B (No. 18H02221 and No. 20H04380) from the Ministry of Education, Culture, Sports, Science, and Technology of Japan.
Funding
Japan Society for the Promotion of Science,18H02221, 20H04380.
Ethics declarations
Conflict of interest
The authors declare that they have no conflict of interest.
Ethical approval
Not applicable.
Consent for publication
All the authors approved the publication of this study.
Additional information
Communicated by Paul Ramsay.
Publisher's Note
Springer Nature remains neutral with regard to jurisdictional claims in published maps and institutional affiliations.
Supplementary Information
Below is the link to the electronic supplementary material.
Rights and permissions
Springer Nature or its licensor (e.g. a society or other partner) holds exclusive rights to this article under a publishing agreement with the author(s) or other rightsholder(s); author self-archiving of the accepted manuscript version of this article is solely governed by the terms of such publishing agreement and applicable law.
About this article
Cite this article
Tsuchihashi, Y., Ishii, N.I., Makishima, D. et al. Resurvey of historical moorland plots reveals a landscape-wide increase in the occurrence of woody and non-moorland species over 90 years. Plant Ecol 224, 965–971 (2023). https://doi.org/10.1007/s11258-023-01351-z
Received:

Accepted:

Published:

Issue Date:

DOI: https://doi.org/10.1007/s11258-023-01351-z
Keywords