Abstract
Translocation of threatened plants is increasingly being used as a conservation or mitigation action. The success of this practice is mixed and methods to increase likelihood of success are commonly investigated. Using a long-lived perennial shrub endemic to the Sydney Basin, Australia, as a case study, we examined the role of pre-planting nutrient loading (High, Low) and addition of Provenance (home soil) on growth and flowering, where Provenance soils had on average 50% lower nutrients than the Low treatment. We found that Provenance- and Low-treated plants grew better under propagation compared to High treatments, but these differences did not persist. At 11 months post-planting, Provenance-treated plants had growth rates no different from any other treatments and that plants under both High and Provenance soil treatments had higher peak flowering events, indicating that Provenance-treated soils could confer a flowering advantage akin to fertilisation. This study demonstrates that there were no negative effects of growing plants using home soil, despite a lower nutrient status than standard propagation medium. Translocations, particularly reintroduction or augmentation, should consider home soil treatment within pilot studies as a simple and cost-effective method of potentially reducing transplant shock, providing ethical and phytosanitary measures are addressed.
Access options
Buy single article
Instant access to the full article PDF.
USD 39.95
Price includes VAT (USA)
Tax calculation will be finalised during checkout.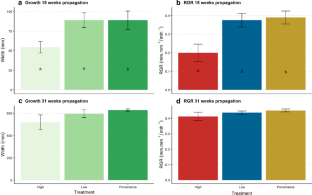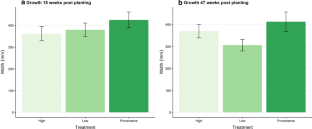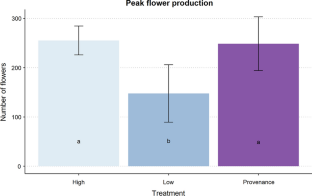 Data availability
Data available on Figshare.
References
ACT (2017) Conservator guidelines for the translocation of native flora and fauna in the ACT. Environment, Planning and Sustainable Development Directorate, ACT Government, Canberra

Barea JM, Jeffries P (1995) Arbuscular mycorrhizas in sustainable soil-plant systems. In: Varma A, Hock B (eds) Mycorrhiza. Springer, pp 521–560

Bates D, Mächler M, Bolker B, Walker S (2015) Fitting linear mixed-effects models using lme4. J Stat Soft 67:48. https://doi.org/10.18637/jss.v067.i01

Batty AL, Dixon KW, Brundrett M, Sivasithamparam K (2001) Constraints to symbiotic germination of terrestrial orchid seed in a mediterranean bushland. New Phytol 152:511–520. https://doi.org/10.1046/j.0028-646X.2001.00277.x

Baum C, El-Tohamy W, Gruda N (2015) Increasing the productivity and product quality of vegetable crops using arbuscular mycorrhizal fungi: a review. Sci Hortic 187:131–141. https://doi.org/10.1016/j.scienta.2015.03.002

BC Act (2016) Biodiversity Conservation Act, NSW. http://classic.austlii.edu.au/au/legis/nsw/consol_act/bca2016309

BOM (2019) Climate statistics for Australian locations Pennant Hills (Yarrara Road) monitoring station. Australian Bureau of Meteorology. http://www.bom.gov.au

Bothe H, Turnau K, Regvar M (2010) The potential role of arbuscular mycorrhizal fungi in protecting endangered plants and habitats. Mycorrhiza 20:445–457. https://doi.org/10.1007/s00572-010-0332-4

Brancaleoni L, Gerdol R, Abeli T, Corli A, Rossi G, Orsenigo S (2018) Nursery pre-treatment positively affects reintroduced plant performance via plant pre-conditioning, but not via maternal effects. Aquat Conserv Mar Freshw Ecosyst 28:641–650. https://doi.org/10.1002/aqc.2888

Brundrett M, Abbott L (1991) Roots of Jarrah Forest Plants. I. Mycorrhizal associations of shrubs and herbaceous plants. Aust J Bot 39:445–457. https://doi.org/10.1071/BT9910445

Brundrett M, Bougher N, Dell B, Grove T, Malajczuk N (1996) Examining mycorrhizal associations. Working with mycorrhizas in forestry and agriculture. Australian Centre for International Agricultural Research, Canberra, pp 179–183

Casselman CN, Fox TR, Burger JA, Jones AT, Galbraith JM (2006) Effects of silvicultural treatments on survival and growth of trees planted on reclaimed mine lands in the Appalachians. For Ecol Manag 223:403–414. https://doi.org/10.1016/j.foreco.2005.12.020

Chialva M, Salvioli di Fossalunga A, Daghino S, Ghignone S, Bagnaresi P, Chiapello M, Novero M, Spadaro D, Perotto S, Bonfante P (2018) Native soils with their microbiotas elicit a state of alert in tomato plants. New Phytol 220:1296–1308. https://doi.org/10.1111/nph.15014

Cochrane A, Kelly A, Brown K, Cunneen S (2002) Relationships between seed germination requirements and ecophysiological characteristics aid the recovery of threatened native plant species in Western Australia. Ecol Manag Restor 3:47–60. https://doi.org/10.1046/j.1442-8903.2002.00089.x

Commander LE, Coates DJ, Broadhurst L, Offord CA, Makinson RO, Matthes M (2018) Guidelines for the translocation of threatened plants, 3rd edn. Australian Network for Plant Conservation Inc, Canberra

Crawley MJ (2012) The R book. John Wiley & Sons, Ltd

Cuesta B, Villar-Salvador P, Puértolas J, Jacobs DF, Benayas JMR (2010) Why do large, nitrogen rich seedlings better resist stressful transplanting conditions? A physiological analysis in two functionally contrasting Mediterranean forest species. For Ecol Manag 260:71–78. https://doi.org/10.1016/j.foreco.2010.04.002

Cuneo P, Emery N, Errington G, Sherieff A (2018) Assisted run(a)way: translocation planning to secure the Bankstown Hibbertia. Australas Plant Conserv J Aust Netw Plant Conserv 27:23–25

Dalrymple SE, Banks E, Stewart GB, Pullin AS (2012) A meta-analysis of threatened plant reintroductions from across the globe. In: Maschinski J, Haskins KE (eds) Plant reintroduction in a changing climate: promises and perils. Island Press, Washington, DC, pp 31–50

DPIE (2020) Julian's Hibbertia—profile. New South Wales Department of Planning, Industry and Environment. https://www.environment.nsw.gov.au/threatenedSpeciesApp/profile.aspx?id=20279

Duponnois R, Plenchette C (2003) A mycorrhiza helper bacterium enhances ectomycorrhizal and endomycorrhizal symbiosis of Australian Acacia species. Mycorrhiza 13:85–91. https://doi.org/10.1007/s00572-002-0204-7

EPBC Act (1999) Environment Protection and Biodiversity Conservation Act, Cth. https://www.legislation.gov.au/Details/C2014C00506

Falk DA, Millar CI, Olwell M (1996) Restoring diversity: strategies for reintroduction of endangered plants. Island Press, Washington, DC

Fernández M, Marcos C, Tapias R, Ruiz F, López G (2007) Nursery fertilisation affects the frost-tolerance and plant quality of Eucalyptus globulus Labill. cuttings. Ann For Sci 64:865–873. https://doi.org/10.1051/forest:2007071

Fisher JB, Jayachandran K (2002) Arbuscular mycorrhizal fungi enhance seedling growth in two endangered plant species from South Florida. Int J Plant Sci 163:559–566. https://doi.org/10.1086/340428

Franco JA, Martínez-Sánchez JJ, Fernández JA, Bañón S (2006) Selection and nursery production of ornamental plants for landscaping and xerogardening in semi-arid environments. J Hortic Sci Biotechnol 81:3–17. https://doi.org/10.1080/14620316.2006.11512022

Gemma J, Koske R, Habte M (2002) Mycorrhizal dependency of some endemic and endangered Hawaiian plant species. Am J Bot 89:337–345. https://doi.org/10.3732/ajb.89.2.337

Godefroid S, Piazza C, Rossi G, Buord S, Stevens A-D, Aguraiuja R, Cowell C, Weekley CW, Vogg G, Iriondo JM (2011) How successful are plant species reintroductions? Biol Conserv 144:672–682. https://doi.org/10.1016/j.biocon.2010.10.003

Godefroid S, Le Pajolec S, Van Rossum F (2016) Pre-translocation considerations in rare plant reintroductions: implications for designing protocols. Plant Ecol 217:169–182. https://doi.org/10.1007/s11258-015-0526-0

Grose M (1989) Phosphorus nutrition of seedlings of the waratah, Telopea speciosissima (Sm) R. Br. (Proteaceae). Aust J Bot 37:313–320. https://doi.org/10.1071/BT9890313

Grossnickle SC (2012) Why seedlings survive: influence of plant attributes. New For 43:711–738. https://doi.org/10.1007/s11056-012-9336-6

Groves R, Keraitis K (1976) Survival and growth of seedlings of three sclerophyll species at high levels of phosphorus and nitrogen. Aust J Bot 24:681–690. https://doi.org/10.1071/BT9760681

Guerrant EO Jr (2013) The value and propriety of reintroduction as a conservation tool for rare plants. Botany 91:v–x. https://doi.org/10.1139/cjb-2012-0239

Guerrant EO Jr, Kaye TN (2007) Reintroduction of rare and endangered plants: common factors, questions and approaches. Aust J Bot 55:362–370. https://doi.org/10.1071/BT06033

Hadley Wickham RF, Henry L, Müller K (2020) dplyr: a grammar of data manipulation. R package version 0.8. 5. https://CRAN.R-project.org/package=dplyr

Handreck KA (1997) Phosphorus requirements of Australian native plants. Aust J Soil Res 35:241–289. https://doi.org/10.1071/S96060

Handreck KA, Black ND, Black N (2002) Growing media for ornamental plants and turf, 3rd edn. UNSW Press Ltd., Sydney

Haskins KE, Pence V (2012) Transitioning plants to new environments: beneficial applications of soil microbes. In: Maschinski J, Haskins KE (eds) Plant reintroduction in a changing climate. Island Press, Washington, DC, pp 89–107

Hoffmann WA, Poorter H (2002) Avoiding bias in calculations of relative growth rate. Ann Bot 90:37–42. https://doi.org/10.1093/aob/mcf140

Hopper SD, Silveira FA, Fiedler PL (2016) Biodiversity hotspots and Ocbil theory. Plant Soil 403(1):167–216. https://doi.org/10.1007/s11104-015-2764-2

Hothorn T, Bretz F, Westfall P (2008) Simultaneous inference in general parametric models. Biom J 50:346–363. https://doi.org/10.1002/bimj.200810425

IUCN (2013) Guidelines for reintroductions and other conservation translocations. Version 1.0 . Gland Switz Camb UK IUCNSSC Re-Introd Spec Group

Jacobs DF, Landis TD (2009) Hardening [Chapter 12]. In: Dumroese RK, Luna T, Landis TD (eds) Nursery manual for native plants: a guide for tribal nurseries-Volume 1: Nursery management. Agriculture Handbook 730, US Department of Agriculture, Forest Service, Washington, DC, pp 217–227

Jacobs DF, Oliet JA, Aronson J, Bolte A, Bullock JM, Donoso PJ, Landhäusser SM, Madsen P, Peng S, Rey-Benayas JM, Weber JC (2015) Restoring forests: what constitutes success in the twenty-first century? New For 46:601–614. https://doi.org/10.1007/s11056-015-9513-5

Keith D (2006) Ocean shores to desert dunes: the native vegetation of New South Wales and the ACT. NSW Department of Environment and Conservation, Sydney

Kuznetsova A, Brockhoff PB, Christensen RHB (2017) lmerTest package: tests in linear mixed effects models. J Stat Softw. https://doi.org/10.18637/jss.v082.i13

Lawrence BA, Kaye TN (2008) Direct and indirect effects of host plants: implications for reintroduction of an endangered hemiparasitic plant (Castilleja levisecta). Madroño 55:151–159. https://doi.org/10.3120/0024-9637(2008)55[151:DAIEOH]2.0.CO;2

Leake S (1993) Phosphorus and iron nutrition in Australian Native Plants. Australian Native Plant Society. http://www.anpsa.org.au/APOL1/mar96-2.html

Maguire AJ, Menges ES (2011) Post-Fire Growth Strategies of Resprouting Florida Scrub Vegetation. Fire Ecol 7(3):12–25. https://doi.org/10.4996/fireecology.0703012

Maschinski J, Albrecht MA (2017) Center for Plant Conservation's Best Practice Guidelines for the reintroduction of rare plants. Plant Divers 39:390–395. https://doi.org/10.1016/j.pld.2017.09.006

Mendes R, Garbeva P, Raaijmakers JM (2013) The rhizosphere microbiome: significance of plant beneficial, plant pathogenic, and human pathogenic microorganisms. FEMS Microbiol Rev 37:634–663. https://doi.org/10.1111/1574-6976.12028

Menges ES (2008) Restoration demography and genetics of plants: when is a translocation successful? J Aust J Bot 56:187–196. https://doi.org/10.1071/BT07173

Menges ES, Smith SA, Weekley CW (2016) Adaptive introductions: how multiple experiments and comparisons to wild populations provide insights into requirements for long-term introduction success of an endangered shrub. Plant Divers 38:238–246. https://doi.org/10.1016/j.pld.2016.09.004

Michaelis J, Diekmann M (2018) Effects of soil types and bacteria inoculum on the cultivation and reintroduction success of rare plant species. Plant Ecol 219:441–453. https://doi.org/10.1007/s11258-018-0807-5

Monks L, Coates D, Bell T, Bowles ML (2012) Determining success criteria for reintroductions of threatened long-lived plants. In: Maschinski J, Haskins KE (eds) Plant reintroduction in a changing climate: promises and perils. Island Press, Washington, DC, pp 189–208

Montalvo AM, Ellstrand NC (2000) Transplantation of the subshrub Lotus scoparius: testing the home-site advantage hypothesis. Conserv Biol 14:1034–1045. https://doi.org/10.1046/j.1523-1739.2000.99250.x

Oliet JA, Tejada M, Salifu KF, Collazos A, Jacobs DF (2009) Performance and nutrient dynamics of holm oak (Quercus ilex L.) seedlings in relation to nursery nutrient loading and post-transplant fertility. Eur J For Res 128:253–263. https://doi.org/10.1007/s10342-009-0261-y

Oliet JA, Puértolas J, Planelles R, Jacobs DF (2013) Nutrient loading of forest tree seedlings to promote stress resistance and field performance: a Mediterranean perspective. New For 44:649–669. https://doi.org/10.1007/s11056-013-9382-8

Paul-Victor C, Züst T, Rees M, Kliebenstein DJ, Turnbull LA (2010) A new method for measuring relative growth rate can uncover the costs of defensive compounds in Arabidopsis thaliana. New Phytol 187:1102–1111. https://doi.org/10.1111/j.1469-8137.2010.03325.x

Price C, Munns R (1999) Chapter 6—Growth analysis: a quantitative approach. In: Atwell BJ, Kriedemann PE, Turnbull CG (eds) Plants in action: adaptation in nature, performance in cultivation. Macmillan Education AU, South Yarra

Reiter N, Lawrie A, Walsh N (2013) The mycorrhizal associations of Borya mirabilis, an endangered Australian native plant. Muelleria 31:81–88

Reiter N, Vlcek K, O'Brien N, Gibson M, Pitts D, Brown GR, Bower CC, Phillips RD (2017) Pollinator rarity limits reintroduction sites in an endangered sexually deceptive orchid (Caladenia hastata): implications for plants with specialized pollination systems. Bot J Linn Soc 184:122–136. https://doi.org/10.1093/botlinnean/box017

Reiter N, Lawrie AC, Linde CC (2018) Matching symbiotic associations of an endangered orchid to habitat to improve conservation outcomes. Ann Bot 122:947–959. https://doi.org/10.1093/aob/mcy094

Ritz C, Baty F, Streibig JC, Gerhard D (2015) Dose-Response Analysis Using R. PLOS ONE 10(12):e0146021. https://doi.org/10.1371/journal.pone.0146021

Rokich DP, Dixon KW (2007) Recent advances in restoration ecology, with a focus on the Banksia woodland and the smoke germination tool. Aust J Bot 55:375–389. https://doi.org/10.1071/BT06108

Ruisi-Besares P (2019) Inter-situ restoration and the use of whole soil inocula to rehabilitate the critically endangered Hawaiian plant, Cyrtandra kaulantha (Master's Thesis). University of Hawai'i at Manoa

Salifu KF, Jacobs DF (2006) Characterizing fertility targets and multi-element interactions in nursery culture of Quercus rubra seedlings. Ann For Sci 63:231–237. https://doi.org/10.1051/forest:2006001

Salifu KF, Jacobs DF, Birge ZK (2009) Nursery nitrogen loading improves field performance of bareroot oak seedlings planted on abandoned mine lands. Restor Ecol 17:339–349. https://doi.org/10.1111/j.1526-100X.2008.00373.x

Schott KM, Snively AE, Landhäusser SM, Pinno BD (2016) Nutrient loaded seedlings reduce the need for field fertilization and vegetation management on boreal forest reclamation sites. New For 47:393–410. https://doi.org/10.1007/s11056-015-9522-4

Shapcott A, Olsen M, Lamont RW (2009) The importance of genetic considerations for planning translocations of the rare coastal heath species Boronia rivularis (Rutaceae) in Queensland. Ecol Restor 27:47–57. https://doi.org/10.3368/er.27.1.47

Silcock J (2018) Plants Red Hot List: Australia's 100 most endangered plants. Science for Saving Species Research findings factsheet Project 2.4. Threatened Species Recovery Hub, National Environmental Science Program. https://tsrhub.worldsecuresystems.com/

Silcock JL, Simmons CL, Monks L, Dillon R, Reiter N, Jusaitis M, Vesk PA, Byrne M, Coates DJ (2019) Threatened plant translocation in Australia: a review. Biol Conserv 236:211–222. https://doi.org/10.1016/j.biocon.2019.05.002

Specht R, Connor D, Clifford H (1977) The heath-savannah problem: the effect of fertilizer on sand-heath vegetation of North Stradbroke Island, Queensland. Aust J Ecol 2:179–186. https://doi.org/10.1111/j.1442-9993.1977.tb01135.x

Standish R, Stokes B, Tibbett M, Hobbs R (2007) Seedling response to phosphate addition and inoculation with arbuscular mycorrhizas and the implications for old-field restoration in Western Australia. Environ Exp Bot 61:58–65. https://doi.org/10.1016/j.envexpbot.2007.03.004

Stoneman G, Dell B, Turner N (1995) Growth of Eucalyptus marginata (jarrah) seedlings in mediterranean-climate forest in south-west Australia in response to overstorey, site and fertiliser application. For Ecol Manag 79:173–184. https://doi.org/10.1016/0378-1127(95)03608-3

Team R.D.C. (2019) R: a language and environment for statistical computing. R Foundation for Statistical Computing, Vienna, Austria. https://www.R-project.org/

Thomson V, Leishman M (2004) Survival of native plants of Hawkesbury Sandstone communities with additional nutrients: effect of plant age and habitat. Aust J Bot 52:141–147. https://doi.org/10.1071/BT03047

Timmer VR (1997) Exponential nutrient loading: a new fertilization technique to improve seedling performance on competitive sites. New For 13:279–299. https://doi.org/10.1023/a:1006502830067

Trubat R, Cortina J, Vilagrosa A (2010) Nursery fertilization affects seedling traits but not field performance in Quercus suber L. J Arid Environ 74:491–497. https://doi.org/10.1016/j.jaridenv.2009.10.007

Trubat R, Cortina J, Vilagrosa A (2011) Nutrient deprivation improves field performance of woody seedlings in a degraded semi-arid shrubland. Ecol Eng 37:1164–1173. https://doi.org/10.1016/j.ecoleng.2011.02.015

Van Rossum F, Raspé O (2018) Contribution of genetics for implementing population translocation of the threatened Arnica montana. Conserv Genet 19:1185–1198. https://doi.org/10.1007/s10592-018-1087-2

Wardle DA, Bardgett RD, Klironomos JN, Setälä H, Van Der Putten WH, Wall DH (2004) Ecological linkages between aboveground and belowground biota. Science 304:1629–1633. https://doi.org/10.1126/science.1094875

Zimmer HC (2016) Limits to recruitment of a rare conifer: Wollemia nobilis (PhD Thesis). http://hdl.handle.net/11343/58611

Zubek S, Turnau K, Tsimilli-Michael M, Strasser RJ (2009) Response of endangered plant species to inoculation with arbuscular mycorrhizal fungi and soil bacteria. Mycorrhiza 19:113–123. https://doi.org/10.1007/s00572-008-0209-y
Acknowledgements
This paper is dedicated to Lutz Jerofke and to Ingrid Liermann, keen naturalists and co-discoverers of one H. spanantha population. We acknowledge the invaluable support of-Hornsby Shire Council and Community Nursery staff and volunteers, particularly Mark Hood, Simon Dunne and Mary Warner. We also acknowledge Erica Mahon, NSW Saving Our Species, the staff and Directors of AMBS Ecology and Heritage for their support of this project. Thank you also to Associate Professor Tina Bell and Danica Parnell, University of Sydney, for assistance with preliminary soil analysis and mycorrhizal staining and to Stephen Young of the NSW Soil Conservation Service for soil collection.
Funding
Research has been conducted as part of the National Environmental Science Programme's Threatened Species Recovery Hub (Project 1.3) and funding has been provided by the New South Wales Government Saving Our Species program.
Ethics declarations
Conflict of interest
The authors have no conflicts of interest to declare that are relevant to the content of this article.
Ethical approval
Planting and implementation were undertaken with a NSW Scientific Licence, approved by the New South Wales Department of Planning, Industry and Environment.
Consent to participate
Not applicable.
Consent for publication
Not applicable.
Additional information
Publisher's Note
Springer Nature remains neutral with regard to jurisdictional claims in published maps and institutional affiliations.
Communicated by Mark Brundrett.
Supplementary Information
Below is the link to the electronic supplementary material.
About this article
Cite this article
Doyle, C.A.T., Pellow, B.J., Rapmund, R.A. et al. Preparing threatened plants for translocation: does home soil addition and nutrient loading improve growth and flowering?. Plant Ecol 222, 829–842 (2021). https://doi.org/10.1007/s11258-021-01146-0
Received:

Accepted:

Published:

Issue Date:
Keywords
Augmentation

Whole soil

Threatened flora

Propagation

Provenance

Nursery standards

Reintroduction