Abstract
Disturbance is necessary for the survival of most species of carnivorous plants to reduce competition and expose bare soil for germination. Historically, fire was the most widespread form of disturbance. Today, prescribed burns and mowing are the primary anthropogenic forms of disturbance maintaining populations of carnivorous plants. Other natural forms of disturbance have received little consideration such as grazing and small-scale disturbance by burrowing crayfish. In Mississippi, burrowing crayfish are beneficial to both sundews (Drosera capillaris) and bladderworts (Utricularia juncea). Because burrowing crayfish are found throughout much of southeastern North America, they may provide a vital form of disturbance for smaller species of carnivorous plants to the point of being ecosystem engineers. In this study, we investigated if the Kentucky state-endangered dwarf sundew (D. brevifolia) benefits from bare patches of soil created experimentally by us and naturally by the endemic Bluegrass crayfish (Cambarus batchi). We observed colonization of sundews on crayfish mounds, chimneys, and eroded chimneys (= flat mounds) over 16 months. We also observed colonization of patches of soil we scraped clear of plants. We found that dwarf sundews quickly colonized bare soil, and that bare patches created by burrowing crayfish may be an essential small-scale form of disturbance for these sundews. Dwarf sundews have a life history predicted by the colonization hypothesis that being, they grow in a restricted niche space within the meadow and appear to have a disturbance-mediated coexistence with crayfish. They are small, fast growing, and short lived, and produce a seed bank. Dwarf sundews are a "fugitive species" that quickly colonize intense, small-scale disturbed sites to temporarily escape competition. We briefly discuss other potentially important, yet over-looked, disturbance that historically has been beneficial to carnivorous plants in southeastern North America.
Access options
Buy single article
Instant access to the full article PDF.
USD 39.95
Price includes VAT (USA)
Tax calculation will be finalised during checkout.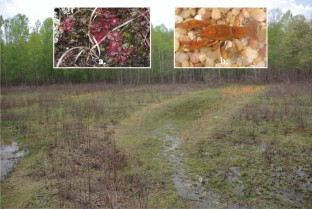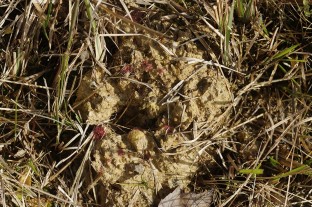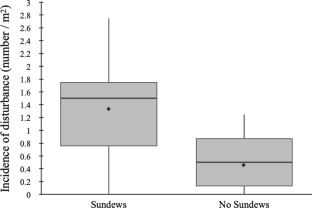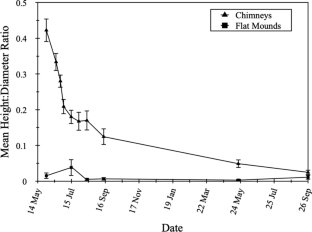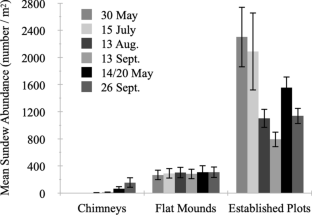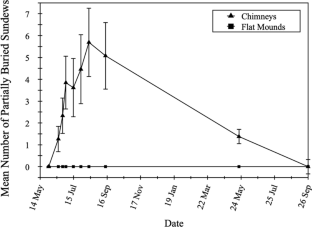 Data availability
Data will be made available upon publication.
References
Albertson LK, Daniels MD (2018) Crayfish ecosystem engineering effects on riverbed disturbance and topography are mediated by size and behavior. Freshwater Sci 37:836–844

Barden LS, Woods FW (1973) Characteristics of lightning fires in Southern Appalachian forests. Proc Annual Tall Timber Fire Ecol Conf 15:345–361

Barker NG, Williamson GB (1988) Effects of a winter fire on Sarracenia alata and S. psittacina. Am J Bot 75:138–143

Benzing DH (1987) The origin and rarity of botanical carnivory. Trends Ecol Evol 2:364–369

Brewer JS (1998) Effects of competition and litter on a carnivorous plant, Drosera capillaris (Droseraceae). Am J Bot 85:1592–1596

Brewer JS (1999a) Effects of fire, competition, and soil disturbances on regeneration of a carnivorous plant (Drosera capillaris). Am Midl Nat 141:28–42

Brewer JS (1999b) Effects of competition, litter, and disturbance on an annual carnivorous plant (Utricularia juncea). Plant Ecol 140:159–165

Brewer JS (1999c) Short-term effects of fire and competition on growth and plasticity of the yellow pitcher plant, Sarracenia alta (Sarraceniaceae). Am J Bot 86:1264–1271

Brewer JS (2001) A demographic analysis of fire-stimulated seedling establishment in Sarracenia alata (Sarraceniaceae). Am J Bot 88:1250–1257

Brewer JS (2003) Why don't carnivorous pitcher plants compete with non-carnivorous plants for nutrients? Ecology 84:451–462

Brewer JS (2006) Resource competition and fire-regulated nutrient demand in carnivorous plants of longleaf pine savannas. Appl Veg Sci 9:11–16

Brewer JS, Cunningham AL, Moore TP, Brooks RM, Waldrup JL (2009) A six-year study of fire-related flowering cues and coexistence of two perennial grasses in a wet longleaf pine (Pinus palustris) Savanna. Plant Ecol 200:141–154

Brown BL, Lawson RL (2010) Habitat heterogeneity and activity of an omnivorous ecosystem engineer control stream community dynamics. Ecology 91:1799–1810

Connell JH (1978) Diversity in tropical rain forests and coral reefs. Science 199:1302–1310

Crain C, Bertness MD (2006) Ecosystem engineering across environmental gradients: implications for conservation and management. Bioscience 56:211–218

Creed RP Jr, Reed JM (2004) Ecosystem engineering by crayfish in a headwater stream community. J N Am Benthol Soc 23:224–236

Dixon KW, Pate JS (1978) Phenology, morphology, and reproductive biology of the tuberous sundew, Drosera erythrorhiza Lindl. Aust J Bot 26:441–454

Ellison AM, Gotelli NJ (2009) Energetics, the evolution of carnivorous plants—Darwin's 'most wonderful plants in the world.' J Exp Bot 60:19–42

Ellison AM, Gotelli NJ, Brewer JS, Cochran-Stafira DL, Kneitel JM, Miller TE, Worley AC, Zamora R (2003) The evolutionary ecology of carnivorous plants. Adv Ecol Res 33:1–74

Folkerts GW (1982) The Gulf Coast pitcher plant bogs: one of the continent's most unusual assemblages of organisms depends on an increasingly rare combination of saturated soil and frequent fires. Am Sci 70:260–267

Fortino K (2006) Effect of season on the impact of ecosystem engineers in the New River, NC. Hydrobiologia 559:463–466

Givnish TJ (1989) Ecology and evolution of carnivorous plants. In: Abrahamson WG (ed) Plant-animal interactions. McGraw Hill, New York, pp 243–290

Givnish TJ, Burkhardt EL, Happel RE, Weintraub JD (1984) Carnivory in the bromeliad Brocchinia reducta, with a cost/benefit model for the general restriction of carnivorous plants to sunny, moist, nutrient-poor habitats. Am Nat 124:479–497

Helms BS, Creed RP (2005) The effects of 2 coexisting crayfish on an Appalachian river community. J N Am Benthol Soc 24:113–122

Hinman SE, Brewer JS (2007) Responses of two frequently-burned wet pine savannas to an extended period without fire. J Torrey Bot Soc 134:512–526

Hurt CR, Thoma RF, Withers DI, Williams CE, Paine RTR (2019) Extensive regional endemism and cryptic diversity in the Tennessee and Kentucky, USA populations of the burrowing crayfish Cambarus deweesae (Bouchard & Etnier, 1979) (Decapoda: Astacidea: Cambaridae) as revealed by molecular genetics. J Crustacean Bio 2019:1–10

Jules ES, Ellison AM, Gotelli NJ, Lillie S, Meindl GA, Anders NJ, Young AN (2011) Influence of fire on a rare serpentine plant assemblage: a 5-year study of Darlingtonia fens. Am J Bot 98:801–811

Juniper BE, Robins RJ, Joel DM (1989) The Carnivorous Plants. Academic Press, London

Kesler HC, Trusty JL, Herman SM, Guyer C (2008) Demographic responses of Pinguicula ionantha to prescribed fire: a regression-design LTRE approach. Oecologia 156:545–557

Krupa JJ (2019) Facultative perenniality in the dwarf sundew (Drosera brevifolia). Castanea 84:255–258

Krupa JJ, Hopper KR, Gruber SB, Schmidt JM, Harwood JD (2020) Plant–animal interactions between carnivorous plants, sheet-web spiders, and ground-running spiders as guild predators in a wet meadow community. Ecol Evol 10:1–11

Lodge DM, Deines A, Gherardi F, Yeo DCJ, Arcella T, Baldridge AK, Barnes MA, Chadderton WL, Feder JL, Gantz CA, Howard GW, Jerde CL, Peters BW, Peters JA, Sargent LW, Turner CR, Wittmann ME, Zeng Y (2012) Global introductions of crayfishes: evaluating the impact of species invasions on ecosystem services. Ann Rev Ecol Evol Syst 43:449–472

Luken JO (2005) Dionaea muscipula (Venus Flytrap) establishment, release, and response of associated species in mowed patches on the rims of Carolina bays. Rest Ecol 13:678–684

McDonald JN (1981) North American Bison: their classification and evolution. University of California Press, Berkeley, p 316

Means DB (1995) Fire ecology of the Guayana region of northeastern South America., pages 61–77 In, Susan I. Cerulean and R. Todd Endstrom (eds) Fire in wetlands: a management perspective. Proceedings of the Tall Timbers Fire Ecology Conference NO. 19. Tall timbers Research Station, Tallahassee, FL.

Nickell Z, Ofla-Varriano O, Plemmons E, Morgan MD (2018) Ecosystem engineering by bison (Bison bison) wallowing increases arthropod community heterogeneity in space and time. Ecosphere 9:e02436

Paniw M, Salguero-Gómez R, Ojeda F (2015) Local-scale disturbances can benefit an endangered, fire-adapted plant species in western Mediterranean heathland in the absence of fire. Biol Cons 187:74–81

Paniw M, Quintana-Ascencio PF, Ojeda F, Salguero-Gómez R (2017) Interacting livestock and fire may both threaten and increase viability of a fire-adapted Mediterranean carnivorous plant. J Appl Ecol 54:1884–1894

Pinter LM, Soluk DA (2006) Evaluating non-consumptive, positive effects of a predator in the persistence of an endangered species. Biol Cons 130:584–591

Platt WJ (1975) The colonization and formation of equilibrium plant species associations on badger disturbances in a tall-grass prairie. Ecol Monographs 45:285–305

Pickett STA, White PS (1985) The ecology of natural disturbance and patch dynamics. Academic Press Inc, Orlando

Plummer GL (1963) Soils of the pitcher plant habitats in the Georgia coastal plains. Ecology 44:727–734

R Core Team. (2015) A language and environment for statistical computing. R Foundation for Statistical Computing, Vienna, Austria. http://www.R-project.org/. Accessed January 2015.

Rykiel EJ (1985) Towards a definition of ecological disturbance. Austr J of Ecol 10:361–365

Schnell DE (2002) Carnivorous plants of the United States and Canada, 2nd edn. Timber Press, Portland

Statzner B, Fievet E, Champagne J-Y, Morel R, Herouin E (2000) Crayfish as geomorphic agents and ecosystem engineers: biological behavior affects sand and gravel erosion in experimental streams. Limnol Oceanogr 45:1030–1040

Tucker JW Jr, Robinson WD (2003) Influence of season and frequency of fire on Henslow's sparrows (Ammodramus henslowii) wintering on gulf coast pitcher plant bogs. Auk 120:96–106
Acknowledgements
We thank The Nature Conservancy, the Pulaski County Conservation Commission, and the Office of the Kentucky Nature Preserves for preserving and protecting Hazeldell Meadow and surrounding wet flatwoods and for allowing us to conduct our research in the meadow. We thank Carla Hurt for conducting genetic analysis of crayfish and Roger Thoma for examining crayfish specimens to confirm the species of crayfish in the meadow. We also thank Rebecca Wente and Sam Gruber for their help collecting field data. This project was funded by the Kentucky Science and Engineering Foundation (KSEF—2679-RDE-015), the Kentucky National Science Foundation EPSCoR program (NSF—0814194), and the NSF REU program (DBI-1062890).
Funding
Kentucky Science and Engineering Foundation (KSEF-2679-RDE-015), the Kentucky National Science Foundation EPSCoR program (NSF—0814194), and NSF REU program (DBI-1062890).
Ethics declarations
Informed consent
The 3 authors give consent to publish.
Additional information
Publisher's Note
Springer Nature remains neutral with regard to jurisdictional claims in published maps and institutional affiliations.
Communicated by A. Joshua Leffler.
About this article
Cite this article
Krupa, J.J., Hopper, K.R. & Nguyen, M.A. Dependence of the dwarf sundew (Drosera brevifolia) on burrowing crayfish disturbance. Plant Ecol 222, 459–467 (2021). https://doi.org/10.1007/s11258-021-01119-3
Received:

Accepted:

Published:

Issue Date:
Keywords
Dwarf sundew

Drosera brevifolia

Disturbance

Burrowing crayfish

Cambarus batchi

Ecosystems engineering