Abstract
Seed germination and seedling recruitment are among the most critical stages for plant population persistence and development, which may be influenced by habitat fragmentation and resulting microhabitat changes. We conducted laboratory and field experiments using seeds of Camptotheca acuminata, a rare, endemic, and endangered species in China, to investigate the effects of temperature change and water availability on seed viability and germination. The seeds were sensitive to high temperature and water stress. Germination percentages > 60% occurred only between 20–35 °C and water potentials >  − 0.6 MPa. Heating at 75 °C and above for 30 min, continuous heating at 40 °C for 20 days, or desiccation following 120 h imbibition killed nearly all seeds. These seed traits made none of the five microhabitats investigated suitable for regeneration. In the understory plot, most seeds germinated, but the resultant seedlings survived only a short time, depending on reserve food supply from the seeds. Sensitivity to high temperature and water stress inhibited germination in the other plots and most seeds died in the hydration-dehydration cycles. We concluded that efficient natural regeneration could occur only in very special habitats: cool, with stable moist soil but ample sunlight, most likely in suitable gaps in continuous forests. In addition to habitat loss and over-exploitation, difficulties in natural seed germination and seedling recruitment are primary reasons for the current status of C. acuminata. For population recovery of C. acuminata, understory microhabitat protection and artificial support for germination and seedling recruitment are required.
This is a preview of subscription content, log in to check access.
Access options
Buy single article
Instant access to the full article PDF.
US$ 39.95
Tax calculation will be finalised during checkout.
Subscribe to journal
Immediate online access to all issues from 2019. Subscription will auto renew annually.
US$ 199
Tax calculation will be finalised during checkout.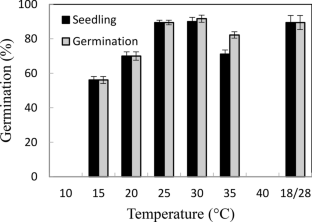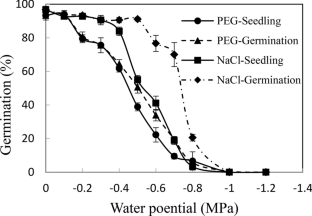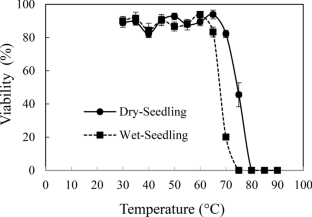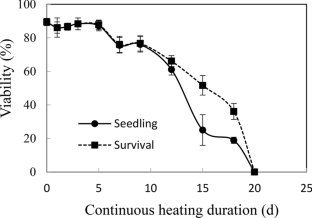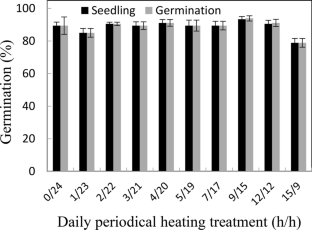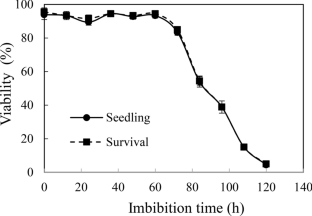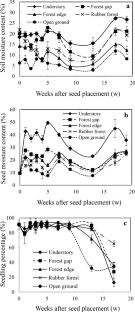 Data availability
All data were presented in this manuscript.
References
Ashworth L, Martí ML (2011) Forest fragmentation and seed germination of native species from the Chaco serrano forest. Biotropica 43:496–503

Bruna EM (2002) Effects of forest fragmentation on Heliconia acuminata seedling recruitment in Central Amazonia. Oecologia 132:235–243

Butler LH, Hay FR, Ellis RH, Smith RD, Murray TB (2009) Priming and re-drying improve the survival of mature seeds of Digitalis purpurea during storage. Ann Bot 103:1261–1270

Cascante A, Quesada M, Lobo J, Fuchs EA (2002) Effects of dry tropical forest fragmentation on the reproductive success and genetic structure of the tree Samanea saman. Conserv Biol 16:137–147

Chen SY, Zhang XZ (2018) Characterization of the complete chloroplast genome of the relict Chinese false tupelo, Camptotheca acuminate. Conserv Genet Resour 10:659–662

Dalling JW, Davis AS, Schutte BJ, Arnold AE (2011) Seed survival in soil: interacting effects of predation, dormancy and the soil microbial community. J Ecol 99:89–95

Daws MI, Bolton S, Burslem DFP, Garwood NC, Mullins CE (2007) Loss of desiccation tolerance during germination in neo-tropical pioneer seeds: implications for seed mortality and germination characteristics. Seed Sci Res 17:273–281

Donohue K, Rubio de Casas R, Burghardt L, Kovach K, Willis CG (2010) Germination, postgermination adaptation, and species ecological ranges. Annu Rev Ecol Evol Syst 41:293–319

Gascon C, Williamson GB, da Fonseca GAB (2000) Receding forest edges and vanishing reserves. Science 288:1356–1358

Gonzalez-Zertuche L, Vazquez-Yanes C, Sánchez-Coronado GA et al (2001) Natural priming of Wigandia urens seeds during burial: effects on germination, growth and protein expression. Seed Sci Res 11:27–34

Griffith AB, Forseth IN (2005) Population matrix models of Aeschynomene virginica, a rare annual plant: implications for conservation. Ecol Appl 15:222–233

Hao JH, Lv SS, Bhattacharya S, Fu JG (2017) Germination response of four alien congeneric Amaranthus species to environmental factors. PLoS ONE 12:e0170297. https://doi.org/10.1371/journal.pone.0170297

Herranz JM, Ferrandis P, Martínez-Duro E (2010) Seed germination ecology of the threatened endemic Iberian Delphinium fissum subsp.sordidum (Ranunculaceae). Plant Ecol 211:89–106

Honěk A, Martinková Z (1996) Geographic variation in seed dormancy among populations of Echinochloa crus-galli. Oecologia 108:419–423

Jordi LP, Zhao AM (2004) China: a rich flora needed of urgent conservation. Orsis 19:49–89

Lamont BB, Van Leeuwen SJ (1988) Seed production and mortality in a rare Banksia species. J Appl Ecol 25:551–559

Lang ARG (1967) Osmotic coefficients and water potentials of sodium chloride solutions from 0 to 40 °C. Aust J Chem 20:2017–2023

Li HM, Ma YX, Liu WJ, Liu WJ (2009) Clearance and fragmentation of tropical rain forest in Xishuangbanna, SW, China. Biodivers Conserv 18:3421–3440

Liu JJ, Slik JWF (2014) Forest fragment spatial distribution matters for tropical tree conservation. Biol Conserv 171:99–106

Liu JM (1998) The dormancy of the seed and the regeneration of Camptotheca acuminate. J Southw China Norm Univ (Nat Sci Ed) 23:721–725 ((in Chinese with English abstract))

Long RL, Gorecki MJ, Renton M, Scott JK, Colville L et al (2015) The ecophysiology of seed persistence: a mechanistic view of the journey to germination or demise. Biol Rev 90:31–59

Long RL, Kranner I, Panetta FD, Birtic S, Adkins SW, Steadman KJ (2011) Wet-dry cycling extends seed persistence by re-instating antioxidant capacity. Plant Soil 338:511–519

Ma YX, Liu YH, Zhang KY (1998) On microclimate edge effects of tropical rainforest fragments in Xishuangbanna. Acta Phytoecol Sin 22:250–255 ((in Chinese with English abstract))

Matthies D, Bräuer I, Maibom W, Tscharntke T (2004) Population size and the risk of local extinction: empirical evidence from rare plants. Oikos 105:481–488

Michel BE (1983) Evaluation of water potentials of solutions of polyethylene glycol 8000 both in the absence and presence of other solutes. Plant Physiol 72:66–70

National Forestry Bureau and Agriculture Ministry of China (1999) List of national key protected wild plants (first group). National Forestry Bureau and Agriculture Ministry of China, Beijing, China

Ren H, Zhang QM, Lu HF, Liu HX, Guo QF, Wang J, Jian SG, Bao HO (2012) Wild plant species with extremely small populations require conservation and reintroduction in China. Ambio 41:913–917

Vergeer P, Rengelink R, Copal A, Ouborg NJ (2003) The interacting effects of genetic variation, habitat quality and population size on performance of Succisa pratensis. J Ecol 91:18–26

Ward M, Johnson SD (2005) Pollen limitation and demographic structure in small fragmented populations of Brunsvigia radulosa (Amaryllidaceae). Oikos 108:253–262

Wen B (2019) Seed germination ecology of Alexandra palm (Archontophoenix alexandrae) and its implication on invasiveness. Sci Rep 9:4057

Wen B (2015) Effects of high temperature and water stress on seed germination of the invasive species Mexican sunflower. PLoS ONE 10:e0141567. https://doi.org/10.1371/journal.pone.0141567

Wen B, Liu MH, Tan YH, Liu Q (2016) Sensitivity to high temperature and water stress in recalcitrant Baccaurea ramiflora seeds. J Plant Res 129:637–645

Wen B, Xue P, Zhang N, Yan Q, Ji MY (2015) Seed germination of invasive species Piper aduncum as affected by high temperature and water stress. Weed Res 55:155–162

Ye J, Wen B (2017) Seed germination in relation to the invasiveness in spiny amaranth and edible amaranth in Xishuangbanna, SW, China. PLoS ONE 12:e0175948

Zhang Z, Li S, Zhang S, Liang C, Gorenstein D, Beasley RS (2004) New camptothecin and ellagic acid analogues from the root bark of Camptotheca acuminata. Planta Med 70:1216–1221

Zhou YS (1989) Dormancy and germination characteristics in Camptotheca acuminate seeds. For Appl Technol 1989:22–25 ((in Chinese))

Zhu H, Wang H, Zhou SS (2010) Species diversity, floristic composition and physiognomy changes in a rainforest remnant in Southern Yunnan, China after 48 years. J Trop For Sci 22:49–66

Zhu H, Xu ZF, Wang H, Li BG (2004) Tropical rain forest fragmentation and its ecological and species diversity changes in southern Yunnan. Biodivers Conserv 13:1355–1372
Acknowledgements
We are grateful to the National Natural Science Foundation of China (31971573) for providing financial support for this research, and Prof Richard T. Corlett is thanked for kindly reviewing this manuscript.
Funding
We are grateful to the National Natural Science Foundation of China (31971573) for providing financial support for this research.
Ethics declarations
Conflict of interest
The authors declare no conflicts of interest.
Consent to participate
Both listed authors have agreed to participate.
Consent for publication
Both listed authors have approved the manuscript before submission, including the names and order of authors.
Additional information
Publisher's Note
Springer Nature remains neutral with regard to jurisdictional claims in published maps and institutional affiliations.
Communicated by Thomas Abeli.
About this article
Cite this article
Wen, B., Yang, P. Implications of seed germination ecology for conservation of Camptotheca acuminata, a rare, endemic, and endangered species in China. Plant Ecol (2020). https://doi.org/10.1007/s11258-020-01099-w
Received:

Accepted:

Published:
Keywords
Habitat fragmentation

High-temperature tolerance

Medicinal tree

Plant diversity conservation

Water stress