Abstract
Liana abundance worldwide has the potential to increase due to elevated atmospheric CO2 concentrations and continued anthropogenic forest disturbance. Temperate forests have relatively low liana diversity compared to tropical forests, and it is believed this discrepancy has allowed nonindigenous lianas to disrupt temperate native communities to a greater degree. Due to their nature as structural parasites upon trees, the influence of lianas on forest systems is disproportionately greater than their modest contributions to aboveground biomass, yet the establishment of lianas into temperate communities has not been well studied. We designed a fully factorial experiment to investigate how density (intraspecific competition) and growth orientation (climbing vs. creeping) would influence growth and biomass allocation in wintercreeper (Euonymus fortunei, Celastraceae) an exotic evergreen liana. We also quantified soil nutrients prior to planting and after 17 months of soil conditioning to determine if wintercreeper influences nutrient availability. We found evidence of Allee effects, in which the highest density treatment yielded significantly greater total biomass (in both roots and shoots), longer stems, and higher specific stem length. Soil analyses indicated that wintercreeper significantly altered soil nutrients, increasing C, N, P, Ca, and Mg over the course of the experiment. These findings support previous studies, which found that wintercreeper tends to grow best in dense monoculture populations. While founder populations may be slow to establish, Allee effects combined with wintercreeper's ability to modify nutrient cycling may help account for this species' recent recognition as a serious plant-pest following a century of widespread cultivation.
Access options
Buy single article
Instant access to the full article PDF.
US$ 39.95
Tax calculation will be finalised during checkout.
Subscribe to journal
Immediate online access to all issues from 2019. Subscription will auto renew annually.
US$ 119
Tax calculation will be finalised during checkout.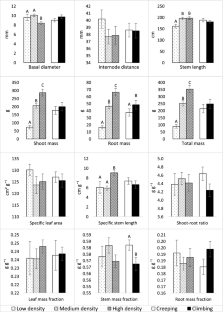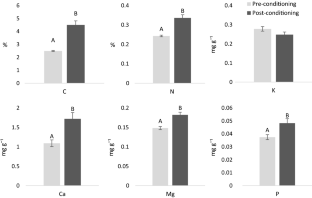 References
Asner GP, Martin RE (2015) Canopy chemistry expresses the life-history strategies of lianas and trees. In: Schnitzer SA, Bongers F, Burnham RJ, Putz FE (eds) Ecology of lianas. Wiley, West Sussex, pp 299–308

Bauer H, Bauer U (1980) Photosynthesis in leaves of the juvenile and adult phase of ivy (Hedera helix). Physiol Plant 49(4):366–372

Berry BJL (2008) Urbanization. In: Marzluff JM, Shulenberger E, Endlicher W, Alberti M, Bradley G, Ryan C, Simon U, ZumBrunnen C (eds) Urban ecology. Springer, New York, pp 25–48

Bray SR, Hoyt AM, Yang Z, Arthur MA (2017) Non-native liana, Euonymus fortunei, associated with increased soil nutrients, unique bacterial communities, and faster decomposition rate. Plant Ecol. 218(3):329–343. https://doi.org/10.1007/s11258-016-0689-3

Burnham RJ (2015) Climbing plants in the fossil record: paleozoic to present. In: Schnitzer SA, Bongers F, Burnham RJ, Putz FE (eds) Ecology of lianas. Wiley, West Sussex, pp 205–220

Campanello PI, Manzamé E, Villagra M, Zhang YJ, Panizza AM, di Francescantonia D, Rodriguez SA, Chen YJ, Santiago LS, Goldstein G (2016) Carbon allocation and water relations of lianas versus trees. In: Goldstein G, Santiago LS (eds) Tropical tree physiology. Springer, Switzerland, pp 103–124

Cappuccino N (2004) Allee effect in an invasive alien plant, pale swallow-wort Vincetoxicum rossicum (Asclepiadaceae). Oikos 106:3–8

Condon MA, Sasek TW, Strain BR (1992) Allocation patterns in two tropical vines in response to increased atmospheric CO2. Funct Ecol 6:680–685

Darwin CR (1865) On the movements and habits of climbing plants. J Linn Soc Bot 9:1–118

EDDMapS (2018) Early detection & distribution mapping system [online]. The University of Georgia Center for Invasive Species and Ecosystem Health. https://www.eddmaps.org/. Accessed 11 Nov 2018

Ehrenfeld JG (2003) Effects of exotic plant invasions on soil nutrient cycling processes. Ecosystems 6:503–523

Frydman VM, Wareing PF (1973) Phase change in Hedera helix L: II. The possible role of roots as a source of shoot gibberellin-like substances. J Exp Bot 24(6):1139–1145.

García D, Obeso JR, Martínez I (2005) Spatial concordance between seed rain and seedling establishment in bird-dispersed trees: does scale matter? J Ecol 93:693–704

Gentry AH (1991) The distribution and evolution of climbing plants. In: Putz FE, Mooney HA (eds) The biology of vines. Cambridge University Press, Cambridge, pp 3–52

Iannone BV III, Henegan L, Rijal D, Wise DH (2015) Below-ground causes and consequences of woodland shrub invasions: a novel paired-point framework reveals new insights. J Appl Ecol 52:78–88

Jordano P, Godoy JA (2002) Frugivore-generated seed shadows: a landscape view of demographic and genetic effects. In: Levey DJ, Silva WR, Galetti M (eds) Seed dispersal and frugivory: ecology, evolution and conservation. CABI Publishing, New York, pp 305–321

Kazda M (2015) Liana-nutrient relations. In: Schnitzer SA, Bongers F, Burnham RJ, Putz FE (eds) Ecology of lianas. John Wiley & Sons, West Sussex, pp 309–322

Klimeš L, Klimešová J (1994) Biomass allocation in a clonal vine: effects of intraspecific competition and nutrient availability. Folia Geobot Phytotax Praha 29:237–244

Ladwig LM, Meiners SJ (2010) Spatiotemporal dynamics of lianas during 50 years of succession to temperate forest. Ecology 91(3):671–680

Ladwig LM, Meiners SJ (2015) The role of lianas in temperate tree communities. In: Schnitzer SA, Bongers F, Burnham RJ, Putz FE (eds) Ecology of lianas. Wiley, West Sussex, pp 188–202

Leicht-Young SA, Pavlovic NB (2015) Lianas as invasive species in North America. In: Schnitzer SA, Bongers F, Burnham RJ, Putz FE (eds) Ecology of Lianas. Wiley-Blackwell, West Sussex, pp 429–442

Leicht-Young SA, O'Donnell H, Latimer AM, Silander JA Jr (2009) Effects of an invasive plant species, Celastrus orbiculatus, on soil composition and processes. Am Midl Nat 161:219–231

Leicht-Young SA, Latimer AM, Silander JA Jr (2011) Lianas escape self-thinning: experimental evidence of positive density dependence in temperate lianas Celastrus orbiculatus and C. scandens. Perspect Plant Ecol Evol Syst 13:163–172

Letcher SG, Chazdon RL (2009) Lianas and self-supporting plants during tropical forest succession. Forest Ecol Manage 257:2150–2156

Liao C, Peng R, Luo Y, Zhou X, Wu X, Fang C, Chen J, Li B (2008) Altered ecosystem carbon and nitrogen cycles by plant invasion: a meta analysis. New Phytol 177:706–714

Matthews ER, Schmit JP, Campbell JP (2016) Climbing vines and forest edges affect tree growth and mortality in temperate forests of the U.S. Mid-Atlantic States. Forest Ecol Manag 374:166–173

Mattingly KZ, McEwan RW, Paratley RD, Bray SR, Lempke JR, Arthur MA (2016) Recovery of forest floor diversity after removal of the nonnative, invasive plant Euonymus fortunei. J Torrey Bot Soc 143(2):103–116

McGrath DA, Binkley MA (2009) Microstegium vimineum invasion changes soil chemistry and microarthropod communities in Cumberland Plateau forests. Southeast Nat 8(1):141–156

Mehlich A (1984) Mehlich 3 soil test extractant: a modification of mehlich 2 extractant. Comm Soil Sci Plant Anal 15(12):1409–1416

Molofsky J, Bever JD (2002) A novel theory to explain species diversity in landscapes: positive frequency dependence and habitat suitability. Proc R Soc Lond B 269:2389–2393

Personeni E, Loiseau P (2004) How does the nature of living and dead roots affect the residence time of carbon in the root litter continuum? Plant Soil 267:129–141

Poethig RS (1990) Phase change and the regulation of shoot morphogenesis in plants. Science 250:923–930

Poorter H, Nagel O (2000) The role of biomass allocation in the growth response of plants to different levels of light, CO2, nutrients and water: a quantitative review. Aust J Plant Physiol 27:595–607

Poorter H, Niklas KJ, Reich PB, Oleksyn J, Poot P, Mommer L (2012) Biomass allocation to leaves, stems, and roots: meta-analyses of interspecific variation and environmental control. New Phytol 193:30–50

Rodgers VL, Wolfe BE, Werden LK, Finzi AC (2008) The invasive species Alliaria petiolata (garlic mustard) increases soil nutrient availability in northern hardwood-conifer forests. Oceologia 157:459–471

Rounsaville TJ, Baskin CC, Roualdes EA, McCulley RL, Arthur MA (2018a) Seed dynamics of the liana Euonymus fortunei (Celastraceae) and implications for invasibility. J Torrey Bot Soc 145(3):225–236

Rounsaville TJ, Baskin CC, Roemmele E, Arthur MA (2018b) Seed dispersal and site characteristics influence germination and seedling survival of the invasive liana Euonymus fortunei (wintercreeper) in a rural woodland. Can J For Res 48(11):1343–1350

Schnitzer SA, Putz FE, Bongers F, Kroening K (2015) The past, present, and potential future of liana ecology. In: Schnitzer SA, Bongers F, Burnham RJ, Putz FE (eds) Ecology of lianas. Wiley, West Sussex, pp 3–10

Smith LM, Reynolds HL (2012) Positive plant-soil feedback may drive dominance of a woodland invader, Euonymus fortunei. Plant Ecol 213:853–860

Swedo BL, Glinka C, Rollo DR, Reynolds HL (2008) Soil bacterial community structure under exotic versus native understory forbs in a woodland remnant in Indiana. Proc Indiana Acad Sci 117:7–15

van der Heijden GMF, Phillips OL, Schnitzer SA (2015) Impacts of lianas on forest-level carbon storage and sequestration. In: Schnitzer SA, Bongers F, Burnham RJ, Putz FE (eds) Ecology of lianas. Wiley, West Sussex, pp 164–174

Wang RL, Zeng RS, Peng SL, Chen BM, Liang XT, Xin XW (2011) Elevated temperature may accelerate invasive expansion of the liana plant Ipomoea cairica. Weed Res 51:574–580

Wang X, Comita LS, Hoa Z, Davies SJ, Ye J, Lin F, Yuan Z (2012) Local-scale drivers of tree survival in a temperate forest. PLoS ONE 7(2):e29469

Watkinson AR (1980) Density-dependence in single-species populations of plants. J Theor Biol 83(2):345–357

Weidenhamer JD, Callaway RM (2010) Direct and indirect effects of invasive plants on soil chemistry and ecosystem function. J Chem Ecol 36:59–69

Wyka TP, Oleksyn J, Karolewski P, Schnitzer SA (2013) Phenotypic correlates of the lianescent growth form: a review. Ann Bot 112:1667–1681

Yoda K, Kira T, Ogawa H, Hozumi K (1963) Self thinning in overcrowded pure stands under cultivated and natural conditions. J Biol Osaka City Univ 14:107–129

Zouhar K (2009) Euonymus fortunei. Fire Effects Information System, U.S. Department of Agriculture. www.fs.fed.us/database/feis/. Accessed 21 Jan 2017.
Acknowledgements
The authors would like to thank Sarah Bray and Millie Hamilton for the technical support they provided. This work was supported by the National Institute of Food and Agriculture, U.S. Department of Agriculture, McIntire-Stennis Program under accession number 1011623.
Additional information
Publisher's Note
Springer Nature remains neutral with regard to jurisdictional claims in published maps and institutional affiliations.
Communicated by Christina Birnbaum.
About this article
Cite this article
Rounsaville, T.J., McCulley, R.L. & Arthur, M.A. Allee effects and soil nutrient changes mediated by experimental plantings of a nonindigenous, temperate liana. Plant Ecol 220, 861–872 (2019). https://doi.org/10.1007/s11258-019-00960-x
Received:

Revised:

Accepted:

Published:

Issue Date:
Keywords
Allee effects

Biomass allocation

Density dependence

Liana

Soil chemistry