Abstract
The effects of habitat fragmentation and isolation on plant species richness have been verified for a wide range of anthropogenically fragmented habitats, but there is currently little information about their effects in naturally small and isolated habitats. We tested whether habitat area, heterogeneity, and isolation affect the richness of wetland vascular plant species in kettle holes, i.e., small glacially created wetlands, in an agricultural landscape of 1 km2 in NE Germany. We compared fragmentation effects with those of forest fragments in the same landscape window. Since wetland and forest species might differ in their tolerance to isolation, and because isolation effects on plant species may be trait dependent, we asked which key life history traits might foster differences in isolation tolerance between wetland and forest plants. We recorded the flora and vegetation types in 83 isolated sites that contained 81 kettle holes and 25 forest fragments. Overall, the number of wetland species increased with increasing area and heterogeneity, i.e., the number of vegetation types, while area was not a surrogate for heterogeneity in these naturally fragmented systems. Isolation did not influence the number of wetland species but decreased the number of forest species. We also found that seeds of wetland species were on average lighter, more persistent and better adapted to epizoochory, e.g., by waterfowl, than seeds of forest species. Therefore, we suggest that wetland species are more tolerant to isolation than forest species due to their higher dispersal potential in space and time, which may counterbalance the negative effects of isolation.
Access options
Buy single article
Instant access to the full article PDF.
US$ 39.95
Tax calculation will be finalised during checkout.
Subscribe to journal
Immediate online access to all issues from 2019. Subscription will auto renew annually.
US$ 119
Tax calculation will be finalised during checkout.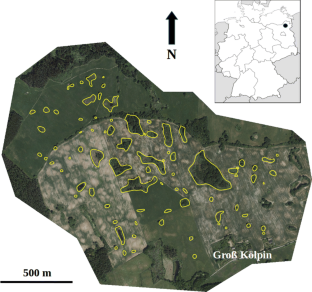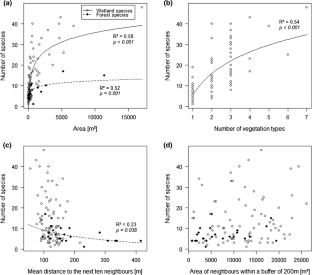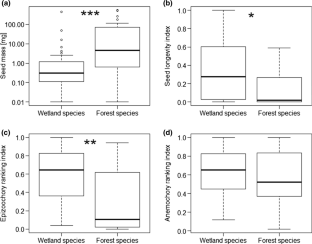 References
Akasaka M, Takamura N, Mitsuhashi H, Kadano Y (2010) Effects of land use on aquatic macrophyte diversity and water quality of ponds. Freshwater Biol 55:909–922. https://doi.org/10.1111/j.1365-2427.2009.02334.x

Alderton E, Sayer CD, Davies R, Lambert SJ, Axmacher JC (2017) Buried alive: aquatic plants survive in 'ghost ponds' under agricultural fields. Biol Conserv 212:105–110. https://doi.org/10.1016/j.biocon.2017.06.004

Altenfelder S, Schmitz M, Poschlod P, Kollmann J, Albrecht H (2016) Managing plant species diversity under fluctuating wetland conditions: the case of temporarily flooded depressions. Wetlands Ecol Manage 24:597–608. https://doi.org/10.14471/2014.34.013

Arrhenius O (1921) Species and area. J Ecol 9:95–99. https://doi.org/10.2307/2255763

Baldi A, Sadler J (2008) Habitat heterogeneity overrides the species-area relationship. J Biogeogr 35:675–681. https://doi.org/10.11111/j.1365-2699.2007.01825.x

Bosiacka B, Pieńkowski P (2012) Do biogeographic parameters matter? Plant species richness and distribution of macrophytes in relation to area and isolation of ponds in NW Polish agricultural landscape. Hydrobiologia 689:79–90. https://doi.org/10.1007/s10750-011-0850-x

Bossuyt B, Honnay O (2008) Can the seed bank be used for ecological restoration? An overview of seed bank characteristics in European communities. J Veg Sci 19:875–884. https://doi.org/10.3170/2008-8-18462

Bossuyt B, Honnay O, Hermy M (2003) An island biogeographical view of the successional pathway in wet dune slacks. J Veg Sci 14:781–788. https://doi.org/10.1111/jvs.12013

Brose U (2001) Relative importance of isolation, area and habitat heterogeneity for vascular plant species richness of temporary wetlands in east-German farmland. Ecography 24:722–730. https://doi.org/10.1111/j.1600-0587.2001.tb00533.x

CBN—Secretariat of the Convention on Biological Diversity (2010) Global biodiversity outlook 3. Montréal

Daniel J, Gleason JE, Cottenie K, Rooney RC (2019) Stochastic and deterministic processes drive wetland community assembly across a gradient of environmental filtering. Oikos. https://doi.org/10.1111/oik.05987

Davies B, Biggs J, Williams P, Whitfield M, Nicolet P, Sear D, Bray S, Maund S (2008) Comparative biodiversity of aquatic habitats in the European agricultural landscape. Agric Ecosyst Environm 125:1–8. https://doi.org/10.1016/j.agee.2007.10.006

Deák B, Valkó O, Török P, Kelemen A, Bede Á, Csathó AI, Tóthmérész B (2018) Landscape and habitat filters jointly drive richness and abundance of specialist plants in terrestrial habitat islands. Landscape Ecol 33:1117–1132. https://doi.org/10.1007/s10980-018-0660-x

Della Bella V, Bazzanti M, Dowgiallo MG, Iberite M (2008) Macrophyte diversity and physico-chemical characteristics of Tyrrhenian coast ponds in central Italy: implications for conservation. Hydrobiologia 597:85–95. https://doi.org/10.1007/s10750-007-9216-9

DWD—Deutscher Wetterdienst (2015) Klimadaten Deutschland. https://www.dwd.de/DE/leistungen/klimadatendeutschland/langj_mittelwerte.html? nn=16102&lsbId=343278. Accessed 07 May 2017

Dzwonko Z, Loster S (1992) Species richness and seed dispersal to secondary woods in southern Poland. J Biogeogr 19:195–204. https://doi.org/10.2307/2845505

Edvardsen A, Økland RH (2006) Variation in plant species richness in and adjacent to 64 ponds in SE Norwegian agricultural landscapes. Aquat Bot 85:79–91. https://doi.org/10.1016/j.aquabot.2006.01.014

Ellenberg H, Weber HE, Düll R, Wirth V, Werner W, Paulißen D (1992) Zeigerwerte von Pflanzen in Mitteleuropa: Datenbank. Scripta Geobot 18:1–248

Eriksson O (1996) Regional dynamics of plants: a review of evidence for remnant, source-sink and metapopulations. Oikos 77:248–258. https://doi.org/10.2307/3546063

Gee JHR, Smith BD, Lee KM, Griffiths SW (1997) The ecological basis of freshwater pond management for biodiversity. Aquat Conserv: Mar Freshw Ecosyst 7:91–104. https://doi.org/10.1002/(SICI)1099-0755(199706)7:2%3c91:AID-AQC221%3e3.0.CO;2-O

Grashof-Bokdam C (1997) Forest species in an agricultural landscape in the Netherlands: effects of habitat fragmentation. J Veg Sci 8:21–28. https://doi.org/10.2307/3237238

Haddad NM, Brudvig LA, Clobert J, Davies KF, Gonzalez A, Holt RD, Lovejoy TE, Sexton JO, Austin MP, Collins CD, Cook WM, Damschen EI, Ewers RM, Foster BL, Jenkins CN, King AJ, Laurance WF, Levey DJ, Margules CR, Melbourne BA, Nicholls AO, Orrock JL, Song DX, Townshend JR (2015) Habitat fragmentation and its lasting impact on Earth's ecosystems. Sci Adv 1:e150005. https://doi.org/10.1126/sciadv.1500052

Heinken T, Weber E (2013) Consequences of habitat fragmentation for plant species: do we know enough? Perspect. Plant Ecol Evol 15:205–2016. https://doi.org/10.1016/j.ppees.2013.05.003

Heinken T, Hanspach H, Raudnitschka D, Schaumann F (2002) Dispersal of vascular plants by four species of wild mammals in a deciduous forest in NE Germany. Phytocoenologia 32:627–643. https://doi.org/10.1127/0340-269X/2002/0032-0627

Henle K, Davies KF, Kleyer M, Margules C, Settele J (2004) Predictors of species sensitivity to fragmentation. Biodiv Conserv 13:207–251. https://doi.org/10.1023/B:BIOC.0000004319.91643.9e

Hérault B, Thoen D (2008) Diversity of plant assemblages in isolated depressional wetlands from Central-Western Europe. Biodiv and Conserv 17:2169–2183. https://doi.org/10.1007/s10531-007-9227-x

Hérault B, Thoen D (2009) How habitat area, local and regional factors shape plant assemblages in isolated closed depressions. Acta Oecol 35:385–392. https://doi.org/10.1016/j.actao.2009.02.002

Hintze C, Heydel F, Hoppe C, Cunze S, König A, Tackenberg O (2013) D3: the dispersal and diaspore database - baseline data and statistics on seed dispersal. Perspect Plant Ecol Evol Syst 15:180–192

Hobbs RJ, Yates CJ (2003) Impacts of ecosystem fragmentation on plant populations: generalizing the idiosyncratic. Austral J Bot 51:471-488. https://doi.org/10.1071/BT03037

Honnay O, Bossyut B, Hermy M (2005) Forest fragmentation effects on patch occupancy and population viability of herbaceous plant species. New Phytol 166:723–736. https://doi.org/10.1111/j.1469-8137.2005.01352.x

Honnay O, Bossyut B, Jacquemyn H, Shimono A, Uchiyama K (2008) Can a seed bank maintain the genetic variation in the above ground plant population? Oikos 117:1–5. https://doi.org/10.1111/j.2007.0030-1299.16188.x

Hooftman DAP, Diemer M (2002) Effects of small habitat size and isolation on the population structure of common wetland species. Plant Biol 347:720–728. https://doi.org/10.1055/s-2002-37400

Hutchinson GE (1957) Concluding remarks. Cold Spring Harbor Symposia 22:415–427

Jacquemyn H, Butaye J, Hermy M (2003) Influence of environmental and spatial variables on regional distribution of forest plant species in a fragmented and changing landscape. Ecography 26:768–776. https://doi.org/10.2307/3565338

Kadmon R, Allouche O (2007) Integrating the effects of area, isolation, and habitat heterogeneity on species diversity: a unification of island biogeography and niche theory. Am Nat 170:443–454. https://doi.org/10.1086/519853

Kalettka T (1996) Die Problematik der Solle (Kleinhohlformen) im Jungmoränengebiet Nordostdeutschlands. Naturschutz Landschaftspfl Brandenbg Sonderheft 1996:4–12

Kalettka T, Rudat C (2006) Hydrogeomorphic types of glacially created kettle holes in North- East Germany. Limnologica 36:54–64. https://doi.org/10.1016/j.limno.2005.11.001

Kleyer M, Bekker RM, Knevel IC, Bakker JP, Thompson K, Sonnenschein M, Poschlod P, Van Groenendael JM, Klimeš L, Klimešová J, Klotz S, Rusch GM, Hermy M, Adriaens D, Boedeltje G, Bossuyt B, Dannemann A, Endels P, Götzenberger L, Hodgson JG, Jackel AK, Kühn I, Kunzmann D, Ozinga WA, Römermann C, Stadler M, Schlegelmilch J, Steendam HJ, Tackenberg O, Wilmann B, Cornelissen JHC, Eriksson O, Garnier E, Peco B (2008) The LEDA Traitbase: a database of life-history traits of Northwest European flora. J Ecol 96:1266–1274

Kolb A, Diekmann M (2005) Effects of life-history traits on responses of plant species to forest fragmentation. Conserv Biol 19:929–938. https://doi.org/10.1111/j.1523-1739.2005.00065.x

Kolk J, Naaf T (2015) Herb layer extinction debt in highly fragmented temperate forests—completely paid after 160 years? Biol Conserv 182:164–172. https://doi.org/10.1016/j.biocon.2014.12.004

LBGR—Landesamt f. Bergbau, Geologie und Rohstoffe Brandenburg in Zusammenarbeit mit der Landesvermessung und Geobasisinformation Brandenburg (2012) Bodenübersichtskarte des Landes Brandenburg 1 : 300 000. Cottbus/Potsdam

Leuschner C, Ellenberg H (2017) Ecology of central european non-forest vegetation: coastal to alpine, natural to man-made habitats: Vegetation ecology of Central Europe, vol 2. Springer, Cham

LGB —Landesvermessung und Geobasisinformation Brandenburg (2012) geobasis orthofotos. Potsdam. https://www.geobasis-bb.de/geodaten/dop.htm. Accessed 15 Nov 2017

Lienert J (2004) Habitat fragmentation effects on fitness of plant populations—a review. J Nat Conserv 12:53–72. https://doi.org/10.1016/j.jnc.2003.07.002

Lienert J, Diemer M, Schmid B (2002) Effects of habitat fragmentation on population structure and fitness components of the wetland specialist Swertia perennis L. (Gentianaceae). Basic Appl Ecol 3:101–114. https://doi.org/10.1078/1439-1791-00089

Lindborg R, Helm A, Bommarco R, Heikkinen RK, Kühn I, Pykälä J, Pärtel M (2012) Effect of habitat area and isolation on plant trait distribution in European forests and grasslands. Ecography 35:356–363. https://doi.org/10.1111/j.1600-0587.2011.07286.x

Lindborg R, Plue J, Andersson K, Cousins SAO (2014) Function of small habitat elements for enhancing plant diversity in different agricultural landscapes. Biol Conserv 169:206–213. https://doi.org/10.1016/j.biocon.2013.11.015

Linton S, Goulder R (2000) Botanical conservation value related to origin and management of ponds. Aquat Conserv: Mar Freshw Ecosyst 10:77–91

Linton S, Goulder R (2003) Species richness of aquatic macrophytes in ponds related to number of species in neighbouring water bodies. Arch Hydrobiol 157:555–565. https://doi.org/10.1127/0003-9136/2003/0157-0555

Logan M (2010) Biostatistical design and analysis using R. Wiley, West Sussex

Lopez RD, Davis CB, Fennessy MS (2002) Ecological relationships between landscape change and plant guilds in depressional wetlands. Landscape Ecol 17:43–56. https://doi.org/10.1023/A:1015203802047

Lozada-Gobilard S, Stang S, Pirhofer-Walzl K, Kalettka T, Heinken T, Schröder B, Eccard J, Joshi J (2019) Environmental filtering predicts plant-community trait distribution and diversity: Kettle holes as models of meta-community systems. Ecol Evol 9:1898–1910. https://doi.org/10.1002/ece3.4883

MacArthur RH, Wilson EO (1967) The theory of island biogeography. Princeton University Press, Princeton

Mai A, Bill R (2011) Analysing kettle holes in Mecklenburg in the last 225 years using an interdisciplinary virtual research laboratory. EnviroInfo. https://enviroinfo.eu/sites/default/files/pdfs/vol6919/0489.pdf. Accessed 7 May 2017

Matthews JW, Tessene PA, Wiesbrook SM, Zercher BW (2005) Effect of area and isolation on species richness and indices of floristic quality in Illinois, USA wetlands. Wetlands 25:607–615. https://doi.org/10.1672/0277-5212(2005)025[0607:EOAAIO]2.0.CO;2

Møller TR, Rørdam CP (1985) Species numbers of vascular plants in relation to area, isolation and age of ponds in Denmark. Oikos 45:8–16. https://doi.org/10.2307/3565216

Mulhouse JM, Galatowitsch SM (2003) Revegetation of prairie pothole wetlands in the mid- continental US: twelve years post-reflooding. Plant Ecol 169:143–159. https://doi.org/10.1023/A:1026221302606

Oertli B, Joye DA, Castella E, Juge R, Cambin D, Lachavanne J-B (2002) Does size matter? The relationship between pond area and biodiversity. Biol Conserv 104:59–70. https://doi.org/10.1016/S0006-3207(01)00154-9

Oostermeijer JGB, Luijten SH, Nijs JCM (2003) Integrating demographic and genetic approaches in plant conservation. Biol Conserv 113:389–398. https://doi.org/10.1016/S0006-3207(03)00127-7

Ozinga WA, Bekker RM, Schaminee JHJ, van Groenendael JM (2004) Dispersal potential in plant communities depends on environmental conditions. J Ecol 92:767–777. https://doi.org/10.1111/j.0022-0477.2004.00916.x

Pätzig M, Kalettka T, Glemnitz M, Berger G (2012) What governs macrophyte species richness in kettle hole types? A case study from Northeast Germany. Limnologica 42:340–354. https://doi.org/10.1016/j.limno.2012.07.004

Plue J, Cousins SAO (2018) Seed dispersal in both space and time is necessary for plant diversity maintenance in fragmented landscapes. Oikos 127:780–791. https://doi.org/10.1111/oik.04813

Pollock MM, Naiman RJ, Hanley TA (1998) Plant species richness in riparian wetlands—a test of biodiversity theory. Ecology 79:94–105. https://doi.org/10.1890/0012-9658(1998)079[0094:PSRIRW]2.0.CO;2

Poschlod P, Rosbakh S (2018) Mudflat species: threatened or hidden? An extensive seed bank survey of 108 fish ponds in Southern Germany. Biol Conserv 225:154–163. https://doi.org/10.1016/j.biocon.2018.06.024

QGIS Development Team (2016) QGIS Geographic Information System. Open Source Geospatial Foundation Project. https://www.qgis.org/. Accessed 7 Jan 2017

R Core Team (2016) R: a language and environment for statistical computing. R Foundation for Statistical Computing, Vienna, Austria. https://www.R-project.org/. Accessed 18 Dec 2016

Reverey F, Grossart H-P, Premke K, Lischeid G (2016) Carbon and nutrient cycling in kettle hole sediments depending on hydrological dynamics: a review. Hydrobiologia 775:1–20. https://doi.org/10.1007/s10750-016-2715-9

Rhazi L, Grillas P, Saber E-R, Rhazi M, Brendonck L, Waterkeyn A (2012) Vegetation of mediterranean temporary pools: a fading jewel? Hydrobiologia 689:23–36. https://doi.org/10.1007/s10750-011-0679-3

Rolon AS, Lacerda T, Maltchik L, Guadagnin DL (2008) Influence of area, habitat and water chemistry on richness and composition of macrophyte assemblages in southern Brazilian wetlands. J Veg Sci 19:221–228. https://doi.org/10.3170/2008-8-18359

Rørslett B (1991) Principal determinants of aquatic macrophyte richness in northern European lakes. Aquat Bot 39:173–193. https://doi.org/10.1016/0304-3770(91)90031-Y

Schmidt M, Kriebitzsch W-U, Ewald J (2011) Waldartenlisten der Farn- und Blütenpflanzen, Moose und Flechten Deutschlands. BfN-Skripten 299:1–111

Shaffer M (1987) Minimum viable populations: coping with uncertainty. In: Soulé MEME (ed) Viable populations for conservation. Cambridge University Press, Cambridge, pp 69–86

Shi J, Ma K, Wang J, Zhao J, He K (2010) Vascular plant species richness on wetland remnants is determined by both area and habitat heterogeneity. Biodiv Conserv 19:1279–1295. https://doi.org/10.1007/s10531-009-9757-5

Sieben EJJ, le Roux PC (2017) Functional traits, spatial patterns and species associations: what is their combined role in the assembly of wetland plant communities? Plant Ecol 218:433–445. https://doi.org/10.1007/s11258-017-0701-6

Soons MB, Brochet A-L, Kleyheeg E, Green AJ (2016) Seed dispersal by dabbling ducks: an overlooked dispersal pathway for a broad spectrum of plant species. J Ecol 104:443–455. https://doi.org/10.1111/1365-2745.12531

Thomson FJ, Moles AT, Auld TD, Kingsford RT (2011) Seed dispersal distance is more strongly correlated with plant height than with seed mass. J Ecol 99:1299–1307. https://doi.org/10.1111/j.1365-2745.2011.01867.x

Vittoz P, Engler R (2007) Seed dispersal distances: a typology based on dispersal modes and plant traits. Bot Helv 117:109–124. https://doi.org/10.1007/s00035-007-0797-8

Vivian-Smith G (1997) Microtopographic heterogeneity and floristic diversity in experimental wetland communities. J Ecol 85:71–82. https://doi.org/10.2307/2960628

Williams P, Whitfield M, Biggs J, Bray S, Fox G, Nicolet P, Sear D (2003) Comparative biodiversity of rivers, streams, ditches and ponds in an agricultural landscape in Southern England. Biol Conserv 115:329–341. https://doi.org/10.1016/S0006-3207(03)00153-8

Young A, Boyle T, Brown T (1996) The population genetic consequences of habitat fragmentation for plants. Tree 11:413–418. https://doi.org/10.1016/0169-5347(96)10045-8
Acknowledgements
We thank Jaqueline Derenkó, Konstantin Etling, Ramona Heim, Robert Hering, Johannes Metz, Tonio Schaub, Maria Schoenen, Daronja Trense and Ewald Weber for valuable comments on various versions of the manuscript. We are grateful to Balázs Déak, Erwin Sieben, an anonymous reviewer and the Associate Editor Peter LeRoux, who helped to substantially improve the paper during the review process.
Additional information
Publisher's Note
Springer Nature remains neutral with regard to jurisdictional claims in published maps and institutional affiliations.
Communicated by Peter le Roux.
Electronic supplementary material
Below is the link to the electronic supplementary material.
About this article
Cite this article
Schöpke, B., Heinze, J., Pätzig, M. et al. Do dispersal traits of wetland plant species explain tolerance against isolation effects in naturally fragmented habitats?. Plant Ecol 220, 801–815 (2019). https://doi.org/10.1007/s11258-019-00955-8
Received:

Accepted:

Published:

Issue Date:
Keywords
Forest species

Habitat fragmentation

Isolation

Kettle holes

Life history traits

Wetland species