Abstract
This study addressed the response of Naufraga balearica, a critically endangered plant endemic to Mallorca (Balearic Islands, western Mediterranean Basin), and its adjacent community to climatic factors by assessing whether climate influences plant cover in N. balearica, including oscillation associated with seasonality, and whether the accompanying species influences its response to climatic factors. The cover of N. balearica and two other accompanying species (Erodium reichardii and Dactylis glomerata) were estimated quarterly from permanent plots over 12 years. The original time series of plant cover and climatic variables were transformed to obtain a smoothed and a detrended time series. The tendency of all variables was assessed using a simple linear regression of the smoothed series. The relationship among plant cover and climatic variables were tested by correlation. Naufraga balearica showed a declining trend, while E. reichardii and D. glomerata experienced a stable and an increasing population trend, respectively. However, all species showed an annual cover oscillation with a similar pattern. A new bioclimatic index combining temperature and precipitation variables was a good predictor although extreme meteorological events substantially altered the trends and patterns of the three species. The response of N. balearica to climatic factors, including extreme weather events, is exacerbated by the presence of other species, mainly those grasses with caespitose growth form and with a faster response to the changing environmental factors. In a climate change scenario, N. balearica would be limited to the shadiest grass-free zones. The current situation emphasises the importance of taking conservation action to guarantee the species conservation.
This is a preview of subscription content, log in to check access.
Access options
Buy single article
Instant access to the full article PDF.
US$ 39.95
Price includes VAT for USA
Subscribe to journal
Immediate online access to all issues from 2019. Subscription will auto renew annually.
US$ 199
This is the net price. Taxes to be calculated in checkout.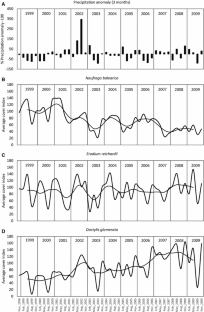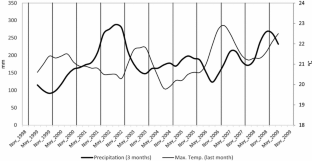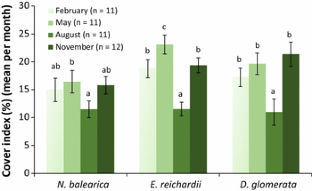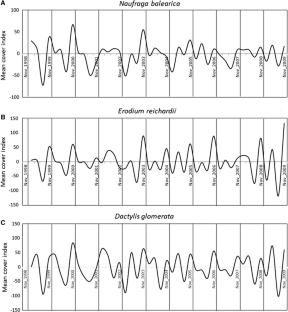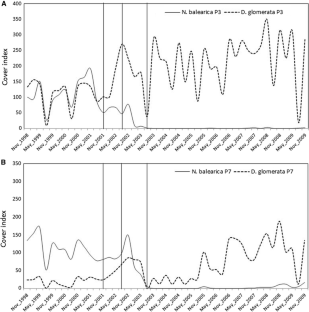 References
Abeli T, Graziano R, Gentili R, Mondoni A, Cristofanelli P (2012a) Response of alpine plant flower production to temperature and snow cover fluctuation at the species range boundary. Plant Ecol 213:1–13

Abeli T, Graziano R, Gentili R, Gandini M, Mondoni A, Cristofanelli P (2012b) Effect of the extreme summer heat waves on isolated populations of two orophitic plants in the north Apennines (Italy). Nord J Bot 30:109–115

Adler PB, HilleRisLamber J (2008) The influence of climate and species composition on the population dynamics of ten prairie forbs. Ecology 89:3049–3060

Adler PB, HilleRisLambers J, Kyriakidis PC, Guan Q, Levine JM (2006) Climate variability has a stabilizing effect on coexistence of prairie grasses. PNAS USA 103:12793–12798

Benavides R, Rabasa SG, Granda E, Escudero A, Hódar JA, Martínez J, Rincón AM, Zamora R, Valladares F (2013) Direct and indirect effects of climate on demography and early growth of Pinus sylvestris at the rear edge: changing roles of biotic and abiotic factors. PLoS ONE 8(3):e59824

Bern Convention (1979) Convention on the Conservation of european wildlife and natural habitats. ETS No. 104. Bern, 19 September 1979

Brooker RW (2006) Plant–plant interactions and environmental change. New Phytol 171:271–284

Callaway RM, Walker LR (1997) Competition and facilitation: a synthetic approach to interactions in plant communities. Ecology 78:1958–1965

Cardona MA, Contandriopoulos J (1977) L'endémisme dans les flores insulaires méditerranéennes. Mediterranea 2:49–77

Coates F, Lunt ID, Tremblay RL (2006) Effects of disturbance on population dynamics of the threatened orchid Prasophyllum correctum D.L. Jones and implications for grassland management in south-eastern Australia. Biol Conserv 129:59–69

Constance L, Cannon J (1967) Naufraga – A new genus of Umbelliferae from Majorque. In: Tutin TG, Heywood VH (eds) Flora Europaea Notulae Systematicae ad Floram Europaeam spectantes 6. Feddes Reppert Spec Nov Regni Veg 74:1–4

Council of Europe (1992) Council Directive 92/43/EEC of 21 May 1992 on the conservation of natural habitats and of wild fauna and flora

Cursach J, Rita J (2012) Implications of the reproductive biology of the narrow endemic Naufraga balearica (Apiaceae) for its conservation status. Plant Syst Evol 298:581–596

Cursach J, Rita J (2014) Naufraga balearica, a threatened narrow endemism of the Balearic Islands (western Mediterranean basin): assessing the population dynamics of two subpopulations. Plant Spec Biol 29:192–201

Cursach J, Moragues E, Rita J (2013) Herbivory and plant competition effects on the population dynamics of Naufraga balearica, a threatened narrow endemic species of the Balearic Islands. Plant Biosyst 147:508–517

Duarte CM (coord), Alonso S, Benito G, Dachs J, Montes C, Pardo M, Ríos FR, Simó R, Valladares F (2006) Cambio Global. Impacto de la actividad humana sobre el sistema Tierra. Ministerio de Educación y Ciencia – Centro Superior de Investigaciones científicas, Madrid

Dunnett NP, Grime JP (1999) Competition as an amplifier of short-term vegetation responses to climate: an experimental test. Funct Ecol 13:388–395

Dunnett NP, Willis AJ, Hunt R, Grime JP (1998) A 38-year study of relations between weather and vegetation dynamics in road verges near Bibury, Gloucestershire. J Ecol 86:610–623

Duvigneaud J (1970) Écologie de Naufraga balearica constance et cannon (Umbel-liferae). Bull Soc Roy Bot Belg 103:31–38

Fernández-Mazuecos M, Jiménez-Mejías P, Rotllan-Puig X, Vargas P (2014) Narrow endemics to Mediterranean islands: moderate genetic diversity but narrow climatic niche of the ancient, critically endangered Naufraga (Apiaceae). Perspect Plant Ecol 16:190–202

Fink AH, Brücher T, Leckebusch GC, Pinto JG, Ulbrich U (2004) The 2003 European summer heatwaves and drought—synoptic diagnosis and impacts. Weather 59:209–216

Fitter AH, Fitter RFR (2002) Rapid changes in flowering time in British plants. Science 296:1689–1691

Fox LR, Steele HN, Holl KD, Fusari MH (2006) Contrasting demographies and persistence of rare annual plants in highly variable environments. Plant Ecol 183:157–170

Fridlender A (2001) Naufraga balearica constance and Cannon (Apiaceae); description, écologie, répartition et projets de conservations en Corse. Bull Soc Bot Fr 13:7–24

Gellesch E, Wellstein C, Beierkuhnlein C, Kreyling J, Walter J, Jentsch A (2015) Plant community composition is a crucial factor for heath performance under precipitation extremes. J Veg Sci 26:975–984

Gitlin AR, Sthultz CM, Bowker MA, Stumpf S, Paxton KL, Kennedy K, Muñoz A, Bailey J, Whitham TG (2006) Mortality gradients and among dominant plat populations as barometers of ecosystems change during extreme drought. Conserv Biol 20:1477–1486

Gómez-Aparicio L, Zamora R, Gómez JM, Hódar JA, Castro J, Baraza E (2004) Applying plant facilitation to forest restoration: a meta-analysis of the use of shrubs as nurse plants. Ecol Appl 14(4):1128–1138

Gutschick V, BassiriRad H (2003) Extreme events as shaping physiology, ecology, and evolution of plants: towards a unified definition and evaluation of their consequences. New Phytol 160:21–42

Homar V, Ramis C, Romero R, Alonso C (2010) Recent trends in temperature and precipitation over the Balearic Islands (Spain). Clim Chang 98:199–211

Houghton JT, Ding Y, Griggs DJ, Noguer M, Van der Linden PJ, Dai X, Maskell K, Jonson CA (eds) (2001) Climate change 2001: the science of climate change. Cambridge University Press, New York

IPCC (2014) Climate change 2014: synthesis report. In: Pachauri RK, Meyer LA (eds) Contribution of working groups I, II and III to the Fifth Assessment Report of the Intergovernmental Panel on Climate Change [Core Writing Team]. IPCC, Geneva

IUCN (2012). IUCN red list categories and criteria: version 3.1. 2nd edn. Gland and Cambridge

Janowiak JE, Ropelewski CF, Halpert M (1986) The precipitation anomaly classification: a method for monitoring regional precipitation deficiency and excess on a global scale. J Clim Appl Meteorol 25:565–574

Jansa A, Homar V, Romero R, Alonso S, Guijarro JA, Ramis C (2017) Extension of summer climatic conditions into spring in the Western Mediterranean area. Int J Climatol 37:1938–1950

Kendal MG, Bradford Hill A (1953) The analysis of economic time-series-part i:prices. J Stat Soc Ser 116:11–34

Klanderud K (2005) Climate change effects on species interactions in an alpine plant community. J Ecol 93:127–137

Kreyling J, Wenigmann M, Beierkuhnlein C, Jentsch A (2008) Effects of extreme weather events on plant productivity and tissue die-back are modified by community composition. Ecosystems 11:752–763

Lange H (2006) Time–series analysis in ecology. Encycl Life Sci. https://doi.org/10.1038/npg.els.0003276

Larcher W (2000) Temperature stress and survival ability of Mediterranean sclerophyllous plants. Plant Biosyst 134:279–295

Levine JM, McEachern AK, Cowan C (2008) Rainfall effects on rare annual plants. J Ecol 96:795–806

Levine JM, McEachern AK, Cowan C (2010) Do competitors modulate rare plant response to precipitation change? Ecology 91:130–140

Liancourt P, Spence LA, Song DS, Lkhagva A, Sharkhuu A, Boldgiv B, Helliker BR, Petraitis PS, Casper BB (2013) Plant response to climate change varies with topography, interactions with neighbors, and ecotype. Ecology 94(2):444–453

Marrero-Gómez MV, Oostermeijer JGB, Carqué-Álamo E, Bañares-Baudet A (2007) Population viability of the narrow endemic Helianthemum juliae (Cistaceae) in relation to climate variability. Biol Conserv 136:552–562

Matesanz S, Brooker RW, Valladares F, Klotz S (2009) Temporal dynamics of marginal steppic vegetation over a 26-year period of substantial environmental change. J Veg Sci 20:299–310

Menzel A (2003) Plant phenological anomalies in Germany and their relation to air temperature and NAO. Clim Chang 57:243–263

Menzel A, Sparks TH, Estrella N, Roy DB (2006) Altered geographic and temporal variability in phenology in response to climate change. Glob Ecol Biogeogr 15:498–504

Moragues E (2005) Naufraga balearica (Apiaceae) especie endémica y vulnerable de las Islas Baleares. Biología reproductiva y efecto de la herbivoría. Dissertation, Universitat de les Illes Balears

Moreno JC (coord) (2008) Lista Roja 2008 de la flora vascular española. Dirección General de Medio Natural y Política Forestal (Ministerio de Medio Ambiente, y Medio Rural y Marino, y Sociedad Española de Biología de la Conservación de las Plantas), Madrid, 86 pp

Nicolè F, Dahlgren JP, Vival A, Till-Bottraud I, Ehrlén J (2011) Interdependent effects of habitat quality and climate on population growth of an endangered plant. J Ecol 99:1211–1218

Oostermeijer JGB, Luijten SH, den Nijs JCM (2003) Integrating demographic and genetic approaches in plant conservation. Biol Conserv 113:389–398

Parmesan C, Duarte C, Poloczanska E, Richardson AJ, Singer MC (2011) Overstretching attribution. Nat. Clim Chang 1:2–4

Quézel P (1985) Definition of the Mediterranean area and the origin of its flora. In: Gómez-Campo C (ed) Plant conservation in the Mediterranean area. Dr. W Junk Publishers, Dordrecht, pp 9–24

Rebetez M, Mayer H, Dupont O, Schindler D, Gartner K, Kropp JP, Menzel A (2006) Heat and drought 2003 in Europe: a climate synthesis. Ann For Sci 63:569–577

RINAMED Project—Interreg III B: Elaboración y realización de una estrategia común entre actores locales de la región del Arco Mediterráneo Occidental en materia de información y de sensibilización de la población ante los riesgos naturales (RINAMED). http://www.rinamed.net/es/casos/baleares_temporal/baleares_temporal.htm. Accessed 21 Jan 2017

Rita J, Cursach J (2015) Seguimiento de la flora vascular de España. Seguimiento mediante parcelas permanentes de Naufraga balearica, endemismo de la isla de Mallorca en Peligro Crítico de Extinción.Dirección General de Calidad y Evaluación Ambiental y Medio Natural, Ministerio de Agricultura, Alimentación y Medio Ambiente. Madrid

Rita J, Capó M, Moragues E, Bota J, Cursach J (2018) Hybridization processes in an introduced subpopulation of an endangered plant: management strategies to guarantee the conservation of Helosciadium bermejoi (Apiaceae). J Nat Conserv 41:26–34

Rivas-Martínez S, Rivas-Sáenz S (1996–2009) Worldwide bioclimatic classification system. Phytosociological research center, Spain. http://www.globalbioclimatics.org. Accessed 21 Jan 2017

Sala OE, Chapin FS, Armesto JJ, Berlow E, Bloomfield J, Dirzo R, Huber-Sanwald E, Huenneke LF, Jackson RB, Kinzig A, Leemans R, Lodge DM, Mooney HA, Oesterheld M, Poff NL, Sykes MT, Walker BH, Walker M, Wall DH (2000) Biodiversity—global biodiversity scenarios for the year 2100. Science 287:1770–1774

Sánchez E, Gallardo C, Gaertner MA, Arribas A, Castro M (2004) Future climate extreme events in the Mediterranean simulated by a regional climate model: a first approach. Glob Planet Chang 44:163–180

Schär C, Jendritzky G (2004) Hot news from summer 2003. Nature 432:559–560

Silletti A, Knapp A (2002) Long-term responses of the grassland co-dominants Andropogon gerardii and Sorghastrum nutans to changes in climate and management. Plant Ecol 163:15–22

Suttle KB, Thomsen MA, Powe ME (2007) Species interactions reverse grassland responses to changing climate. Science 315:640–642

Thompson J (2005) Plant evolution in the Mediterranean. Oxford University Press, New York

Tomiolo S, van der Putten WH, Tielbo-Rger K (2015) Separating the role of biotic interactions and climate in determining adaptive response of plants to climate change. Ecology 96(5):1298–1308

Weltzin JF, Bridgham SD, Pastor J, Chen JQ, Harth C (2003) Potential effects of warming and drying on peatland plant community composition. Glob Chang Biol 9:141–151
Acknowledgements
We thank J.Mª Castro and A. Mateu for their collaboration on the fieldwork. We thank the Agencia Española de Meteorología (AEMET) for providing the meteorological data and Dr. J.A. Guijarro (AEMET) for helping with meteorological data analysis. We also thank Dr. V. Homar and Dr. C. Ramis for their advice on statistical analysis (Grup de Meteorologia, Departament de Física, Universitat de les Illes Balears). Joana Cursach received a grant from the Conselleria d'Economia, Hisenda i Innovació del Govern de les Illes Balears. This work was partially supported by MAVA Fondation pour la Nature and by the International Union for the Conservation of Nature (IUCN).
Additional information
Communicated by Thomas Abeli.
About this article
Cite this article
Cursach, J., Moragues, E. & Rita, J. The key role of accompanying species in the response of the critically endangered Naufraga balearica (Apiaceae) to climatic factors. Plant Ecol 219, 561–576 (2018). https://doi.org/10.1007/s11258-018-0818-2
Received:

Accepted:

Published:

Issue Date:
Keywords
Endangered species

Competing species

Extreme weather events

Climate warming

Plant monitoring

Balearic Islands