Abstract
Understanding the factors limiting population growth is crucial for species management and conservation. We assessed the effects of seed and microsite limitation, along with climate variables, on Helianthemum squamatum, a gypsum soil specialist, in two sites in central Spain. We evaluated the effects of experimental seed addition and soil crust disturbance on H. squamatum vital rates (survival, growth and reproduction) across four years. We used this information to build integral projection models (IPMs) for each combination of management (seed addition or soil disturbance), site and year. We examined differences in population growth rate (λ) due to management using life table response experiments. Soil crust disturbance increased survival of mid to large size individuals and germination. Contributions to λ of positive individual growth (progression) and negative individual growth (retrogression) due to managements varied among years and sites. Soil crust disturbance increased λ in the site with the highest plant density, and seed addition had a moderate positive effect on λ in the site with lowest plant density. Population growth rate (λ) decreased by half in the driest year. Differences in management effects between sites may represent a shift from seed to microsite limitation at increasing densities. This shift underscores the importance of considering what factors limit population growth when selecting a management strategy.
This is a preview of subscription content, log in to check access.
Access options
Buy single article
Instant access to the full article PDF.
US$ 39.95
Tax calculation will be finalised during checkout.
Subscribe to journal
Immediate online access to all issues from 2019. Subscription will auto renew annually.
US$ 119
Tax calculation will be finalised during checkout.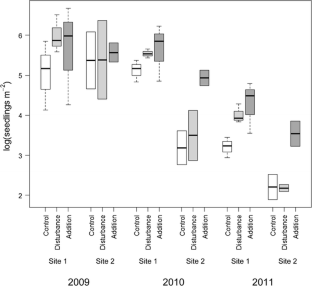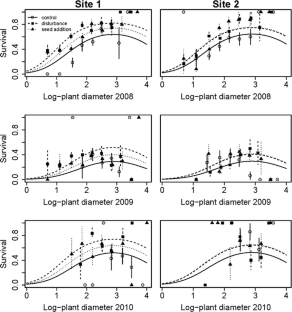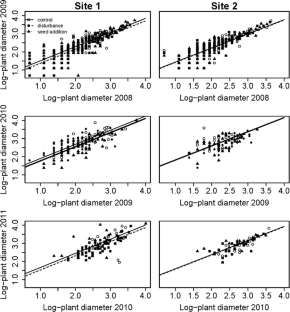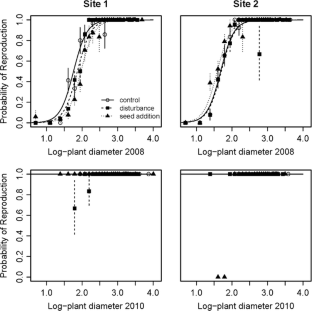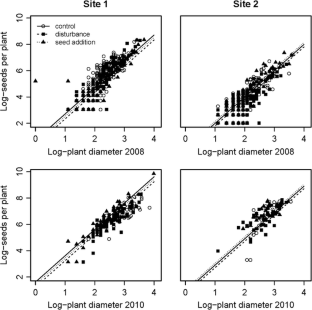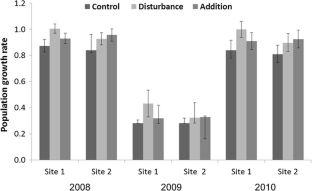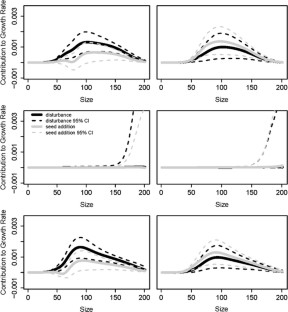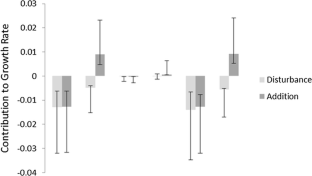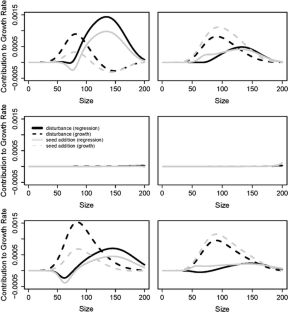 References
Aragón CF, Albert MJ, Giménez-Benavides L, Luzuriaga AL, Escudero A (2007) Environmental scales on the reproduction of a gypsophyte: a hierarchical approach. Ann Bot 99:519–527. doi:10.1093/aob/mcl280

Aragón CF, Escudero A, Valladares F (2008) Stress-induced dynamic adjustments of reproduction differentially affect fitness components of a semiarid plant. J Ecol 96:222–229. doi:10.1111/j.1365-2745.2007.01320.x

Aragón CF, Méndez M, Escudero A (2009) Survival costs of reproduction in a short- lived perennial plant: live hard, die young. Am J Bot 98:1–8. doi:10.3732/ajb.0800223

Aronson J, Kigel J, Shmida A, Klein J (1992) Adaptive phenology of desert and Mediterranean populations of annual plants grown with and without water stress. Oecologia 89:17–26. doi:10.1007/BF00319010

Burnham KP, Anderson DR (2002) Model selection and multimodal inference. A practical information-theoretic approach. Springer, New Year

Caballero I, Olano JM, Escudero A, Loidi J (2008a) Seed bank spatial structure in semiarid environments: beyond the patch-bare area dichotomy. Plant Ecol 195:215–223. doi:10.1007/s11258-007-9316-7

Caballero I, Olano JM, Loidi J, Escudero A (2008b) A model for small-scale seed bank and standing vegetation connection along time. Oikos 117:1788–1795. doi:10.1111/j.1600-0706.2008.17138.x

Caswell H (2001) Matrix populations models. Construction, analysis, and interpretation. Sinauer Associates, Inc. Publishers, Sunderland

Clark CJ, Poulsen JR, Levey DJ, Osenberg CW (2007) Are plant populations seed limited? A critique and meta-analysis of seed addition experiments. Am Nat 170(1):128–142. doi:10.1086/518565

Coulson T (2012) Integral projection models, their construction and use in posing hypotheses in ecology. Oikos 121:1337–1350. doi:10.1111/j.1600-0706.2012.00035.x

Crawley MJ, Ross GJS (1990) The population dynamics of plants and discussion. Philos T R Soc B 330(1257):125–140. doi:10.1098/rstb.1990.0187

Dahlgren JP, Ehrlén J (2009) Linking environmental variation to population dynamics of a forest herb. J Ecol 97:666–674. doi:10.1111/j.1365-2745.2009.01504.x

Dahlgren JP, Ehrlén J (2011) Incorporating environmental change over succession in an integral projection model of population dynamics of a forest herb. Oikos 120:1183–1190. doi:10.1111/j.1600-0706.2010.19063.x

De la Cruz M, Romao RL, Escudero A, Maestre FT (2008) Where do seedlings go? A spatio-temporal analysis of seedling mortality in a semi-arid gypsophyte. Ecography 31:720–730. doi:10.1111/j.0906-7590.2008.05299.x

Easterling MR, Ellner SP, Dixon PM (2000) Size-specific sensitivity: applying a new structured population model. Ecology 81:694–708. doi:10.1890/0012-9658(2000)081[0694:SSSAAN]2.0.CO;2

Eriksson O, Ehrlén J (1992) Seed and microsite limitation of recruitment in plant populations. Oecologia 91(3):360–364. doi:10.1007/BF00317624

Escudero A, Somolinos RC, Olano JM, Rubio A (1999) Factors controlling the establishment of Helianthemum squamatum (L.) Dum., an endemic gypsophile of semi-arid Spain. J Ecol 87:290–302. doi:10.1046/j.1365-2745.1999.00356.x

Escudero A, Albert MJ, Pérez-García F (2000) Inhibitory effects of Artemisia herba-alba on the germination of the gypsophyte Helianthemum squamatum. Plant Ecol 148:71–80. doi:10.1023/A:1009848215019

Eskelinen A, Virtanen R (2005) Local and regional processes in low-productive mountain plant communities: the roles of seed and microsite limitation in relation to grazing. Oikos 110:360–368. doi:10.1111/j.0030-1299.2005.13579.x

Gimeno T, Escudero A, Delgado A, Valladares F (2012) Previous land uses alters the effect of climate change and facilitation on expanding woodlands of Spanish juniper. Ecosystems 15:564–579. doi:10.1007/s10021-012-9529-z

Gutterman Y, Shem-Tov S (1997) The efficiency of the strategy of mucilaginous seeds of some common annuals of the Negev adhering to the soil crust to delay collection by ants. Isr J Plant Sci 15:317–327. doi:10.1080/07929978.1997.10676695

Harper JL, Williams JT, Sagar GR (1965) The behaviour of seeds in soil: the heterogeneity of soil surfaces and its role in determining the establishment of plants from seed. J Ecol 53:273–286. doi:10.2307/2257975

Kolb A (2012) Differential effects of herbivory and pathogen infestation on plant population dynamics. Plant Ecol 213:315–326. doi:10.1007/s11258-011-9978-z

Luzuriaga AL, Sánchez AM, Maestre FT, Escudero A (2012) Assemblage of a semi-arid annual plant community: abiotic and biotic filters act hierarchically. PLoS ONE 7:e41270. doi:10.1371/journal.pone.0041270

Martínez I, Escudero A, Maestre FT, De la Cruz A, Guerrero C, Rubio A (2006) Small-scale patterns of abundance of mosses and lichens forming biological soil crusts in two semi-arid gypsum environments. Aust J Bot 54:339–348. doi:10.1071/BT05078

Martínez-Duro EE, Ferrandis PP, Escudero A, Luzuriaga AL, Herranz JM (2010) Secondary old-field succession in an ecosystem with restrictive soils: does time from abandonment matter? Appl Veg Sci 13(2):234–248. doi:10.1111/j.1654-109X.2009.01064.x

Metcalf CJE, McMahon SM, Salguero-Gómez R, Jongejans E (2013) IPMpack: an R package for Integral Projection Models. Methods Ecol Evol 4:195–200. doi:10.1111/2041-210x.12001

Moret-Fernández D, Pueyo Y, Bueno CG, Alados CL (2011) Hydro-physical responses of gypseous and non-gypseous soils to livestock grazing in a semi-arid region of NE Spain. Agr Water Manag 98:1822–1827. doi:10.1016/j.agwat.2011.07.001

Morris WF, Doak DF (2002) Quantitative conservation biology. Sinauer Associates, Inc. Publishers, Sunderland

Olano JM, Eugenio M, Escudero A (2011) Site effect is stronger than species identity in driving demographic responses of Helianthemum (Cistaceae) shrubs in gypsum environments. Am J Bot 96(6):1–8. doi:10.3732/ajb.1000505

Olano JM, Caballero I, Escudero A (2012a) Soil seed bank recovery occurs more rapidly than expected in semi-arid Mediterranean gypsum vegetation. Ann Bot 09:299–307. doi:10.1093/aob/mcr260

Olano JM, Zavala MA, Rozas V (2012b) Disruption of Juniperus thurifera woodland structure in its northwestern geographical range: potential drivers and limiting factors. Eur J For Res 131:563–570. doi:10.1007/s10342-011-0531-3

Pake CE, Venable DL (1996) Seed banks in desert annuals: implications for persistence and coexistence in variable environments. Ecology 77:1427–1435. doi:10.2307/2265540

Palacio S, Escudero A, Montserrat-Martí G, Maestro M, Milla R, Albert MJ (2007) Plants living on gypsum: beyond the specialist model. Ann Bot 99:333–343. doi:10.1093/aob/mcl263

Pueyo Y, Alados CL, Barrantes O, Komac B, Rietkerk M (2008) Differences in gypsum plant communities associated with habitat fragmentation and livestock grazing. Ecol Appl 18:954–964. doi:10.1890/07-1770.1

Quintana-Ascencio PF, Caballero I, Olano JM, Escudero A, Albert MJ (2009) Does habitat structure matter? Spatially explicit population modelling of an Iberian gypsum endemic. Popul Ecol 51:317–328. doi:10.1007/s10144-008-0135-z

Ramula S, Rees M, Buckley YM (2009) Integral projection models perform better for small demographic data sets than matrix population models: a case study of two perennial herb. J Appl Ecol 46:1048–1053. doi:10.1111/j.1365-2664.2009.01706.x

R Development Core Team (2012) R: A language and environment for statistical computing. R Foundation for Statistical Computing, Vienna, Austria. ISBN 3- 900051-07-0, http://www.R-project.org

Romao R, Escudero A (2005) Gypsum physical soil surface crusts and the existence of gypsophytes in semi-arid central Spain. Plant Ecol 181:1–11. doi:10.1007/s11258-005-5321-x

Salguero-Gómez R, De Kroon H (2010) Matrix projection models meet variation in the real world. J Ecol 98(2):250–254. doi:10.1111/j.1365-2745.2009.01635

Sánchez AM, Peco B (2002) Dispersal mechanisms in Lavandula stoechas subsp. pedunculata (Miller) Samp. ex Rozeira (Labiatae): autocory and endozoochory by sheep. Seed Sci Res 12:101–111. doi:10.1079/SSR2002102

Sánchez AM, Peco B (2007) Lack of recruitment in Lavandula stoechas subsp. pedunculata: a case of safe-site limitation. Acta Oecol 31:32–39. doi:10.1016/j.actao.2006.03.008

Sánchez AM, Azcárate FM, Peco B (2006) Effects of harvester ants on seed availability and dispersal of Lavandula stoechas subsp. pedunculata in a Mediterranean grassland–scrubland mosaic. Plant Ecol 185:49–56. doi:10.1007/s11258-005-9083-2

Setterfield SA (2002) Seedling establishment in an Australian tropical savanna: effects of seed supply, soil disturbance and fire: seedling establishment in Australian savanna. J Appl Ecol 39:949–959. doi:10.1046/j.1365-2664.2002.00772.x

Shefferson RP, Roach DA (2012) The triple helix of Plantago lanceolata: genetics and the environment interact to determine population dynamics. Ecology 93:793–802. doi:10.1890/11-0742.1

Waser NM, Campbell DR, Price MV, Brody A (2010) Density-dependent demographic responses of a semelparous plant to natural variation on seed rain. Oikos 119:1929–1935. doi:10.1111/j.1600-0706.2010.18429.x

Wiegand T, Milton SJ, Wiessel C (1995) A simulation model for a shrub ecosystem in the semiarid Karoo, South Africa. Ecology 76:203–2229. doi:10.2307/1941694

Wiegand K, Jeltsch F, Ward D (2004) Minimum recruitment frequency in plants with episodic recruitment. Oecologia 141:363–372. doi:10.1007/s00442-003-1439-5
Acknowledgements
We thank John Fauth, Eric Menges, Andrew Nevai and Rob Salguero-Gómez for their comments on earlier versions of this manuscript. This research was partially supported by the project REMEDINAL-3CM (S2013/MAE-2719) and ROOTS (CGL2015-66809-P).
Additional information
Communicated by Neal J. Enright.
Electronic supplementary material
Below is the link to the electronic supplementary material.
About this article
Cite this article
Tye, M.R., Ferrer-Cervantes, M.E., Sánchez, A.M. et al. Assessing seed and microsite limitation on population dynamics of a gypsophyte through experimental soil crust disturbance and seed addition. Plant Ecol 218, 595–607 (2017). https://doi.org/10.1007/s11258-017-0714-1
Received:

Accepted:

Published:

Issue Date:
Keywords
Density-dependent germination

Helianthemum squamatum

Integral projection models

Microsite limitation

Seed limitation

Soil crust disturbance