Abstract
Ailanthus altissima and Robinia pseudoacacia are two aggressive exotic tree species invading riparian ecosystems in Central Spain. We explored their allelopathic potentials as a possible mechanism explaining their success in these ecosystems. Specifically, we aimed (1) to compare the phytotoxic effects of the exotic and native (Fraxinus angustifolia and Populus alba) trees on the fitness of several understory plants coexisting in riparian ecosystems, and (2) to assess the capacity of the riparian soil to modulate the phytotoxic effects. In laboratory bioassays, aqueous leaf litter extracts from the donor tree species at field-realistic concentrations were tested on different fitness indicators of 13 understory target species, using germination paper and soil as substrates in petri dishes. Using germination paper, we found species-specific effects between donor and target species, but the phytotoxicity of the exotic trees as a group was not greater than that of the natives. Nevertheless, the exotic R. pseudoacacia was the most effective donor species reducing the radicle growth of the target species. Over riparian soil substrate, the aqueous leaf litter extracts did not produce any phytotoxic effect on the target species, except in one case. Altogether, our results highlight the importance of using both a native control when assessing the phytotoxicity of nonnative plants and also the natural soil in the modulation of phytotoxic effects. Ignoring both factors in laboratory bioassays would have led to the overestimation of the phytotoxicity of the exotic species as a mechanism contributing to their invasion success.
Access options
Buy single article
Instant access to the full article PDF.
US$ 39.95
Tax calculation will be finalised during checkout.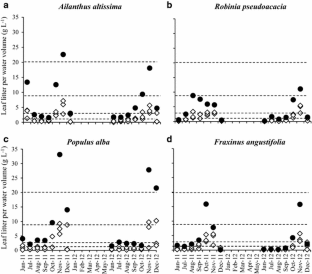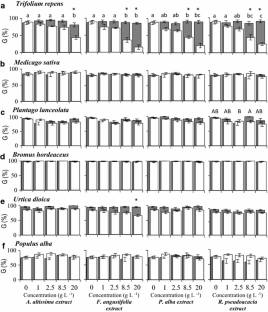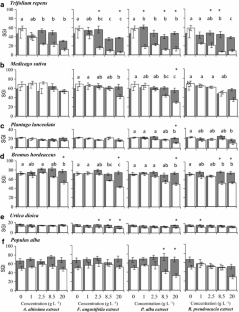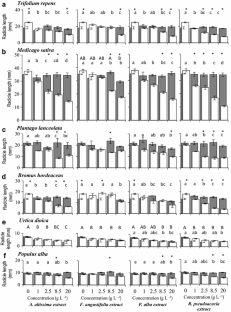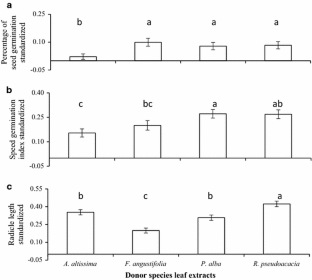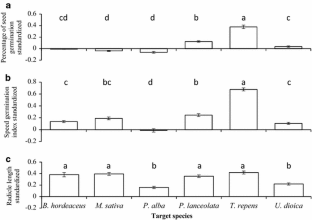 References
Arroyo AI, Pueyo Y, Saiz H, Alados CL (2015) Plant-plant interactions as a mechanism structuring plant diversity in a Mediterranean semi-arid ecosystem. Ecol Evol 5:5305–5317. doi:10.1002/ece3.1770

Blum U, Gerig TM, Worsham AD, King LD (1993) Modification of allelopathic effects of p-coumaric acid on morning-glory seedling biomass by glucose, methionine, and nitrate. J Chem Ecol 19:2791–2811. doi:10.1007/BF00980584

Callaway RM, Ridenour WM (2004) Novel weapons: invasive success and the evolution of increased competitive ability. Front Ecol Environ 2:436. doi:10.2307/3868432

Castro-Díez, P, González-Muñoz N, Alonso A (2014) Los árboles exóticos de las riberas españolas. ¿Una amenaza para estos ecosistemas? Servicio de Publicaciones de la Universidad de Alcalá, Alcalá de Henares, Madrid

Catalán P, Vázquez-de-Aldana BR, de las Heras P et al (2013) Comparing the allelopathic potential of exotic and native plant species on understory plants: are exotic plants better armed? An Biol 35:65–74. doi:10.6018/analesbio.0.35.10

Chiapusio G, Pellissier F, Gallet C (2004) Uptake and translocation of phytochemical 2-benzoxazolinone (BOA) in radish seeds and seedlings. J Exp Bot 55:1587–1592. doi:10.1093/jxb/erh172

Cierjacks A, Kowarik I, Joshi J et al (2013) Biological flora of the british isles: Robinia pseudoacacia. J Ecol 101:1623–1640. doi:10.1111/1365-2745.12162

Cipollini D, Rigsby CM, Barto EK (2012) Microbes as targets and mediators of allelopathy in plants. J Chem Ecol 38:714–727. doi:10.1007/s10886-012-0133-7

DAISIE (2009) Handbook of alien species in Europe. Springer Publishers, New York

De Feo V, De Martino L, Quaranta E, Pizza C (2003) Isolation of phytotoxic compounds from tree-of-heaven (Ailanthus altissima Swingle). J Agric Food Chem 51:1177–1180. doi:10.1021/jf020686+

DE Souza FHD, Marcos-Filho J (2001) The seed coat as a modulator of seed-environment relationships in Fabaceae. Rev Bras Botânica 24:365–375. doi:10.1590/S0100-84042001000400002

Del Fabbro C, Prati D (2015a) Invasive plant species do not create more negative soil conditions for other plants than natives. Perspect Plant Ecol Evol Syst 17:87–95. doi:10.1016/j.ppees.2015.02.002

Del Fabbro C, Prati D (2015b) The relative importance of immediate allelopathy and allelopathic legacy in invasive plant species. Basic Appl Ecol 16:28–35. doi:10.1016/j.baae.2014.10.007

El-Darier SM, Abdelaziz HA, Zein El-Dien MH (2014) Effect of soil type on the allelotoxic activity of Medicago sativa L. residues in Vicia faba L. agroecosystems. J Taibah Univ Sci 8:84–89. doi:10.1016/j.jtusci.2014.01.001

Facelli JM, Pickett STA (1991) Plant litter: its dynamics and effects on plant community structure. Bot Rev 57:1–32. doi:10.1007/BF02858763

FAO/IIASA/ISRIC/ISSCAS/JRC (2012) Harmonized world soil database (version 1.2). FAO, Rome, Italy and IIASA, Laxenburg, Austria

GEIB (2006) TOP 20: Las especies exóticas invasoras más dañinas presentes en España GEIB, Serie Técnica N.2. 116

Gómez-Aparicio L, Canham CD (2008) Neighbourhood analyses of the allelopathic effects of the invasive tree Ailanthus altissima in temperate forests. J Ecol 96:447–458. doi:10.1111/j.1365-2745.2007.01352.x

Grove S, Haubensak KA, Parker IM (2012) Direct and indirect effects of allelopathy in the soil legacy of an exotic plant invasion. Plant Ecol 213:1869–1882. doi:10.1007/s11258-012-0079-4

Hierro JL, Callaway RM (2003) Allelopathy and exotic plant invasion. Plant Soil 256:29–39. doi:10.1023/A:1026208327014

Inderjit Nilsen ET (2003) Bioassays and field studies for allelopathy in terrestrial plants: progress and problems. CRC Crit Rev Plant Sci 22:221–238. doi:10.1080/713610857

Inderjit, Weiner J (2001) Plant allelochemical interference or soil chemical ecology? Perspect Plant Ecol Evol Syst 4:3–12. doi:10.1078/1433-8319-00011

Kaur H, Kaur R, Kaur S et al (2009) Taking ecological function seriously: soil microbial communities can obviate allelopathic effects of released metabolites. PLoS ONE 4:1–6. doi:10.1371/journal.pone.0004700

Kobayashi K (2004) Factors affecting phytotoxic activity of allelochemicals in soil. Weed Biol Manag 4:1–7. doi:10.1002/chin.200435273

Kocacë AI, Terzi I (2001) Allelopathic effects of walnut leaf extracts and juglone on seed germination and seedling growth. J Hortic Sci Biotechnol 76(4):436–440. doi:10.1080/14620316.2001.11511390

Kowarik I, Säumel I (2007) Biological flora of Central Europe: ailanthus altissima (Mill.) Swingle. Perspect Plant Ecol Evol Syst 8:207–237. doi:10.1016/j.ppees.2007.03.002

Lawrence JG, Colwell A, Sexton OJ (1991) The ecological impact of allelopathy in Ailanthus altissima (Simaroubaceae). Am J Bot 78:948–958. doi:10.2307/2445173

Legesse N, Powell AA (1996) Relationship between the development of seed coat pigmentation, seed coat adherence to the cotyledons and the rate of imbibition during the maturation of grain legumes. Seed Sci Technol 24:23–32. doi:10.1590/S0100-84042001000400002

Macel M, de Vos RCH, Jansen JJ et al (2014) Novel chemistry of invasive plants: exotic species have more unique metabolomic profiles than native congeners. Ecol Evol 4:2777–2786. doi:10.1002/ece3.1132

Martínez T (2000) Vegetación de ribera del río Henares en la Comunidad de Madrid. Consejería de Medio Ambiente, Dirección General de Educación y Promoción Ambiental, Madrid

Medina-Villar S, Alonso A, Vázquez de Aldana B et al (2015a) Decomposition and biological colonization of native and exotic leaf litter in a Central Spain stream. Limnetica 34:293–310

Medina-Villar S, Castro-Díez P, Alonso A et al (2015b) Do the invasive trees, Ailanthus altissima and Robinia pseudoacacia, alter litterfall dynamics and soil properties of riparian ecosystems in Central Spain? Plant Soil 396:311–324. doi:10.1007/s11104-015-2592-4

Meiners SJ, Kong C-H, Ladwig LM et al (2012) Developing an ecological context for allelopathy. Plant Ecol 213:1221–1227. doi:10.1007/s11258-012-0078-5

Miller TE, Winn AA, Schemske DW (1994) The effects of density and spatial distribution on selection for emergence time in Prunella vulgaris (Lamiaceae). Am J Bot 81:1–6. doi:10.2307/2445555

Monturiol F, Alcalá del Olmo L (1990) Mapa de Asociaciones de suelos de la Comunidad de Madrid. Escala 1:200.000. CSIC y Comunidad de Madrid

Naiman RJ, Décamps H (1997) The ecology of interfaces: riparian Zones. Annu Rev Ecol Syst 28:621–658. doi:10.1146/annurev.ecolsys.28.1.621

Nasir H, Iqbal Z, Hiradate S, Fujii Y (2005) Allelopathic potential of Robinia pseudoacacia L. J Chem Ecol 31:2179–2192. doi:10.1007/s10886-005-6084-5

Oleszek W, Jurzysta M (1987) The allelopathic potential of alfalfa root medicagenic acid glycosides and their fate in soil environments. Plant Soil 98:67–80. doi:10.1007/BF02381728

Olofsdotter M, Navarez D, Moody K (1995) Allelopathic potential in rice (Oryza sativa L.) germplasm. Ann Appl Biol 127:543–560. doi:10.1111/j.1744-7348.1995.tb07611.x

Pisula NL, Meiners SJ (2010) Relative allelopathic potential of invasive plant species in a young disturbed woodland. J Torrey Bot Soc 137:81–87. doi:10.3159/09-RA-040.1

Pollock JL, Callaway RM, Thelen GC, Holben WE (2009) Catechin-metal interactions as a mechanism for conditional allelopathy by the invasive plant Centaurea maculosa. J Ecol 97:1234–1242. doi:10.1111/j.1365-2745.2009.01553.x

Prada MA, Arzipe D (2008) Manual de propagación de árboles y arbustos de ribera, una ayuda para la restauración de riberas en la región mediterránea. Ripidurable, Valencia

Quinn GP, Keough MJ (2002) Experimental design and data analysis for biologists. Cambridge University Press, Cambridge

R Core Team (2014) R: A language and environment for statistical computing. R Foundation for Statistical Computing, Vienna, Austria. http://www.R-project.org/

Rasband WS (1997–2015) Image J, US National Institutes of Health, Bethesda, Maryland, USA. http://imagej.nih.gov/ij/

Rice EL (1984) Allelopathy, 2nd edn. Academic Press Inc, Orlando

Singh HP, Batish DR, Kohli RK (1999) Autotoxicity: concept, organisms, and ecological significance. CRC Crit Rev Plant Sci 18:757–772. doi:10.1080/07352689991309478

Skurski TC, Rew LJ, Maxwell BD (2014) Mechanisms underlying nonindigenous plant impacts: a review of recent experimental research. Invasive Plant Sci Manag 7:432–444. doi:10.1614/IPSM-D-13-00099.1

Sosa T, Valares C, Alías JC, Chaves Lobón N (2010) Persistence of flavonoids in Cistus ladanifer soils. Plant Soil 337:51–63. doi:10.1007/s11104-010-0504-1

Verdú M, Traveset A (2005) Early emergence enhances plant fitness: a phylogenetically controlled meta-analysis. Ecology 86:1385–1394. doi:10.1890/04-1647

Wang Y, Hammes F, Boon N, Egli T (2007) Quantification of the filterability of freshwater bacteria through 0.45, 0.22, and 0.1 μm pore size filters and shape-dependent enrichment of filterable bacterial communities. Environ Sci Technol 41:7080–7086. doi:10.1021/es0707198

Wardle DA, Ahmed M, Nicholson KS (1991) Allelopathic influence of nodding thistle (Carduus nutans L.) seeds on germination and radicle growth of pasture plants. New Zeal J Agric Res 34:185–191. doi:10.1080/00288233.1991.10423358

Westoby M (1992) Comparative evolutionary ecology of seed size. Trends Ecol Evol 7:368–372. doi:10.1098/rstb.1996.0114
Acknowledgements
This study was supported by the projects: CGL2011-16388/BOS and CGL2015-65346-R of the Ministerio de Economía y Competitividad of Spain; POII10-0179-4700 of the Junta de Comunidades de Castilla-La Mancha; and CCG2013/EXP-054 of the Universidad de Alcalá and Ayuda Programa Grupos UCM-Banco Santander 2014 (Grupo 910314 Ecología Vegetal Evolutiva y Restauración Ecológica). Silvia Medina Villar was supported by a grant from the Ministerio de Economía y Competitividad of Spain (FPI fellowship, BES-2011-048379). The authors gratefully acknowledge the supports of the REMEDINAL-2 S2009/AMB-1783 and REMEDINAL3-CM S2013/MAE-2719 networks (Comunidad de Madrid). The authors also thank Aitor Rodríguez Lopezosa for the help with the lab work; and Kyle Earnshaw, the editor and the external reviewers for improving the readability of the manuscript.
Additional information
Communicated by Scott J Meiners.
Electronic supplementary material
Below is the link to the electronic supplementary material.
About this article
Cite this article
Medina-Villar, S., Alonso, Á., Castro-Díez, P. et al. Allelopathic potentials of exotic invasive and native trees over coexisting understory species: the soil as modulator. Plant Ecol 218, 579–594 (2017). https://doi.org/10.1007/s11258-017-0713-2
Received:

Accepted:

Published:

Issue Date:
Keywords
Phytotoxicity

Impacts

Ailanthus altissima
Fraxinus angustifolia
Populus alba
Robinia pseudoacacia