Abstract
The study aimed to examine the effect of the invasion of the two congeneric species Impatiens glandulifera and Impatiens parviflora on species richness and composition across a wide range of communities in North-western Germany. We applied a space-for-time substitution approach, comparing invaded plots with adjacent, environmentally similar uninvaded plots, based on the assumption that the latter represent the situation prior to an invasion. Even though the dominance of the invasive species resulted in a lower Shannon diversity in the invaded plots, species richness was not (I. parviflora) or only weakly (I. glandulifera) reduced. Also the community composition of the invaded sites was only marginally different. Invaded and uninvaded plots in general had similar habitat conditions, but both Impatiens species occurred in slightly shadier sites compared to the uninvaded areas, and the plots invaded by I. parviflora tended to have higher nutrient concentrations. These results suggest that dense populations of invading species may often be found at particular microsites. The relatively low impact of Impatiens on the vegetation is most likely caused by the annual life strategy of the species: while I. glandulifera shows large fluctuations in numbers between years and has a later phenological development than most other species in its habitat, I. parviflora establishes preferably in dark and acidic, often disturbed woodlands where it competes with few other species.
This is a preview of subscription content, log in to check access.
Access options
Buy single article
Instant access to the full article PDF.
US$ 39.95
Price includes VAT for USA
Subscribe to journal
Immediate online access to all issues from 2019. Subscription will auto renew annually.
US$ 199
This is the net price. Taxes to be calculated in checkout.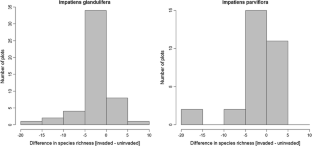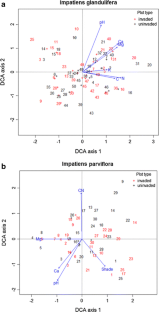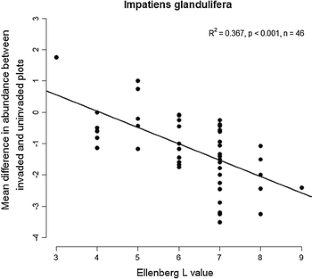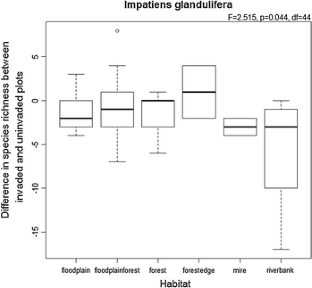 References
Alvarez ME, Cushman JH (2002) Community-level consequences of a plant invasion: effects on three habitats in coastal California. Ecol Appl 12:1434–1444

Andrews M, Maule HG, Raven JA, Mistry A (2005) Extension growth of Impatiens glandulifera at low irradiance: importance of nitrate and potassium accumulation. Ann Bot 95:641–648

Andrews M, Maule HG, Hodge S, Cherrill A, Raven JA (2009) Seed dormancy, nitrogen nutrition and shade acclimation of Impatiens glandulifera: implications for successful invasion of deciduous woodland. Plant Ecol Divers 2:145–153

Bartomeus I, Vila M, Steffan-Dewenter I (2010) Combined effects of Impatiens glandulifera invasion and landscape structure on native plant pollination. J Ecol 98:440–450

Beerling DJ, Perrins JM (1993) Biological Flora of the British Isles: Impatiens glandulifera Royle (Impatiens roylei Walp.). J Ecol 81:367–382

Braun-Blanquet J (1964) Pflanzensoziologie: Grundzüge der Vegetationskunde, 3rd edn. Springer, Wien

Brooks ML, D'Antonio CM, Richardson DM, Grace JB, Keeley JE, Ditomaso JM, Hobbs RJ, Pellant M, Pyke D (2004) Effects of invasive alien plants on fire regimes. Bioscience 54:677–688

Chmura D, Sierka E (2006) Relationships between invasive plant Impatiens parviflora and species richness of forest floor vegetation. Pol J Ecol 54:417–428

Chmura D, Sierka E (2007) The invasibility of deciduous forest communities after disturbance: a case study of Carex brizoides and Impatiens parviflora invasion. For Ecol Manag 242:487–495

Coombe DE (1956) Biological flora of British Isles: Impatiens parviflora DC. J Ecol 44:701–714

Cordes H, Feder J, Hellberg F, Metzing D, Wittig B (2006) Atlas der Farn- und Blütenpflanzen des Weser-Elbe-Gebietes. H. M. Hauschild GmbH, Bremen

Čuda J, Skálová H, Janovsky Z, Pyšek P (2014) Habitat requirements, short-term population dynamics and coexistence of native and invasive Impatiens species: a field study. Biol Invasions 16:177–190

Čuda J, Skálová H, Janovsky Z, Pyšek P (2015) Competition among native and invasive Impatiens species: the roles of environmental factors, population density and life stage. AoB Plants 7. doi:101093/aobpla/plv033

Dassonville N, Vanderhoeven S, Vanparys V, Hayez M, Gruber W, Meerts P (2008) Impacts of alien invasive plants on soil nutrients are correlated with initial site conditions in NW Europe. Oecologia 157:131–140

Del Fabbro C, Güsewell S, Prati D (2014) Allelopathic effects of three plant invaders on germination of native species: a field study. Biol Invasions 16:1035–1042

Doobe L (2015) Invasive knotweed Fallopia japonica and its impact on phytodiversity in Bremen. Bachelor thesis, University of Bremen

Ehrenfeld JG (2010) Ecosystem consequences of biological invasions. Annu Rev Ecol Evol Syst 41:59–80

Ellenberg H, Weber HE, Düll R, Wirth V, Werner W, Paulissen D (1992) Zeigerwerte von Pflanzen in Mitteleuropa. 2nd ed. Scripta Geobot 18:1–248

Godefroid S, Koedam N (2010) Comparative ecology and coexistence of introduced and native congeneric forest herbs: Impatiens parviflora and I noli-tangere. Plant Ecol Evol 143:119–127

Gruntman M, Pehl AK, Joshi S, Tielbörger K (2014) Competitive dominance of the invasive plant Impatiens glandulifera: using competitive effect and response with a vigorous neighbour. Biol Invasions 16:141–151

Gruntman M, Zieger S, Tielbörger K (2016) Invasive success and the evolution of enhanced weaponry. Oikos 125:59–65

Hejda M (2012) What is the impact of Impatiens parviflora on diversity and composition of herbal layer communities of temperate forests? PLoS One 7:e39571. doi:10.1371/journalpone0039571

Hejda M, Pyšek P (2006) What is the impact of Impatiens glandulifera on species diversity of invaded riparian vegetation? Biol Conserv 132:143–152

Hejda M, Pyšek P, Jarošík V (2009) Impact of invasive plants on the species richness, diversity and composition of invaded communities. J Ecol 97:393–403

Hulme PE, Bremner ET (2006) Assessing the impact of Impatiens glandulifera on riparian habitats: partitioning diversity components following species removal. J Appl Ecol 43:43–50

Kasperek G (2004) Fluctuations in numbers of neophytes, especially Impatiens glandulifera, in permanent plots in a west German floodplain during 13 years. Neobiota 3:27–37

Klotz S, Kühn I, Durka W (eds) (2002) BiolFlor—Eine Datenbank zu biologisch-ökologischen Merkmalen der Gefäßpflanzen in Deutschland. Schriftenr Vegetationsk, vol 38. Bundesamt für Naturschutz, Bonn, pp. 1–334

Koenies H, Glavač V (1979) Über die Konkurrenzfähigkeit des Indischen Springkrautes (Impatiens glandulifera) am Fuldaufer bei Kassel. Phillipia 4:47–59

Kowarik I (2010) Biologische Invasionen: Neophyten und Neozoen in Mitteleuropa, 2nd edn. Ulmer, Stuttgart

Levine JM, D'Antonio CM (1999) Elton revisited: a review of evidence linking diversity and invasibility. Oikos 87:15–26

Łysik M (2008) Ten years of change in groundlayer vegetation of European beech forest in the protected area (Ojcow National Park, South Poland). Pol J Ecol 56:17–31

MacDougall AS, Turkington R (2005) Are invasive species the drivers or passengers of change in degraded ecosystems? Ecology 86:42–55

Magurran AE (2004) Measuring biological diversity. Blackwell, Oxford

Müllerová J, Pyšek P, Jarošik V, Pergl J (2005) Aerial photographs as a tool for assessing the regional dynamics of the invasive plant species Heracleum mantegazzianum. J Appl Ecol 42:1042–1053

Nehring S, Kowarik I, Rabitsch W, Essl F (2013) Naturschutzfachliche Invasivitätsbewertungen für in Deutschland wild lebende gebietsfremde Gefäßpflanzen. BfN-Skripten 352:1–202

Obidzinski T, Symonides E (2000) The influence of the groundlayer structure on the invasion of small balsam (Impatiens parviflora DC) to natural and degraded forests. Acta Soc Bot Polon 69:311–318

Oksanen J, Blanchet FG, Kindt R, Legendre P, Minchin PR, O'Hara RB, Simpson GL, Solymos P, Stevens MHH, Wagner H (2011) Vegan: community ecology package, R Package Version 20-1

Pahl AT, Kollmann J, Mayer A, Haider S (2013) No evidence for local adaptation in an invasive alien plant: field and greenhouse experiments tracing a colonization sequence. Ann Bot 112:1921–1930

Pannek A, Ewald J, Diekmann M (2013) Resource-based determinants of range sizes of forest vascular plants in Germany. Glob Ecol Biogeogr 22:1019–1028

Pyšek P, Prach K (1995) Invasion dynamics of Impatiens glandulifera—a century of spreading reconstructed. Biol Conserv 74:41–48

Pyšek P, Pyšek A (1995) Invasion by Heracleum mantegazzianum in different habitats in the Czech Republic. J Veg Sci 6:711–718

Pyšek P, Jarošik V, Hulme PE, Pergl J, Hejda M, Schaffner U, Vilá M (2012) A global assessment of invasive plant impacts on resident species, communities and ecosystems: the interaction of impact measures, invading species' traits and environment. Glob Change Biol 18:1725–1737

R Core Team (2014) R: a language and environment for statistical computing. R Foundation for Statistical Computing, Vienna. http://www.r-project.org

Rusterholz H-P, Salamon J-A, Ruckli R, Baur B (2014) Effects of the annual invasive plant Impatiens glandulifera on the Collembola and Acari communities in a deciduous forest. Pedobiologia 57:285–291

Skálová H, Jarosik V, Dvorackova S, Pyšek P (2013) Effect of intra- and interspecific competition on the performance of native and invasive species of Impatiens under varying levels of shade and moisture. PLoS One 8(5):e62842. doi:10.1371/journalpone0062842

Suchopar A (2014) Arbeitsanweisung: Bestimmung von Calcium, Kalium und Magnesium mittels Atomabsorptionsspektroskopie, Bestimmung von Phosphat mittels Fließinjektionsanalyse. AG Vegetationsökologie und Naturschutzbiologie, Universität Bremen, Bremen

Tanner RA, Varia S, Eschen R, Wood S, Murphy ST, Gange AC (2013) Impacts of an invasive non-native annual weed, Impatiens glandulifera, on above- and below-ground invertebrate communities in the United Kingdom. PLoS One 8(6):e67271. doi:10.1371/journalpone0067271

Tickner DP, Angold PG, Gurnell AM, Mountford JO, Sparks T (2001) Hydrology as an influence on invasion: experimental investigations into competition between the alien Impatiens glandulifera and the native Urtica dioica in the UK. In: Brundu G, Brock J, Camarda I, Child L, Wade M (eds) Plant invasions: species ecology and ecosystem management. Backhuys, Leiden, pp 159–168

Trepl L (1984) Über Impatiens parviflora DC als Agriophyt in Mitteleuropa. Diss Bot 73:1–400

Vervoort A, Jacquemart A, LaNeuve L (2012) Habitat overlap of the invasive Impatiens parviflora DC with its congener I glandulifera L. Phytocoenologia 42:249–257

Vilá M, Espinar JL, Hejda M, Hulme PE, Jarošik V, Maron JL, Pergl J, Schaffner U, Sun Y, Pyšek P (2011) Ecological impacts of invasive alien plants: a meta-analysis of their effects on species, communities and ecosystems. Ecol Lett 14:702–708

Zavaleta ES, Hobbs RJ, Mooney HA (2001) Viewing invasive species removal in a whole-ecosystem context. TREE 16:454–459
Acknowledgments
We are grateful to Josef Müller for his help with identifying some plant species and to Dörthe Wagner and Andreas Suchopar for their assistance with the processing and analysis of soil samples. Two reviewers and the managing editor made many helpful comments to an earlier draft of the paper.
Additional information
Communicated by Jodi Price.
Electronic supplementary material
Below is the link to the electronic supplementary material.
Fig. 5. DCA ordination diagram of species in 50 plots invaded by Impatiens glandulifera and 50 adjacent plots that are not invaded. To avoid overlapping names, some species are given with "+." Environmental variables were post hoc fitted to the ordination results and displayed as vectors if significant at p < 0.01. For ordination statistics, see Fig. 2a. Fig. 6. DCA ordination diagram of species in 30 plots invaded by Impatiens parviflora and 30 adjacent plots that are not invaded. To avoid overlapping names, some species are given with "+." Environmental variables were post hoc fitted to the ordination results and displayed as vectors if significant at p<0.01. For ordination statistics, see Fig. 2b (PDF 44 kb)
Vegetation table of 50 pairs of plots, invaded by Impatiens glandulifera (i) or uninvaded (u) by the species. The species are ordered by layers and within layers by frequency. Transformed Braun-Blanquet cover-abundance scores of all species are given (XLSX 67 kb)
Vegetation table of 30 pairs of plots, invaded by Impatiens parviflora (i) or uninvaded (u) by the species. The species (only field layer is shown) are ordered by frequency. Transformed Braun-Blanquet cover-abundance scores of all species are given (XLSX 25 kb)
About this article
Cite this article
Diekmann, M., Effertz, H., Baranowski, M. et al. Weak effects on plant diversity of two invasive Impatiens species. Plant Ecol 217, 1503–1514 (2016). https://doi.org/10.1007/s11258-016-0663-0
Received:

Accepted:

Published:

Issue Date:
Keywords
Competition

Impatiens glandulifera
Impatiens parviflora

Nutrient availability

Space-for-time substitution

Species richness