Abstract
Studies on the impacts of invasive plants are common but most are short term and fail to consider the temporal context of invasion. The present work investigated particular invasions on two different time scales and asked: (1) Do the impacts of an invasive tree on plant communities change after decades of invasion? (2) Are patterns of impacts dynamic over a period of five years? (3) Can multiple parameters reveal impacts that are unnoticed when single-value parameters are measured alone? Contrasting plant communities (long invaded, recently invaded and non-invaded) of a Portuguese coastal dune were compared during a 5-year period to assess the impacts of the invasive Acacia longifolia. Plant diversity, richness, cover, plant traits, indicator species analysis, similarity between areas and species turnover were analysed to reveal spatial and temporal patterns of change. Native species richness declined in both invaded areas. As invasion time increased, species shared with natural habitats decreased along with native plant cover, diversity and species turnover. Many species typical of dunes were replaced by generalists and exotics species, and richness of species with some level of nitrophily increased, particularly in recently invaded areas. Life form spectrum was radically transformed in invaded areas with several small-sized life forms being replaced by one single microphanerophyte. Germination of A. longifolia was greatest in long invaded areas. Findings show that modification of plant communities intensifies with invasion time and that invasion promotes a diversity of structural and functional changes which are dynamic over a few years (medium-term scale) but which tend to stabilize after several decades (long-term scale). An analysis of parameters in combination revealed changes that were not apparent when the same parameters were considered separately.
Access options
Buy single article
Instant access to the full article PDF.
USD 39.95
Price excludes VAT (USA)
Tax calculation will be finalised during checkout.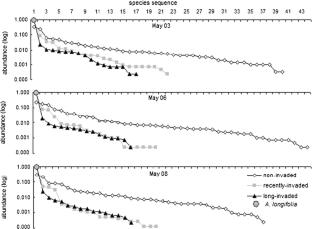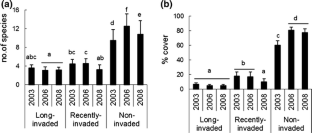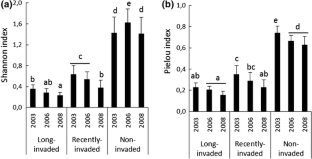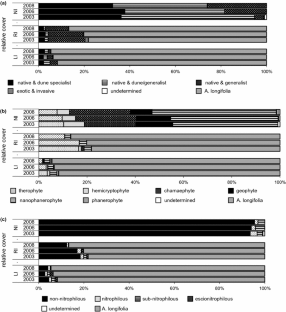 References
Alves JMS, Santo MDE, Costa JC, Gonçalves JHC, Lousã MF (1998) Habitats naturais e seminaturais de Portugal Continental. Instituto da Conservação da Natureza, Lisboa

Beckstead J, Parker IM (2003) Invasiveness of Ammophila arenaria: release from soil-borne pathogens? Ecology 84(11):2824–2831

Blossey B (1999) Before, during and after: the need for long-term monitoring in invasive plant species management. Biol Invasions 1:301–311

Bullock JM (2000) Gaps and seedling colonization. In: Fenner M (ed) Seeds: the ecology of regeneration in plant communities. CABI Publishing, Wallingford, pp 375–395

Cadotte MW, Carscadden K, Mirotchnick N (2011) Beyond species: functional diversity and the maintenance of ecological processes and services. J Appl Ecol 48:1079–1087. doi:10.1111/j.1365-2664.2011.02048.x

Carlsson N, Jeschke J, Holmqvist N, Kindberg J (2010) Long-term data on invaders: when the fox is away, the mink will play. Biol Invasions 12:633–641

Carter RWG (1995) Coastal environments: an introduction to the physical, ecological, and cultural systems of coastlines, 5th edn. Academic Press, London

Carvalheiro LG, Buckley Y, Memmott J (2010) Diet breadth influences how the impact of invasive plants is propagated through food webs. Ecology 91(4):1063–1074

CBD (Secretariat of the Convention on Biological Diversity) (2001) Assessment and management of alien species that threaten ecosystems, habitats and species. In Sixth meeting of the Subsidiary Body on Scientific, Technical and Technological Advice, Montreal, p 123

Davis MA, Chew MK, Hobbs RJ et al (2011) Don't judge species on their origins. Nature 474(7350):153–154

De Caceres M (2013) How to use the indicspecies package (ver. 1.7.1). The Comprehensive R Archive Network, http://cran.r-project.org/web/packages/indicspecies/vignettes/indicspeciesTutorial.pdf. Accessed on 5 July 2015

Ehrenfeld JG (2003) Effects of exotic plant invasions on soil nutrient cycling processes. Ecosystems 6:503–523

Elorza MS, Sánchez EDD, Vesperinas ES (2004) Atlas de las plantas alóctonas invasoras en España. Ministerio de Medio Ambiente, Madrid

Franco JA (1971, 1984) Nova Flora de Portugal (Continente e Açores). vol I, II. Author Edition, Lisboa

Franco JA, Afonso MLR (1994, 1998, 2003) Nova Flora de Portugal (Continente e Açores). vol III.1, 2, 3 Escolar Editora, Lisboa

Gaertner M, Den Breeyen A, Hui C, Richardson DM (2009) Impacts of alien plant invasions on species richness in Mediterranean-type ecosystems: a meta-analysis. Prog Phys Geogr 33(3):319–338

Gaertner M, Holmes P, Richardson D (2012) Biological invasions, resilience and restoration. In: van Andel J, Aronson J (eds) Restoration Ecology: The New Frontier, 2nd edn. Blackwell Publishing, Malden, pp 265–280

Gibson MR, Pauw A, Richardson DM (2013) Decreased insect visitation to a native species caused by an invasive tree in the Cape Floristic Region. Biol Conserv 157:196–203

Gilbert B, Levine J (2013) Plant invasions and extinction debts. PNAS 110(5):1744–1749

Guimarães MAD (2004) Avaliação do estado fitossanitário de Myrica faya e estudo da situação de seca de acacial em manchas na Reserva Natural das Dunas de S. Jacinto. P. 160. Instituto da Conservação da Natureza, RNDSJ

Gurevitch J, Padilla DK (2004) Are invasive species a major cause of extinctions? Trends Ecol Evol 19:470–474

Hejda M, Pyšek P (2006) What is the impact of Impatiens glandulifera on species diversity of invaded riparian vegetation? Biol Conserv 132:143–152

Hejda M, Pyšek P, Jarosík V (2009) Impact of invasive plants on the species richness, diversity and composition of invaded communities. J Ecol 97:393–403. doi:10.1111/j.1365-2745.2009.01480.x

Heleno RH, Ceia RS, Ramos JA, Memmott J (2009) Effects of alien plants on insect abundance and biomass: a food-web approach. Conserv Biol 23:410–419

Hellmann C, Sutter R, Rascher KG, Máguas C, Correia O, Werner C (2010) Impact of an exotic N2-fixing Acacia on composition and N status of a native Mediterranean community. Acta Oecol. doi:10.1016/j.actao.2010.11.005

Hilli M, Kuitunen MT, Suhonen J (2007) The effect of land use change on the vascular plant species turnover in boreal lakes. Biodivers Conserv 16:3951–3962

Hobbs RJ, Higgs E, Harris JA (2009) Novel ecosystems: implications for conservation and restoration. Trends Ecol Evol 24(11):599–605

Holmes PM (1990) Dispersal and predation of alien Acacia seeds: effects of season and invading stand density. S Afr J Bot 56:428–434

Holmes PM, Cowling RM (1997) The effects of invasion by Acacia saligna on the guild structure and regeneration capabilities of South African fynbos shrublands. J Appl Ecol 34:317–332

Honrado J, Alves P, Lomba A, Vicente J, Silva G, Nepomuceno H, Barreto Caldas F (2006) De Vegetatio Lusitana Notae—V: 10. Perennial vegetation of coastal sand-dunes in northern Portugal. Silva Lusitana 14(2): 269–75

Hulme PE, Roy DB, Cunha T, Larsson T-B (2008) A pan-European inventory of alien species: rationale, implementation and implications for managing biological invasions. In DAISIE (ed) The handbook of European Alien species. Springer, Dordrecht

Hulme PE, Pyšek P, Nentwig W, Vilà M (2009) Will Threat of Biological Invasions Unite the European Union? Science 324:40–41

Jäger H, Kowarik I, Tye A (2009) Destruction without extinction: long-term impacts of an invasive tree species on Galápagos highland vegetation. J Ecol 97:1252–1263

Le Maitre DC, Gaertner M, Marchante E, Ens E-J, Holmes PM, Pauchard A, O'Farrell PJ, Rogers AM, Blanchard R, Blignaut J, Richardson DM (2011) Impacts of invasive Australian acacias: implications for management and restoration. Divers Distrib 17:1015–1029

Lodge DM, Lewis MA, Shogren JF, Keller RP (2009) Introduction to biological invasions: biological, economic and social perspective. In: Keller RP, Lodge DM, Lewis MA, Shogre JF (eds) Bioeconomics of invasive species: integrating ecology, economics, policy, and management, p 298. Oxford University Press, Oxford

Lorenzo P, Pereira C, Rodríguez-Echeverría S (2012) Differential impact on soil microbes of allelopathic compounds released by the invasive Acacia dealbata Link. Soil Biol Biochem 57:156–163

Magurran AE (1988) Ecological diversity and its measurement. Croom Helm, London

Marchante H, Marchante E, Freitas H (2003) Invasion of the Portuguese dune ecosystems by the exotic species Acacia longifolia (Andrews) Willd: effects at the community level. In: Child L, Brock JH, Brundu G, Prach K, Pyšek P, Wade P, Williamson M (eds) Plant invasion: ecological threats and management solutions. Backhuys Publishers, Leiden, pp 75–85

Marchante E, Kjøller A, Struwe S, Freitas H (2008a) Invasive Acacia longifolia induce changes in the microbial catabolic diversity of sand dunes. Soil Biol Biochem 40:2563–2568

Marchante E, Kjøller A, Struwe S, Freitas H (2008b) Short and long-term impacts of Acacia longifolia invasion on the belowground processes of a Mediterranean coastal dune ecosystem. Appl Soil Ecol 40:210–217

Marchante H, Freitas H, Hoffmann JH (2010) Seed ecology of an invasive alien species, Acacia longifolia (Fabaceae), in Portuguese dune ecosystems. Am J Bot 97:1780–1790

Marchante H, Freitas H, Hoffmann JH (2011a) The potential role of seed-banks in the recovery of dune ecosystems after removal of invasive plant species. Appl Veg Sci 14:107–119. doi:10.1111/j.1654-109X.2010.01099.x

Marchante H, Freitas H, Hoffmann JH (2011b) Post-clearing recovery of coastal dunes invaded by Acacia longifolia: Is duration of invasion relevant for management success? J Appl Ecol 48:1295–1304. doi:10.1111/j.1365-2664.2011.02020.x

Mason TJ, French K, Russell KG (2007) Moderate impacts of plant invasion and management regimes in coastal hind dune seed-banks. Biol Conserv 134(3):428–439

McIntyre S, Lavorel S, Tremont RM (1995) Plant life-history attributes: their relationship to disturbance response in herbaceous vegetation. J Ecol 83:31–44

Neto CS (1993) A flora e a vegetação das dunas de S.Jacinto. Finisterra XXVIII(55–56): 101-148

Pieterse PJ, Cairns AL (1986) The effect of fire on an Acacia longifolia seed-bank in the South Western Cape. S Afr J Bot 52:233–236

Rascher KG, Hellmann C, Máguas C, Werner C (2012) Community scale 15 N isoscapes: tracing the spatial impact of an exotic N2-fixing invader. Ecol Lett 15(5):484–491

Rei MA (1924) Pinhais e dunas de Mira. Subsídios para a sua história: 1919–1924 Tipografia Popular, Figueira da Foz

Richardson DM, Pyšek P (2008) Fifty years of invasion ecology: the legacy of Charles Elton. Divers Distrib 14:161–168

Richardson DM, Pyšek P, Rejmánek M, Barbour MG, Panetta FD, West CJ (2000) Naturalization and invasion of alien plants: concepts and definitions. Divers Distrib 6:93–107

Silva GMd (2006) Padrões Fitogeográficos em Sistemas Dunares do Noroeste de Portugal Continental. MSc. Thesis, Universidade do Porto, Porto

Simberloff D, Martin J-L, Genovesi P, Maris V, Wardle DA, Aronson J, Courchamp F, Galil B, Garcıa-Berthou E, Pascal M, Pysek P, Sousa R, Tabacchi E, Vila M (2013) Impacts of biological invasions: what's what and the way forward. Trends Ecol Evol 28(1):58–66. doi:10.1016/j.tree.2012.07.013

Smith FR (2010) Using plant functional types to compare vegetation structure of alien-invaded and uninvaded Acacia nilotica savannas. S Afr J Bot 76:365–368

Smith T, Huston M (1989) A theory of the spatial and temporal dynamics of plant communities. Vegetatio 83:46–69

Strayer DL, Eviner VT, Jeschke JM, Pace ML (2006) Understanding the long-term effects of species invasions. Trends Ecol Evol 21(11):645–651

van Wilgen BW, Reyers B, Le Maitre DC, Richardson DM, Schonegevel L (2008) A biome-scale assessment of the impact of invasive alien plants on ecosystem services in South Africa. J Environ Manag 89:336–349

Vilá M, Basnou C, Pysek P, Josefsson M, Genovesi P, Gollasch S, Nentwig W, Olenin S, Roques A, Roy D, Hulme PE, Partners D (2009) How well do we understand the impacts of alien species on ecosystem services? A pan-European, cross-taxa assessment. Front Ecol Environ. doi:10.1890/080083

Warren J, Topping CJ, James P (2009) A unifying evolutionary theory for the biomass–diversity–fertility relationship. Theor Ecol 2:119–126

Weber E (2003) Invasive plant species of the world—a reference guide to environmental weeds. CABI Publishing, Wallingford
Acknowledgments
The authors thank C.Santos for contribution in field work, J.Maia for collaboration on species identification and Francisco López-Núñez for help with R. Thoughtful reviews and constructive criticisms by anonymous reviewers were greatly valued. This research was supported by FCT-MCTES (Portuguese Foundation for Science and Technology) and European fund FEDER, projects POCTI/BSE/42335/2001 and PTDC/AAG-REC/4607/2012. H.S.M. was supported by FCT-MCTES, grant SFRH/BD/24987/2005.
Additional information
Communicated by E. T. F. Witkowski.
Appendix
Appendix
About this article
Cite this article
Marchante, H., Marchante, E., Freitas, H. et al. Temporal changes in the impacts on plant communities of an invasive alien tree, Acacia longifolia . Plant Ecol 216, 1481–1498 (2015). https://doi.org/10.1007/s11258-015-0530-4
Received:

Accepted:

Published:

Issue Date:

DOI: https://doi.org/10.1007/s11258-015-0530-4
Keywords