Abstract
Positive plant–soil feedback (PSF) may be a mechanism of invader dominance, whereas PSF is often negative for native species. Previous work in Eastern deciduous forests of North America has shown that the invasive liana Euonymus fortunei participates in a net positive PSF with native groundcover Asarum canadense, indicating that PSF may contribute to invader dominance. However, to identify PSF as a general invasion driver for Euonymus, we must consider the average net pairwise feedback for multiple native–invasive species pairs, and compare this to the average net pairwise feedback amongst native–native pairs. Here, we test E. fortunei in net pairwise feedback against five native species, comparing native–invader feedback to feedback amongst natives over a gradient of light availability. PSF was on average neutral for invader–native pairs and on average negative for native–native pairs, indicating that Euonymus does not face the same constraints that limit the growth of native species. Because even neutral feedback can facilitate invasion, results indicate that PSF may facilitate invader dominance over a broad range of native functional groups and light conditions in Eastern deciduous forest.
Access options
Buy single article
Instant access to the full article PDF.
US$ 39.95
Tax calculation will be finalised during checkout.
Subscribe to journal
Immediate online access to all issues from 2019. Subscription will auto renew annually.
US$ 119
Tax calculation will be finalised during checkout.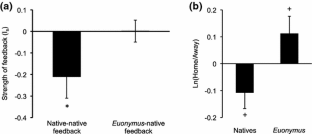 References
Agrawal AA, Kotanen PM, Mitchell CE, Power AG, Godsoe W, Klironomos J (2005) Enemy release? An experiment with congeneric plant pairs and diverse above- and belowground enemies. Ecology 86:2979–2989

Bagchi R, Swinfield T, Gallery RE, Lewis OT, Gripenberg S, Narayan L, Freckleton RP (2010) Testing the Janzen-Connell mechanism: pathogens cause overcompensating density dependence in a tropical tree. Ecol Lett 13:1262–1269

Bell T, Freckleton RP, Lewis OT (2006) Plant pathogens drive density-dependent seedling mortality in a tropical tree. Ecol Lett 9:569–574

Bever JD (2003) Soil community feedback and the coexistence of competitors: conceptual frameworks and empirical tests. New Phytol 157:465–473

Bever JD, Westover KM, Antonovics J (1997) Incorporating the soil community into plant population dynamics: the utility of the feedback approach. J Ecol 85:561–573

Bever JD, Dickie IA, Facelli E, Facelli JM, Klironomos J, Moora M, Rillig MC, Stock WD, Tibbett M, Zobel M (2010) Rooting theories of plant community ecology in microbial interactions. Trends Ecol Evol 25:468–478

Ehrenfeld JG, Ravit B, Elgersma K (2005) Feedback in the plant-soil system. Annu Rev Environ Resour 30:75–115

Hutchison M (1992) Vegetation management guideline—Wintercreeper or climbing Euonymus (Euonymus-fortunei). Nat Areas J 12:220–221

Inderjit, van der Putten WH (2010) Impacts of soil microbial communities on exotic plant invasions. Trends Ecol Evol 25:512–519

Klironomos JN (2002) Feedback with soil biota contributes to plant rarity and invasiveness in communities. Nature 417:67–70

Kulmatiski A, Beard KH, Stevens JR, Cobbold SM (2008) Plant-soil feedbacks: a meta-analytical review. Ecol Lett 11:980–992

Mangan SA, Schnitzer SA, Herre EA, Mack KML, Valencia MC, Sanchez EI, Bever JD (2010) Negative plant-soil feedback predicts tree-species relative abundance in a tropical forest. Nature 466:752–755

McGuire KL (2007) Common ectomycorrhizal networks may maintain monodominance in a tropical rain forest. Ecology 88:567–574

Packer A, Clay K (2000) Soil pathogens and spatial patterns of seedling mortality in a temperate tree. Nature 404:278–281

Petermann JS, Fergus AJF, Turnbull LA, Schmid B (2008) Janzen-Connell effects are widespread and strong enough to maintain diversity in grasslands. Ecology 89:2399–2406

Pringle A, Bever JD, Gardes M, Parrent JL, Rillig MC, Klironomos JN (2009) Mycorrhizal symbioses and plant invasions. Annu Rev Ecol Evol Syst 40:699–715

Reinhart KO, Callaway RM (2006) Soil biota and invasive plants. New Phytol 170:445–457

Reinhart KO, Tytgat T, Van der Putten WH, Clay K (2010) Virulence of soil-borne pathogens and invasion by Prunus serotina. New Phytol 186:484–495

Schwegman JE (1996) Euonymus fortunei–wintercreeper. In: Randall JM, Marinelli J (eds) Invasive plants: weeds of the global garden. Handbook #149. Brooklyn Botanic Garden, Brooklyn, p 55

Smith LM, Reynolds HL (2012) Positive plant-soil feedback may drive dominance of a woodland invader, Euonymus fortunei. Plant Ecol 213:853–860

Smith, LM, Reynolds HL (2015) Plant-soil feedbacks shift from negative to positive with decreasing light in forest understory species. Ecology 96:2523–2532

Stinson KA, Campbell SA, Powell JR, Wolfe BE, Callaway RM, Thelen GC, Hallett SG, Prati D, Klironomos JN (2006) Invasive plant suppresses the growth of native tree seedlings by disrupting belowground mutualisms. PLoS Biol 4:727–731

Swearingen J, Slattery B, Reshetiloff K, Zwicker S (2010) Plant invaders of mid-atlantic natural areas, vol 4. National Park Service and U.S. Fish and Wildlife Service, Washington, DC

Swedo BL, Glinka C, Rollo DR, Reynolds HL (2008) Soil bacterial community structure under exotic versus native understory forbs in a woodland remnant at Indiana University. Proc Indiana Acad Sci 117:7–15
Acknowledgments
This research was supported by a Senior Research Grant from the Indiana Academy of Science. Thanks to Jim Bever for assistance with net pairwise feedback statistical analyses. Thanks to the City of Bloomington Parks and Recreation department and Indiana University Research and Teaching Preserve for allowing soil collections on their properties. Thanks to Therese Burkhard and Gerald Smith for field and greenhouse assistance, and to the Indiana University greenhouse staff for assistance with experimental setup and maintenance.
Additional information
Communicated by Scott J Meiners.
About this article
Cite this article
Smith, L.M., Reynolds, H.L. Euonymus fortunei dominance over native species may be facilitated by plant–soil feedback. Plant Ecol 216, 1401–1406 (2015). https://doi.org/10.1007/s11258-015-0518-0
Received:

Accepted:

Published:

Issue Date:
Keywords
Net pairwise plant–soil feedback

Invasion mechanism

Eastern deciduous forest