Abstract
Tree–grass competition is recognized as an important ecological process in savannas and woodlands, yet we only have a limited understanding of how it varies across tree species, particularly in relation to water use and root morphology. We grew seedlings of three African savanna tree species either with or without grasses in a greenhouse experiment over 8 months. We measured soil moisture content at three depths throughout the course of the experiment and measured seedling height, root depth, and root allocation as a function of depth at the end of the experiment. The tree species differed markedly in their response to grass competition, ranging between a reduction >50 % in relative growth rate to no effect. The species also differed in terms of relative root mass allocation with depth, despite a lack of maximum rooting depth differences. Against expectations, the species with the deepest rooting allocation was highly susceptible to competition from grasses. Grass presence led to a reduction of soil moisture in relation to controls and the reduction increased as a function of depth. Analysis of soil moisture reductions during dry periods indicated that grass uptake was dominant in the upper soil layers, suggesting that lower water availability at depth associated with the presence of grass was the result of reduced flow to deeper layers. We hypothesize that shallow-rooted tree species may be able to successfully engage in exploitative competition with grasses, but deep-rooted species may be exposed to interference competition when water is limiting.
Access options
Buy single article
Instant access to the full article PDF.
US$ 39.95
Tax calculation will be finalised during checkout.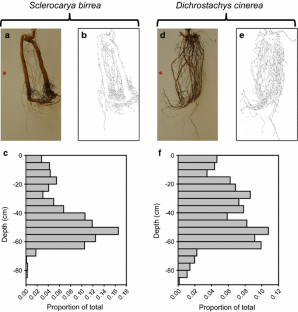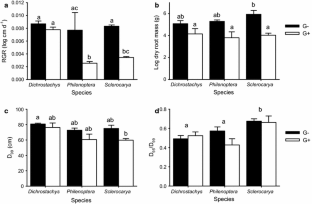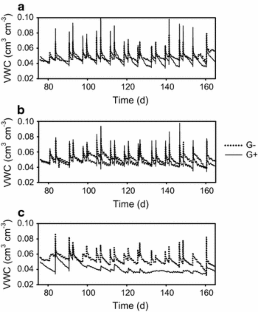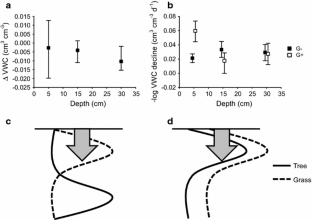 References
Belsky AJ (1990) Tree-grass ratios in East African savannas: a comparison of existing models. J Biogeogr 17:483–489

Bond WJ (2008) What limits trees in C4 grasslands and savannas? Annu Rev Ecol Evol Syst 39:641–659

Caylor KK, Scanlon TM, Rodriguez-Iturbe I (2009) Ecohydrological optimization of pattern and processes in water-limited ecosystems: a trade-off-based hypothesis. Water Resour Res 45:W08407

Craine JM, Ocheltree TW, Nippert JB, Towne EG, Skibbe AM, Kembel SW, Fargione JE (2013) Global diversity of drought tolerance and grassland climate-change resilience. Nat Clim Chang 3:63–67

Cramer MD, Van Cauter A, Bond WJ (2010) Growth of N2-fixing African savanna Acacia species is constrained by below-ground competition with grass. J Ecol 98:156–167

Cramer M, Wakeling J, Bond W (2012) Belowground competitive suppression of seedling growth by grass in an African savanna. Plant Ecol 213:1655–1666

Dodd MB, Lauenroth WK, Welker JM (1998) Differential water resource use by herbaceous and woody plant life-forms in a shortgrass steppe community. Oecologia 117:504–512

Eagleson PS, Segara RI (1985) Water-limited equilibrium of savanna vegetation systems. Water Resour Res 21:1483–1493

February EC, Higgins SI, Bond WJ, Swemmer L (2013) Influence of competition and rainfall manipulation on the growth responses of savanna trees and grasses. Ecology 94:1155–1164

Goldstein LJ, Suding KN (2014) Intra-annual rainfall regime shifts competitive interactions between coastal sage scrub and invasive grasses. Ecology 95:425–435

Gonzalez RC, Woods RE, Eddins SL (2009) Digital image processing using Matlab. Gatesmark Publishing, USA

Hill MJ, Roman MO, Schaaf CB (2011) Biogeography and dynamics of global tropical and subtropical savannas: a spatiotemporal view. In: Hill MJ, Hanan NP (eds) Ecosystem function in savannas: measurement and modeling at landscape to global scales. CRC Press, Boca Raton, pp 3–38

Hipondoka MHT, Aranibar JN, Chirara C, Lihavha M, Macko SA (2003) Vertical distribution of grass and tree roots in arid ecosystems of Southern Africa: niche differentiation or competition? J Arid Environ 54:319–325

Holdo RM (2013) Revisiting the two-layer hypothesis: coexistence of alternative functional rooting strategies in savannas. PLoS One 8:e69625

Holdo RM, Timberlake J (2008) Rooting depth and above-ground community composition in Kalahari sand woodlands in western Zimbabwe. J Trop Ecol 24:169–176

Holdo RM, Holt RD, Fryxell JM (2013) Herbivore–vegetation feedbacks can expand the range of savanna persistence: insights from a simple theoretical model. Oikos 122:441–453

House JI, Archer S, Breshears DD, Scholes RJ (2003) Conundrums in mixed woody-herbaceous plant systems. J Biogeogr 30:1763–1777

Jackson RB, Banner JL, Jobbagy EG, Pockman WT, Wall DH (2002) Ecosystem carbon loss with woody plant invasion of grasslands. Nature 418:623–626

Kambatuku JR, Cramer MD, Ward D (2013) Overlap in soil water sources of savanna woody seedlings and grasses. Ecohydrology 6:464–473

Khomo L (2008) Weathering and soil properties on old granitic catenas along climo-topographic gradients in Kruger National Park. In: Soil Science, University of Witwatersrand, Johannesburg

Knoop WT, Walker BH (1985) Interactions of woody and herbaceous vegetation in a southern African savanna. J Ecol 73:235–253

Kraaij T, Ward D (2006) Effects of rain, nitrogen, fire and grazing on tree recruitment and early survival in bush-encroached savanna, South Africa. Plant Ecol 186:235–246

Kraft NJB, Valencia R, Ackerly DD (2008) Functional traits and niche-based tree community assembly in an Amazonian forest. Science 322:580–582

Kulmatiski A, Beard K (2013a) Root niche partitioning among grasses, saplings, and trees measured using a tracer technique. Oecologia 171:25–37

Kulmatiski A, Beard KH (2013b) Woody plant encroachment facilitated by increased precipitation intensity. Nat Clim Chang 3:833–837

Laio F, Porporato A, Ridolfi L, Rodriguez-Iturbe I (2001) Plants in water-controlled ecosystems: active role in hydrologic processes and response to water stress—II. Probabilistic soil moisture dynamics. Adv Water Resour 24:707–723

Mordelet P, Menaut J-C, Mariotti A (1997) Tree and grass rooting patterns in an African humid savanna. J Veg Sci 8:65–70

Nippert JB, Knapp AK (2007) Soil water partitioning contributes to species coexistence in tallgrass prairie. Oikos 116:1017–1029

Nippert JB, Wieme RA, Ocheltree TW, Craine JM (2012) Root characteristics of C4 grasses limit reliance on deep soil water in tallgrass prairie. Plant Soil 355:385–394

R Development Core Team (2011) R: a language and environment for statistical computing. R Foundation for Statistical Computing, Vienna

Ratajczak Z, Nippert JB, Ocheltree TW (2014) Abrupt shifts of mesic grassland to shrubland: evidence for thresholds, alternative attractors, and regime shifts. Ecology 95:2633–2645

Riginos C (2009) Grass competition suppresses savanna tree growth across multiple demographic stages. Ecology 90:335–340

Rodriguez-Iturbe I, Porporato A, Ridolfi L, Isham V, Cox DR (1999) Probabilistic modelling of water balance at a point: the role of climate, soil and vegetation. Proc Math Phys Eng Sci 455:3789–3805

Rodríguez-Iturbe I, D'Odorico P, Porporato A, Ridolfi L (1999) Tree-grass coexistence in savannas: the role of spatial dynamics and climate fluctuations. Geophys Res Lett 26:247–250

Sala OE, Golluscio RA, Lauenroth WK, Soriano A (1989) Resource partitioning between shrubs and grasses in the Patagonian steppe. Oecologia 81:501–505

Sankaran M, Hanan NP, Scholes RJ, Ratnam J, Augustine DJ, Cade BS, Gignoux J, Higgins SI, Le Roux X, Ludwig F, Ardo J, Banyikwa F, Bronn A, Bucini G, Caylor KK, Coughenour MB, Diouf A, Ekaya W, Feral CJ, February EC, Frost PGH, Hiernaux P, Hrabar H, Metzger KL, Prins HHT, Ringrose S, Sea W, Tews J, Worden J, Zambatis N (2005) Determinants of woody cover in African savannas. Nature 438:846–849

Scholes RJ, Archer SR (1997) Tree-grass interactions in savannas. Annu Rev Ecol Syst 28:517–544

Scholes RJ, Walker BH (1993) An African savanna: synthesis of the Nylsvley study. Cambridge University Press, Cambridge

Silvertown J, Dodd ME, Gowing DJG, Mountford JO (1999) Hydrologically defined niches reveal a basis for species richness in plant communities. Nature 400:61–63

Tedder M, Kirkman K, Morris C, Fynn R (2014) Tree–grass competition along a catenal gradient in a mesic grassland, South Africa. Grassl Sci 60:1–8

Vadigi S, Ward D (2013) Shade, nutrients, and grass competition are important for tree sapling establishment in a humid savanna. Ecosphere 4(11):art142

Walker BH, Noy-Meir I (1982) Aspects of the stability and resilience of savanna ecosystems. In: Huntley BJ, Walker BH (eds) Ecology of tropical savannas. Springer, Berlin, pp 556–590

Walter H (1971) Ecology of tropical and subtropical vegetation. Oliver and Boyd, Endinburgh

Ward D, Wiegand K, Getzin S (2013) Walter's two-layer hypothesis revisited: back to the roots! Oecologia 172:616–630

Weltzin JF, McPherson GR (1997) Spatial and temporal soil moisture resource partitioning by trees and grasses in a temperate savanna, Arizona, USA. Oecologia 112:156–164

Whittaker RH (1975) Communities and ecosystems. Collier Macmillan, London

Wright IJ, Reich PB, Westoby M, Ackerly DD, Baruch Z, Bongers F, Cavender-Bares J, Chapin T, Cornelissen JHC, Diemer M, Flexas J, Garnier E, Groom PK, Gulias J, Hikosaka K, Lamont BB, Lee T, Lee W, Lusk C, Midgley JJ, Navas M-L, Niinemets U, Oleksyn J, Osada N, Poorter H, Poot P, Prior L, Pyankov VI, Roumet C, Thomas SC, Tjoelker MG, Veneklaas EJ, Villar R (2004) The worldwide leaf economics spectrum. Nature 428:821–827

Wright SJ, Kitajima K, Kraft NJB, Reich PB, Wright IJ, Bunker DE, Condit R, Dalling JW, Davies SJ, Díaz S, Engelbrecht BMJ, Harms KE, Hubbell SP, Marks CO, Ruiz-Jaen MC, Salvador CM, Zanne AE (2010) Functional traits and the growth–mortality trade-off in tropical trees. Ecology 91:3664–3674

Xiao X, Horton R, Sauer TJ, Heitman JL, Ren T (2011) Cumulative soil water evaporation as a function of depth and time. Vadose Zone J 10:1016–1022
Acknowledgments
We thank Barbara Sondermann for assistance in the greenhouse, Rex Cocroft for facilitating greenhouse space for this Project, and Megan Mollmann for help with final data collection. We thank South Africa National Parks (SANParks) for providing access and research permits for Kruger National Park, and Michelle Hofmeyr and Skukuza Indigenous Plant Nursery staff and Garrett Arnold for seed collection. We thank four anonymous reviewers for helpful comments on this and previous versions of the manuscript.
Additional information
Communicated by Devan Allen McGranahan.
About this article
Cite this article
Holdo, R.M., Brocato, E.R. Tree–grass competition varies across select savanna tree species: a potential role for rooting depth. Plant Ecol 216, 577–588 (2015). https://doi.org/10.1007/s11258-015-0460-1
Received:

Accepted:

Published:

Issue Date:
Keywords
Rooting depth

Savannas

Soil moisture

Tree growth

Tree–grass competition