Abstract
Deforestation generates forest fragments within modified matrices with frequently detrimental outcomes for species persistence. In historically fragmented forests, however, species have evolved under fragmented conditions and might be more resistant to matrix modification. We examined the effect of contemporary matrix modification on forest regeneration potential in historically fragmented scarp-forest fragments in KwaZulu-Natal, South Africa. We compared tree, seedling and sapling richness, abundance and composition in four forest-fragment types varying in size and matrix modification: large and small forest fragments surrounded by indigenous grassland and small forest fragments enclosed by eucalypt and sugarcane plantations. Additionally, seedlings and saplings were classified according to their origin as local/immigrant to assess matrix permeability for seed dispersers. Trees and saplings were slightly, and seedlings were strongly affected by matrix modification: seedling richness and abundance were significantly lower in fragments with sugarcane compared to fragments with grassland matrix. Furthermore, all stage classes revealed compositional differences with more light-tolerant species occurring in fragments with modified matrices. We suggest that human activities associated with matrix modification have altered abiotic factors favouring light-tolerant species. Changes in biotic interactions seemed to be less important as immigrant recruitment occurred in all fragments implying matrix permeability. Our findings demonstrate that contemporary matrix modification might threaten forest regeneration potential in historical scarp-forest fragments. Reduced seedling recruitment might indicate a time lag in local species extinction, as trees regenerate slowly. We recommend using both recruitment stages as early warning indicators. Further, including small scarp-forest fragments into protected area networks will minimise human impact associated with matrix modification.
Access options
Buy single article
Instant access to the full article PDF.
US$ 39.95
Tax calculation will be finalised during checkout.
Subscribe to journal
Immediate online access to all issues from 2019. Subscription will auto renew annually.
US$ 119
Tax calculation will be finalised during checkout.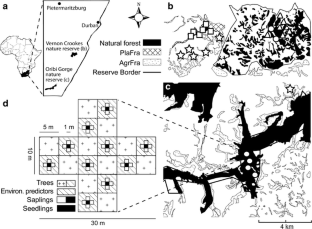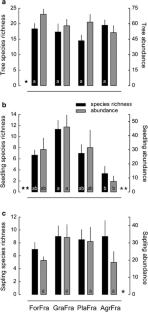 References
Aizen MA, Feinsinger P (1994) Habitat fragmentation, native insect pollinators, and feral honey bees in Argentine "Chaco Serrano". Ecol Appl 4:378–392

Bender DJ, Fahrig L (2005) Matrix structure obscures the relationship between interpatch movement and patch size and isolation. Ecology 86:1023–1033

Benítez-Malvido J (1998) Impact of forest fragmentation on seedling abundance in a tropical rain forest. Conserv Biol 12:380–389

Benítez-Malvido J, Lemus-Albor A (2005) The seedling community of tropical rain forest edges and its interaction with herbivores and pathogens. Biotropica 37:301–313

Benítez-Malvido J, Martínez-Ramos M (2003a) Impact of forest fragmentation on understory plant species richness in Amazonia. Conserv Biol 17:389–400

Benítez-Malvido J, Martínez-Ramos M (2003b) Influence of edge exposure on tree seedling species recruitment in tropical rain forest fragments. Biotropica 35:530–541

Bibby CJ, Burgess ND, Hill DA, Mustoe SH (2000) Bird census techniques. Academic Press, London

Boon R (2010) Pooley's trees of Eastern South Africa–a complete guide. Flora and Fauna Publications Trust, Durban

Botzat A, Fischer L, Farwig N (2013) Forest-fragment quality rather than matrix habitat shapes herbivory on tree recruits is South Africa. J Trop Ecol 29:111–122

Brockerhoff EG, Jactel H, Parrotta JA, Quine CP, Sayer J (2008) Plantation forests and biodiversity: oxymoron or opportunity? Biodivers Conserv 17:925–951

Chazdon RL (2003) Tropical forest recovery: legacies of human impact and natural disturbances. Perspect Plant Ecol Evol Systemat 6:51–71

Coates Palgrave M (2005) Keith coates palgrave trees of Southern Africa. Struik Publishers, Cape Town

Cordeiro NJ, Howe HF (2001) Low recruitment of trees dispersed by animals in African forest fragments. Conserv Biol 15:1733–1741

Cordeiro NJ, Ndangalasi HJ, McEntee JP, Howe HF (2009) Disperser limitation and recruitment of an endemic African tree in a fragmented landscape. Ecology 90:1030–1041

Crawley MJ (2007) The R book. John Wiley & Sons Ltd, Chichester

Dalling JW, Hubbell SP (2002) Seed size, growth rate and gap microsite conditions as determinants of recruitment success for pioneer species. J Ecol 90:557–568

Donoso DS, Grez AA, Simonetti JA (2003) Effects of forest fragmentation on the granivory of differently sized seeds. Biol Conserv 115:63–70

Eeley HAC, Lawes MJ, Piper SE (1999) The influence of climate change on the distribution of indigenous forest in KwaZulu-Natal, South Africa. J Biogeogr 26:595–617

Eeley HAC, Lawes MJ, Beyers B (2001) Priority areas for the conservation of subtropical indigenous forest in southern Africa: a case study from KwaZulu-Natal. Biodivers Conserv 10:1221–1246

FAO (2010) Global forest resources assessment 2010. Food and Agriculture Organisation of the United Nations, Rome

Farwig N, Böhning-Gaese K, Bleher B (2006) Enhanced seed dispersal of Prunus africana in fragmented and disturbed forests? Oecologia 147:238–252

Farwig N, Sajita N, Schaab G, Böhning-Gaese K (2008) Human impact diminishes seedling species richness in Kakamega Forest, Kenya. Basic Appl Ecol 9:383–391

Farwig N, Sajita N, Böhning-Gaese K (2009) High seedling recruitment of indigenous tree species in forest plantations in Kakamega Forest, western Kenya. For Ecol Manage 257:143–150

Geldenhuys CJ (1992a) Disjunctions and distribution limits of forest species in the Southern Cape. S Afr For J 161:1–13

Geldenhuys CJ (1992b) Richness, composition and relationships of the floras of selected forests in southern Africa. Bothalia 22:205–233

Geldenhuys CJ (1994) Bergwind fires and the location pattern of forest patches in the southern Cape landscape, South Africa. J Biogeogr 21:49–62

Geldenhuys CJ (1997) Native forest regeneration in pine and eucalypt plantations in Northern Province, South Africa. For Ecol Manage 99:101–115

Gotelli NJ, Colwell RK (2001) Quantifying biodiversity: procedures and pitfalls in the measurement and comparison of species richness. Ecol Lett 4:379–391

Grass I, Brandl R, Botzat A, Neuschulz EL, Farwig N (in press) Contrasting taxonomic and phylogenetic diversity responses to forest modifications: comparisons of taxa and successive plant life stages in South African scarp forest. PLOS One doi:10.1371/journal.pone.0118722

Griffiths ME, Lawes MJ (2006) Biogeographic, environmental, and phylogenetic influences on reproductive traits in subtropical forest trees, South Africa. Ecography 29:614–622

Griffiths ME, Lawes MJ, Tsvuura Z (2007) Understorey gaps influence regeneration dynamics in subtropical coastal dune forest. Plant Ecol 189:227–236

Hanski I, Ovaskainen O (2000) The metapopulation capacity of a fragmented landscape. Nature 404:755–758

Harvey CA, Medina A, Sanchez DM, Vilchez S, Hernandez BJ, Saenz C, Maes JM, Casanoves F, Sinclair FL (2006) Patterns of animal diversity in different forms of tree cover in agricultural landscapes. Ecol Appl 16:1986–1999

Howe HF, Smallwood J (1982) Ecology of seed dispersal. Ann Rev Ecol Syst 13:201–228

Kariuki M, Kooyman RM (2005) Floristic changes and regeneration patterns for a 12-year period during the 3rd and 4th decades following selection logging in a subtropical rainforest. Austral Ecol 30:844–855

Kirika JM, Böhning-Gaese K, Dumbo B, Farwig N (2010) Reduced abundance of late-successional trees but not of seedlings in heavily compared with lightly logged sites of three East African tropical forests. J Trop Ecol 26:533–546

Kotze DJ, Lawes MJ (2007) Viability of ecological processes in small Afromontane forest patches in South Africa. Austral Ecol 32:294–304

Laurance WF (2000) Rain forest fragmentation kills big trees. Nature 404:836

Laurance WF, Ferreira LV, Rankin-De Merona JM, Laurance SG, Hutchings RW, Lovejoy TE (1998) Effects of forest fragmentation on recruitment patterns in Amazonian tree communities. Conserv Biol 12:460–464

Laurance WF, Nascimento HEM, Laurance SG, Andrade AC, Fearnside PM, Ribeiro JEL, Capretz RL (2006) Rain forest fragmentation and the proliferation of successional trees. Ecology 87:469–482

Laurance WF, Camargo JLC, Luizao RCC, Laurance SG, Pimm SL, Bruna EM, Stouffer PC, Williamson GB, Benítez-Malvido J, Vasconcelos HL, Van Houtan KS, Zartman CE, Boyle SA, Didham RK, Andrade AC, Lovejoy TE (2011) The fate of Amazonian forest fragments: a 32-year investigation. Biol Conserv 144:56–67

Lawes MJ (1990) The distribution of the samango monkey (Cercopithecus mitis erythrarchus Peters, 1852 and Cercopithecus mitis labiatus Geoffroy, I., 1843) and forest history in southern Africa. J Biogeogr 17:669–680

Lawes MJ, Eeley HAC, Piper SE (2000) The relationship between local and regional diversity of indigenous forest fauna in KwaZulu-Natal Province, South Africa. Biodivers Conserv 9:683–705

Lawes MJ, Macfarlane DM, Eeley HAC (2004) Forest landscape pattern in the KwaZulu-Natal midlands, South Africa: 50 years of change or stasis? Austral Ecol 29:613–623

Lawes MJ, Lamb BCC, Boudreau S (2005) Area- but no edge-effect on woody seedling abundance and species richness in old Afromontane forest fragments. J Veg Sci 16:363–372

Lawes MJ, Joubert R, Griffiths ME, Boudreau S, Chapman CA (2007) The effect of the spatial scale of recruitment on tree diversity in Afromontane forest fragments. Biol Conserv 139:447–456

Legendre P (1993) Spatial autocorrelation: trouble or new paradigm? Ecology 74:1659–1673

Lehouck V, Spanhove T, Colson L, Adringa-Davis A, Cordeiro NJ, Lens L (2009a) Habitat disturbance reduces seed dispersal of a forest interior tree in a fragmented African cloud forest. Oikos 118:1023–1034

Lehouck V, Spanhove T, Cordeiro NJ, Lens L (2009b) Does landscape structure affect resource tracking by avian frugivores in a fragmented Afrotropical forest? Ecography 32:789–799

Melo FPL, Martínez-Salas E, Benítez-Malvido J, Ceballos G (2010) Forest fragmentation reduces recruitment of large-seeded tree species in a semi-deciduous tropical forest of southern Mexico. J Trop Ecol 26:35–43

Montgomery RA, Chazdon RL (2001) Forest structure, canopy architecture, and light transmittance in tropical wet forests. Ecology 82:2707–2718

Nascimento HEM, Andrade ACS, Camargo JLC, Laurance WF, Laurance SG, Ribeiro JEL (2006) Effects of the surrounding matrix on tree recruitment in Amazonian forest fragments. Conserv Biol 20:853–860

Neuschulz EL, Botzat A, Farwig N (2011) Effects of forest modification on bird community composition and seed removal in a heterogeneous landscape in South Africa. Oikos 120:1371–1379

Neuschulz EL, Brown M, Farwig N (2013a) Frequent bird movements across a highly fragmented landscape: the role of species traits and forest matrix. Anim Conserv 16:170–179

Neuschulz EL, Grass I, Botzat A, Johnson SD, Farwig N (2013b) Persistence of flower visitors and pollination services of a generalist tree in modified forests. Austral Ecol 38:374–382

Oksanen J (2011) Multivariate analysis of ecological communities in R: vegan tutorial. URL: http://cc.oulu.fi/~jarioksa/opetus/metodi/vegantutor.pdf

Oksanen J, Blanchet FG, Kindt R, Legendre P, Minchin PR, O'Hara RB, Simpson GL, Solymos P, Stevens MHH, Wagner H (2011) Vegan: community ecology package. URL: http://CRAN.R-project.org/package=vegan

Perrin MR (2002) Space use by a reintroduced serval in Mount Currie Nature Reserve. South Afric J Wildlife Res 32:79–86

Ramírez-Marcial N (2003) Survival and growth of tree seedlings in anthropogenically disturbed Mexican montane rain forests. J Veg Sci 14:881–890

Ranta P (1998) The fragmented Atlantic rain forest of Brazil: size, shape and distribution of forest fragments. Biodivers Conserv 7:385–403

Saunders DA, Hobbs RJ, Margules CR (1991) Biological consequences of ecosystem fragmentation: a review. Conserv Biol 5:18–32

Stohlgren TJ, Falkner MB, Schell LD (1995) A modified-Whittaker nested vegetation sampling method. Vegetatio 117:113–121

Stoner KE, Riba-Hernández P, Vulinec K, Lambert JE (2007) The role of mammals in creating and modifying seed shadows in tropical forests and some possible consequences of their elimination. Biotropica 39:316–327

Quantum GIS Development Team (2012) Quantum GIS geographic information system. Open source geospatial foundation project. http://qgis.osgeo.org

R Development Core Team (2012) R: a language and environment for statistical computing. R Foundation for Statistical Computing, Vienna, Austria. Available at http://www.R-project.org

Terborgh J, Nunez-Iturri G, Pitman NCA, Valverde FHC, Alvarez P, Swamy V, Pringle EG, Paine CET (2008) Tree recruitment in an empty forest. Ecology 89:1757–1768

Thimijan RW, Heins RD (1983) Photometric, radiometric, and quantum light units of measure: a review of procedures for interconversion. HortScience 18:818–822

Tilman D, May RM, Lehman CL, Nowak MA (1994) Habitat destruction and the extinction debt. Nature 371:65–66

Tsvuura Z, Griffiths ME, Lawes MJ (2012) Density effects of a dominant understory herb, Isoglossa woodii (Acanthaceae), on tree seedlings of a subtropical coastal dune forest. Biotropica 44:163–170

Turner IM, Cortlett RT (1996) The conservation value of small, isolated fragments of lowland tropical rain forest. Trends Ecol Evol 11:330–333

Von Maltitz G, Mucina L, Geldenhuys CJ, Lawes MJ, Eeley H, Aidie H, Vink D, Fleming G, Bailey C (2003) Classification system for South African indigenous forests: an objective classification for the Department of Water Affairs and Forestry. ENV-P-C 2003-017, 275. CSIR, Pretoria

Wang BC, Smith TB (2002) Closing the seed dispersal loop. Trends Ecol Evol 17:379–385

Whitmore TC (1989) Canopy gaps and the two major groups of forest trees. Ecology 70:536–538

Wright SJ, Duber HC (2001) Poachers and forest fragmentation alter seed dispersal, seed survival, and seedling recruitment in the palm Attalea butyraceae, with implications for tropical tree diversity. Biotropica 33:583–595

Wunderle JM Jr (1997) The role of animal seed dispersal in accelerating native forest regeneration on degraded tropical lands. Forest Ecol Manage 99:223–235
Acknowledgments
We thank the Robert Bosch foundation for funding this project. We are grateful to Ezemvelo KZN Wildlife for granting us access to their nature reserves. We thank David Johnson, Tony Abbott and Christina Potgieter for their help with plant identification and categorising tree species according to their successional status. We are thankful to Megan E. Griffiths for providing guidance in categorising species according to the dispersal mode. We gratefully acknowledge the valuable feedback on this manuscript offered by Eike Lena Neuschulz, Dana G. Berens and Jörg Albrecht as well as two anonymous reviewers. We also thank Friederike A. Voigt and Lackson Chama for scientific advice and Mike and Heidi Neethling, George Archibald, Pravin Pillay and Sandy-Lynn Steenhuisen for manifold support.
Additional information
Communicated by Shayne Martin Jacobs.
Appendix
Appendix
Light tolerance (lt: E = edge I = interior), dispersal mode (dm: G = gravity, W = wind, Z = zoochorous) and presence (+) or absence (−) of tree (tr), seedling (se) and sapling (sa) species in large natural forest fragments (ForFra), small natural forest fragments surrounded by grassland (GraFra) and in small modified forest fragments surrounded by plantations (PlaFra) and agriculture (AgrFra) in KwaZulu-Natal, South Africa (modified from Botzat et al. 2013).
Forest-fragment type
lt
dm
ForFra
GraFra
PlaFra
AgrFra
Species (family)
tr
se
sa
tr
Se
sa
tr
se
Sa
Tr
se
sa
Acacia caffra (Fabaceae)
E
Z
−
−
−
+
−
−
−
−
−
−
−
−
Acacia mearnsii (Fabaceae)
E
Z
−
−
−
−
−
−
−
+
+
−
−
−
Acalypha glabrata var. glabrata (Euphorbiaceae)
E
Z
+
+
+
−
−
+
−
−
−
+
−
−
Acokanthera oppositifolia (Apocynaceae)
I
Z
−
−
+
−
−
−
−
−
−
+
−
+
Acridocarpus natalitius var. natalitius (Malpighiaceae)
I
W
−
−
+
−
−
−
−
−
−
−
−
−
Albizia adianthifolia var. adianthifolia (Fabaceae)
E
Z
+
−
−
−
−
−
−
−
−
+
−
+
Allophylus africanus var. africanus (Sapindaceae)
E
Z
+
−
−
−
+
−
−
+
−
+
−
+
Allophylus dregeanus (Sapindaceae)
E
Z
−
−
−
+
+
−
+
+
−
+
−
−
Antidesma venosum (Euphorbiaceae)
E
Z
+
−
−
−
−
−
−
−
−
+
−
−
Apodytes dimidiata subsp. dimidiata (Icacinaceae)
E
Z
−
−
−
+
+
−
+
−
−
+
+
+
Bachmannia woodii (Capparaceae)
I
Z
−
−
+
−
−
−
−
−
−
−
−
−
Baphia racemosa (Fabaceae)
I
G
+
+
+
−
−
−
−
−
−
−
−
−
Bersama swinnyi (Melianthaceae)
I
Z
−
−
−
−
−
−
−
−
−
+
−
−
Bersama tysoniana (Melianthaceae)
I
Z
+
−
−
+
−
+
−
−
−
+
+
−
Brachylaena discolour (Asteraceae)
E
W
−
−
−
+
−
−
−
−
−
+
−
−
Brachylaena elliptica (Asteraceae)
E
W
+
−
−
−
−
−
−
−
−
−
−
−
Brachylaena uniflora (Asteraceae)
E
W
+
−
−
−
−
−
−
−
−
−
−
−
Bridelia micrantha (Euphorbiaceae)
I
Z
+
−
−
+
−
−
−
−
−
+
−
−
Burchellia bubalina (Rubiaceae)
E
Z
−
−
−
−
−
−
−
−
−
−
−
+
Calodendrum capense (Rutaceae)
I
Z
−
−
−
−
−
−
−
−
−
+
−
−
Calpurnia aurea subsp. aurea (Fabaceae)
E
Z
−
−
+
−
+
−
−
−
−
−
−
−
Canthium ciliatum (Rubiaceae)
E
Z
−
−
−
+
+
+
−
+
+
+
+
+
Canthium inerme (Rubiaceae)
E
Z
+
−
−
−
+
−
−
−
−
+
−
+
Canthium spinosum (Rubiaceae)
E
Z
-−
−
−
+
−
+
+
−
+
+
+
+
Canthium suberosum (Rubiaceae)
I
Z
+
−
−
−
−
−
−
−
−
−
−
−
Carissa macrocarpa (Apocynaceae)
E
Z
−
−
−
−
−
−
−
−
−
+
−
−
Cassine peragua subsp. peragua (Celastraceae)
E
Z
−
−
−
−
−
−
−
−
−
+
−
−
Cassipourea gummiflua var. verticillata (Rhizophoraceae)
I
Z
+
+
−
+
+
+
−
−
−
−
−
−
Cassipourea malosana (Rhizophoraceae)
I
Z
+
−
+
+
+
+
−
−
−
+
−
−
Caturanegam obovata (Rubiaceae)
E
Z
−
−
−
+
+
+
−
−
−
−
−
−
Celtis africana (Celtidaceae)
E
Z
+
+
−
+
+
+
+
+
+
+
−
−
Cestrum laevigatum (Solanaceae)
E
Z
−
−
−
−
−
−
+
+
+
−
−
−
Chaetachme aristata (Celtidaceae)
I
Z
+
−
−
+
+
−
−
−
−
−
−
−
Clausena anisata (Rutaceae)
E
Z
+
+
−
−
−
−
−
−
−
+
−
+
Clerodendrum glabrum var. glabrum (Lamiaceae)
E
Z
+
−
−
+
−
−
+
−
+
+
−
−
Cnestis polyphylla (Connaraceae)
I
Z
−
−
−
−
−
−
−
+
+
−
−
+
Combretum erythrophyllum (Combretaceae)
E
Z
+
−
−
+
+
−
+
+
+
+
+
+
Combretum kraussii (Combretaceae)
E
W
+
+
+
+
+
+
+
+
+
+
+
+
Commiphora harveyi (Burseraceae)
I
Z
−
−
−
−
−
−
+
−
−
−
−
−
Commiphora woodii (Burseraceae)
I
Z
−
−
−
−
+
−
−
−
−
−
−
−
Croton sylvaticus (Euphorbiaceae)
E
Z
+
−
−
+
−
−
+
−
−
+
−
−
Cryptocaria myrtifolia (Lauraceae)
I
Z
−
−
−
−
−
+
−
−
−
−
−
−
Cryptocaria woodii (Lauraceae)
I
Z
−
−
−
−
−
−
−
−
−
+
−
+
Cryptocaria wyliei (Lauraceae)
E
Z
−
−
−
−
−
−
−
−
−
+
−
+
Cunonia capensis (Cunoniaceae)
E
W/Z
−
−
−
+
−
−
−
−
−
+
−
−
Cussonia sphaerocephala (Araliaceae)
I
Z
+
−
−
+
−
−
−
−
−
+
−
−
Cussonia spicata (Araliaceae)
E
Z
+
−
−
−
−
−
−
−
−
+
−
−
Deinbollia oblongifolia (Sapindaceae)
E
Z
+
−
−
−
−
−
−
−
−
−
−
−
Diospyros lycioides subsp. sericea (Ebenaceae)
E
Z
+
+
+
−
−
+
+
+
+
+
−
−
Diospyros villosa var. villosa (Ebenaceae)
E
Z
−
−
−
−
−
−
+
−
−
−
−
−
Dombeya burgessiae (Sterculiaceae)
E
G/W
+
−
−
−
−
−
−
−
−
+
−
−
Dombeya tiliaceae (Sterculiaceae)
E
G/W
−
−
−
−
−
+
−
−
+
−
−
−
Dovyalis lucida (Flacourtiaceae)
E
Z
−
−
−
+
−
−
−
−
−
−
−
−
Dovyalis rhamnoides (Flacourtiaceae)
E
Z
−
−
−
−
−
+
+
+
+
+
−
−
Dracaena aletriformis (Dracaenaceae)
E
Z
+
−
−
+
−
−
+
+
+
+
−
+
Drypetes arguta (Euphorbiaceae)
I
Z
+
+
+
−
−
+
−
−
−
−
−
+
Drypetes gerrardii var. gerrardii (Euphorbiaceae)
I
Z
+
+
−
+
−
+
+
−
−
+
+
+
Ekebergia capensis (Meliaceae)
E
Z
−
−
−
−
−
−
−
−
−
+
−
−
Elaeodendron croceum (Celastraceae)
E
Z
+
+
+
−
−
−
−
−
−
+
−
+
Englerophytum natalense (Sapotaceae)
I
Z
+
+
+
+
+
+
−
−
−
+
−
−
Erythrina caffra (Fabaceae)
E
Z
−
−
−
+
−
−
−
−
−
−
−
−
Erythrina lysistemon (Fabaceae)
E
Z
−
−
−
−
−
−
−
−
+
−
−
−
Erythrococca sp. nov. (Euphorbiaceae)
I
Z
−
−
−
−
−
−
−
−
−
+
−
−
Eucalyptus grandis (Myrtaceae)
E
W
−
−
−
−
−
−
+
−
−
−
−
−
Euclea natalensis subsp. natalensis (Ebenaceae)
I
Z
−
−
−
−
−
−
−
−
−
+
−
+
Eugenia natalitia (Myrtaceae)
I
Z
−
−
−
+
+
+
+
−
+
+
−
+
Eugenia umtamvunensis (Myrtaceae)
I
Z
+
+
+
−
−
−
−
+
−
−
−
−
Eugenia woodii (Myrtaceae)
E
Z
+
−
−
−
−
−
−
−
−
−
−
−
Faurea saligna (Proteaceae)
E
W
−
−
−
−
−
−
−
−
+
−
−
−
Ficus burkei (Moraceae)
E
Z
+
−
−
+
−
−
−
−
−
−
−
−
Ficus burtt-davyi (Moraceae)
E
Z
+
−
−
−
−
−
−
−
−
−
−
−
Ficus craterostoma (Moraceae)
I
Z
−
−
−
+
−
−
+
−
−
+
−
−
Ficus natalensis subsp. natalensis (Moraceae)
E
Z
+
−
−
−
−
−
−
−
−
+
−
−
Ficus sur (Moraceae)
E
Z
−
−
−
+
−
−
+
−
−
+
−
−
Gardenia thunbergia (Rubiaceae)
I
Z
+
−
−
−
−
−
−
−
−
−
−
−
Grewia lasiocarpa (Tiliaceae)
E
Z
−
−
−
+
+
+
+
+
+
+
−
+
Grewia occidentalis var. occidentalis (Tiliaceae)
E
Z
−
−
−
+
−
−
+
−
−
+
−
−
Gymnosporia buxifolia (Celastraceae)
E
Z
−
−
−
−
−
+
−
−
−
+
−
−
Gymnosporia harveyana (Celastraceae)
I
Z
+
−
−
−
+
+
−
−
−
+
+
+
Gymnosporia nemorosa (Celastraceae)
E
Z
+
−
−
−
−
−
−
−
−
−
−
−
Halleria lucida (Scrophulariaceae)
E
Z
−
−
−
−
−
−
+
−
+
+
−
+
Harpephyllum caffrum (Anacardiaceae)
I
Z
−
−
−
−
−
−
−
−
−
+
−
−
Heywoodia lucens (Euphorbiaceae)
E
G
+
−
−
−
−
−
−
−
−
−
−
−
Hippobromus pauciflorus (Sapindaceae)
E
Z
+
−
−
−
+
−
−
−
−
−
−
−
Hyperacanthus amoenus (Rubiaceae)
I
Z
+
−
−
−
−
−
−
−
−
−
−
−
Kiggelaria africana (Flacourtiaceae)
E
Z
−
−
−
−
−
−
+
−
+
−
−
−
Macaranga capensis (Euphorbiaceae)
E
Z
−
−
−
+
−
−
−
−
−
−
−
−
Maerua cafra (Capparaceae)
E
Z
−
−
−
−
−
−
−
−
−
+
−
+
Maesa lanceolata (Maesaceae)
E
Z
+
−
−
−
−
+
+
+
+
+
−
+
Margaritaria discoidea var. fagifolia (Euphorbiaceae)
I
Z
+
−
−
−
−
−
−
−
−
−
−
−
Maytenus abbottii (Celastraceae)
E
Z
−
−
−
−
−
−
−
−
−
+
−
+
Maytenus acuminata (Celastraceae)
E
Z
−
−
−
−
−
−
−
+
−
−
−
−
Maytenus peduncularis (Celastraceae)
I
Z
−
−
−
−
−
−
−
−
−
+
−
−
Maytenus undata (Celastraceae)
E
Z
−
−
−
−
−
−
+
−
−
−
−
−
Memecylon natalense (Melastomataceae)
I
Z
−
+
−
+
−
−
−
−
−
−
−
−
Millettia grandis (Fabaceae)
E
G
+
+
+
−
−
−
−
−
−
−
−
−
Mimusops obovata (Sapotaceae)
E
Z
+
−
−
−
−
−
−
−
−
+
−
−
Nectaropetalum capense (Erythroxylaceae)
I
Z
+
−
+
−
−
−
−
−
−
−
−
−
Obetia tenax (Urticaceae)
E
G
+
−
+
−
−
−
−
−
−
+
−
−
Ochna arborea var. arborea (Ochnaceae)
I
Z
+
+
+
−
+
−
−
−
−
−
−
−
Ochna serrulata (Ochnaceae)
E
Z
−
−
+
−
+
+
−
+
−
−
+
−
Olea capensis subsp. macrocarpa (Oleaceae)
I
Z
−
−
+
−
−
−
−
−
−
−
−
−
Oricia bachmannii (Rutaceae)
I
Z
+
−
+
−
−
−
−
−
−
−
−
−
Pavetta bowkeri (Rubiaceae)
I
Z
−
−
−
−
−
−
−
+
+
−
−
+
Pavetta lanceolata (Rubiaceae)
E
Z
−
−
−
−
−
−
+
+
+
+
−
−
Peddiea africana (Thymelaeaceae)
I
Z
+
+
−
+
+
+
+
+
+
−
+
+
Phoenix reclinata (Arecaceae)
E
Z
+
+
+
+
+
+
+
+
+
−
−
−
Pittosporum viridiflorum (Pittosporaceae)
E
Z
+
−
−
+
−
−
−
−
−
+
−
+
Pleurostylia capensis (Celastraceae)
I
Z
+
−
+
+
+
+
+
−
−
+
−
+
Podocarpus latifolius (Anacardiaceae)
I
Z
−
−
−
−
−
+
−
+
+
−
−
−
Protorhus longifolia (Celastraceae)
E
Z
+
+
−
+
+
+
+
+
+
+
+
+
Pseudoscolopia polyantha (Flacourtiaceae)
E
Z
−
−
−
−
−
−
−
−
+
−
−
−
Psychotria capensis subsp. capensis var. capensis (Rubiaceae)
E
Z
+
−
+
+
+
+
+
+
+
+
+
+
Rapanea melanophloeos (Myrsinaceae)
E
Z
+
−
−
+
+
+
−
−
−
+
+
+
Rauvolfia caffra (Apocynaceae)
E
Z
+
+
−
−
+
−
−
−
−
−
−
−
Rawsonia lucida (Flacourtiaceae)
I
G
−
−
−
+
+
+
−
−
−
−
−
−
Rothmannia globosa (Rubiaceae)
I
Z
+
−
−
−
+
−
−
−
−
+
+
+
Schrebera alata (Oleaceae)
E
W
+
−
−
−
−
−
−
−
−
−
−
−
Scolopia zeyheri (Flacourtiaceae)
E
Z
−
−
−
+
−
−
−
−
−
−
−
−
Searsia chirindensis (Anacardiaceae)
E
Z
+
−
−
+
−
+
+
−
−
+
−
+
Searsia dentata (Anacardiaceae)
E
Z
−
−
−
−
−
−
−
−
−
+
−
+
Strelitzia nicolai (Strelitziaceae)
E
Z
+
−
+
+
+
+
+
−
+
−
−
−
Strychnos decussata (Strychnaceae)
I
Z
+
−
−
−
−
−
−
−
−
−
−
−
Strychnos henningsii (Strychnaceae)
I
Z
+
−
−
−
−
−
−
−
−
−
−
−
Strychnos usambarensis (Strychnaceae)
I
Z
+
+
+
−
−
−
−
−
−
−
−
−
Syzygium cordatum (Myrtaceae)
E
Z
+
−
−
+
−
−
+
−
+
+
−
−
Tarenna pavettoides subsp. pavettoides (Rubiaceae)
E
Z
+
+
−
−
−
−
−
−
−
−
−
−
Teclea gerrardii (Rutaceae)
I
Z
+
−
−
−
−
−
−
−
−
−
−
−
Teclea natalensis (Rutaceae)
I
Z
+
+
−
+
−
−
−
−
−
−
−
−
Trema orientalis (Celtidaceae)
E
Z
−
−
−
+
−
−
+
+
−
+
−
−
Tricalysia capensis var. capensis (Rubiaceae)
E
Z
−
−
−
−
−
−
−
−
−
+
−
+
Tricalysia sonderiana (Rubiaceae)
E
Z
+
−
−
−
−
−
−
−
−
−
−
−
Trichilia dregeana (Meliaceae)
E
Z
−
−
−
+
−
−
−
−
−
−
−
−
Vangueria infausta (Rubiaceae)
E
Z
−
−
−
−
+
−
−
−
+
+
−
−
Vangueria parviflora (Rubiaceae)
E
Z
−
−
−
−
−
−
−
−
+
−
−
−
Vepris lanceolata (Rutaceae)
E
Z
−
−
−
+
−
+
+
−
−
+
+
+
Xylotheca kraussiana (Flacourtiaceae)
E
Z
+
−
−
−
−
−
−
−
−
−
−
−
Xymalos monospora (Monimiaceae)
I
Z
+
−
−
−
+
−
−
−
−
−
−
−
Zanthoxylum capense (Rutaceae)
E
Z
−
−
−
+
+
−
+
−
+
+
−
−
Zanthoxylum davyi (Rutaceae)
I
Z
−
−
−
+
−
−
−
−
−
−
−
+
About this article
Cite this article
Botzat, A., Fischer, L. & Farwig, N. Regeneration potential in South African forest fragments: extinction debt paid off or hampered by contemporary matrix modification?. Plant Ecol 216, 535–551 (2015). https://doi.org/10.1007/s11258-015-0457-9
Received:

Accepted:

Published:

Issue Date:
Keywords
Historical forest fragmentation

KwaZulu-Natal

Saplings

Scarp forest

Seedling recruitment