Abstract
The success of invasive plants and their impacts on community structure are commonly explained by referring to their supposed higher competitive ability. However, invasive plants do not consistently outperform native species; and the role of competition may also depend on the stage of the invasion process. This study investigated competitive effects of woody alien plant species at an early stage of invasion (Archontophoenix cunninghamiana and Psidium guajava) on closely related New Zealand native species of similar life form (Rhopalostylis sapida and Lophomyrtus bullata, respectively) at several points over time in a shadehouse experiment. Effects of interspecific competition from the paired alien species seedlings on a native seedling were compared to the effects from intraspecific competition of other seedlings of the native species over a 65 week period. Mortality was low throughout the experiment. The native species were affected by density-dependent competition generally, resulting in decreased performance with increasing neighbour density or biomass. The alien palm, A. cunninghamiana, however, had stronger competitive effects on the native palm, R. sapida, than intraspecific competition among R. sapida individuals. Also, P. guajava showed some stronger competitive effects on L. bullata than intraspecific competition among L. bullata individuals. These alien species displayed some traits often associated with invasive plants: A. cunninghamiana had higher RGR, height, biomass production and SLA than R. sapida, while P. guajava had higher SLA than L. bullata. Competitive ability of these newly naturalised species may be an important factor influencing their establishment success and subsequent invasion potential.
Access options
Buy single article
Instant access to the full article PDF.
USD 39.95
Price excludes VAT (USA)
Tax calculation will be finalised during checkout.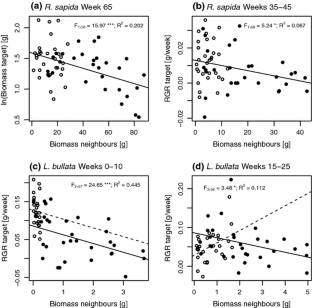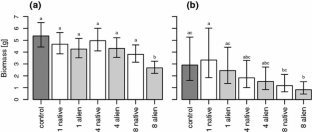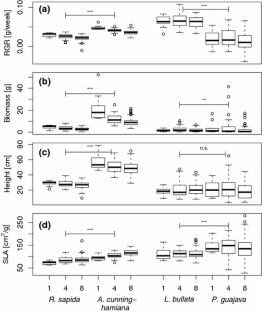 References
Bengtsson J, Fagerström T, Rydin H (1994) Competition and coexistence in plant communities. Trends Ecol Evol 9:246–250

Burns JH, Winn AA (2006) A comparison of plastic responses to competition by invasive and non-invasive congeners in the Commelinaceae. Biol Invasions 8:797–807

Callaway RM, Walker LR (1997) Competition and facilitation: a synthetic approach to interactions in plant communities. Ecology 78:1958–1965

Christianini AV (2006) Fecundity, dispersal and predation of seeds of Archontophoenix cunninghamiana H. Wendl. & Drude, an invasive palm in the Atlantic forest. Rev Bras Bot 29:587–594

Coomes DA, Allen RB (2007) Effects of size, competition and altitude on tree growth. J Ecol 95:1084–1097

Craine JM (2009) Resource strategies of wild plants. Princeton University Press, Princeton

Craine JM, Dybzinski R (2013) Mechanisms of plant competition for nutrients, water and light. Funct Ecol 27:833–840

Craine JM, Lee WG, Walker S (2006) The context of plant invasions in New Zealand: evolutionary history and novel niches. In: Allen RB, Lee WG (eds) Biological invasions in New Zealand. Springer, Berlin, pp 167–177

Daehler CC (2003) Performance comparisons of co-occurring native and alien invasive plants: implications for conservation and restoration. Annu Rev Ecol Evol Syst 34:183–211

Domènech R, Vilà M (2008) Response of the invader Cortaderia selloana and two coexisting natives to competition and water stress. Biol Invasions 10:903–912

Garcia-Serrano H, Sans FX, Escarré J (2007) Interspecific competition between alien and native congeneric species. Acta Oecol 31:69–78

Gibson DJ, Connolly J, Hartnett DC, Weidenhamer JD (1999) Designs for greenhouse studies of interactions between plants. J Ecol 87:1–16

Goldberg DE, Barton AM (1992) Patterns and consequences of interspecific competition in natural communities: a review of field experiments with plants. Am Nat 139:771–801

Goldberg DE, Landa K (1991) Competitive effect and response: hierarchies and correlated traits in the early stages of competition. J Ecol 79:1013–1030

Goldberg DE, Scheiner SM (2001) ANOVA and ANCOVA. Field competition experiments. In: Scheiner SM, Gurevitch J (eds) Design and analysis of ecological experiments. Oxford University Press, New York, pp 69–93

Grotkopp E, Rejmánek M (2007) High seedling relative growth rate and specific leaf area are traits of invasive species: phylogenetically independent contrasts of woody angiosperms. Am J Bot 94:526–532

Jones DL (1996) Palms in Australia. Reed Books Australia, Melbourne

Kawaletz H, Mölder I, Zerbe S, Annighöfer P, Terwei A, Ammer C (2013) Exotic tree seedlings are much more competitive than natives but show underyielding when growing together. J Plant Ecol 6:305–315

Lamarque LJ, Delzon S, Lortie CJ (2011) Tree invasions: a comparative test of the dominant hypotheses and functional traits. Biol Invasions 13:1969–1989

Levine JM, Vilà M, D'Antonio CM, Dukes JS, Grigulis K, Lavorel S (2003) Mechanisms underlying the impacts of exotic plant invasions. P Roy Soc Lond B Bio 270:775–781

MacDougall AS, Gilbert B, Levine JM (2009) Plant invasions and the niche. J Ecol 97:609–615

Mangla S, Sheley RL, James JJ, Radosevich SR (2011) Intra and interspecific competition among invasive and native species during early stages of plant growth. Plant Ecol 212:531–542

National Institute of Water and Atmospheric Research (2013) Climate. http://www.niwa.co.nz/our-science/climate. Accessed 25 June 2013

Ordonez A, Wright IJ, Olff H (2010) Functional differences between native and alien species: a global-scale comparison. Funct Ecol 24:1353–1361

Ramseier D, Weiner J (2006) Competitive effect is a linear function of neighbour biomass in experimental populations of Kochia scoparia. J Ecol 94:305–309

Randall R (2007) Global compendium of weeds. http://www.hear.org/gcw/. Accessed 21 June 2013

Reich PB, Ellsworth DS, Walters MB (1998) Leaf structure (specific leaf area) modulates photosynthesis-nitrogen relations: evidence from within and across species and functional groups. Funct Ecol 12:948–958

Richardson DM, Rejmánek M (2011) Trees and shrubs as invasive alien species—a global review. Divers Distrib 17:788–809

Schwinning S, Weiner J (1998) Mechanisms determining the degree of size asymmetry in competition among plants. Oecologia 113:447–455

Sheppard CS (2013) How does selection of climate variables affect predictions of species distributions? A case study of three new weeds in New Zealand. Weed Res 53:259–268

Thorpe AS, Aschehoug ET, Atwater DZ, Callaway RM (2011) Interactions among plants and evolution. J Ecol 99:729–740

Tilman D (1982) Resource competition and community structure. Princeton University Press, Princeton

Trinder CJ, Brooker RW, Robinson D (2013) Plant ecology's guilty little secret: understanding the dynamics of plant competition. Funct Ecol 27:918–929

van Kleunen M, Weber E, Fischer M (2010) A meta-analysis of trait differences between invasive and non-invasive plant species. Ecol Lett 13:235–245

Venables WN, Ripley BD (2002) Modern applied statistics with S. Fourth edition. Springer

Vilà M, Weiner J (2004) Are invasive plant species better competitors than native plant species?—Evidence from pair-wise experiments. Oikos 105:229–238

Vilà M, Espinar JL, Hejda M, Hulme PE, Jarošík V, Maron JL, Pergl J, Schaffner U, Sun Y, Pyšek P (2011) Ecological impacts of invasive alien plants: a meta-analysis of their effects on species, communities and ecosystems. Ecol Lett 14:702–708

Weiner J (1990) Asymmetric competition in plant populations. Trends Ecol Evol 5:360–364

Williams PA (2006) The role of blackbirds (Turdus merula) in weed invasion in New Zealand. New Zeal J Ecol 30:285–291
Acknowledgments
We would like to thank M. Stanley for her input into this study and helpful comments on a draft of this manuscript. We are grateful to L. Buetje, K. Booth, M. Perez and A. Probert for their assistance with harvesting plants. This research was funded by The University of Auckland and Auckland Council.
Additional information
Communicated by R. Ostertag.
Electronic supplementary material
Below is the link to the electronic supplementary material.
About this article
Cite this article
Sheppard, C.S., Burns, B.R. Effects of interspecific alien versus intraspecific native competition on growth of native woody plants. Plant Ecol 215, 1527–1538 (2014). https://doi.org/10.1007/s11258-014-0411-2
Received:

Accepted:

Published:

Issue Date:

DOI: https://doi.org/10.1007/s11258-014-0411-2
Keywords
Archontophoenix cunninghamiana

Competitive effect

Plant invasion

Plant traits

Psidium guajava