Abstract
Species reintroduction programmes should include consideration of potential impacts on key species in the recipient community. Wild boar (Sus scrofa) have been reintroduced into Britain after a 700-year absence. There is an urgent need to understand how this ecosystem engineer will affect plant communities in the habitats that it invades. We investigated the impact of rooting by wild boar on bluebells (Hyacinthoides non-scripta), a species that is highly valued for its impressive floral displays and is an important and legally protected component of the UK forest flora. We monitored bluebell performance over three growing seasons in woodland habitats that are routinely rooted by boar in southern England. H. non-scripta cover and reproductive performance were monitored in small-scale experimental exclosures to exclude boar, compared to open control plots, set up on areas that either had or had not been previously rooted. Immediate effects were that rooting significantly reduced the percentage cover and density of H. non-scripta plants, by up to 95 and 60 %, respectively, and also adversely affected the number of flowering stems. However, there was evidence that cessation of rooting brought about by excluding the boar enabled substantial recovery in percentage cover and the density of flowering stems within 2 years. A positive effect of rooting on germination may have assisted this recovery. Thus, the impact of wild boar rooting on bluebell populations is locally severe, but there is potential for rapid recovery if plants are protected. Long-term effects of sustained or frequently repeated rooting still need to be investigated.
Access options
Buy single article
Instant access to the full article PDF.
US$ 39.95
Tax calculation will be finalised during checkout.
Subscribe to journal
Immediate online access to all issues from 2019. Subscription will auto renew annually.
US$ 119
Tax calculation will be finalised during checkout.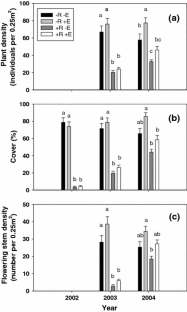 References
Arrington DA, Toth LA, Koebel W (1999) Effects of rooting by feral hogs (Sus scrofa L.) on the structure of a floodplain vegetation assemblage. Wetlands 19:535–544

Barrios-Garcia MN, Ballari SA (2012) Impact of wild boar (Sus scrofa) in its introduced and native range: a review. Biol Invasions 14:2283–2300

Birks HJB (2005) Mind the gap: how open were European primeval forests? Trends Ecol Evol 20(4):154–156

Blackman GE, Rutter AJ (1954) Endymion nonscriptus (L.) Garcke. J Ecol 42:629–638

Bratton SP (1975) Effect of European wild boar, Sus scrofa, on gray beech forest in the Great Smoky Mountains. Ecology 56(6):1356–1366. doi:10.2307/1934702

Brownlow MJC (1994) Towards a framework of understanding for the integration of forestry with domestic pig (Sus scrofa domestica) and European wild boar (Sus scrofa) husbandry in the United Kingdom. Forestry 67:189–218

Connell JH (1978) Diversity in tropical rain forests and coral reefs: high diversity of trees and corals is maintained only in a non-equilibrium state. Science 199:1302–1310

Cooke AS (1997) Effects of grazing by muntjac (Muntiacus reevesi) on bluebells (Hyacinthoides non-scripta) and a field technique for assessing feeding activity. J Zool 242:365–410

Dardaillon M (1987) Seasonal feeding habits of the wild boar in a mediterranean wetland, the Camargue (Southern France). Acta Theriol 32:389–401

Donlan CJ, Berger J, Bock CE, Bock JH, Burney DA, Estes JA, Foreman D, Martin PS, Roemer GW, Smith FA, Soule ME, Greene HW (2006) Rewilding: an optimistic agenda for twenty-first century conservation. Am Nat 168(5):660–681

Falinski JB (1986) Vegetation dynamics at temperate lowland primeval forest. Ecological studies in Bialowieza forest. Dr. W. Junk Publishers, Dordrecht

Goulding MJ (2003) An investigation of free-living wild boar (Sus scrofa L.) in southern England. D.Phil thesis, University of Sussex

Goulding MJ, Roper TJ (2002) Press responses to the presence of free-living Wild Boar (Sus scrofa) in southern England. Mammal Rev 32(4):272–282. doi:10.1046/j.1365-2907.2002.00109.x

Goulding MJ, Smith G, Baker SJ (1998) Current status and potential impact of wild boar (Sus scrofa) in the English countryside: a risk assessment. Central Science Laboratory Report to the Ministry of Agriculture, Fisheries and Food, Central Science Laboratory, York

Gow D (2002) A wallowing good time—wild boar in the woods. Ecosystems 23:14–22

Grabham PW, Packham JR (1983) A comparative study of the bluebell Hyacinthoides non-scripta (L.) Chouard in two different woodland situations in the West Midlands, England. Biol Conserv 26:105–126

Groot Bruinderink GWTA, Hazebroek E, Van Der Voot H (1994) Diet and condition of wild boar, Sus scrofa scrofa, without supplementary feeding. J Zool (Lond) 233(4):631–648

Harmer R, Straw N, Williams D (2011) Boar, bluebells and beetles. Q J For 105:195–202

Hodder KH, Bullock JM (1997) Translocations of native species in the UK: implications for biodiversity. J Appl Ecol 34:547–565

Howe TD, Bratton SP (1976) Winter rooting activity of the European wild boar in the Great Smoky Mountains National Park. Castanea 41:256–264

HMSO (1981) Wildlife and Countryside Act, 1981. HMSO, London

Johnson BE, Cushman JH (2007) Influence of a large herbivore reintroduction on plant invasions and community composition in a California grassland. Conserv Biol 21:515–526

Knight GE (1964) The factors affecting the distribution of Endymion nonscriptus (L.) Garcke in Warwickshire woods. J Ecol 52:405–421

Kohn DD, Hulme PE, Hollingsworth PM, Butler A (2009) Are native bluebells (Hyacinthoides non-scripta) at risk from alien congenerics? Evidence from distributions and co-occurrence in Scotland. Biol Conserv 142(1):61–74. doi:10.1016/j.biocon.2008.09.030

Kotanen PM (1995) Responses of vegetation to a changing regime of disturbance: effects of feral pigs in a Californian coastal prairie. Ecography 18:190–199

Massei G, Genov PV, Staines BW (1996) Diet, food availability and reproduction of wild boar in a Mediterranean coastal area. Acta Theriol 41:307–320

Milton SJ, Dean WRJ, Koltz S (1997) Effects of small-scale animal disturbances on plant assemblages of set-aside land in central Germany. J Veg Sci 8:45–54

Mitchell FJG (2005) How open were European primeval forests? Hypothesis testing using palaeoecological data. J Ecol 93:168–177

Mohr D, Cohnstaedt LW, Topp W (2005) Wild boar and red deer affect soil nutrients and soil biota in steep oak stands of the Eifel. Soil Biol Biochem 37:693–700

Packham JR, Harding DJL, Hilton GM, Stuttard RA (1992) Functional ecology of woodlands and forests. Chapman & Hall, London

Peace TR, Gilmour JSL (1949) The effect of picking on the flowering of bluebell Scilla non-scripta. New Phytol 48:115–117

Peterken GF (1993) Woodland conservation and management, 2nd edn. Chapman & Hall, London

Pilgrim E, Hutchinson N (2004) Bluebells for Britain: a report on the 2003 bluebells for Britain survey. Plantlife, Salisbury

Preston CD, Pearman DA, Dines TD (eds) (2002) New atlas of the British and Irish flora. Oxford University Press, Oxford

Rackham O (1980) Ancient woodland: its history, vegetation and uses in England. Edward Arnold, London

Rodwell JS (1991) British plant communities, volume 1. Woodlands and scrub. Cambridge University Press, Cambridge

Sandom CJ, Donlan CJ, Svenning J-C, Hansen DM (2012) Rewilding. In: Macdonald DW, Willis KJ (eds) Key topics in conservation biology 2. Blackwell Publishing, Oxford, pp 430–451

Sandom CJ, Hughes J, Macdonald DW (2013a) Rewilding the Scottish highlands: do wild boar, Sus scrofa, use a suitable foraging strategy to be effective ecosystem engineers? Restor Ecol 21(3):336–343

Sandom CJ, Hughes J, Macdonald DW (2013b) Rooting for rewilding: quantifying wild boar's Sus scrofa rooting rate in the Scottish highlands. Restor Ecol 21:329–335

Schley L, Roper TJ (2003) Diet of wild boar Sus scrofa in Western Europe, with particular reference to consumption of agricultural crops. Mammal Rev 33(1):43–56. doi:10.1046/j.1365-2907.2003.00010.x

Seddon PJ, Armstrong DP, Maloney RF (2007) Developing the science of reintroduction biology. Conserv Biol 21(2):303–312. doi:10.1111/j.1523-1739.2006.00627.x

Sims NKE (2005) The ecological impacts of wild boar rooting in East Sussex. D.Phil. thesis, University of Sussex

Singer FJ, Swank WT, Clebsch EEC (1984) Effects of wild pig rooting in a deciduous forest. J Wildl Manage 48:464–473

Slade EA, Causton DR (1979) The germination of some woodland herbaceous species under laboratory conditions: a multifactorial study. New Phytol 83:549–557

Thompson PA, Cox SA (1978) Germination of bluebell (Hyacinthoides non-scripta L.) Chouard in relation to its distribution and habitat. Ann Bot 42:51–62

Vera FWM (2000) Grazing ecology and forest history. CABI Publishing, Wallingford

Welander J (2000) Spatial and temporal dynamics of wild boar (Sus scrofa) rooting in a mosaic landscape. J Zool 252:263–271. doi:10.1111/j.1469-7998.2000.tb00621.x

Wigginton MJ (1999) British red data books 1. Vascular plants, 3rd edn. Joint Nature Conservation Committee, Peterborough

Wilson JY (1959) Vegetative reproduction in the bluebell, Endymion non-scriptus (L.) Garcke. New Phytol 58:155–163

Wilson CJ (2005) Feral wild boar in England. Status, impact and management. A Report on behalf of Defra European Wildlife Division. Defra, UK

Yalden DW (1999) The history of British mammals. T. and A.D. Poyser, London
Acknowledgments
We are grateful to Cheryl Case, Martin Goulding, Sue Hartley, Mike Hutchings, Rupert Sims, Noel Smith, David Streeter and Martyn Stenning for various forms of assistance. Claire Harkin and Fiona Ingleby gave useful advice on statistical analysis. Steve Peters and John Stafford (Forest Enterprise) facilitated access to the land used for this study. NKS was supported by a bursary from the University of Sussex.
About this article
Cite this article
Sims, N.K., John, E.A. & Stewart, A.J.A. Short-term response and recovery of bluebells (Hyacinthoides non-scripta) after rooting by wild boar (Sus scrofa). Plant Ecol 215, 1409–1416 (2014). https://doi.org/10.1007/s11258-014-0397-9
Received:

Accepted:

Published:

Issue Date:
Keywords
Disturbance

Experimental exclosures

Plant recovery

Reintroduction

Restoration ecology

Woodland