Abstract
Few studies have assessed directly the impact of warming on plant growth and biomass production in the High Arctic. Here, we aimed to investigate the impact of 7 years of warming (open greenhouses) on the aboveground relative growth rate (RGR) of Cassiope tetragona and Salix arctica in North-Eastern Greenland. RGR was assessed for apical (leaves, stem, reproductive organs) and lateral meristems (secondary growth of stem and branches) and accompanied by measures of gross ecosystem production (GEP), branching and tissue carbon (C) concentration. Measurements were based on harvest and biometric methods (for RGR and branching) and gas exchange and chemical analysis (for GEP and C concentration). Warming nearly doubled the apical RGR of Cassiope, whereas it did not affect the apical RGR of Salix. Similarly, secondary growth increased for Cassiope but not for Salix. In particular, warming enhanced the secondary growth of old stem segments of Cassiope formed before the treatment began. The increase in Cassiope RGR was associated with an increase in gross photosynthetic uptake, branching and C concentration in old green tissues. Overall, the different growth measures consistently indicated that temperature limits the growth of Cassiope but not that of Salix in North-Eastern Greenland. Summer warming thus has the potential to stimulate biomass production in the High Arctic but major species-specific differences are expected.
This is a preview of subscription content, log in to check access.
Access options
Buy single article
Instant access to the full article PDF.
US$ 39.95
Price includes VAT for USA
Subscribe to journal
Immediate online access to all issues from 2019. Subscription will auto renew annually.
US$ 199
This is the net price. Taxes to be calculated in checkout.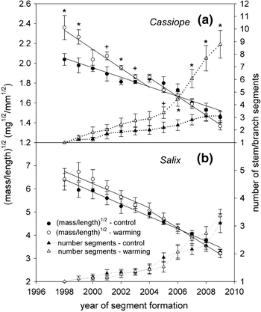 References
Arft AM, Walker MD, Gurevitch J, Alatalo JM, Bret-Harte MS, Dale M, Diemer M, Gugerli F, Henry GHR, Jones MH, Hollister RD, Jónsdóttir IS, Laine K, Levesque E, Marion GM, Molau U, Molgaard P, Nordenhäll U, Raszhivin V, Robinson CH, Starr G, Stenström A, Stenström M, Totland Ø, Turner PL, Walker LJ, Webber PJ, Welker JM, Wookey PA (1999) Responses of tundra plants to experimental warming: meta-analysis of the international tundra experiment. Ecol Monogr 69:491–511

Arndal MF, Illeris L, Michelsen A, Albert K, Tamstorf M, Hansen BU (2009) Seasonal variation in gross ecosystem production, plant biomass, and carbon and nitrogen pools in five High Arctic vegetation types. Arct Antarct Alp Res 41:164–173

Bay C (1998) Vegetation mapping of Zackenberg valley, Northeast Greenland. Danish Polar Center and Botanical Museum University of Copenhagen, Copenhagen

Bret-Harte MS, Shaver GR, Chapin FS (2002) Primary and secondary stem growth in arctic shrubs: implications for community response to environmental change. J Ecol 90:251–267

Bryant JP, Chapin FS, Klein DR (1983) Carbon/nutrient balance of boreal plants in relation to vertebrate herbivory. Oikos 40:357–368

Callaghan TV, Carlsson BA, Tyler NJC (1989) Historical records of climate-related growth in Cassiope tetragona from the Arctic. J Ecol 77:823–837

Callaghan TV, Tweedie CE, Webber PJ (2011) Multi-decadal changes in Tundra environments and ecosystems: the international polar year-back to the future project (IPY-BTF). Ambio 40:555

Campioli M, Street LE, Michelsen A, Shaver GR, Maere T, Samson R, Lemeur R (2009a) Determination of leaf area index, total foliar N, and normalized difference vegetation index for arctic ecosystems dominated by Cassiope tetragona. Arct Antarct Alp Res 41:426–433

Campioli M, Michelsen A, Demey A, Vermeulen A, Samson R, Lemeur R (2009b) Net primary production and carbon stocks for subarctic mesic-dry Tundras with contrasting microtopography, altitude, and dominant species. Ecosystems 12:760–776

Campioli M, Leblans N, Michelsen A (2012a) Twenty-two years of warming, fertilisation and shading of subarctic heath shrubs promote secondary growth and plasticity but not primary growth. PLoS ONE 7:e34842. doi:10.1371/journal.pone.0034842

Campioli M, Leblans N, Michelsen A (2012b) Stem secondary growth of tundra shrubs: impact of environmental factors and relationships with apical growth. Arct Antarct Alp Res 44:16–25

Chapin FS, Shaver GR (1996) Physiological and growth responses of arctic plants to a field experiment simulating climatic change. Ecology 77:822–840

Christensen JH, Hewitson B, Busuioc A, Chen A, Gao X, Held I, Jones R, Kolli RK, Kwon WT, Laprise R, Magaña Rueda V, Mearns L, Menéndez CG, Räisänen J, Rinke A, Sarr A, Whetton P (2007) Regional Climate Projections. In: Solomon S, Qin D, Manning M, Chen Z, Marquis M, Averyt KB, Tignor M, Miller HL (eds) Climate change 2007: the physical science basis. Contribution of working group I to the fourth assessment report of the intergovernmental panel on climate change. Cambridge University Press, Cambridge and New York, pp 847–940

Elberling B, Tamstorf MP, Michelsen A, Arndal MF, Sigsgaard C, Illeris L, Bay C, Hansen BU, Christensen TR, Hansen ES, Jakobsen BH, Beyens L (2008) Soil and plant community-characteristics and dynamics at Zackenberg. Adv Ecol Res 40:223–248

Ellebjerg SM, Tamstorf MP, Illeris L, Michelsen A, Hansen BU (2008) Inter-annual variability and controls of plant phenology and productivity at Zackenberg. Adv Ecol Res 40:249–273

Elmendorf SC, Henry Gregory HR, Hollister RD et al (2012) Global assessment of experimental climate warming on tundra vegetation: heterogeneity over space and time. Ecol Lett 15:164–175. doi:10.1111/j.1461-0248.2011.01716.x

Havström M, Callaghan TV, Jonasson S (1993) Differential growth-responses of Cassiope tetragona, an arctic dwarf shrub, to environmental perturbations among three contrasting High sites and Sub-Arctic sites. Oikos 66:389–402

Henry GHR, Molau U (1997) Tundra plants and climate change: the International Tundra Experiment (ITEX). Global Chang Biol 3:1–9

Hudson JMG, Henry GHR (2009) Increased plant biomass in a High Arctic heath community from 1981 to 2008. Ecology 90:2657–2663

Hudson JMG, Henry GHR, Cornwell WK (2011) Taller and larger: shifts in Arctic tundra leaf traits after 16 years of experimental warming. Global Chang Biol 17:1013–1021

Jensen LM, Rasch M (2010) Zackenberg ecological research operations, 15th annual report, 2009. National Environmental Research Institute, Aarhus University, Roskilde

Johnstone JF, Henry GHR (1997) Retrospective analysis of growth and reproduction in Cassiope tetragona and relations to climate in the Canadian High Arctic. Arct Antarct Alp Res 29:459–469

Jonasson S, Michelsen A, Schmidt IK, Nielsen EV (1999) Responses in microbes and plants to changed temperature, nutrient, and light regimes in the arctic. Ecology 80:1828–1843

Klady RA, Henry GHR, Lemay V (2011) Changes in high arctic tundra plant reproduction in response to long-term experimental warming. Global Chang Biol 17:1611

Kudo G, Nordenhäll U, Molau U (1999) Effects of snowmelt timing on leaf traits, leaf production, and shoot growth of alpine plants: comparisons along a snowmelt gradient in northern Sweden. Ecoscience 6:439

Larsen KS, Ibrom A, Jonasson S, Michelsen A, Beier C (2007) Significance of cold-season respiration and photosynthesis in a subarctic heath ecosystem in Northern Sweden. Global Chang Biol 13:1498

Molau U (2010) Long-term impacts of observed and induced climate change on tussock tundra near its southern limit in northern Sweden. Plant Ecol Divers 3:29

Molau U, Mølgaard P (1996) ITEX manual. Danish Polar Center, Copenhagen

Robinson CH, Wookey PA, Lee JA, Callaghan TV, Press MC (1998) Plant community responses to simulated environmental change at a High Arctic polar semi-desert. Ecology 79:856–866

Rozema J, Weijers S, Broekman R, Blokker P, Buizer B, Werleman C, El Yaqine H, Hoogedoorn H, Fuertes MM, Cooper E (2009) Annual growth of Cassiope tetragona as a proxy for Arctic climate: developing correlative and experimental transfer functions to reconstruct past summer temperature on a millennial time scale. Global Chang Biol 15:1703–1715

Schmidt NM, Baittinger C, Forchhammer MC (2006) Reconstructing century-long snow regimes using estimates of High Arctic Salix arctica radial growth. Arct Antarct Alp Res 38:257–262

Schmidt NM, Baittinger C, Kollmann J, Forchhammer MC (2010) Consistent dendrochronological response of the dioecious Salix arctica to variation in local snow precipitation across gender and vegetation types. Arct Antarct Alp Res 42:471–475

Shaver GR (1986) Woody stem production in Alaskan tundra shrubs. Ecology 67:660–669

Shaver GR, Chapin FS (1991) Production—biomass relationships and element cycling in contrasting arctic vegetation types. Ecol Monogr 61:1–31

Shaver GR, Laundre JA, Giblin AE, Nadelhoffer KJ (1996) Changes in live plant biomass, primary production and species composition along a riverside toposequence in Arctic Alaska, USA. Arct Antarct Alp Res 28:363–379

Tolvanen A, Henry GHR (2001) Responses of carbon and nitrogen concentrations in High Arctic plants to experimental warming. Can J Bot 79:711–718

van Wijk MT, Clemmensen KE, Shaver GR, Williams M, Callaghan TV, Chapin FS, Cornelissen JHC, Gough L, Hobbie SE, Jonasson S, Lee JA, Michelsen A, Press MC, Richardson SJ, Rueth H (2004) Long-term ecosystem level experiments at Toolik Lake, Alaska, and at Abisko, Northern Sweden: generalizations and differences in ecosystem and plant type responses to global change. Global Chang Biol 10:105–123

Walker DA, Raynolds MK, Daniels FJA, Einarsson E, Elvebakk A, Gould WA, Katenin AE, Kholod SS, Markon CJ, Melnikov ES, Moskalenko NG, Talbot SS, Yurtsev BA, Team C (2005) The circumpolar arctic vegetation map. J Veg Sci 16:267–282

Walker MD, Wahren CH, Hollister RD, Henry GHR, Ahlquist LE, Alatalo JM, Bret-Harte MS, Calef MP, Callaghan TV, Carroll AB, Epstein HE, Jónsdóttir IS, Klein JA, Magnusson B, Molau U, Oberbauer SF, Rewa SP, Robinson CH, Shaver GR, Suding KN, Thompson CC, Tolvanen A, Totland Ø, Turner PL, Tweedie CE, Webber PJ, Wookey PA (2006) Plant community responses to experimental warming across the tundra biome. Proc Natl Acad Sci USA 103:1342–1346

Welker JM, Fahnestock JT, Henry GHR, O'Dea KW, Chimner RA (2004) CO2 exchange in three Canadian High Arctic ecosystems: response to long-term experimental warming. Global Chang Biol 10:1981–1995

Wielgolaski FE, Bliss LC, Svoboda J, Doyle G (1981) Primary production of tundra. In: Bliss LC, Heal OW, Moore JJ (eds) Tundra ecosystems: a comparative analysis. Cambridge University Press, Cambridge, pp 187–226
Acknowledgments
MC and NL are Postdoctoral Fellow and Research Assistant, respectively, of the Research Foundation—Flanders (FWO). This work was supported by Methusalem funding (OEC ECO, University of Antwerp), the Danish Council for Independent Research | Natural Sciences and by a FWO Travel Grant to MC in 2010. We also thank the Danish National Research Foundation for supporting the activities within the Center for Permafrost (CENPERM DNRF100). Special thanks are due to the Zackenberg Research Station for the logistic support.
Electronic supplementary material
Below is the link to the electronic supplementary material.
About this article
Cite this article
Campioli, M., Schmidt, N.M., Albert, K.R. et al. Does warming affect growth rate and biomass production of shrubs in the High Arctic?. Plant Ecol 214, 1049–1058 (2013). https://doi.org/10.1007/s11258-013-0230-x
Received:

Accepted:

Published:

Issue Date:
Keywords
Heath tundra

Arctic dwarf-shrubs

Climate change

Experimental warming

Primary and secondary growth rate

Photosynthesis