Abstract
Ecological responses to 50-year old manipulations of snow depth and melt timing were assessed using snow fences arrayed across 50 km of a shrub–conifer landscape mosaic in eastern California, USA. We compared how increased, decreased, and ambient snow depth affected patterns of vegetation community composition, fire fuel accumulation, and annual tree ring growth. We also tested the effect of snow depth on soil carbon storage based on total C content under the two co-dominant shrub species (Artemisia tridentata and Purshia tridentata) in comparison with open, intershrub sites. Increased snow depth reduced the cover of the N-fixing shrub P. tridentata but not the water-redistributing shrub A. tridentata. Annual ring growth was greater on +snow plots and lower on −snow plots for the conifer Pinus jeffreyi but not for Pinus contorta. Graminoid cover and aboveground biomass indicated higher fire fuel accumulation where snow depth was increased. Dead shrub stem biomass was greater regardless of whether snow depth was increased or decreased. Results demonstrate community shifts, altered tree growth, feedbacks on carbon storage, and altered fire fuel accumulation as a result of changes in snow depth and melt timing for this high-elevation, snow-dominated ecotone under future climate scenarios that envision increased or decreased snow depth.
Access options
Buy single article
Instant access to the full article PDF.
US$ 39.95
Tax calculation will be finalised during checkout.
Subscribe to journal
Immediate online access to all issues from 2019. Subscription will auto renew annually.
US$ 119
Tax calculation will be finalised during checkout.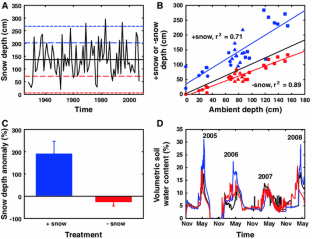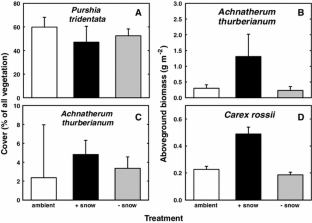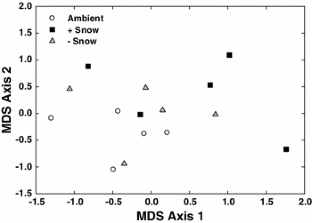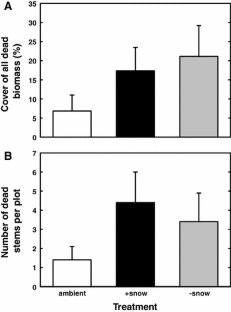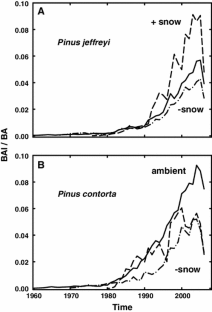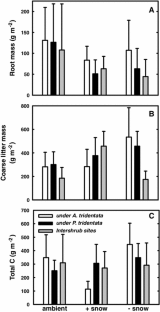 References
Bailey RG, Avers PE, King T, McNab WH (eds) (1994) Ecoregions and subregions of the United States. U.S. Department of Agriculture-Forest Service, scale 1:7,500,000, Washington DC

Breshears DD, Myers OB, Johnson SR, Meyer CW, Martens SN (1997) Differential use of spatially heterogeneous soil moisture by two semiarid woody species: Pinus edulis and Juniperus monosperma. J Ecol 85:289–299

Cayan DR, Maurer EP, Dettinger MD, Tyree M, Hayhoe K (2008) Climate change scenarios for the California region. Clim Change 87:S21–S42

Davies KW, Bates JD, James JJ (2009) Microsite and herbaceous vegetation heterogeneity after burning Artemisia tridentata steppe. Oecologia 159:597–606

Easterling DR, Meehl GA, Parmesan C, Changnon SA, Karl TR, Mearns LO (2000) Climate extremes: observations, modeling, and impacts. Science 289:2068–2074

Flint AL, Flint LE, Dettinger MD (2008) Modeling soil moisture processes and recharge under a melting snowpack. Vadose Zone J 7(1):350–357

Frei A, Gong G (2005) Decadal to century scale trends in North American snow extent in coupled atmosphere-ocean general circulation models. Geophys Res Lett 32:18

Dona AJ, Galen C (2007) Nurse effects of alpine willows (Salix) enhance over-winter survival at the upper range limit of fireweed, Chamerion angustifolium. Arct Antarct Alp Res 39:57–64

Girod CM, Hurtt GC, Frolking S, Aber JD, King AW (2007) The tension between fire risk and carbon storage: evaluating US carbon and fire management strategies through ecosystem models. Earth Interact 11:2

Groisman PY, Knight RW, Karl TR, Easterling DR, Sun BM, Lawrimore JH (2004) Contemporary changes of the hydrological cycle over the contiguous United States: trends derived from in situ observations. J Hydrometerol 5:64–85

Grundstein A, Mote TL (2010) Trends in average snow depth across the western United States. Phys Geogr 31:172–185

Halter MR, Chanway CP (1993) Growth and root morphology of planted and naturally-regenerated Douglas fir and Lodgepole pine. Ann For Sci 50:71–77

Halvorson JJ, Bolton H, Smith JL, Rossi RE (1994) Geostatistical analysis of resource islands under Artemisia tridentata in the shrub-steppe. Great Basin Nat 54:313–328

Harte J, Shaw MR (1995) Shifting dominance within a montane vegetation community: results of a climate-warming experiment. Science 267:876–880

Hayhoe K, Cayan D, Field CB, Frumhoff PC, Maurer EP, Miller NL, Moser SC, Schneider SH, Cahill KN, Cleland EE, Dale L, Drapek R, Hanemann RM, Kalkstein LS, Lenihan J, Lunch CK, Neilson RP, Sheridan SC, Verville JH (2004) Emissions pathways, climate change, and impacts on California. Proc Natl Acad Sci USA 101:12422–12427

Kudo G (1991) Effects of snow-free period on the phenology of alpine plants inhabiting snow patches. Arct Antarct Alp Res 23:436–443

Kudo G (1993) Relationship between flowering time and fruit-set of the entomophilous alpine shrub, Rhododendron aureum (Ericaceae), inhabiting snow patches. Am J Bot 80:1300–1304

Kudo G, Nordenhall U, Molau U (1999) Effects of snowmelt timing on leaf traits, leaf production, and shoot growth of alpine plants: comparisons along a snowmelt gradient in northern Sweden. Ecoscience 6(3):439–450

Loik ME, Breshears DD, Lauenroth WK, Belnap J (2004a) A multi-scale perspective of water pulses in dryland ecosystems: climatology and ecohydrology of the western USA. Oecologia 141:269–281

Loik ME, Still CJ, Huxman TE, Harte J (2004b) In situ photosynthetic freezing tolerance for plants exposed to a global warming manipulation in the Rocky Mountains, Colorado, USA. New Phytol 162:331–341

Loik ME, Alpert H, Griffith AB (2010) Climate change and snow depth impacts on vegetation at the Great Basin Desert–Sierra Nevada Ecotone. In: Dalmeier F, Fenech A, MacIvor D (eds) Climate Change, Biodiversity and Sustainability in the Americas. Smithsonian Scientific Series, Washington, DC

Matsumoto N (2009) Snow molds: a group of fungi that prevail under snow. Microbes Environ 24:14–20

McDowell NG, Adams HD, Bailey JD, Hess M, Kolb TE (2006) Homeostatic maintenance of ponderosa pine gas exchange in response to stand density changes. Ecol Appl 16:1164–1182

Miller JD, Safford HD, Crimmins M, Thode AE (2009) Quantitative evidence for increasing forest fire severity in the Sierra Nevada and southern Cascade Mountains, California and Nevada, USA. Ecosystems 12:16–32

Nadeau LB, Pluth DJ (1997) Spatial distribution of lodgepole pine and white spruce seedling roots 10 years after deep tillage of a Gray Luvisol. Can J For Res 27:1606–1613

Newberry TL (2010) Effect of climatic variability on delta(13)C and tree-ring growth in pinon pine (Pinus edulis). Trees Struct Funct 24:551–559

Perryman BL, Laycock WA, Koch DW (2000) Investigation of herbaceous species adapted to snowfence areas. J Range Manag 53:371–375

Reynolds JF, Virginia RA, Kemp PR, de Soyza AG, Tremmel DC (1999) Impact of drought on desert shrubs: effects of seasonality and degree of resource island development. Ecol Monogr 69:69–106

Ridolfi L, Laio F, D'Odorico P (2008) Fertility island formation and evolution in dryland ecosystems. Ecol Soc 13: Art. No. 5

Schifman LA, Stella JC, Volk TA, Teece MA (2012) Carbon isotope variation in shrub willow (Salix spp.) ring-wood as an indicator of long-term water status, growth and survival. Biomass Bioenergy 36:316–326

Seney JP, Gallegos JA (1995) Soil survey of Inyo National Forest, west area. United States Forest Service, Pacific Southwest Region, California

Smith B, Mark AF, Wilson JB (1995) A functional analysis of New Zealand alpine vegetation: variation in canopy roughness and functional diversity in response to an experimental wind barrier. Funct Ecol 9:904–912

Stinson KA (2004) Natural selection favors rapid reproductive phenology in Potentilla pulcherrima (Rosaceae) at opposite ends of a subalpine snowmelt gradient. Am J Bot 91:531–539

Stinson KA (2005) Effects of snowmelt timing and neighbor density on the altitudinal distribution of Potentilla diversifolia in western Colorado, USA. Arct Antarct Alp Res 37:379–386

Sturges DL (1989) Response of Mountain Big Sagebrush to induced snow accumulation. J Appl Ecol 26:1035–1041

Sturm M, Schimel J, Michaelson G, Welker JM, Oberbauer SF, Liston GE, Fahnestock J, Romanovsky VE (2005) Winter biological processes could help convert Artic tundra to shrubland. Bioscience 55:17–26

Tabler RD (1974) New engineering criteria for snow fence systems. Transp Res Rec 506:65–78

Totland O, Alatalo JM (2002) Effects of temperature and date of snowmelt on growth, reproduction, and flowering phenology in the arctic/alpine herb, Ranunculus glacialis. Oecologia 133:168–175

USDI National Park Service (2003) Fire Monitoring Handbook. Fire Management Program Center, National Interagency Fire Center, Boise

Vaganov EA, Schulze ED, Skomarkova MV, Knohl A, Brand WA, Roscher C (2009) Intra-annual variability of anatomical structure and delta(13)C values within tree rings of spruce and pine in alpine, temperate and boreal Europe. Oecologia 161:729–745

Walker MD, Walker DA, Welker JM, Arft AM, Bardsley T, Brooks PD, Fahenstock JT, Jones MH, Losleben M, Parsons AN, Seastedt TR, Turner PL (1999) Long-term experimental manipulation of winter snow regime and summer temperature in arctic and alpine tundra. Hydrol Process 13:2315–2330

Weltzin JF, Loik ME, Schwinning S, Williams DG, Fay PA, Haddad BM, Harte J, Huxman TE, Knapp AK, Lin GH, Pockman WT, Shaw MR, Small EE, Smith MD, Smith SD, Tissue DT, Zak JC (2003) Assessing the response of terrestrial ecosystems to potential changes in precipitation. Bioscience 53:941–952

Westerling AL, Hidalgo HG, Cayan DR, Swetnam TW (2006) Warming and earlier spring increase western US forest wildfire activity. Science 313:940–943

Williams MW, Brooks PD, Seastedt T (1998) Nitrogen and carbon soil dynamics in response to climate change in a high-elevation ecosystem in the Rocky Mountains, USA. Arct Antarct Alp Res 30:26–30
Acknowledgments
The authors thank Hally Andersen, Amy Concilio, Alex Gershenson, Ian Gillespie, Lisa Patrick, and David Tissue. The UC Valentine Eastern Sierra UC Natural Reserve provided logistical support. Permission to access snow fence sites was granted by Caltrans, and the Inyo National Forest (US Forest Service). Funding was provided by Earthwatch, The M. Theo Kearney Foundation for Soil Science, and the University of California, Santa Cruz. This research was also supported by the U.S. Department of Energy's Office of Science (BER) through the Western Regional Center of the National Institute for Climatic Change Research at Northern Arizona University.
Electronic supplementary material
Below is the link to the electronic supplementary material.
About this article
Cite this article
Loik, M.E., Griffith, A.B. & Alpert, H. Impacts of long-term snow climate change on a high-elevation cold desert shrubland, California, USA. Plant Ecol 214, 255–266 (2013). https://doi.org/10.1007/s11258-012-0164-8
Received:

Accepted:

Published:

Issue Date:
Keywords
Artemisia tridentata

Soil water

Pinus contorta
Pinus jeffreyi
Purshia tridentata