Abstract
Forest fragmentation is pervasive in tropical landscapes, and animal-dispersed tree species are among the most threatened. Seed source is an important factor for active conservation and restoration efforts for such species but many studies show lower germination levels for seeds collected from small fragments compared to larger forests. However, the increasing rarity of large forests makes them difficult to be used as practical seed sources. We assessed the potential of small to medium-sized fragments (19–209 ha) to serve as seed sources for the conservation and restoration of an animal-dispersed tree Lacistema aggregatum (Lacistemataceae) in Costa Rican premontane wet forests. Germination, seedling survivorship, and growth for 2 years were quantified in a screen house environment. Two years later, more rigorous germination tests were conducted. Germination levels differed substantially among source trees. Seeds from some individuals had no germination inter-annually, suggesting that fecundity alone may be an incomplete indicator of individual fitness. Furthermore, in contrast to many previous studies, germination was better for seeds from smaller fragments for both study years. Subsequent seedling survivorship did not counteract the trends generated by germination, and the better performance of seeds from smaller fragments was retained for 2 years as ex situ seedlings. Higher seed quality in smaller fragments was associated with larger seed size in trees near forest edges, which might result from higher potential outcrossing rates. Our results suggest a previously unrecognized potential of small fragments as seed sources.
Access options
Buy single article
Instant access to the full article PDF.
US$ 39.95
Tax calculation will be finalised during checkout.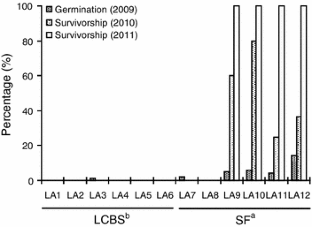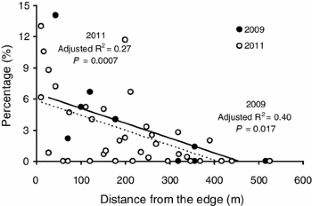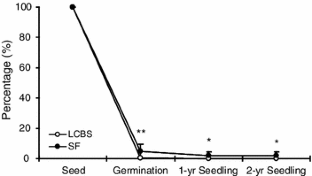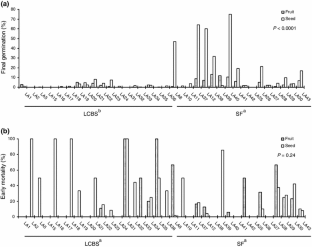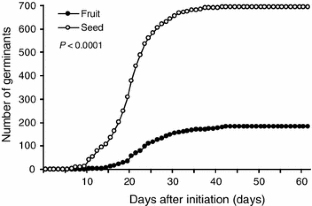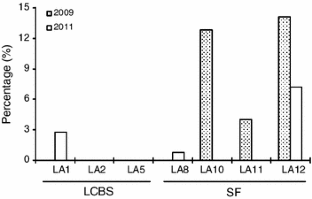 References
Aguilar R, Quesada M, Ashworth L, Herrerias-Diego Y, Lobo J (2008) Genetic consequences of habitat fragmentation in plant populations: susceptible signals in plant traits and methodological approaches. Mol Ecol 17:5177–5188

Beniston M, Stephenson DB (2004) Extreme climatic events and their evolution under changing climatic conditions. Glob Planet Change 44:1–9

Benitez-Malvido J, Martinez-Ramos M (2003) Impact of forest fragmentation on understory plant species richness in Amazonia. Conserv Biol 17:389–400

Bever JD, Dickie IA, Facelli E, Facelli JM, Klironomos J, Moora M, Rillig MC, Stock WD, Tibbett M, Zobel M (2010) Rooting theories of plant community ecology in microbial interactions. Trends Ecol Evol 25:468–478

Bruna EM (1999) Seed germination in rainforest fragments. Nature 402:139

Bruna EM (2002) Effects of forest fragmentation on Heliconia acuminata seedling recruitment in central Amazonia. Oecologia 132:235–243

Cascante A, Quesada M, Lobo JJ, Fuchs EA (2002) Effects of dry tropical forest fragmentation on the reproductive success and genetic structure of the tree Samanea saman. Conserv Biol 16:137–147

Chacoff NP, Morales JM, Vaquera MD (2004) Effects of fragmentation on amount of aborted and predated seed in the Chaco Serrano Argentina. Biotropica 36:109–117

Cordeiro NJ, Howe HF (2001) Low recruitment of trees dispersed by animals in African forest fragments. Conserv Biol 15:1733–1741

Didham RK, Lawton JH (1999) Edge structure determines the magnitude of changes in microclimate and vegetation structure in tropical forest fragments. Biotropica 31:17–30

Fuchs EJ, Hamrick JL (2011) Mating system and pollen flow between remnant populations of the endangered tropical tree, Guaiacum sanctum (Zygophyllaceae). Conserv Genet 12:175–185

Gascon C, Williamson GB, da Fonseca GAB (2000) Receding forest edges and vanishing reserves. Science 288:1356–1358

Ghazoul J (1996) Are fragments worth conserving? Trends Ecol Evol 11:507

Goldwin GK (1992) Environmental and internal regulation of fruiting, with particular reference to Cox's Orange Pippin apple. In: Marshall C, Grace J (eds) Fruit and seed production: aspects of development, environmental physiology and ecology. Cambridge University Press, Cambridge, pp 75–100

Gonzalez-Varo JP, Traveset A (2010) Among-individual variation in pollen limitation and inbreeding depression in a mixed-mating shrub. Ann Bot 106:999–1008

Gonzalez-Varo JP, Albaladejo RG, Aparicio A, Arroyo J (2010) Linking genetic diversity, mating patterns and progeny performance in fragmented populations of a Mediterranean shrub. J Appl Ecol 47:1242–1252

Henriquez CA (2004) Effects of habitat fragmentation on seed quality of Lapageria rosea. Rev Chil Hist Nat 77:177–184

Herrera CM (1991) Dissecting factors responsible for individual variation in plant fecundity. Ecology 72:1436–1448

Higuchi P, Oliveira-Filho AT, Bebber DP, Brown ND, Silva AC, Machado ELM (2008) Spatio-temporal patterns of tree community dynamics in a tropical forest fragment in South-east Brazil. Plant Ecol 199:125–135

Holdridge LRW, Grenke WC, Hatheway WH, Liany T, Tosi JA (1971) Forest environments in tropical life zones. Pergamon Press, Oxford

Hufford KM, Hamrick JL (2003) Viability selection at three early life stages of the tropical tree, Platypodium elegans (Fabaceae, Papilionoideae). Evolution 57:518–526

Jordano P (1993) Pollination biology of Prunus mahaleb L.: deferred consequences of gender variation for fecundity and seed size. Bot J Linn Soc 50:65–84

Kapos V (1989) Effects of isolation on the water status of forest patches in the Brazilian Amazon. J Trop Ecol 5:173–185

Khan ML, Bhuyan P, Shankar U, Todaria NP (1999) Seed germination and seedling fitness in Mesua ferrea L. in relation to fruit size and seed number per fruit. Acta Oecol 20:599–606

Khera N, Saxena AK, Singh RP (2004) Seed size variability and its influence on germination and seedling growth of five multipurpose tree species. Seed Sci Technol 32:319–330

Laurance WF, Lovejoy TE, Vasconcelos HL, Bruna EM, Didham RK, Stouffer PC, Gascon C, Bierregaard RO, Laurance SG, Sampaio E (2002) Ecosystem decay of Amazonian forest fragments: a 22-year investigation. Conserv Biol 16:605–618

Malhi Y, Wright J (2004) Spatial patterns and recent trends in the climate of tropical rainforest regions. Philos Trans R Soc B 359:311–329

Mathiasen P, Rovere AE, Premoli AC (2007) Genetic structure and early effects of inbreeding in fragmented temperate forests of a self-incompatible tree, Embothrium coccineum. Conserv Biol 21:232–240

Mazer SJ, Gorchov DL (1996) Parental effects on progeny phenotype in plants: distinguishing genetic and environmental causes. Evolution 50:44–53

Mulkey SS, Kitajima K, Wright SJ (1996) Plant physiological ecology of tropical forest canopies. Trends Ecol Evol 11:408–412

Nabe-Nielsen J, Kollmann J, Pena-Claros M (2009) Effects of liana load, tree diameter and distances between conspecifics on seed production in tropical timber trees. For Ecol Manage 257:987–993

Nason JD, Hamrick JL (1997) Reproductive and genetic consequences of forest fragmentation: two case studies of neotropical canopy trees. J Hered 88:264–276

Neal JM, Hardner CM, Gross CL (2010) Population demography and fecundity do not decline with habitat fragmentation in the rainforest tree Macadamia integrifolia (Proteaceae). Biol Conserv 143:2591–2600

Norden N, Daws MI, Antoine C, Gonzalez MA, Garwood NC, Chave J (2009) The relationship between seed mass and mean time to germination for 1037 tree species across five tropical forests. Funct Ecol 23:203–210

Prevost LBG (2011) Testing predictions of island biogeography theory in tropical premontane forest fragments. Dissertation, University of Georgia

Roach DA, Wulff RD (1987) Maternal effect in plants. Annu Rev Ecol Syst 18:209–236

Rocha OJ, Aguilar G (2001) Reproductive biology of the dry forest tree Enterolobium cyclocarpum (Guanacaste) in Costa Rica: a comparison between trees left in pastures and trees in continuous forest. Am J Bot 88:1607–1614

SAS Institute Inc. (2009) SAS/STAT® 9.2 User's Guide, 2nd edn. SAS Institute Inc., Cary

Schlichting CD, Stephenson AG, Small LE (1990) Pollen loads and progeny vigor in Cucurbita pepo: the next generation. Evolution 44:1358–1372

Smith-Ramirez C, Armesto JJ (2003) Foraging behaviour of bird pollinators on Embothrium coccineum (Proteaceae) trees in forest fragments and pastures in southern Chile. Austral Ecol 28:53–60

Terborgh J, Nunez-Iturri G, Pitman NCA, Valverde FHC, Alvarez P, Swamy V, Pringle EG, Paine CET (2008) Tree recruitment in an empty forest. Ecology 89:1757–1768

Valdivia CE, Simonetti JA (2007) Decreased frugivory and seed germination rate do not reduce seedling recruitment rates of Aristotelia chilensis in a fragmented forest. Biodivers Conserv 16:1593–1602

Vander Mijnsbrugge K, Bischoff A, Smith B (2010) A question of origin: where and how to collect seed for ecological restoration. Basic Appl Ecol 11:300–311

Verdu M, Traveset A (2005) Early emergence enhances plant fitness: a phylogenetically controlled meta-analysis. Ecology 86:1385–1394

Wright SJ, Vanschaik CP (1994) Light and the phenology of tropical trees. Am Nat 143:192–199

Yates CJ, Elliott C, Byrne M, Coates DJ, Fairman R (2007) Seed production, germinability and seedling growth for a bird-pollinated shrub in fragments of kwongan in south-west Australia. Biol Conserv 136:306–314

Young TP, Petersen DA, Clary JJ (2005) The ecology of restoration: historical links, emerging issues and unexplored realms. Ecol Lett 8:662–673

Zuidema PA, Sayer JA, Dijkman W (1996) Forest fragmentation and biodiversity: the case for intermediate-sized conservation areas. Environ Conserv 23:290–297
Acknowledgments
We thank the staff of LCBS, particularly R. Quirós for logistical help, F. Oviedo for species information, and V. Milla, W. Lopez, and M. Sarmiento for GIS assistance; E. Ilama and H. Ford-Hodges for field assistance in 2009; G. Alcock, Cedeño family, Cole family, W. Gonzales, J. Richardson, and R. Zahawi for permissions to conduct research in their forests, and Miniestro de Ambiente, Energía y Telecomunicaciones (MINAET) for permissions to conduct research in Costa Rica; R. Lankau and C. Park for statistical assistance; and J. Hamrick, R. Shefferson, S. Chang, S. Dewalt, L. Prevost, C. Graham, B. Emilio, and anonymous reviewers for constructive feedback on earlier drafts of the manuscript. Funding for this study was provided to A.S. by the Nakajima Foundation, OTS Research Fellowship (Christiane and Christopher Tyson Fellowship), OTS-National Science Foundation Las Cruces Restoration Workshop Graduate Research Grant, University of Georgia Department of Plant Biology, Explorers Club Exploration Fund, Sigma Xi Grant-in-Aid of Research, University of Georgia Graduate School through the Latin American and Caribbean Studies Institute, and Exposition Foundation, Inc.
Electronic supplementary material
Below is the link to the electronic supplementary material.
About this article
Cite this article
Sugiyama, A., Peterson, C.J. Inter-annual higher germination from smaller than medium-sized premontane wet forest fragments for an animal-dispersed tree species in Costa Rica. Plant Ecol 214, 115–125 (2013). https://doi.org/10.1007/s11258-012-0150-1
Received:

Accepted:

Published:

Issue Date:
Keywords
Early mortality

Ex situ germination

Forest fragment size

Fruit size

Maternal effect

Seed source