Abstract
A model was developed to assess how the seed rain and fire regime affect seed bank dynamics and seedling establishment of three native shrub species (Acanthostyles buniifolius, Baccharis pingraea and Baccharis dracunculifolia) with different regeneration strategies, in temperate South American savanna. Seed bank and seed rain were quantified for each species under different fire regimes, and their relative roles in regeneration were evaluated. All species had short-term persistent seed banks and high annual variability in seed production. A high proportion of seeds deposited in the seed rain produced seedlings after fire; few entered the soil seed bank. Fire killed a high proportion of the seeds in the soil seed bank. Seedlings derived from the seed rain had a higher probability of surviving for 2 years than seedlings emerging from the soil seed bank. In the absence of fire, establishment depended on germination both from the seed rain and the soil seed bank, whereas with annual fire, establishment was primarily dependent on germination of seeds arriving in the annual seed rain, regardless of species' regeneration strategies. These results help to explain changes in the vegetation of South American temperate savannas as a result of changes in fire regime and grazing management during the last 50 years. By revealing the crucial roles of the soil seed bank and seed rain in regeneration, this study provides vital information for the development of appropriate management practices to control populations of shrub species with different regeneration strategies in South American temperate savannas.
This is a preview of subscription content, log in to check access.
Access options
Buy single article
Instant access to the full article PDF.
US$ 39.95
Tax calculation will be finalised during checkout.
Subscribe to journal
Immediate online access to all issues from 2019. Subscription will auto renew annually.
US$ 199
Tax calculation will be finalised during checkout.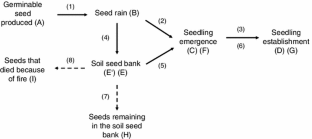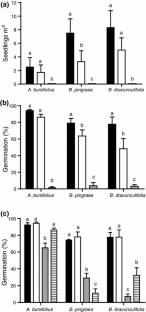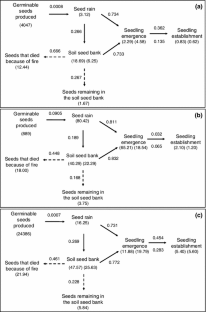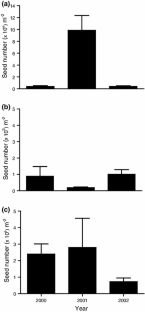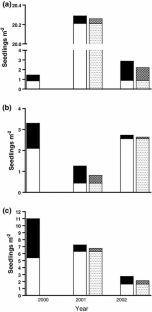 References
Alexander HM, Schrag AM (2003) Role of soil seed banks and newly dispersed seeds in population dynamics of the annual sunflower, Helianthus annuus. J Ecol 91:987–998

Altesor A, Piñeiro G, Lezama F, Jackson RB, Sarasola M, Paruelo JM (2006) Ecosystem changes associated with grazing in subhumid South American grasslands. J Veg Sci 17:323–332

Auld TD, Denham AJ (2006) How much seed remains in the soil after a fire? Plant Ecol 187:15–24

Auld TD, Keith DA, Bradstock RA (2000) Patterns in longevity of soil seed banks in fire-prone communities of south-eastern Australia. Aust J Bot 48:539–548

Bond WJ, van Wilgen BW (1996) Fire and plants. Chapman and Hall, London

Brudvig LA, Blunck HM, Asbjornsen H, Mateos-Remigio VM, Wagner SA, Randall JA (2011) Influences of woody encroachment and restoration thinning on overstory savanna oak tree growth rates. For Ecol Manag 262:1409–1416

Burkart A (1974) Flora Ilustrada de Entre Ríos (Argentina). Parte VI. Colección Científica del Instituto Nacional de Tecnología Agropecuaria (INTA), Argentina

Cabral AC, De Miguel JM, Rescia AJ, Schmitz MF, Pineda FD (2003) Shrub encroachment in Argentinean savannas. J Veg Sci 14:145–152

Campbell ML, Clarke PJ (2006) Seed dynamics of resprouting shrubs in grassy woodlands: seed rain, predators and seed loss constrain recruitment potential. Austral Ecol 31:1016–1026

Clarke PJ, Knox KJE (2002) Post-fire response of shrubs in the tablelands of eastern Australia: do existing models explain habitat differences? Aust J Bot 50:53–62

Cohen S, Braham R, Sanchez F (2004) Seed bank viability in disturbed longleaf pine sites. Restor Ecol 12:503–515

Flores J, Jurado E, Chapa-Vargas L et al (2011) Positive photoblastism in cacti seeds and its relationship with some plant traits. Environ Exp Bot 71:79–88

Galíndez G (2008) Arbustización de las sabanas mesopotámicas: Estrategias de regeneración de los arbustos nativos y sus repuestas al fuego y a la herbivoría. Doctoral thesis. School of Agronomy, University of Buenos Aires, Argentina, pp 87

Galíndez G, Biganzoli F, Ortega-Baes P, Scopel AL (2009a) Fire responses of three co-occurring Asteraceae shrubs in a temperate savanna of South America. Plant Ecol 202:149–158

Galíndez G, Ortega-Baes P, Daws MI, Sühring S, Scopel AL, Pritchard HW (2009b) Seed mass and germination in Asteraceae species of Argentina. Seed Sci Technol 37:786–790

García-Nuñez C, Azócar A, Silva JF (2001) Seed production and soil seed bank in three evergreen woody species from a neotropical savanna. J Trop Ecol 17:563–576

Goveto L (2005) Ocurrencia histórica de fuegos en la sabana del parque nacional el palmar: evidencias climáticas y florísticas. MSc thesis, School of Agronomy, University of Buenos Aires, Argentina, pp 116

Hyatt LA, Casper BB (2000) Seed bank formation during early secondary succession in a temperate deciduous forest. J Ecol 88:516–527

InfoStat (2005) InfoStat versión 2005. Grupo InfoStat, FCA, Universidad Nacional de Córdoba, Argentina

Jankowska-Blaszczuk M, Daws MI (2007) Impact of red: far red ratios on germination of temperate forest herbs in relation to shade tolerance, seed mass and persistence in the soil. Funct Ecol 21:1055–1062

Keeley JE (1977) Seed production, seed populations in soil and seedling production after fire for two congeneric pairs of sprouting and nonsprouting chaparral shrubs. Ecology 58:820–829

Keeley JE (1981) Reproductive cycles and fire regimes. In: USDA forest service general technical report WO-26, Fire regimes and ecosystem properties, pp 231–277

Keeley JE (1987) Role of fire in seed germination of woody taxa in California chaparral. Ecology 68:434–443

Keeley JE, Zedler PH (1978) Reproduction of chaparral shrubs after fire: a comparison of sprouting and seeding strategies. Am Midl Nat 99:142–161

Keeley JE, Morton BA, Pedrosa A, Trotter P (1985) Role of allelopathy, heat and charred wood in germination of chaparral herbs and subfrutescents. J Ecol 73:445–458

Lamont BB, Wiens D (2003) Are seed set and speciation rates always low among species that resprout after fire, and why? Evol Ecol 17:277–292

Lamont BB, Le Maitre DC, Cowling RM, Enright NJ (1991) Canopy seed storage in woody plants. Bot Rev 57:277–317

Martinez Crovetto R, Piccinini BG (1951) Los palmares de Butia yatay. Revista de Investigaciones Agricola 4:153–242

McPherson GR (1997) Ecology and management of North American Savannas. University of Arizona Press, Tucson

Moreira AG (2000) Effects of fire protection on savanna structure in Central Brazil. J Biogeogr 27:1021–1029

Moreno JM, Oechel WC (1992) Factors controlling postfire seedling establishment in southern California chaparral. Oecologia 90:50–60

Oliveira PE (1998) Fenologia e biologia reproductiva das especies de Cerrado. In: Sano SM, Pedrosa de Almeida S (ed) Cerrado: ambiente e flora, EMBRAPA, Planaltina, pp. 169–192

Ooi MKJ, Auld TD, Whelan RJ (2006) Dormancy and the fire-centric focus: germination of three Leucopogon species (Ericaceae) from south-eastern Australia. Ann Bot 98:421–430

Ortega-Baes P, Aparicio M, Galíndez G, del Fueyo P, Sühring S, Rojas-Aréchiga M (2010) Are cactus life forms related to germination responses to light? A test using Echinopsis species. Acta Oecologica 36:339–342

Parker VT, Kelly VR (1989) Seedbanks in California chaparral and other Mediterranean climate shrublands. In: Leck MA, Parker VT, Simpson RL (eds) Ecology of soil seed banks. Academic Press, San Diego

Redhead J, Cuevas-Gonzales M, Smith G, Gerard F, Pywell R (2012) Assessing the effectiveness of scrub management at the landscape scale using rapid field assessment and remote sensing. J Environ Manag 97:102–108

Silva JF, Zambrano A, Fariñas MR (2001) Increase in woody component of seasonal savannas under different fire regimes in Calabozo, Venezuela. J Biogeogr 28:977–983

Thompson K (1993) Persistence in soil. In: Hendry GAF, Grime JP (eds) Methods in comparative plant ecology. A Laboratory Manual, Chapman and Hall, London, pp 252

Thompson K, Band SR, Hodgson JG (1993) Seed size and shape predict persistence in soil. Funct Ecol 7:236–241

Vilà M, Lloret F (2000) Woody species tolerance to expansion of perennial tussock grass Ampelodesmos mauritanica after fire. J Veg Sci 11:597–606

Whelan RJ (1986) Seed dispersal in relation to fire. In: Murray DR (ed) Seed dispersal. Academic Press, Sydney, pp 237–271

Whelan RJ (1995) The ecology of fire. Cambridge Studies in Ecology, Cambridge University Press, Cambridge

Zammit C, Zedler PH (1988) The influence of dominant shrubs, fire and time since fire on soil seed banks in mixed chaparral. Vegetatio 75:175–187

Zuloaga FO, Morrone O (1999) Catálogo de las plantas vasculares de la república Argentina II. A–E. Missouri Botanical Garden, St. Louis, pp 621
Acknowledgments
We thank S. Sühring for her assistance with statistical analysis and C. Pereyra for his assistance in field data collection. This research was supported by the Agencia Nacional para la Promoción Científica y Técnica (PICT 08-08962). Additional funds were provided by the University of Buenos Aires (UBACyT G 095). We appreciate the constructive comments made on an earlier version of this manuscript by three anonymous reviewers.
About this article
Cite this article
Galíndez, G., Ortega-Baes, P., Scopel, A.L. et al. The dynamics of three shrub species in a fire-prone temperate savanna: the interplay between the seed bank, seed rain and fire regime. Plant Ecol 214, 75–86 (2013). https://doi.org/10.1007/s11258-012-0147-9
Received:

Accepted:

Published:

Issue Date:
Keywords
Asteraceae

Obligate seeders

Persistent seed bank

Sprouters

Transient seed bank