Abstract
Recent studies have highlighted the role of lianas in shaping stand dynamics both in tropical and temperate forests. However, English ivy (Hedera helix L.), one of the most widespread lianas in Europe, has received little attention. We conducted a study in the Siro Negri alluvial forest (NW Italy) to determine what factors most affected ivy distribution and investigate its interactions with the trees in the stand. We evaluated the influence of tree size, age, species, and neighborhood crowding on ivy occurrence. In addition, growth ring widths were used to explore the development pattern of climbing stems. Fifty-two percent of trees in our study plots carried ivy, a value comparable to liana incidence found in mature tropical forests. Tree characteristics and their spatial pattern significantly influenced ivy distribution. Preferred hosts were large, isolated trees, while the effect of tree age and species on ivy occurrence was marginal. Growth pattern analysis revealed that radial growth was positively related to the available space on the tree trunk for each ivy stem. We conclude that neighborhood crowding around trees and competition among climbing stems relying on the same trunk may reduce the colonization rate of ivy.
Access options
Buy single article
Instant access to the full article PDF.
US$ 39.95
Tax calculation will be finalised during checkout.
Subscribe to journal
Immediate online access to all issues from 2019. Subscription will auto renew annually.
US$ 119
Tax calculation will be finalised during checkout.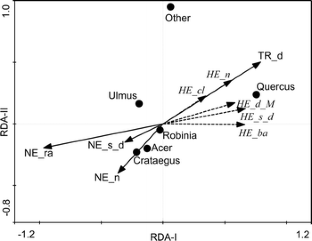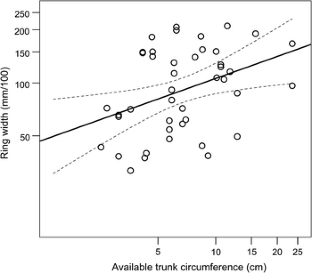 References
Allen BP, Pauley EF, Sharitz RR (1997) Hurricane impacts on liana populations in an old-growth southeastern bottomland forest. J Torr Bot Soc 124:34–42

Allen BP, Sharitz RR, Goebel PC (2005) Twelve years post-hurricane liana dynamic in and old-growth southeastern floodplain forest. For Ecol Manag 218:259–269

Aniol RW (1983) Tree-ring analysis using CATRAS. Dendrochronologia 1:45–53

Badre B, Nobelis P, Trèmolières M (1998) Quantitative study and modelling of the litter decomposition in a European alluvial forest. Is there an influence of overstorey tree species on the decomposition of ivy litter (Hedera helix L.)? Acta Oecol 19:491–500

Biggerstaff MS, Beck CW (2007) Effects of English ivy (Hedera helix) on seed bank formation and germination. Am Midl Nat 15:250–257

Blick RAJ, Burns KC (2011) Liana co-occurrence patterns in a temperate rainforest. J Veg Sci 22:868–877

Brandes AFN, Lisi CS, Barros CF (2011) Dendrochronology of lianas of the Leguminosae family from the Atlantic forest, Brazil. Trees 24:1045–1060

Campanello PI, Garibaldi JF, Gatti MG, Goldstein G (2007) Lianas in a subtropical Atlantic forest: host preference and tree growth. For Ecol Manag 242:250–259

Castagneri D, Vacchiano G, Lingua E, Motta R (2008) Analysis of intraspecific competition in two subalpine Norway spruce (Picea abies (L.) Karst.) stands in Paneveggio (Trento, Italy). For Ecol Manag 255:651–659

Clarke MM, Reichard SH, Hamilton CW (2006) Prevalence of different horticultural taxa of ivy (Hedera spp., Araliaceae) in invading populations. Biol Conserv 8:149–157

Daniels RF, Burkhart HE, Clason TR (1986) A comparison of competition measures for predicting growth of loblolly pine trees. Can J For Res 16:1230–1237

Emmons LH, Gentry AH (1983) Tropical forest structure and the distribution of gliding and prehensile tailed vertebrates. Am Nat 121:513–524

Garfì G, Ficarrotta S (2003) Influence of ivy (Hedera helix L.) on the growth of downy oak (Quercus pubescens sl) in the Monte Carcaci nature reserve (central-western Sicily). Ecol Mediterr 29:5–14

Gerwing JJ, Schnitzer SA, Burnham RJ, Bongres F, Chave J, DeWalt SJ et al (2006) A standard protocol for liana censuses. Biotropica 38:256–261

Gianoli E, Saldana A, Jimènez-Castillo M, Valladares F (2010) Distribution and abundance of vines along the light gradient in a southern temperate rain forest. J Veg Sci 21:66–73

Heuzé P, Dupoueyb J-L, Schnitzler A (2009) Radial growth response of Hedera helix to hydrological changes and climatic variability in the Rhine floodplain. River Res Appl 25:393–404

Ichihashi R, Tateno M (2011) Strategies to balance between light acquisition and the risk of falls of four temperate liana species: to overtop host canopies or not? J Ecol 99:1071–1080

Ladwig LM, Meiners SJ (2010a) Liana host preference and implications for deciduous forest regeneration. J Torr Bot Soc 137:103–112

Ladwig LM, Meiners SJ (2010b) Spatiotemporal dynamics of lianas during 50 years of succession to temperate forest. Ecology 91:671–680

Laurence WF, Pérez-Salicrup D, Delamônica P, Fearnside PM, D'Angelo S, Jerozolinski A, Pohl L, Lovejoy TE (2001) Rain forest fragmentation and the structure of Amazonian liana communities. Ecology 82(1):105–116

Leicht-Young SA, Pavlovic NB, Frohnapple KJ, Grundel R (2010) Liana habitat and host references in northern temperate forests. For Ecol Manag 260:1467–1477

Londré RA, Schnitzer SA (2006) The distribution of lianas and their change in abundance in temperate forests over the past 45 years. Ecology 87:2973–2978

Macía MJ (2011) Spatial distribution and floristic composition of trees and lianas in different forest types of an Amazonian rainforest. Plant Ecol 212:1159–1177

Madeira BG, Espírito-Santo MM, D'Angelo Neto S, Nunes YRF, Arturo Sánchez Azofeifa G, Wilson Fernandes G, Quesada M (2009) Changes in tree and liana communities along a successional gradient in a tropical dry forest in south-eastern Brazil. Plant Ecol 201:291–304

Metcalfe DJ (2005) Biological flora of the British Isles Hedera helix L. J Ecol 93:632–645

Morrissey RC, Gauthier MM, Kershaw JA, Jacobs DF, Seifert JR, Fischer BC (2009) Grapevine (Vitis spp.) dynamics in association with manual tending, physiography, and host tree associations in temperate deciduous forests. For Ecol Manag 257:1839–1846

Motta R, Nola P (2001) Growth trends and dynamics in sub-alpine forest stands in the Varaita Valley (Piedmont, Italy) and their relationships with human activities and global change. J Veg Sci 12:219–230

Motta R, Nola P, Berretti R (2009) The rise and fall of the black locust (Robinia pseudoacacia L.) in the Siro Negri forest reserve (Lombardy, Italy): lessons learned and future uncertainties. Ann Sci 66:410

Nesheim I, Økland RH (2007) Do vine species in neotropical forests see the forest or the trees? J Veg Sci 18:395–404

Nogueira A, Costa FRC, Castilho CV (2011) Liana abundance patterns: the role of ecological filters during development. Biotropica 43:442–449

Nola P (1997) Interactions between Fagus sylvatica L. and Hedera helix L. a dendroecological approach. Dendrochronologia 15:23–37

Page NV, Qureshi Q, Rawat GS, Kushalappa CG (2010) Plant diversity in sacred forest fragments of Western Ghats: a comparative study of four life forms. Plant Ecol 206:237–250

Putz FE (1984) The natural history of lianas on Barro Colorado Island, Panama. Ecology 65:1713–1724

Putz FE, Mooney HA (1991) The biology of vines. Cambridge University Press, Cambridge

Sartori F (1984) Les forêts alluviales de la basse vallée du Tessin (Italie du nord). In: Cramer J (ed) Colloques phytosocologiques, la végétation des forêts alluviales, pp 201–216

Schnitzer SA, Bongers F (2002) The ecology of lianas and their role in forests. Trends Ecol Evol 17:223–230

Schnitzer SA, Bongers F (2011) Increasing liana abundance and biomass in tropical forests: emerging patterns and putative mechanisms. Ecol Lett 14:397–406

Schnitzer SA, DeWalt SJ, Chave J (2006) Censusing and measuring lianas: a quantitative comparison of the common methods. Biotropica 38:581–591

Schnitzler A (1995) Community ecology of arboreal lianas in gallery forest of the Rhine valley, France. Acta Oecol 16:219–236

Schnitzler A, Heuzé P (2006) Ivy (Hedera helix L.) dynamics in riverine forests: effects of river regulation and forest disturbance. For Ecol Manag 236:12–17

Ter Braak CJF, Smilauer P (1998) CANOCO 4. Centre for Biometry, Wageningen

Toledo-Aceves T, Swaine MD (2008) Above- and below-ground competition between the liana Acacia kamerunensis and tree seedlings in contrasting light environments. Plant Ecol 196:233–244

Trèmolières M, Carbiener R, Exinger A, Turlot JC (1988) Un exemple d'interaction non compètitive entre espèces ligneuses: le cas du lierre arborescent (Hedera helix L.) dans la foret alluviale. Acta Oecol 9:187–209

Van der Heijden GMF, Phillips OL (2008) What controls liana success in Neotropical forests? Glob Ecol Biogeogr 17:372–383

Yuan CM, Liu WY, Tang CQ, Li XS (2009) Species composition, diversity, and abundance of lianas in different secondary and primary forests in a subtropical mountainous area, SW China. Ecol Res 24:1361–1370
Acknowledgments
This study was funded by the Siro Negri National Forest Reserve and by the Ministero dell' Ambiente e della tutela del Territorio e del Mare. The authors thank F. Sartori, the Reserve Director, L. Gianoli and M. Granata of the University of Pavia, R. Berretti, A. Bottero, F. Meloni, G. Vacchiano, and R. Motta of the University of Turin for field assistance, providing data from previous surveys, and helpful comments on this manuscript, and C. Archibald for revising the English.
About this article
Cite this article
Castagneri, D., Garbarino, M. & Nola, P. Host preference and growth patterns of ivy (Hedera helix L.) in a temperate alluvial forest. Plant Ecol 214, 1–9 (2013). https://doi.org/10.1007/s11258-012-0130-5
Received:

Accepted:

Published:

Issue Date:
Keywords
Competition

Liana

Plain forest

Ring width