Abstract
The introduction of alien ungulates is a major threat for the survival of endangered plants, especially in island ecosystems. However, very few studies have investigated the potential damage of large herbivores on plant diversity in Mediterranean protected areas. In this study, we describe the population structure and the long-term dynamics of the main populations of the Sardinian narrow endemic Centaurea horrida Bad. (Asteraceae), by means of permanent plots where individual plants were tagged and monitored through 6 years (2004–2009). We monitored this endangered plant at three sites: two were protected areas where introduced and feral ungulates are present, and the other one was a non-protected site without introduced ungulates. We found that adults and saplings were more abundant at the non-protected site. Through matrix models, we also highlighted that the non-protected population showed the highest population growth rate. Finally, by means of an exclusion experiment for ungulates at one protected site, we demonstrated that herbivores had a negative effect on the survival of seedlings and adult plants, and reduced the stochastic population growth rate. An LTRE analysis showed that differences in the survival, especially of adult individuals, had the highest responsibility in explaining the higher population growth rate when herbivores are excluded. Our study constitutes a clear example on how the protection of alien large herbivores can have opposite effects on the conservation of an endangered plant. Some management options are proposed, and the urgent need of manipulative experiments on species-specific interactions between protected plants and alien herbivore species is invoked.
Access options
Buy single article
Instant access to the full article PDF.
US$ 39.95
Tax calculation will be finalised during checkout.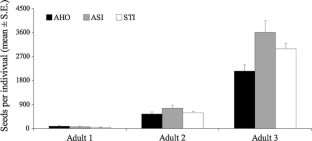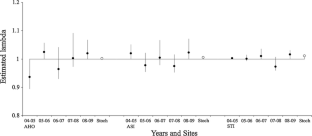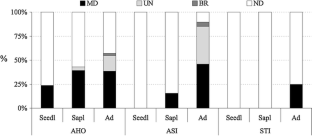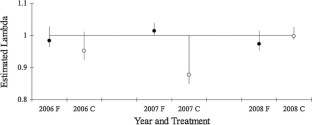 References
Abe T, Wada K, Nakagoshi N (2008) Extinction threats of a narrowly endemic shrub, Stachyurus macrocarpus (Stachyuraceae) in the Ogasawara Islands. Pl Ecol 198:169–183

Alverson WS, Waller DM, Solheim SL (1988) Forests too deer—edge effects in northern Wisconsin. Conserv Biol 2:348–358

Anderson RC, Corbett EA, Anderson MR, Corbett GA, Kelley TM (2001) High white-tailed deer density has negative impact on tallgrass prairie forbs. J Torrey Bot Soc 128:381–392

Augustine DJ, Frelich LE (1998) Effects of white-tailed deer on populations of an understory forb in fragmented deciduous forests. Conserv Biol 12:995–1004

Augustine DJ, Frelich LE, Jordan PA (1998) Evidence for two alternate stable states in an ungulate grazing system. Ecol Appl 8:1260–1269

Bacchetta G, Farris E, Pontecorvo C (2012) A new method to set conservation priorities in biodiversity hotspots. Plant Biosyst. doi: 10.1080/11263504.2011.642417

Bastrenta B (1991) Effect of sheep grazing on the demography of Anthyllis vulneraria in southern France. J Ecol 79:275–284

Biondi E, Filigheddu R, Farris E (2001) Il paesaggio vegetale della Nurra. Fitosociologia 38:3–105

Campbell K, Donlan CJ (2005) Feral goat eradications on islands. Conserv Biol 19:1362–1374

Carmona D, Lajeunesse MJ, Johnson MTJ (2011) Plant traits that predict resistance to herbivores. Funct Ecol 25:358–367

Caswell H (2001) Matrix population models, 2nd edn. Sinauer Associates, Massachusetts

Colas B, Olivieri I, Riba M (1997) Centaurea corymbosa, a cliff-dwelling species tottering on the brink of extinction: a demographic and genetic study. Proc Natl Acad Sci 94:3471–3476

Conti F, Abbate G, Alessandrini A, Blasi C (eds) (2005) An annotated checklist of the Italian vascular flora. Palombi, Roma

Courchamp F, Chapuis JL, Pascal M (2003) Mammal invaders on islands: impact, control and control impact. Biol Rev 78:347–383

Cyr H, Pace ML (1993) Magnitude and patterns of herbivory in aquatic and terrestrial ecosystems. Nature 361:148–150

Dolman PM, Waber K (2008) Ecosystem and competition impact of introduced deer. Wildlife Res 35:202–214

Donlan CJ, Tershy BR, Croll DA (2002) Islands and introduced herbivores: conservation action as ecosystem experimentation. J Appl Ecol 39:235–246

Ehrlén J (1995) Demography of the perennial herb Lathyrus vernus. II. herbivory and population-dynamics. J Ecol 83:297–308

Ehrlén J (2002) Assessing the lifetime consequences of plant–animal interactions for the perennial herb Lathyrus vernus (Fabaceae). Perspect Plant Ecol Evol Syst 5:145–163

Falcucci A, Maiorano L, Boitani L (2007) Changes in land-use/land-cover patterns in Italy and their implications for biodiversity conservation. Landscape Ecol 22:617–631

Farrington SJ, Muzika RM, Drees D, Knight TM (2009) Interactive effects of harvest and deer herbivory on the population dynamics of American ginseng. Conserv Biol 23:719–728

Farris E, Filigheddu R (2008) Effects of browsing in relation to vegetation cover on common yew (Taxus baccata L.) recruitment in Mediterranean environments. Plant Ecol 199:309–318

Farris E, Pisanu S, Ceccherelli G, Filigheddu R (2009) Effects of the management regime on the performance of the endangered Mediterranean Centaurea horrida Badarò (Asteraceae). J Nat Conserv 17:15–24

Farris E, Filigheddu R, Deiana P, Farris GA, Garau G (2010) Short-term effects on sheep pastureland due to grazing abandonment in a Western Mediterranean island ecosystem: a multidisciplinary approach. J Nat Conserv 18:258–267

Farris E, Pisanu S, Ceccherelli G, Filigheddu R (2012) Variability at local scales and between habitats in population structure and reproductive traits of the Mediterranean plant Centaurea horrida: implications for management. J Coastal Res 28:193–198

Fenu G, Mattana E, Bacchetta G (2011) Distribution, status and conservation of a critically endangered, extremely narrow endemic: Lamyropsis microcephala (Asteraceae) in Sardinia. Oryx 45:180–186

Fenu G, Mattana E, Bacchetta G (2012) Conservation of endemic insular plants: the genus Ribes L. (Grossulariaceae) in Sardinia. Oryx 46:219–222

Fornara DA, du Toit JT (2008) Community-level interactions between ungulate browsers and woody plants in an African savanna dominated by palatable-spinescent Acacia trees. J Arid Environ 72:534–545

Gangoso L, Donazar JR, Scholz S, Palacios CJ, Hiraldo F (2006) Contradiction in conservation of island ecosystems: plants, introduced herbivores and avian scavenger in the Canary Islands. Biodivers Conserv 15:2231–2248

García MB, Goñi D, Guzmán D (2010) Living at the edge: local versus positional factors in the long-term population dynamics of an endangered orchid. Conserv Biol 24:1219–1229

Garzón-Machado V, González-Mancebo JM, Palomares-Martínez A, Acevedo-Rodríguez A, Fernández-Palacios JM, Del-Arco-Aguilar M, Pérez-de-Paz PL (2010) Strong negative effect of alien herbivores on endemic legumes of the Canary pine forest. Biol Conserv 143:2685–2694

Hawkes CV, Sullivan JJ (2001) The impact of herbivory on plants in different resource conditions: a meta-analysis. Ecology 82:2045–2058

Jenkins MA, Webster CR, Rock JH (2007) Effects of chronic herbivory and historic land use on population structure of a forest perennial, Trillium catesbaei. Appl Veg Sci 10:441–450

Knight TM (2004) The effect of herbivory and pollen limitation on a declining population of Trillium grandiflorum. Ecol Appl 14:915–928

Knight TM, Caswell H, Kalisz S (2009) Population growth rate of a common understory herb decreases non-linearly across a gradient of deer herbivory. Forest Ecol Manag 257:1095–1103

Kose YB, Ocak A, Erkara IP (2010) Centaurea cadmea subsp. pontica subsp. nov. (Asteraceae) from northwest Anatolia. Turkey. Nord J Bot 28:475–478

Kultur S (2010) Centaurea nerimaniae sp. nov. (Asteraceae) from south Anatolia. Turkey. Nord J Bot 28:613–616

Lavergne S, Thompson JD, Garnier E, Debussche M (2004) The biology and ecology of narrow endemic and widespread plants: a comparative study of trait variation in 20 congeneric pairs. Oikos 107:505–518

López-Alvarado J, Sáez L, Filigheddu R, Guardiola M, Susanna A (2011) Centaurea tripontina (Compositae), a new species from the Pre-Pyrenean mountains, Spain. Plant Biosyst. doi: 10.1080/11263504.2011.608736

Mameli G, Filigheddu R, Binelli G, Meloni M (2008) The genetic structure of the remnant populations of Centaurea horrida in Sardinia and associated islands. Ann Bot 101:633–640

Maron J, Crone E (2006) Herbivory: effects on plant abundance, distribution and population growth. Proc Roy Soc B-Biol Sci 273:2575–2584

Masseti M (2009) Mammals of Mediterranean islands: homogenisation and the loss of biodiversity. Mammalia 73:169–202

McEachern AK, Thomson DM, Chess KA (2009) Climate alters response of an endemic island plant to removal of invasive herbivores. Ecol Appl 19:1574–1584

McGraw JB, Furedi MA (2005) Deer browsing and population viability of a forest understorey plant. Science 307:920–922

McPeek MA, Kalisz S (1993) Population sampling and bootstrapping in complex designs: demographic analysis. In: Scheiner SM, Gurevitch J (eds) Design and analysis of ecological experiments. Chapman and Hall, New York, pp 232–252

Médail F, Quézel P (1997) Hot-spots analysis for conservation of plant biodiversity in the Mediterranean Basin. Ann Mo Bot Gard 84:112–127

Médail F, Quézel P (1999) Biodiversity hotspots in the Mediterranean basin: setting global conservation priorities. Conserv Biol 13:1510–1513

Miller GR, Geddes C, Mardon DK (1999) Response of the alpine gentian Gentiana nivalis L. to protection from grazing by sheep. Biol Conserv 87:311–318

Miranda M, Diaz L, Sicilia M, Cristobal I, Cassinello J (2011) Seasonality and edge effect determine herbivory risk according to different plant association models. Plant Biol 13:160–168

Morris WF, Doak DF (2002) Quantitative conservation biology: theory and practice of population viability analysis. Sinauer Associates Inc., USA

Myers N, Mittermeier RA, Mittermeier CG, da Fonseca GAB, Kents J (2000) Biodiversity hotspots for conservation priorities. Nature 403:853–858

Palombo MR (2009) Biochronology, paleobiogeography and faunal turnover in western Mediterranean Cenozoic mammals. Integr Zool 4:367–386

Papanikolaou AD, Fyllas NM, Mazaris AD, Dimitrakopoulos PG, Kallimanis AS, Pantis JD (2011) Grazing effects on plant functional group diversity in Mediterranean shrublands. Biodiversity Conserv 20:2831–2843

Pisanu S, Filigheddu R, Farris E (2009) The conservation status of an endemic species of northern Sardinia: Centaurea horrida Badarò (Asteraceae). Plant Biosyst 143:275–282

Rydgren K, de Kroon H, Økland RH, van Groenendael J (2001) Effects of fine-scale disturbances on the demography and population dynamics of the clonal moss Hylocomium splendens. J Ecol 89:395–405

Simbaña W, Tye A (2009) Reproductive biology and responses to threats and protection measures of the total population of a critically endangered Galàpagos plant, Linum cratericola (Linaceae). Bot J Linn Soc 161:89–102

Spear D, Chown SL (2009) Non-indigenous ungulates as a threat to biodiversity. J Zool 279:1–17

Susanna A, Garcia-Jacas N (2009) The tribe Cardueae. In: Funk VA, Susanna A, Stuessy T, Bayer R (eds) Systematics, evolution and biogeography of the Compositae. IAPT, Vienna, pp 293–313

Thompson JD (2005) Plant evolution in the Mediterranean. Oxford University Press, Oxford

Townsend DS, Meyer AD (2002) Rapid recovery of witch hazel (Hamamelis virginiana L.) by sprouting, following release from white-tailed deer (Odocoileus virginianus Zimm.) browsing. Nat Area J 22:290–295

Underwood AJ (1997) Experiments in ecology: their logic design and interpretation using analysis of variance. Cambridge University Press, Cambridge

Vicari M, Bazely DR (1993) Do grasses fight back—the case for antiherbivore defences. Trends Ecol Evol 8:137–141

White AM, Goodman PS (2009) Differences in woody vegetation are unrelated to use by African elephants (Loxodonta africana) in Mkhuze Game Reserve, South Africa. Afr J Ecol 48:215–223

Whittaker RJ, Fernández-Palacios JM (2007) Island biogeography. Oxford University Press, Oxford
Acknowledgments
This study was supported by the Regione Autonoma della Sardegna, LR 7/2007–PO Sardegna FSE 2007–2013, with the Grant No. CRP2_474 for RF and EF, and no. CRP3_188 for SP. MBG also got support from a Spanish National Park project (OAPN, REF. 430/211). We thank the Ente Foreste della Sardegna, the Parco Nazionale dell'Asinara and the Parco Regionale di Porto Conte for the technical aid received.
Electronic supplementary material
Below is the link to the electronic supplementary material.
About this article
Cite this article
Pisanu, S., Farris, E., Filigheddu, R. et al. Demographic effects of large, introduced herbivores on a long-lived endemic plant. Plant Ecol 213, 1543–1553 (2012). https://doi.org/10.1007/s11258-012-0110-9
Received:

Accepted:

Published:

Issue Date:
Keywords
Centaurea horrida Bad.

Demography

LTRE

Mediterranean

Stochastic matrix models

Ungulates introduction