Abstract
Because most shoot recruitment in perennial grasses occurs from belowground axillary buds, bud dynamics determine plant population dynamics and meristem limitation to population growth. Therefore, grassland vegetation responses to environmental change or disturbance may be influenced by interspecific differences in bud banks and the patterns and environmental controls of bud development and demography. We examined bud bank dynamics in Andropogon gerardii and Dichanthelium oligosanthes in tallgrass prairie by enumerating and classifying buds throughout 15 months to determine whether grass buds live for multiple years and accumulate; whether bud natality, dormancy and outgrowth are synchronous or variable; and whether bud bank dynamics differ between these co-occurring species. Andropogon gerardii (a C4 species) maintained a larger dormant bud bank, showed synchrony in bud development and transition to tiller, and its buds lived for multiple years. Thus, multiple previous years' bud cohorts contributed to recruitment. By contrast, D. oligosanthes (a C3 species) maintained a smaller dormant bud bank, had asynchronous bud development with active buds present year-round, and its buds lived for 1 year. Buds played different roles in the dynamics of each species, allowing A. gerardii to over-winter and recruit new spring tillers and D. oligosanthes to survive and recruit new tillers following summer dormancy. These differences in bud bank age structure, phenology, and dynamics between these species suggest greater demographic buffering and time-lag effects in A. gerardii populations. Interspecific differences in bud bank structure and dynamics may explain and help predict grassland responses to environmental change.
Access options
Buy single article
Instant access to the full article PDF.
USD 39.95
Price excludes VAT (USA)
Tax calculation will be finalised during checkout.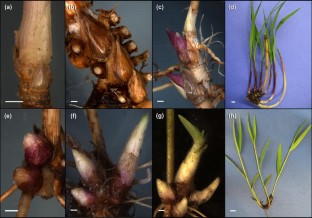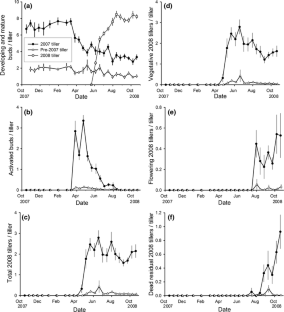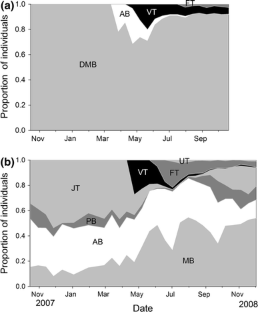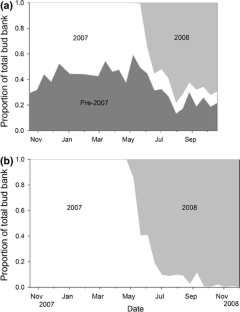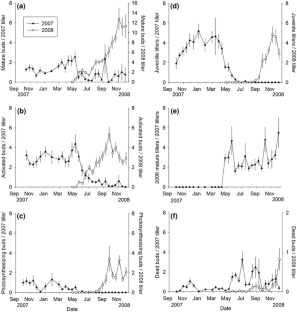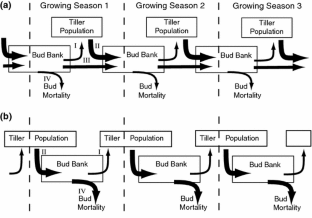 References
Baskin CC, Baskin JM (1998) Ecology of seed dormancy and germination. In: Cheplick GP (ed) Population biology of grasses. Cambridge University Press, Cambridge, pp 30–83

Benson EJ, Hartnett DC (2006) The role of seed and vegetative reproduction in plant recruitment and demography in tallgrass prairie. Plant Ecol 187:163–177

Bernard JM (1975) The life history of shoots of Carex lacustris. Can J Bot 53:256–260

Butler JL, Briske DD (1988) Population structure and tiller demography of the bunchgrass Schizachyrium scoparium in response to herbivory. Oikos 51:306–312

Cable DR (1971) Growth and development of Arizona cottontop (Trichachne californica [benth]chase). Bot Gaz 132:119–145

Carlsson BA, Callaghan TV (1990) Programmed tiller differentiation, intraclonal density regulation and nutrient dynamics in Carex bigelowii. Oikos 58:219–230

Dalgleish HJ, Hartnett DC (2006) Below-ground bud banks increase along a precipitation gradient of the North American Great Plains: a test of the meristem limitation hypothesis. New Phytol 171:81–89

Eneboe EJ, Sowell BF, Heitschmidt RK, Karl MG, Haferkamp MR (2002) Drought and grazing: IV. Blue grama and western wheatgrass. J Range Manage 55:197–203

Epstein HE, Lauenroth WK, Burke IC, Coffin DP (1997) Productivity patterns of C-3 and C-4 functional types in the US Great Plains. Ecology 78:722–731

Epstein HE, Gill RA, Paruelo JM, Lauenroth WK, Jia GJ, Burke IC (2002) The relative abundance of three plant functional types in temperate grasslands and shrublands of North and South America: effects of projected climate change. J Biogeogr 29:875–888

Harper JL (1977) Population biology of plants. Academic Press, London

Hendrickson JR, Briske DD (1997) Axillary bud banks of two semiarid perennial grasses: occurrence, longevity, and contribution to population persistance. Oecologia 110:584–591

Hultgren ABC (1988) A demographic study of aerial shoots of Carex rostrata in relation to water level. Aquat Bot 30:81–93

Jonsdottir GA (1991) Tiller demography in seashore populations of Agrostis stolonifera, Festuca rubra, and Poa irrigata. J Veg Sci 2:89–94

Kaspar TC, Bland WL (1992) Soil temperature and root growth. Soil Sci 154:290–299

Klimesova J, Klimes L (2007) Bud banks and their role in vegetative regeneration—a literature review and proposal for simple classification and assessment. Perspect Plant Ecol Evol Syst 8:115–129

Knapp AK, Briggs JM, Hartnett DC, Collins SL (1998) Grassland dynamics: long-term ecological research in Tallgrass Prairie. Oxford University Press, New York

Langer RHM (1956) Growth and nutrition of timothy: life history of individual tillers. Ann Appl Biol 44:166–187

Langer RHM, Ryle SM, Jewiss OR (1964) The changing plant and tiller populations of timothy and meadow fescue swards. I. Plant survival and the pattern of tillering. J Appl Ecol 1:197–208

McIntyre GI (1970) Studies on bud development in rhizome of Agropyron repens. 1. Influence of temperature, light intensity, and bud position on pattern of development. Can J Bot 48:1903–1909

McKendrick JD, Owensby CE, Hyde RM (1975) Big bluestem and indiangrass vegetative reproduction and annual reserve carbohydrate and nitrogen cycles. Agro-Ecosystems 2:75–93

Mitchell KJ (1953) Influence of light and temperature on the growth of ryegrass (Lolium spp). II. The control of lateral bud development. Physiol Plant 6:425–443

Mueller RJ, Richards JH (1986) Morphological analysis of tillering in Agropyron spicatum and Agropyron desertorum. Ann Bot 58:911–921

Noble JC, Bell AD, Harper JL (1979) Population biology of plants with clonal growth. 1. Morphology and structural demography of Carex arenaria. J Ecol 67:983–1008

Olson BE, Richards JH (1988) Annual replacement of the tillers of Agropyron desertorum following grazing. Oecologia 76:1–6

Ott JP (2009) Bud bank morphology, dynamics, and production in perennial grasses. Thesis, Kansas State University

Ott JP, Hartnett DC (2011) Bud production and dynamics of flowering and vegetative tillers in Androgpogon gerardii (Poaceae): the role of developmental constraints. Am J Bot 98:1293–1298

Ripley B, Donald G, Osborne CP, Abraham T, Martin T (2010) Experimental investigation of fire ecology in the C3 and C4 subspecies of Alloteropsis semialata. J Ecol 98:1196–1203

Robson MJ (1968) A comparison of British and North African varieties of tall fescue (Festuca arundinacea). IV. Tiller production in single plants. J Appl Ecol 5:431–443

Rogers WE, Hartnett DC (2001) Temporal vegetation dynamics and recolonization mechanisms on different-sized soil disturbances in tallgrass prairie. Am J Bot 88:1634–1642

Schwartz MD, Ahas R, Aasa A (2006) Onset of spring starting earlier across the Northern Hemisphere. Glob Change Biol 12:343–351

Soukupova L (1988) Short life-cycles in two wetland sedges. Aquat Bot 30:49–62

Tamm A, Kull K, Sammul M (2002) Classifying clonal growth forms based on vegetative mobility and ramet longevity: a whole community analysis. Evol Ecol 15:383–401

Thompson K, Grime JP (1979) Seasonal variation in the seed banks of herbaceous species in ten contrasting habitats. J Ecol 67:893–921

Veenendaal EM, Ernst WHO, Modise GS (1996) Effect of seasonal rainfall pattern on seedling emergence and establishment of grasses in a savanna in south-eastern Botswana. J Arid Environ 32:305–317

Zhang J, Mu C, Wang D, Wang J, Chen G (2009) Shoot population recruitment from a bud bank over two seasons of undisturbed growth of Leymus chinensis. Botany 87:1242–1249
Acknowledgments
We thank J. Blair, C. Ferguson, and two anonymous reviewers for helpful suggestions on previous drafts of the manuscript, T. Joern for the use of his microscope and camera, and C. Sinn for fieldwork assistance. This study was funded by the KSU Division of Biology, the Konza Prairie Long-Term Ecological Research Program, and the USDA Rangeland Research Program Grant 310306.
Electronic supplementary material
Below is the link to the electronic supplementary material.
Fate of buds produced on (a) pre-2007 and (b) 2007 tillers of Andropogon gerardii between October 2007 and October 2008. Buds were either developing or mature (DMB) or activated (AB) or had grown out into vegetative (VT) or flowering (FT) tillers. Fewer buds from the pre-2007 cohort (13 ± 1 %) transitioned to the activated stage than from the 2007 cohort (34 ± 1 %). However, after floral initiation, a larger percentage of the pre-2007 cohort's vegetative tillers (32 ± 5 %) became flowering tillers than the 2007 cohort's vegetative tillers (19 ± 2 %). (TIFF 25205 kb)
Fate of buds produced on (a) 2007 and (b) 2008 mature tillers of Dichanthelium oligosanthes. Buds were either mature (MB), activated (AB), or photosynthesizing (PB) or had grown out into juvenile (JT), vegetative (VT) or flowering (FT) tillers. The flowering status of some tillers was unknown (UT) due to culm damage. When considering the bud bank collectively, an asynchrony in bud development was evident. By July 2008, almost all of the buds from the 2007 cohort had either died or had transitioned to tillers. (TIFF 26179 kb)
About this article
Cite this article
Ott, J.P., Hartnett, D.C. Contrasting bud bank dynamics of two co-occurring grasses in tallgrass prairie: implications for grassland dynamics. Plant Ecol 213, 1437–1448 (2012). https://doi.org/10.1007/s11258-012-0102-9
Received:

Accepted:

Published:

Issue Date:

DOI: https://doi.org/10.1007/s11258-012-0102-9
Keywords