Abstract
The growth of hummock Sphagnum species in bogs depends on hydrological and climatic conditions, with different hummock morphologies being found across geographical regions. We investigated how plant shade and winter snow-load regulate the growth pattern and height of Sphagnum papillosum hummocks in a cool-temperate bog in Japan. Hummocks were subjected to four treatments across 2 years (1 hummock per treatment per year): no treatment (control), snow-load-free (S), vascular plant trimming (T), and snow-load-free and vascular plant trimming in combination (S&T). Further, the effects of vascular plant cover and snow -load on the vertical growth and height of hummocks were examined. Annual growth rates of S. papillosum were higher for the control (34–41 mm) than S&T treatment, and were intermediate for separate S and T treatments. In contrast to vascular plant-growing hummocks, vascular plant-trimmed hummocks showed a negative correlation between water-table depth (measured from the capitulum to the water-table) and Sphagnum growth. Hence, in summer, shading by vascular plants may prevent desiccation and facilitate the growth of Sphagnum. Snow-loaded hummocks were weighed down by 3–11 cm. After snowmelt, the shoots continued to grow within the water-table depth range that allowed growth. Hence, heavy winter snow-loads may depress the surfaces of hummocks closer to the water-table, which stimulates Sphagnum growth, resulting in the recovery of hummock height. Thus, the water stress caused by summer desiccation is critical in regulating the upper limit of hummock height in bogs subject to dry summer conditions and heavy winter snowfall.
Access options
Buy single article
Instant access to the full article PDF.
USD 39.95
Price excludes VAT (USA)
Tax calculation will be finalised during checkout.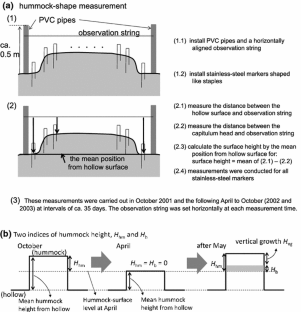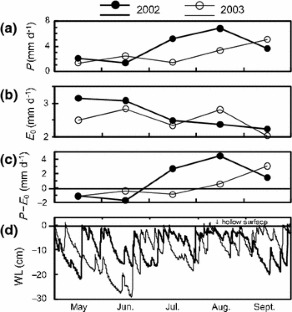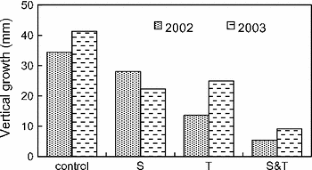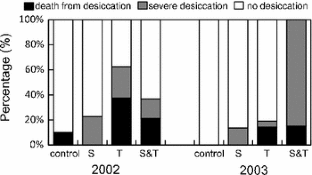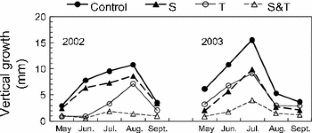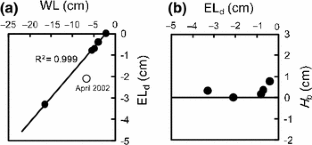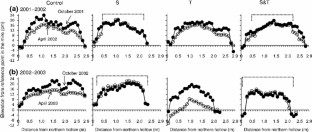 References
Andrus R, Wagner DJ, Titus JE (1983) Vertical zonation of Sphagnum mosses along hummock-hollow gradient. Can J Bot 61:292–299

Breeuwer A, Robroek BJM, Limpens J et al (2009) Decreased summer water table depth affects peatland vegetation. Basic Appl Ecol 10:330–339

Buttler A, Grosvernier P, Matthay Y (1998) Development of Sphagnum fallax diaspores on bare peat with implications for the restoration of cut-over bogs. J Appl Ecol 35:800–810

Clymo RS (1970) The growth of Sphagnum: methods of measurement. J Ecol 58:13–49

Clymo RS, Hayward PM (1982) The ecology of Sphagnum. In: Smith AJ (ed) Bryophyte ecology. Chapman & Hall, London, pp 229–289

Dorrepaal E, Aerts R, Cornelissen JHC et al (2003) Summer warming and increase winter snow cover affect Sphagnum fuscum growth, structure and production in a sub-arctic bog. Glob Change Biol 10:93–104

Fujita H, Igarashi Y, Hotes S et al (2009) An inventory of the mires of Hokkaido—their development, classification, decline and conservation. Plant Ecol 200:9–36

Hayward PM, Clymo RS (1982) Profile of water content and pore size in Sphagnum and peat, and their relation to peat bog ecology. Proc R Soc B 215:299–325

Heijmans MMPD, Berendse F, Arp WJ et al (2001) Effect of elevated CO2 and vascular plants on evaportanspiration in bog vegetation. Glob Change Biol 7:817–827

Heijmans MMPD, Klees H, Berendse F (2002) Competition between Sphagnum magellanicum and Eriophorum angustifolium as affected by raised CO2 and increased N deposition. Oikos 97:415–425

Hogg EH (1993) Decay potential of hummock and hollow Sphagnum peats at different depth in a Swedish raised bog. Oikos 66:269–278

Hotes S, Poschlod P, Takahashi H (2006) The effect of volcanic activity on mire development: case studies from Hokkaido, northern Japan. The Holocene 16:561–573

Inoue S, Yokoyama K (2003) Estimates of snowfall depth, maximum snow depth, and snow pack environments under global warming in Japan from five sets of predicted data. J Agric Meteorol 59:227–236

Ivanov KE (1981) Peat accumulation and mire formation as a geophysical process. The classification of mires. In: Ivanov KE (ed) Water movement in mirelands. Academic Press, London, pp 9–16

Iwata Y, Hayashi M, Hirota T (2008a) Comparison of snowmelt infiltration under different soil-freezing conditions influenced by snow cover. Vadose Zone J 7:79–86

Iwata Y, Hayashi M, Hirota T (2008b) Effects of snow cover on soil heat flux and freeze-thaw processes. J Agric Meteorol 64:301–309

Japan Meteorological Agency (1999) World surface data 1982–1998 (CDROM). Japan Meteorological Business Support Center, Tokyo

Japan Meteorological Agency (2011) AMeDAS data. http://www.data.jma.go.jp/obd/stats/etrn/index.php. Accessed 26 Mar 2011

Karlin EF, Bliss LC (1984) Variation in substrate chemistry along microtopographical and water-chemistry gradients in peatlands. Can J Bot 62:142–153

Kusunoki S, Mizuta R, Matsueda M (2011) Future changes in the East Asian rain band projected by global atmospheric models with 20-km and 6-km grid size. Clim Dyn 37:2481–2493

Limpens J, Granath G, Gunnarsson U et al (2011) Climatic modifiers of the response to nitrogen deposition in peat-forming Sphagnum mosses: a meta-analysis. New Phytol 191:496–507

Miura T, Okuno R (1983) Detailed description of calculation for potential evapotranspiration using Penman equation. Trans Jpn Soc Irrig Drain 164:157–163

Nakamura T, Uemura S, Yabe K (2002) Hydrochemical regime of fen and bog in north Japanese mires as an influence on habitat and above-ground biomass of Carex species. J Ecol 90:1017–1023

Nungesser MK (2003) Modelling microtopography in boreal peatlands: hummocks and hollows. Ecol Model 165:175–207

Price JS (2003) Role and character of seasonal peat soil deformation on the hydrology of undisturbed and cutover peatlands. Water Resour Res 39:1241. doi:10.1029/2002R001302

Priestley CHB, Taylor RJ (1972) On the assessment of surface heat flux and evaporation using large-scale parameters. Mon Weather Rev 100:81–92

Roulet N, Hardill S, Comer N (1991) Continuous measurements of depth of water table (inundation) in wetlands with fluctuating surfaces. Hydrol Process 5:399–403

Rydin H (1985) Effect of water level on desiccation of Sphagnum in relation to surrounding Sphagna. Oikos 45:374–379

Sakaguchi Y (1989) Some pollen records from Hokkaido and Sakhalin. Bull Depart Geogr Univ Tokyo 20:1–17

Schipperges B, Rydin H (1998) Response of photosynthesis of Sphagnum species from contrasting microhabitats to tissue water content and repeated desiccation. New Phytol 148:677–684

Skre O, Oechel WC, Miller PM (1983) Moss leaf water content and solar radiation at the moss surface in a mature black spruce forest in central Alaska. Can J Bot 13:860–868

Takagi K, Tsuboya T, Takahashi H, Inoue T (1999) Effect of the invasion of vascular plants on heat and water balance in the Sarobetsu Mire, northern Japan. WETLANDS 19:246–254

Tsuboya T, Takagi K, Takahashi H et al (2001) Effects of pore structure on redistribution of subsurface water in Sarobetsu Mire, northern Japan. J Hydrol 252:100–115

van Breemen N (1995) How Sphagnum bogs down other plants. Trends Ecol Evol 10:270–275

Wolejko L, Ito K (1986) Mires in Japan in relation to mire zones, volcanic activity and water chemistry. Jpn J Ecol 35:575–586

Yabe K, Uemura S (2001) Variation in size and shape of Sphagnum hummocks in relation to climatic conditions in Hokkaido Island, northern Japan. Can J Bot 79:1318–1326

Yabe K, Nakamura T, Kawauchi K, Takahashi K (1999) Anthropogenic disturbances of an ombrotrophic mire owing to constructions of road and drainage channel. J Jpn Inst Landsc Arch 62:557–560

Yazaki T, Urano S, Yabe K (2006) Water balance and water movement in unsaturated zones of Sphagnum hummocks in Fuhrengawa Mire, Hokkaido, Japan. J Hydrol 319:312–327
Acknowledgments
This study was supported by Grants-in-Aid for Scientific Research (No. 21510242) by Japan Society for the Promotion of Science (JSPS).
Electronic supplementary material
Below is the link to the electronic supplementary material.
About this article
Cite this article
Yazaki, T., Yabe, K. Effects of snow-load and shading by vascular plants on the vertical growth of hummocks formed by Sphagnum papillosum in a mire of northern Japan. Plant Ecol 213, 1055–1067 (2012). https://doi.org/10.1007/s11258-012-0065-x
Received:

Accepted:

Published:

Issue Date:

DOI: https://doi.org/10.1007/s11258-012-0065-x
Keywords
Evapotranspiration

Hummock height

Oscillation of mire surface

Snow-load

Summer desiccation