Abstract
Urbanization is one of the most environmentally damaging of human activities, producing large alterations in ecosystem structure, function, species composition and interactions. In this study, we performed a systematic investigation of the plant species richness and density in the city of Beijing, China. We also assessed which socio-economic factors have most influence on plant diversity. Within the city, we found 551 plant species of 313 genera and 103 families, of which 118 were trees, 99 shrubs, and 296 herbs. Nearly half (48.3 %) of the total plant species were aliens. Species richness and density were positively correlated both for tree/shrub and herb taxa, which indicate that although some species predominate in our study area, there is an important array of species in relation to their densities. As expected, most of the socio-economic variables studied showed to be related to at least one of the four plant diversity variables (i.e., herb richness, herb density, tree/shrub richness, and tree/shrub density). Land-use showed a significant relationship in all four cases, which generally had lower values in cultural and education areas (areas that in Beijing are generally characterized by large extensions of urbanized land). The year of establishment was also largely related to plant diversity, with higher values for recently developed areas. This was an expected result given the dynamics of the urban development of Beijing during the last 60 years, which consisted of intense urban sprawling, followed by more environmentally-friendly urbanization practices during the 2000s related to the greening of the city for the olympic games. This dynamics also explained the negative relationship found between the distance to the city center and both tree/shrub species richness and density.
Access options
Buy single article
Instant access to the full article PDF.
US$ 39.95
Tax calculation will be finalised during checkout.
Subscribe to journal
Immediate online access to all issues from 2019. Subscription will auto renew annually.
US$ 119
Tax calculation will be finalised during checkout.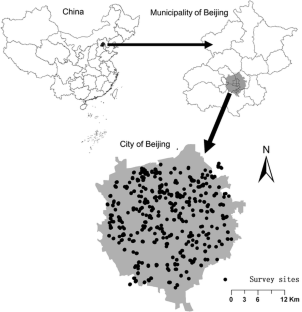 References
BISM (Beijing Institute of Surveying and Mapping) (2005) 北京城市地图集 [Beijing City Atlas]. Human Cartographic Publishing House, Changsha (in Chinese)

BMAC (Beijing Municipal Administration of Center) (2006) 公园历史 [Park history] (in Chinese)

BMBS (Beijing Municipal Bureau of Statistics) (2009) 2009年北京统计年鉴 [Statistical yearbook of Beijing 2009]. China Statistics Press, Beijing (in Chinese)

Bobo KS, Waltert M, Sainge NM, Njokagbor J, Fermon H, Mühlenberg M (2006) From forest to farmland: species richness patterns of trees and understorey plants along a gradient of forest conversion in Southwestern Cameroon. Biodivers Conserv 15:4097–4117

Boone GC, Cadenasso LM, Grove JM, Schwarz K, Buckley GL (2010) Landscape, vegetation characteristics, and group identity in an urban and suburban watershed: why the 60s matter. Urban Ecosyst 13:255–271

Cadenasso ML, Pickett ST, Grove JM (2006) Integrative approaches to investigating human natural systems: the Baltimore Ecosystem Study. Nat Sci Soc 14:1–14

Cariñanos P, Casares-Porcel M (2011) Urban green zones and related pollen allergy: a review. Some guidelines for designing spaces with low allergy impact. Landsc Urban Plan 101:205–214

Chen C-D, Lin W-Q (2006) 北京的珍贵自然遗产–植物多样性 [Precious natural heritage of Beijing: plant diversity]. Acta Ecol Sin 26:969–979 (in Chinese)

Clemants S, Moore G (2003) Patterns of species richness in eight northeastern United States cities. Urban Habitat 1:4–16

Conway T, Urbani L (2007) Variations in municipal urban forestry policies: a case study of Toronto, Canada. Urban For Urban Green 6:181–192

CPC (Cultivated Plant Code) (2009) Scr Horticult 10:1–184

Denslow JS (1995) Disturbance and diversity in tropical rain forests: the density effect. Ecol Appl 5:962–968

Deutschewitz K, Lausch A, Kuhn I, Klotz S (2003) Native and alien plant species richness in relation to spatial heterogeneity on a regional scale in Germany. Glob Ecol Biogeogr 12:299–311

Didham RK, Tylianakis JM, Gernmell NJ, Rand TA, Ewers RM (2007) Interactive effects of habitat modification and species invasion on native species decline. Trends Ecol Evol 22:489–496

Dwyer J, McPherson EG, Schroeder HW, Rowntree RA (1992) Assessing the benefits and costs of the urban forest. J Arboric 18:227–234

Escobedo FJ, Nowak DJ, Wagner JE, De la Maza CL, Rodríguez M, Crane DE, Hernández J (2006) The socioeconomics and management of Santiago de Chile's public urban forests. Urban For Urban Green 4:105–114

Faeth SH, Bang C, Saari S (2011) Urban biodiversity: patterns and mechanisms. Ann N Y Acad Sci 1223:69–81

Gaubatz O (1995) Changing Beijing. Geogr Rev 85:79–96

Goldberg DE, Miller TE (1990) Effects of different resource additions on species diversity in an annual plant community. Ecology 71:213–225

Grimm NB, Faeth SH, Golubiewski NE, Redman CL, Wu J, Bai X, Briggs JM (2008) Global change and the ecology of cities. Science 319:756–760

Grove JM, Troy AR, O'Neil-Dunne JPM, Burch WR, Cadenasso ML, Pickett STA (2006) Characterization of households and its implications for the vegetation of urban ecosystems. Ecosystems 9:578–597

Haw SG (2007) Beijing—a concise history. Routledge, Oxon

He SY (1992) Flora of Beijing, 2 vols, 2nd edn (reprinted with supplement). Beijing Press, Beijing (in Chinese)

Heikkinen RK, Luoto M, Araújo MB, Virkkala R, Thuiller W, Sykes MT (2006) Methods and uncertainties in bioclimatic envelope modeling under climate change. Prog Phys Geogr 30:751–777

Hope D, Gries C, Zhu W et al (2003) Socioeconomics drives urban plant diversity. Proc Nat Acad Sci USA 100:8788–8792

Iverson LR, Cook EA (2000) Urban forest cover of the Chicago region and its relation to household density and income. Urban Ecosyst 4:105–124

James P, Bound D (2009) Urban morphology types and open space distribution in urban core areas. Urban Ecosyst 12:417–424

Jetz W, Wilcove DS, Dobson AP (2007) Projected impacts of climate and land-use change on the global diversity of birds. PLoS Biol 5:1211–1219

Kirkpatrick JB, Daniels GD, Zagorski T (2007) Explaining variation in front gardens between suburbs of Hobart, Tasmania, Australia. Landsc Urban Plan 79:314–322

Kowarik I (2008) On the role of alien species in urban flora and vegetation. In: Marzluff JM, Shulenberger E, Endlicher W, Alberti M, Bradley G, Ryan C, Simon U, ZumBrunnen C (eds) Urban ecology—an international perspective on the interaction between humans and nature. Springer, New York, pp 321–338

Kowarik I (2011) Novel urban ecosystems, biodiversity, and conservation. Environ Pollut 159:1974–1983

Kowarik I, Fischer LK, Säumel I, von der Lippe M, Weber F, Westermann JR (2011) Plants in urban settings: from patterns to mechanisms and ecosystem services. In: Endlicher W et al (eds) Perspectives in urban ecology. Springer, Berlin, pp 135–166

Liang Y-Q, Li J-W, Li J, Valimaki SK (2008) Impact of urbanization on plant diversity: a case study in built-up areas of Beijing. For Stud China 10:179–188

Luck WG, Smallbone LT, O'Brien R (2009) Socio-economics and vegetation change in urban ecosystems: patterns in space and time. Ecosystems 12:604–620

MacGregor-Fors I (2010) How to measure the urban–wildland ecotone: redefining 'peri-urban' areas. Ecol Res 25:883–887

MacGregor-Fors I, Ortega-Álvarez R, Schondube JE (2009) On the ecological quality of urban systems: an ornithological perspective. In: Graber D, Birmingham KA (eds) Urban planning in the 21st century. Nova Science Publishers, Huntington, pp 51–66

Martínez-Carretero EE (2010) The synanthropic flora in the Mendoza (Argentina) urban area. Urban Ecosyst 13:237–242

McPherson BA, Mori SR, Wood DL, Storer AJ, Svihra P, Kelly NM, Standiford RB (2005) Sudden oak death: disease progression in oaks and tanoaks. For Ecol Manage 213:71–89

MCPRC (Ministry of Construction of the People's Republic of China) (1998) 中国城市规划基本术语规范 GB/T 50280-98 [Standard of basic terms of urban planning GB/T 50280-98]. China Architecture & Building Press, Beijing (in Chinese)

Melles SJ, Glenn S, Martin K (2003) Urban bird diversity and landscape complexity: species–environment associations along a multi-scale habitat gradient. Conserv Ecol 7:5

Meng X-S, Ouyang Z-Y, Cui G-F, Li W-F, Zheng H (2004) 北京城市生态系统植物种类构成及其分布特征 [Composition of plant species and their distribution patterns in Beijing urban ecosystem]. Acta Ecol Sin 24:2200–2206 (in Chinese)

Montgomery MR (2008) The urban transformation of the developing world. Science 219:761–764

Mooney HA, Hobbs RJ (2000) Introduction. In: Mooney HA, Hobbs RJ (eds) Invasive species in a changing world. Island Press, Washington, DC, pp xiii–xv

Mu FY, Zhang ZX, Chi YB, Liu B, Zhou QB, Wang CY, Tan WB (2007) Dynamic monitoring of built-up area in Beijing during 1973–2005 based on multi-original remote sensed images. J Remote Sens 11:257–268 (in Chinese)

Niklas KJ, Midgley JJ, Rand RH (2003) Size-dependent species richness: trends within plant communities and across latitude. Ecol Lett 6:631–636

Ortega-Álvarez R, Hernández-Correa HA, MacGregor-Fors I (2011) Trees and the city: diversity and composition along a neotropical gradient of urbanization. Int J Ecol 2011:704084

Pärtel M, Zobel M (1999) Small-scale plant species richness in calcareous grasslands determined by the species pool, community age and shoot density. Ecography 22:153–159

Peck R, Olsen C, Devore J (2008) Introduction to statistics and data analysis. Brooks, Belmont

Pickett STA, Cadenasso ML, Grove LM et al (2008) Beyond urban legends: an emerging framework of urban ecology, as illustrated by the Baltimore Ecosystem Study. Bioscience 58:139–150

Profous GV (1992) Trees and urban forestry in Beijing, China. J Arboric 18:145–154

Pyšek P (1998) Alien and native species in Central European urban floras: a quantitative comparison. J Biogeogr 25:155–163

R Development Core Team (2010) R: a language and environment for statistical computing. R Foundation for Statistical Computing, Vienna. http://www.R-project.org. Accessed July 2011

Solecki WD, Welch J (1995) Urban parks: green spaces or green walls? Landsc Urban Plan 32:93–106

Stevens MHH, Carson WP (1999) Plant density determines species richness along an experimental fertility gradient. Ecology 80:455–465

Szlavecz K, Warren P, Pickett STA (2011) Biodiversity on the urban landscape. In: Cincotta RP, Gorenflo LJ (eds) Human population: its influences on biological diversity, ecological studies. Springer, New York, pp 75–101

Tang Y, Kunzmann KR (2008) The evolution of spatial planning for Beijing. Inform Raumentwicklung 2008:457–470

Troy RA, Grove JM, O'Neil-Dunne JPM, Pickett STA, Cadenasso ML (2007) Predicting opportunities for greening and patterns of vegetation on private urban lands. Environ Manag 40:394–412

Vitousek PM, Mooney HA, Lubchenco J, Melillo JM (1997a) Human domination of Earth's ecosystems. Science 277:494–499

Vitousek PM, D'Antonio CM, Loope LL, Rejmánek M, Westbrooks R (1997b) Introduced species: a significant component of human-caused global change. NZ J Ecol 21:1–16

Walker DA, Leibman MO, Epstein HE et al (2009) Spatial and temporal patterns of greenness on the Yamal Peninsula, Russia: interactions of ecological and social factors affecting the Arctic normalized difference vegetation index. Environ Res Lett 4:045004

Wang H-F, López-Pujol J, Meyerson L, Qiu J-X, Wang X-K, Ouyang Z-Y (2011) Biological invasions in rapidly urbanizing areas: a case study of Beijing, China. Biodivers Conserv 20:2483–2509

Wu Z-Y (1991) The patterns of spermatophytic genera endemic to China. Acta Bot Yunnanica Supplement:1–13 (in Chinese)

Wu Z-Y, Zhou Z-K, Sun H, Li DZ, Peng H (2006) 种子植物分布区类型及其起源和分化 [The areal-types of seed plants and their origin and differentiation]. Yunnan Science and Technology Press, Kunming (in Chinese)

Xu BS (1999) Flora of Shanghai. Shanghai Science and Technology Publishing House, Shanghai (in Chinese)

Zhao J, Ouyang Z, Zheng H, Zhou W, Wang X, Xu W, Ni Y (2010) Plant species composition in green spaces within the built-up areas of Beijing, China. Plant Ecol 209:189–204
Acknowledgments
We are grateful to Mark Goddard for his valuable comments. We thank Zhi-Xin Zhu and Xiao-Ma Li for their help with the figure, Su Liu (Peking University) for the Appendix plant species checking and Juan-Juan Zhao, Xue-Song Meng and others for providing some original data. This study was funded by the National Natural Science Foundation of China (41030744) and it was supported by funding from the State Key Laboratory of Urban and Regional Ecology.
Appendix
Appendix
About this article
Cite this article
Wang, HF., MacGregor-Fors, I. & López-Pujol, J. Warm-temperate, immense, and sprawling: plant diversity drivers in urban Beijing, China. Plant Ecol 213, 967–992 (2012). https://doi.org/10.1007/s11258-012-0058-9
Received:

Accepted:

Published:

Issue Date:
Keywords
Urban ecology

Urbanization

Socio-economics

Spatial

Demographic

Land-use