Abstract
Many semi-arid shrublands in the western US have experienced invasion by a suite of exotic grasses and forbs that have altered community structure and function. The effect of the exotic grasses in this area has been studied, but little is known about how exotic forbs influence the plant community. A 3-year experiment in southern California coastal sage scrub (CSS) now dominated by exotic grasses was done to investigate the influence of both exotic grasses (mainly Bromus spp.) and exotic forbs (mainly Erodium spp.) on a restoration seeding (9 species, including grasses, forbs, and shrubs). Experimental plots were weeded to remove one, both, or neither group of exotic species and seeded at a high rate with a mix of native species. Abundance of all species varied with precipitation levels, but seeded species established best when both groups of exotic species were removed. The removal of exotic grasses resulted in an increase in exotic and native forb cover, while removal of exotic forbs led to an increase in exotic grass cover and, at least in one year, a decrease in native forb cover. In former CSS now converted to exotic annual grassland, a competitive hierarchy between exotic grasses and forbs may prevent native forbs from more fully occupying the habitat when either group of exotics is removed. This apparent competitive hierarchy may interact with yearly variation in precipitation levels to limit restoration seedings of CSS/exotic grassland communities. Therefore, management of CSS and exotic grassland in southern California and similar areas must consider control of both exotic grasses and forbs when restoration is attempted.
This is a preview of subscription content,
to check access.
Access this article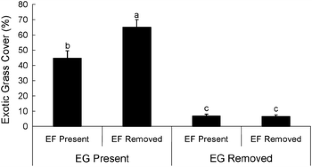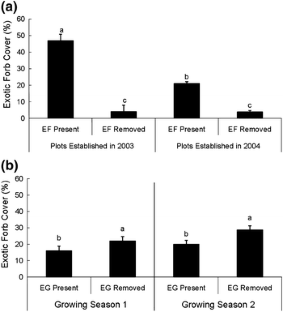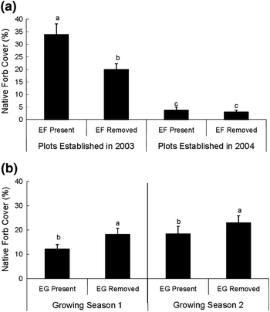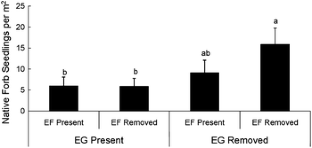 Similar content being viewed by others
References
Allen EB, Forman RTT (1976) Plant species removals and old-field community structure and stability. Ecology 57:1233–1243

Allen EB, Padgett PE, Bytnerowicz E, Minnich R (1998) Nitrogen deposition effects on coastal sage vegetation of southern California. USDA For Serv Gen Tech Report. PSW-GTR-166

Allen EB, Cox RD, Tennant T, Kee SN, Deutschman D (2005) Landscape restoration in southern California forblands: response of abandoned farmland to invasive annual grass control. Israel J Plant Sci 53:237–245

Bowler PA (2000) Ecological restoration of coastal sage scrub and its potential role in habitat conservation plans. Environ Manage 26(Supp 1):S85–S96

Brooks ML (2000) Competition between alien annual grasses and native annual plants in the Mojave desert. Am Midl Nat 144:92–108

Bush JK, Van Auken OW (1989) Soil resource levels and competition between a woody and herbaceous species. Bull Torrey Bot Club 116:22–30

Chesson PL (2000) Mechanisms of maintenance of species diversity. Annu Rev Ecol Syst 31:343–366

Cione NK, Padgett PE, Allen EB (2002) Restoration of a native shrubland impacted by exotic grasses, frequent fire, and nitrogen deposition in southern California. Restor Ecol 10:376–384

Cox RD, Allen EB (2008) Stability of exotic annual grasses following restoration efforts in southern California coastal sage scrub. J Appl Ecol 45:495–504

Cox RD, Anderson VJ (2004) Increasing native diversity of cheatgrass-dominated rangeland through assisted succession. J Range Manage. 57:203–210

D'Antonio CM, Vitousek PM (1992) Biological invasions by exotic grasses, the grass/fire cycle, and global change. Annu Rev Ecol Syst 23:63–87

Diaz S, Symstad AJ, Chapin FS III, Wardle DA, Huenneke LF (2003) Functional diversity revealed by removal experiments. Trends Ecol Evol 18:140–146

DiTomaso JM (2000) Invasive weeds in rangelands: species, impacts, and management. Weed Sci 48:255–265

Dormann CF, Brooker RW (2002) Facilitation and competition in the high Arctic: the importance of the experimental approach. Acta Oecol 23:297–301

Eliason SA, Allen EB (1997) Exotic grass competition in suppressing native shrubland re-establishment. Restor Ecol 5:245–255

Gillespie IG, Allen EB (2004) Fire and competition in a southern California grassland: impacts on the rare forb Erodium macrophyllum. J Appl Ecol 41:643–652

Gillespie IG, Allen EB (2008) Restoring the rare forb Erodium macrophyllum to exotic grassland in southern California. Endanger Species Res. 5:65–72

Hendry GW (1931) The adobe brick as a historical source. Agri Hist 5:110–127

Hendry GW, Kelly MP (1925) The plant content of adobe bricks. Calif Hist Soc Q 4:361–373

Hickman JC (1993) The jepson manual: higher plants of California. UC Press, Berkeley

Jurjavcic NL, Harrison S, Wolf AT (2002) Abiotic stress, competition, and the distribution of the native annual grass Vulpia microstachys in a mosaic environment. Oecologia 130:555–562

Keeley JE, Fotheringham CJ, Baer-Keeley M (2005) Determinants of postfire recovery and succession in Mediterranean-climate shrublands of California. Ecol Appl 15:1515–1534

Laycock WA (1991) Stable states and thresholds of range condition on north American rangelands: a viewpoint. J Range Manage 44:427–433

Lenz TI, Moyle-Croft JL, Facelli JM (2003) Direct and indirect effects of exotic annual grasses on species composition of a south Australia grassland. Austral Ecol 28:23–32

Litav M, Kupernik G, Orshan G (1963) The role of competition as a factor in determining the distribution of dwarf shrub communities in the Mediterranean territory of Israel. J Ecol 51:467–480

Lundberg P, Ranta E, Kaitala V (2000) Species loss leads to community closure. Ecol Lett 3:456–468

Lyons KG, Schwartz MW (2001) Rare species loss alters ecosystem function—invasion resistance. Ecol Lett 4:358–365

Mack RN (1981) Invasion of Bromus tectorum into western North America: an ecological chronicle. Agro-Ecosyst 7:145–165

Mack MC, D'Antonio CM (1998) Impacts of biological invasions on disturbance regimes. Trends Ecol Evol 13:195–198

Mensing S, Byrne R (1998) Pre-mission invasion of Erodium cicutarium in California. J Biogeogr 25:757–762

Minnich RA (2008) California's fading wildflowers: lost legacy and biological invasions. University of California Press, Berkeley

Minnich RA, Dezzani RJ (1998) Historical decline of coastal sage scrub in the riverside-Perris plain, California. West Birds. 29:366–391

Nelson JR, Wilson AM, Goebel CJ (1970) Factors influencing broadcast seeding in bunchgrass range. J Range Manage 23:163–170

SAS Institute (2006) JMP statistics and graphics guide. Cary, NC

Schultz AM, Launchbaugh JL, Biswell HH (1955) Relationship between grass density and brush seedling survival. Ecology 33:226–238

Stylinski CD, Allen EB (1999) Lack of native species recovery following severe exotic disturbance in southern Californian shrublands. J Appl Ecol 36:544–554

Suding KN, Collins SL, Gough L, Clark C, Cleland EE, Gross KL, Milchunas DG, Pennings S (2005) Functional- and abundance-based mechanisms explain diversity loss due to N fertilization. P Natl Acad Sci USA 102:4378–4392

Symstad AJ, Tilman D (2001) Diversity loss, recruitment limitation, and ecosystem functioning: lessons learned from a removal experiment. Oikos 92:424–435

Wardle DA, Bonner KI, Barker GM, Yeates GW, Nicholson KS, Bardgett RD, Watson RN, Ghani A (1999) Plant removals in perennial grassland: vegetation dynamics, decomposers, soil biodiversity, and ecosystem properties. Ecol Monogr 69:535–568

Westman WE (1981) Diversity relations and succession in California coastal sage scrub. Ecology 62:170–184

Wilson SD, Bakker JD, Christian JM, Li X, Ambrose LG, Waddington J (2004) Semiarid old-field restoration: Is neighbor control needed? Ecol Appl 14:476–484
Acknowledgments
We thank Christine Moen, Tom Ash, Jud Monroe, and others at the Western Riverside County Multi-species Habitat Reserve. Several undergraduate and graduate students helped with plot setup and data collection. We are thankful to the UC Riverside Center for Conservation Biology for support. We also thank Jodie Holt, Richard Minnich, three anonymous reviewers, and the Journal's subject editor for comments on previous versions of this manuscript. This project was funded in part by the Shipley-Skinner Endowment to the College of Natural and Agricultural Sciences by the Center for Conservation Biology, and by National Science Foundation DEB 04-21530.
About this article
Cite this article
Cox, R.D., Allen, E.B. The roles of exotic grasses and forbs when restoring native species to highly invaded southern California annual grassland. Plant Ecol 212, 1699–1707 (2011). https://doi.org/10.1007/s11258-011-9942-y
Received:

Accepted:

Published:

Issue Date:

DOI: https://doi.org/10.1007/s11258-011-9942-y
Keywords