Abstract
In the present study, we describe the temporal and spatial variability in recruitment, growth, and mortality rates of seedlings and saplings of two low-density neotropical tree species, Dipteryx odorata and Copaifera reticulata in Eastern Amazonia, Brazil. As both species have important timber and non-timber uses, for each species we compare regeneration parameters among different management scenarios (sites used for timber logging, non-timber product extraction, and undisturbed forests). Results suggest that both species share similar natural regeneration characteristics. These include temporally and spatially asynchronous germination, existence of individuals that have more abundant and frequent fruit production than the average of the population and a positive influence of the mother tree crown on seedling and sapling density. The management activities analyzed did not influence the regeneration parameters of both species, which suggests that timber logging the way it was performed and current rates of D. odorata seed gathering and C. reticulata tapping at the study site are not sufficiently intense to threaten species population. However, some species characteristics, such as their reproductive strategies, light-demanding syndromes, low-dispersal ranges, and high-mortality rates of seedlings make both species vulnerable to exploitation.
Access options
Buy single article
Instant access to the full article PDF.
USD 39.95
Price excludes VAT (USA)
Tax calculation will be finalised during checkout.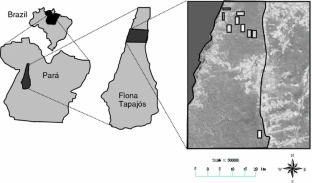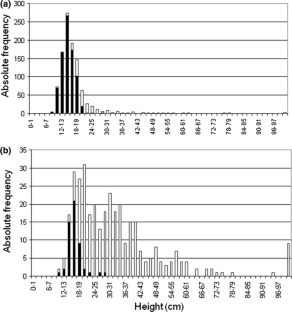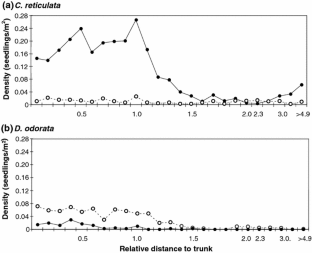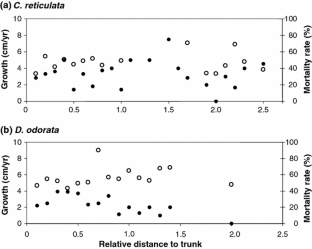 References
Alencar JDC (1984) Forestry studies of a natural population of Copaifera multijuga Leguminosae in Central Amazonia 3. Spatial distribution of pre-existent natural regeneration. Acta Amazonica 14:255–279

Alvarez-Clare S, Kitajima K (2009) Susceptibility of tree seedlings to biotic and abiotic hazards in the understory of a moist tropical forest in Panama. Biotropica 41:47–56

Augspurger CK (1983) Offspring recruitment around tropical trees—Changes in cohort distance with time. Oikos 40:189–196

Clark DA, Clark DB (1984) Spacing dynamics of a tropical rain-forest tree—Evaluation of the Janzen-Connell model. Am Nat 124:769–788

Clark DA, Clark DB (1992) Life-history diversity of canopy and emergent trees in a neotropical rain-forest. Ecol Monogr 62:315–344

Comita LS, Aguilar S, Pérez R, Lao S, Hubbell SP (2007) Patterns of woody plant species abundance and diversity in the seedling layer of a tropical forest. J Veg Sci 18:163–174

Condit R, Sukumar R, Hubbell SP, Foster RB (1998) Predicting population trends from size distributions, a direct test in a tropical tree community. Am Nat 152:495–509

Connell JH (1971) On the role of natural enemies in preventing competitive exclusion in some marine animals and in rain forest trees. In: den Boer PJ, Gradwell GR (eds) Dynamics of populations. Center for Agricultural Publications and Documentation, Wageningen, pp 298–310

Connell JH, Green PT (2000) Seedling dynamics over thirty-two years in a tropical rain forest tree. Ecology 81:568–584

Da Silva Dias A (2001) Consideraciones sociales y silviculturales para el manejo forestal diversificado en una comunidad ribereña en la "Floresta Nacional do Tapajós", Amazonía Brasileña. Dissertation, Centro Agronómico Tropical de Investigación y Enseñanza, Turrialba, Costa Rica

Da Silva Dias A, Campos JJ, Villalobos Soto R, Louman B, Gonçalvez L (2002) Manejo forestal diversificado en una comunidad ribereña de la Amazonía brasileña: consideraciones sociales y silviculturales. Revista Forestal Centroamericana 38:78–84

Denslow JS (1980) Notes on the seedling ecology of a large-seeded species of Bombacaceae. Biotropica 12:220–222

Forget PM, Rankin de Merona JM, Julliot C (2001) The effects of forest type, harvesting and stand refinement on early seedling recruitment in a tropical rain forest. J Trop Ecol 17:593–609

Fredericksen TS, Mostacedo B (2000) Regeneration of timber species following selection logging in a Bolivian tropical dry forest. For Ecol Manag 131:47–55

Fredericksen TS, Putz FE (2003) Silvicultural intensification for tropical forest conservation. Biodivers Conserv 12:1445–1453

Fredericksen TS, Justiniano MJ, Mostacedo B, Kennard D, McDonald L (2000) Comparative regeneration ecology of three leguminous timber species in a Bolivian tropical dry forest. New Forest 20:45–64

Gebrehiwot K, Muys B, Haile M, Mitloehner R (2003) Introducing Boswellia Papyrifera (Del.) Hochst and Its Non-Timber Forest Product, Frankincense. Int For Rev 5:348–353

Guariguata MR, Pinard MA (1998) Ecological knowledge of regeneration from seed in neotropical forest trees: implications for natural forest management. For Ecol Manag 112:87–99

Guariguata MR, Licona JC, Mostacedo B, Cronkleton P (2009) Damage to Brazil nuts trees (Bertholletia excelsa) during selective timber harvesting in Northern Bolivia. For Ecol Manag 258:788–793

Hall P, Bawa K (1993) Methods to assess the impact of extraction of non-timber tropical forest products on plant population. Econ Bot 47:234–247

Herrera CM, Jordano P, López Soria L, Amat JA (1994) Recruitment of a mast-fruiting, bird-dispersed tree—Bridging frugivore activity and seedling establishment. Ecol Monogr 64:315–344

Herrero-Jáuregui C (2009) Gestión integrada de los recursos forestales en el bosque tropical húmedo: ecología de dos especies de uso múltiple. Dissertation, Universidad Complutense de Madrid

Herrero-Jáuregui C, García-Fernández C, Sist P, Casado MA (2009) Conflict of use for multi-purpose tree species in the state of Pará, eastern Amazonia, Brazil. Biodivers Conserv 18:1019–1044

Hubbell S, Foster R (1986) Commonness and rarity in a neotropical forest: implications for tropical tree conservation. In: Soule M (ed) Conservation biology: the science of scarcity and diversity. Sinauer Associates, Sunderland, pp 205–231

Hurtt GC, Pacala SW (1995) The consequences of recruitment limitation—Reconciling chance, history and competitive differences between plants. J Theor Biol 176:1–12

Janzen DH (1970) Herbivores and the number of tree species in tropical forests. Am Nat 104:501–528

Kainer KA, Wadt LHO, Staudhammer CL (2007) Explaining variation in Brazil nut fruit production. For Ecol Manag 250:244–255

Langenheim JH (2003) Plant resins: chemistry, evolution, ecology and ethnobotany. Timber Press, Portland

Martins-da-Silva RCV (2006) Taxonomía das espécies de Copaifera L. (Leguminosae- Caesalpinioideae) ocorrentes na Amazônia Brasileira. Dissertation, Universidade Federal do Rio de Janeiro

Maués MM (2006) Estratégias reprodutivas de espécies arbóreas e a sua importância para o manejo e conservação florestal: Floresta Nacional do Tapajós (Belterra-PA). Dissertation, Universidade de Brasília

Menton M (2003) Effects of logging on non-timber forest product extraction in the Brazilian Amazon: community perceptions of change. Int For Rev 5:97–105

Peres CA, Baider C, Zuidema PA et al (2003) Demographic threats to the sustainability of Brazil nut exploitation. Science 302:2112–2114

Pinard MA, Putz FE, Tay J, Sullivan TE (1995) Creating timber harvest guidelines for a reduced impact logging project in Malaysia. J For 93:41–45

Procópio LC, RdS Secco (2008) The importance of botanical identification in forest inventories: the example of "tauari" - Couratari spp. and Cariniana spp., Lecythidaceae - in two timber areas of the State of Para. Acta Amazonica 38(1):31–42

Rijkers T, Ogbazghi W, Wessel M, Bongers F (2006) The effect of tapping for frankincense on sexual reproduction in Boswellia papyrifera. J Appl Ecol 43:1188–1195

Salick J, Mejia A, Anderson T (1995) Non-timber forest products integrated with natural forest management, Rio San Juan, Nicaragua. Ecol Appl 5:878–895

Sampaio PTB (1999) Copaíba: Copaifera multijuga. In: Clay JW, Clement CR, Sampaio PTB (eds) Biodiversidade Amazônica: Exemplos e Estratégias de Utilização. INPA, Manaus, pp 207–215

Schulze M (2003) Ecology and behaviour of nine timber tree species in Pará, Brazil: links between species life history and forest management and conservation. Dissertation, Pennsylvania State University

Schulze M, Grogan J, Landis RM, Vidal E (2008) How rare is too rare to harvest? Management challenges posed by timber species occurring at low densities in the Brazilian Amazon. For Ecol Manag 256:1443–1457

Soehartono T, Newton AC (2000) Conservation and sustainable use of tropical trees in the genus Aquilaria I. Status and distribution in Indonesia. Biol Conserv 96:83–94

Synnott T (1979) A manual of permanent plot procedure for tropical rainforests. Commonwealth Forestry Institute, Oxford

Ticktin T (2004) The ecological implications of harvesting non-timber forest products. J Appl Ecol 41:11–21

Uchida T, Campos MAA (2000) Influência do sombreamento no crescimento de mudas de cumaru (Dipteryx odorata (Aubl.) Willd.-Fabaceae) cultivadas em viveiro. Acta Amazonica 30(1):107–114

Vander Wall SB (2001) The evolutionary ecology of nut dispersal. Bot Rev 67:74–117

Wadt LHO, Kainer KA, Gomes-Silva DAP (2005) Population structure and nut yield of a Bertholletia excelsa stand in Southwestern Amazonia. For Ecol Manag 211:371–384

Wadt LHO, Kainer KA, Staudhammer CL, Serrano ROP (2008) Sustainable forest use Brazilian extractive reserves: natural regeneration of Brazil nut in exploited populations. Biol Conserv 141:332–346

Wassie A, Sterck FJ, Teketay D, Bongers F (2009) Tree regeneration in Church Forests of Ethiopia: effects of microsites and management. Biotropica 41:110–119

Whitmore TC (1989) Canopy gaps and the two major groups of forest trees. Ecology 70:536–538

Zhang L, Brockelman WY, Allen MA (2008) Matrix analysis to evaluate sustainability: the tropical tree Aquilaria crassna, a heavily poached source of agarwood. Biol Conserv 141:1676–1686

Zuidema PA, Boot RGA (2002) Demography of the Brazil nut tree (Bertholletia excelsa) in the Bolivian Amazon. Impact of seed extraction on recruitment and population dynamics. J Trop Ecol 18:1–31
Aknowledgments
This research is the result of cooperation between Madrid Regional Govt. (YOSC000121), CIRAD and Embrapa Amazônia Oriental. It was partially funded by the "Floresta em Pé" Project. A post-doctoral research contract with the University Rey Juan Carlos (Madrid) through REMEDINAL has enabled the drafting of the final manuscript. Thanks to Raimundo Nonato Silva Feitosa (dead in 2008) and several extractivists from the Community of Pedreira who made the field work possible. We are indebted to two anonymous reviewers for valuable comments.
About this article
Cite this article
Herrero-Jáuregui, C., García-Fernández, C., Sist, P.L.J. et al. Recruitment dynamics of two low-density neotropical multiple-use tree species. Plant Ecol 212, 1501–1512 (2011). https://doi.org/10.1007/s11258-011-9924-0
Received:

Accepted:

Published:

Issue Date:

DOI: https://doi.org/10.1007/s11258-011-9924-0
Keywords