Abstract
Hedychium gardnerianum is a major invader of native Hawaiian forests and suspected of smothering native understory species and preventing native tree seedlings' establishment. In this study, effects on species composition in six vegetation layers of a Hawaiian rainforest were examined (Tree Layer 1, Tree Layer 2, Fern-Shrub Layer, Herb Layer, Bryophyte–Herb Layer, and Bryophyte Layer). Three different area types were compared, which included (i) Natural area types with no influence of non-native species, (ii) Ginger area types with a Hedychium gardnerianum dominated herb layer, and (iii) Cleared area types, which were treated with herbicide to remove alien species in 1998. Species composition sampled in 2004 of the upper three vegetation layers (Tree Layer 1, Tree Layer 2, and Fern-Shrub Layer) differed little. The lower three vegetation layers (Herb Layer, Bryophyte–Herb Layer, and Bryophyte Layer) showed highly significant differences. Species composition in the Ginger area types showed notable abundances of non-native Psidium cattleianum, but low coverage of native species. In the area freed of Hedychium gardnerianum (Cleared area types), native species are regenerating, although it still reveals signs of disturbance. If this area is managed to prevent reinvasion, then it is likely to regain a natural forest structure.
Access options
Buy single article
Instant access to the full article PDF.
US$ 39.95
Tax calculation will be finalised during checkout.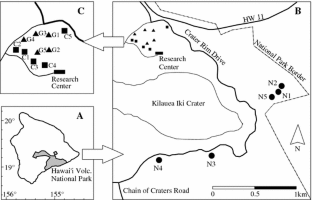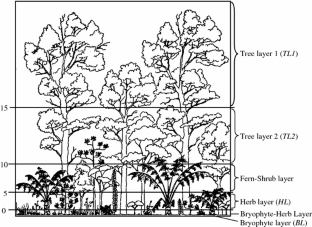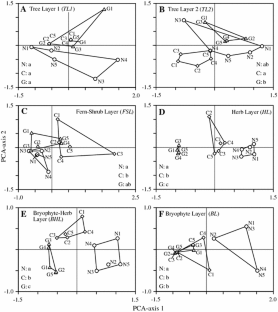 References
Anderson RC, Gardner DE (1999) An evaluation of the wilt-causing bacterium Ralstonia solanacearum as a potential biological control agent for the alien kahili ginger (Hedychium gardnerianum) in Hawaiian forests. Biol Control 15:89–96

Asner GP, Vitousek PM (2005) Remote analysis of biological invasion and biogeochemical change. Proc Natl Acad Sci USA 102:4383–4386

Boehmer HJ (2005) Dynamik und Invasibilitaet des montanen Regenwaldes auf der Insel Hawaii (Dynamics and Invasibility of Hawaii′s Montane Rainforest). Habilitation Thesis, TU Muenchen, Munich

Boehmer HJ, Heger T, Trepl L (2001) Case studies on alien species in Germany - Robinia pseudoacacia, Reynoutria japonica, Senecio inaequidens, Dreissena polymorpha, Ondatra zibethicus, Mustela vison. Umweltbundesamt, Berlin

Burton PJ (1982) The effect of temperature and light on Metrosideros polymorpha seed germination. Pac Sci 36:229–240

Burton PJ, Mueller-Dombois D (1984) Response of Metrosideros polymorpha seedlings to experimental canopy opening. Ecology 65:779–791

Corn CA (1972) Seed dispersal methods in Hawaiian Metrosideros. In: Behnke JA (ed) Challenging biological problems: directions towards their solution. Oxford University Press, New York, USA, pp 422–435

Corn CA (1979) Variation in Hawaiian Metrosideros. University of Hawaii, Honolulu

Cronk CB, Fuller JL (1995) Plant invaders: the threat to natural ecosystems. Chapman Hall, London

Cross JR (1982) The invasion and impact of Rhododendron in native Irish vegetation. In: White J (ed) Studies on Irish vegetation. Royal Dublin Society, Dublin, pp 209–220

D'Antonio CM, Hughes RF, Mack M, Hitchcock D, Vitousek PM (1998) The response of native species to removal of invasive exotic grasses in a seasonally dry Hawaiian woodland. J Veg Sci 9:699–712

Dierschke H (1994) Pflanzensoziologie: Grundlagen und Methoden. Ulmer, Stuttgart

Drake DR (1992) Seed dispersal of Metrosideros polymorpha (Myrtaceae) – a pioneer tree of Hawaiian lava flows. Am J Bot 79:1224–1228

Drake DR, Pratt LW (2001) Seedling mortality in Hawaiian rain forest: the role of small-scale physical disturbance. Biotropica 33:319–323

Field C, Mooney HA (1986) The photosynthesis–nitrogen relationship in wild plants. In: Givnish TJ (ed) On the economy of plant form and function. Cambridge University Press, Cambridge, pp 25–55

Fosberg FR, Sachet M-H, Oliver R (1987) A geographical checklist of the Micronesian monocotyledonae. Micronesia 20:1–126

Grubb PJ, Tanner EVJ (1976) The montane forests and soils of Jamaica: a reassessment. J Arnold Arbor 57:313–368

Harris R, Steward C, Syrett P (1996) Wild ginger (Hedychium gardnerianum): prospects for biological control. Landcare Research New Zealand Ltd., Lincoln

Hoffmann GM (1961) Die Stickstoffbindung der Robinie (Robinia psedoacacia L.). Arch fuer Forstwes 10:627–631

Holm S (1979) A simple sequentially rejective multiple test procedure. Scand J Stat 6:65–70

Huenneke LF, Vitousek PM (1990) Seedling and clonal recruitment of the invasive tree Psidium cattleianum: implications for management of native Hawaiian forests. Biol Conserv 53:199–211

Jurko A (1963) Die Veraenderungen der urspruenglichen Waldvegetation durch die Introduktion der Robinie. Ceskoslovensá Ochrana Prirody 1:56–75

Kowarik I (2003) Biologische Invasionen: Neophyten und Neozoen in Mitteleuropa. Ulmer, Stuttgart

Lepš J, Šmilauer P (2003) Multivariate analysis of ecological data using CANOCO. Oxford University Press, Oxford

Macdonald IAW, Thebaud C, Strahm WA, Strasberg D (1991) Effects of alien plant invasions on native vegetation remnants on La Réunion (Mascarene-Islands, Indian-Ocean). Environ Conserv 18:51–61

Mackee HS (1994) Catalogue des plantes introduites et cultivées en Nouvelle-Calédonie. Muséum National d'Histoire Naturelle, Paris

Mastin, LG, Christiansen, RL, Swanson, DA, Stauffer, PH, Hendley II JW (1999) Explosive eruptions at Kilauea Volcano, Hawai'i? USGS Fact Sheet-132-98

Medeiros AC, Loope LL, Anderson SJ (1993) Differential colonization by epiphytes on native (Cibotium spp.) and alien (Cyathea cooperi) tree ferns in a Hawaiian rain forest. Selbyana 14:71–74

Mueller-Dombois D (1987) Forest dynamics in Hawaii. Trends Ecol Evol 2:216–220

Mueller-Dombois D (2000a) Succession and zonation in the Hawaiian Islands. In: White PS (ed) Vegetation science in retrospect and perspective: proceedings of the 41st IAVS symposium, Uppsala. Opulus Press, Uppsala, pp 203–206

Mueller-Dombois D (2000b) Succession and zonation of vegetation in the volcanic mountains of the Hawaiian Islands. Acta Phytogeogr Suecica 85:31–40

Mueller-Dombois, D, Bridges, KW, Carson, HL (1981) Island ecosystems: biological organization in selected Hawaiian communities. US/IBP Synthesis Series 15. Hutchinson-Ross Publ. Co., Stroudsburg. Distributed by Academic Press

Naik VN, Panigrahi G (1961) Genus Hedychium in eastern India. Bull Bot Surv India 3:67–73

Neser S (1980) Silky hakea. In: Stirton CH (ed) Plant invaders: beautiful but dangerous. Cape Town Department of Nature Conservation, Cape Town, pp 76–77

Office of Technology Assessment U.S.C. (1993) Harmful nonindigenous species in the United States. US Congress - US Government Printing Office, Washington, DC

Palmer DD (2003) Hawai'i's ferns and fern allies. University of Hawai'i Press, Honolulu

Santiago LS (2000) Use of coarse woody debris by the plant community of a Hawaiian montane cloud forest. Biotropica 32:633–641

Schaal S (1993) Draft of the english version of the Ginger Project. University of Tuebingen, Tuebingen

Smith A (1979) Flora Vitiensis nova: a new flora of Fiji. National Tropical Botanical Garden, Lawai, Kauai, Hawaii

Smith, CW (1985) Impact of alien plants on Hawai'i's native biota. In: Stone CP, Scott JM (eds) Hawai'i's terrestrial ecosystems, preservation and management: proceedings of a symposium held June 5–6, 1984 at Hawai'i Volcanoes National Park. University of Hawai'i Cooperative National Park Resources Studies Unit, Honolulu, pp 180–250

Space JC, Flynn T (2002) Report to the Government of the Cook Islands on invasive plant species of environmental concern. USDA Forest Service, Honolulu

Staples GW, Imada CT, Hoe WJ, Smith CW (2004) A revised checklist of Hawaiian mosses. Trop Bryol 25:35–69

Stone CP, Pratt LW (1994) Hawai'i's plants and animals: biological sketches of Hawaii Volcanoes National Park. University of Hawai'i, Cooperative National Park Resources Studies, Honolulu

Ter Braak JF, Šmilauer P (2002) CANOCO reference manual and CanoDraw for windows user's guide: software for canonical community ordination (version 4.5). Biometrics, Wageningen, The Netherlands

Van der Maarel E (1979) Multivariate methods in phytosociology, with reference to the Netherlands. In: Werger MJA (ed) The study of vegetation. Junk, The Hague, pp 161–225

Vitousek PM (1986) Biological invasions and ecosystem properties: can species make a difference? In: Mooney HA, Drake JA (eds) Ecology of biological invasions of North America and Hawaii. Springer, New York, pp 163–178

Vitousek PM (2004) Nutrient cycling and limitation: Hawai'i as a model system. Princeton University Press, Princeton

Vitousek PM, Walker LR (1989) Biological invasion by Myrica faya in Hawai'i: plant demography, nitrogen fixation, and ecosystem effects. Ecol Monogr 59:247–265

Vitousek PM, Walker LR, Whiteaker LD, Mueller-Dombois D, Matson PA (1987) Biological invasion of Myrica faya alters ecosystem development in Hawai'i. Science 238:802–804

Vitousek PM, Gerrish G, Turner DR, Walker LR, Mueller-Dombois D (1995) Litterfall and nutrient cycling in four Hawaiian montane rainforests. J Trop Ecol 11:189–203

Vitousek PM, Mooney HA, Lubchenko J, Melillo JM (1997) Human domination of Earth's ecosystems. Science 277:494–499

Wagner WL, Herbst DR, Sohmer SH (1999) Manual of the flowering plants of Hawai'i. Bernice P. Bishop Museum, Honolulu

Wester L (1992) Origin and distribution of adventive alien flowering plants in Hawaii. In: Stone CP, Smith CW, Tunison JT (eds) Alien plant invasions in native ecosystems of Hawai'i: management and research. Cooperative National Park Resources Studies Unit, University at Manoa, Honolulu, pp 99–154

Western Regional Climate Center (2009) Hawaii Volcns NP HQ 54, Hawai'i (511303). www.wrcc.dri.edu/cgi-bin/cliMAIN.pl?hihawa. Accessed 1 Mar 2009

Williams PA, Winks C, Rijkse W (2003) Forest processes in the presence of wild ginger (Hedychium gardnerianum). N Z J Ecol 27:45–54
Acknowledgements
This research was funded by the German Research Foundation (DFG) grant BO 1768 to H. J. Boehmer, Principal Investigator, and a DAAD (German Academic Exchange Service) grant D0334424 for Vanessa Minden. Permission to use the study sites was given by the Hawai'i Volcanoes National Park, U.S. Park Service. We thank Dieter Mueller-Dombois, Jim Jacobi, and Tim Tunison. Special thanks go to Bettina Orthmann for supporting statistical analysis, and to Catherine Reynolds for helpful comments on the manuscript.
About this article
Cite this article
Minden, V., Hennenberg, K.J., Porembski, S. et al. Invasion and management of alien Hedychium gardnerianum (kahili ginger, Zingiberaceae) alter plant species composition of a montane rainforest on the island of Hawai'i. Plant Ecol 206, 321 (2010). https://doi.org/10.1007/s11258-009-9645-9
Received:

Accepted:

Published:
Keywords
Hawai'i

Hawaiian rainforest

Hedychium gardnerianum

Invasive alien species

Psidium cattleianum

Principal Component Analysis