Abstract
Tamarix aphylla is an evergreen tree that has invaded the drawdown zone of Lake Mead, a large reservoir on the Lower Colorado River. We performed competition experiments between T. aphylla and T. ramosissima, and between T. aphylla and the native tree Salix gooddingii. Root:shoot ratios and biomass were higher in S. gooddingii than both Tamarix species, and T. ramosissima grew taller than T. aphylla and S. gooddingii when treatments with single plants and no competition were compared. Tamarix aphylla outcompeted the native S. gooddingii, but had competitive abilities that were slightly inferior to T. ramosissima. The competitive abilities of T. aphylla may and help explain why this species is not as widespread as its congeners, although because of T. aphylla's larger size, the species may be as serious a threat to native riparian ecosystems as T. ramosissima. These results indicate that management actions should be taken to ensure that T. aphylla does not further invade riparian ecosystems in the southwestern United States.
Access options
Buy single article
Instant access to the full article PDF.
USD 39.95
Price includes VAT (USA)
Tax calculation will be finalised during checkout.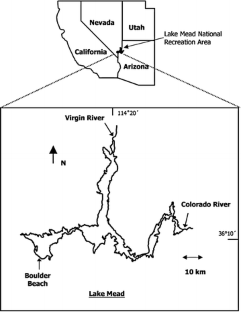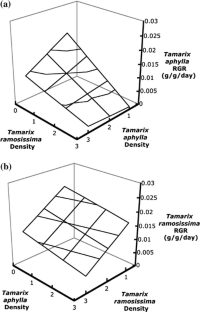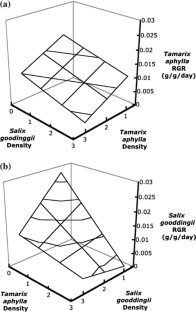 References
Alpkem (1991) Total Kjeldahl nitrogen. The flow solution methodology. Alpkem, Wilsonville, OR, USA

Bazzaz FA (1986) Life history of colonizing plants: some demographic, genetic, and physiological features. In: Mooney HA, Drake JA (eds) Ecology of biological invasions of North America and Hawaii. Springer, New York, pp 96–110

Berry WL (1970) Characteristics of salts secreted by Tamarix aphylla. Am J Bot 57:1226–1230. doi:10.2307/2441362

Brokaw N (1998) Fragments, past, present and future. Trends Ecol Evol 13:382–383. doi:10.1016/S0169-5347(98)01429-3

Busch DE, Ingraham NL, Smith SD (1992) Water uptake in riparian phreatophytes of the southwestern United States: a stable isotope study. Ecol Appl 2:450–459. doi:10.2307/1941880

Busch DE, Smith SD (1993) Effects of fire on water and salinity relations of riparian woody taxa. Oecologia 94:186–194. doi:10.1007/BF00341316

Busch DE, Smith SD (1995) Mechanisms associated with decline of woody species in riparian ecosystems of the southwestern US. Ecol Monogr 63:347–370. doi:10.2307/2937064

Cleverly JR, Smith SD, Sala A, Devitt DA (1997) Invasive capacity of Tamarix ramosissima in a Mojave Desert floodplain: the role of drought. Oecologia 111:12–18. doi:10.1007/s004420050202

Devitt DA, Piorkowski JM, Smith SD, Cleverly JR, Sala A (1997) Plant water relations of Tamarix ramosissima in response to the imposition and alleviation of soil moisture stress. J Arid Environ 36:527–540. doi:10.1006/jare.1996.0216

Di Tomaso JM (1998) Impact, biology, and ecology of saltcedar (Tamarix spp.) in the southwestern United States. Weed Technol 12:326–336

Gaskin JF, Schaal GA (2002) Hybrid Tamarix widespread in U.S. invasion and undetected in native Asian range. Proc Natl Acad Sci USA 99(17):11256–11259. doi:10.1073/pnas.132403299

Gaskin JF, Shafroth PB (2005) Hybridization of Tamarix ramosissima and T. chinensis (saltcedars) and T. aphylla (athel) (Tamaricaceae) in the southwestern USA determined from DNA sequence data. Madrono 52:1–10. doi:10.3120/0024-9637(2005)52[1:HOTRAT]2.0.CO;2

Glenn E, Tanner R, Mendez S, Kehret T, Moore D, Garcia J, Valdes C (1998) Growth rates, salt tolerance, and water use characteristics of native and invasive riparian plants from the delta of the Colorado River, Mexico. J Arid Environ 40:281–294. doi:10.1006/jare.1998.0443

Griffin GF, Stafford Smith DM, Morton SR, Allan GE, Masters KA (1989) Status and implications of the invasion of tamarisk (Tamarix aphylla) on the Finke River, Northern Territory, Australia. J Environ Manage 29:297–315

Grime JP (1977) Evidence for the existence of three primary strategies in plants and its relevance to ecological and evolutionary theory. Am Nat 111:1169–1194. doi:10.1086/283244

Hayes II WE (2007) Competitive abilities and ecological impacts of Tamarix aphylla in southern Nevada. Masters Thesis, University of Nevada, Las Vegas

Hickman JC (ed) (1993) The Jepson manual: higher plants of California. University of California Press, Berkeley, CA, USA

Horton JL, Clark JL (2001) Water table decline alters growth and survival of Salix gooddingii and Tamarix chinensis seedlings. For Ecol Manage 140:239–247. doi:10.1016/S0378-1127(00)00314-5

Litwak M (1957) The influence of Tamarix aphylla on the soil composition in northern Negev of Israel. Bull Res Counc Isr 6D:38–45

Lovich JE, De Gouvenain RC (1998) Saltcedar invasion in desert wetlands of the southwestern United States ecological and political implications. In: Majumdar SK, Miller EW, Brenner FJ (eds) Ecology of wetlands and associated systems. The Pennsylvania Academy of Science, Pennsylvania, pp 448–467

Meyers-Rice B (1997) Weed notes: Tamarix aphylla. The nature conservancy. Available from: http:tncweeds.ucdavis.edu/esadocs/tamaaphy.html

Rejmanek M, Richardson DM (1996) What attributes make some plant species more invasive? Ecology 77:1655–1661. doi:10.2307/2265768

Rundel PW, Gibson AC (1996) Ecological communities and processes in a Mojave Desert ecosystem. Cambridge University Press, Cambridge, UK

Sala A, Smith SD, Devitt DA (1996) Water use by Tamarix ramosissima and associated phreatophytes in a Mojave Desert floodplain. Ecol Appl 6:888–898. doi:10.2307/2269492

Shafroth PB, Friedman JM, Ischinger LS (1995) Effects of salinity on establishment of Populus fremontii (cottonwood) and Tamarix ramosissima (saltcedar) in the southwestern United States. Great Basin Nat 55:58–65

Sher AA, Marshall DL (2003) Seedling competition between native Populus deltoides (Salicaceae) and exotic Tamarix ramosissima across water regimes and substrate types. Am J Bot 90:413–422. doi:10.3732/ajb.90.3.413

Sher AA, Marshall DL, Gilbert SA (2000) Competition between native Populus deltoides and invasive Tamarix ramosissima and the implications for reestablishing flooding disturbance. Conserv Biol 14:1744–1754. doi:10.1046/j.1523-1739.2000.99306.x

Sher AA, Marshall DL, Taylor JP (2002) Establishment patterns of native Populus and Salix in the presence of invasive nonnative Tamarix. Ecol Appl 12:760–772. doi:10.1890/1051-0761(2002)012[0760:EPONPA]2.0.CO;2

Smith SD, Devitt DA, Sala A, Cleverly JR, Busch DE (1998) Water relations of riparian plants from warm desert regions. Wetlands 18:687–696

Tallent-Halsell NG, Walker LR (2002) Responses of Salix gooddingii and Tamarix ramosissima to flooding. Wetlands 22:776–785

Vandersande MW, Glenn EP, Walworth JL (2001) Tolerance of five riparian plants from the lower Colorado River to salinity drought and inundation. J Arid Environ 49:147–159

Waisel Y (1960a) Ecological studies on Tamarix aphylla (L.) Karst. I. Distribution and reproduction. Phyton 15:7–17

Waisel Y (1960b) Ecological studies on Tamarix aphylla (L.) Karst. II. The water economy. Phyton 15:19–28

Walker LR, Smith SD (1997) Impacts of invasive plants on community and ecosystem properties. In: Luken JO, Thieret JW (eds) Assessment and management of plant invasions. Springer, New York, NY, USA, pp 69–86

Walker LR, Barnes PL, Powell EA (2006) Tamarix aphylla: a newly invasive tree in southern Nevada. West N Am Nat 66:191–201

Walker LR, Clarkson BD, Silvester WB, Clarkson BR (2003) Colonization dynamics and facilitative impacts of a nitrogen-fixing shrub in primary succession. J Veg Sci 14:277–290

Williams PA, Wiser S (2004) Determinants of regional and local patterns in floras of braided riverbeds in New Zealand. J Biogeogr 31:1355–1372
Aknowledgements
We would like to thank Chad Cross, Dale Devitt, Stan Smith, and two anonymous reviewers for their helpful comments on the manuscript. We would also like to thank Beverly Bovey, Stephanie Gayvert, Lauren Kaminski, Laura Megill, Edmund Redfield, Anna Sher, and Nita Tallent-Halsell for their assistance and camaraderie. This project was funded through the Clark County Desert Conservation Program.
About this article
Cite this article
Hayes, W.E., Walker, L.R. & Powell, E.A. Competitive abilities of Tamarix aphylla in southern Nevada. Plant Ecol 202, 159–167 (2009). https://doi.org/10.1007/s11258-008-9569-9
Received:

Accepted:

Published:

Issue Date:
Keywords
Tamarix
Salix

Competition

Invasion

Riparian