Abstract
Although modern forestry takes into consideration the analysis of the effects of forest management on plant structure, diversity and seedlings, little is known about how those parameters respond to harvest techniques in the Mediterranean region. We investigated the effect of three different harvest intensities, respect to uncut controls, on understory plant species functional groups, richness, diversity and pine seedlings in a natural Maritime pine stand in Spain, three years after harvesting. The harvest treatments produced a reduction of the number of Pinus pinaster seedlings and woody species cover, and an increase of species richness (total and of annual species) and plant cover of annual species respect to control plots (CO). The Shannon diversity values showed no differences between treatments. These results emphasize that the tree harvest treatments analyzed are not suitable for the management of this P. pinaster stand. Otherwise, the reduction of pine seedling density by harvest treatments and the changes in richness and cover of functional groups would not induce the natural regeneration of this stand maintaining the understory plant layer.
Access options
Buy single article
Instant access to the full article PDF.
US$ 39.95
Tax calculation will be finalised during checkout.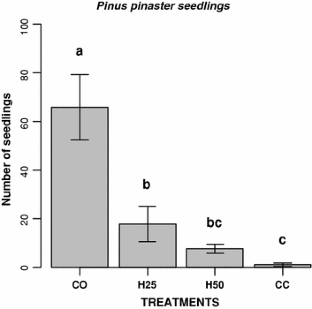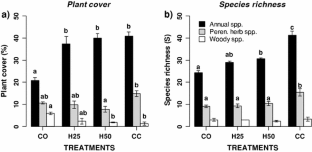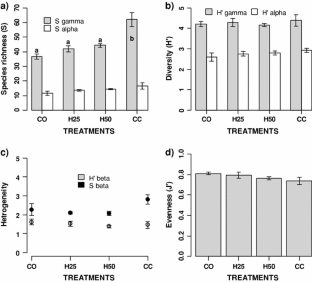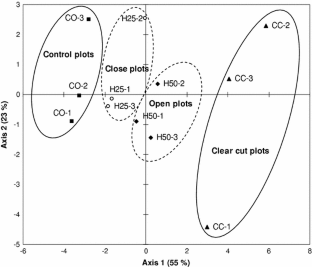 References
Alía R, Martín R, de Miguel J, Galera RM, Agúndez D, Gordo J et al (1996) Regiones de procedencia Pinus pinaster Ait. DGCN, Madrid

Alrababah MA, Alhamad MA, Suwaileh A, Al-Gharaibeh M (2007) Biodiversity of semi-arid Mediterranean grasslands: impact of grazing and afforestation. Appl Veg Sci 10:257–264. doi:10.1658/1402-2001(2007)10[257:BOSMGI]2.0.CO;2

Aussenac G (2000) Interactions between forest stands and microclimate: ecophysiological aspects and consequences of silviculture. Ann Sci 57:287–301. doi:10.1051/forest:2000119

Bravo-Oviedo A, del Río M, Montero G (2007) Geographic variation and parameter assessment in generalized algebraic difference site index modeling. For Ecol Manag 247:107–119

Calvo L, Santalla S, Valbuena L, Marcos E, Tárrega R, Luis-Calabuig E (2008) Post-fire natural regeneration of Pinus pinaster forest in NW Spain. Plant Ecol. doi:10.1007/s11258-007-9362-1

Castro J, Zamora R, Hódar JA, Gómez JM (2004) Seedling establishment of boreal tree species (Pinus sylvestris) at its southern most distribution limit: consequences of being in a marginal Mediterranean habitat. J Ecol 92:266–277. doi:10.1111/j.0022-0477.2004.00870.x

Decocq G, Aubert M, Dupont F, Alard D, Saguez R, Wattez-Franger A et al (2004) Plant diversity in a managed temperate deciduous forest: understory response to two silvicultural systems. J Appl Ecol 41:1065–1079. doi:10.1111/j.0021-8901.2004.00960.x

Eshel A, Henig-Sever N, Ne'eman G (2000) Spatial variation of seedling distribution in an east Mediterranean pine woodland at the beginning of post-fire succession. Plant Ecol 148:175–182. doi:10.1023/A:1009880416760

Fahey RT, Puettmann KJ (2007) Ground-layer disturbance and initial conditions influence gap partitioning of understory vegetation. J Ecol 95:1098–1109. doi:10.1111/j.1365-2745.2007.01283.x

Fredericksen TS, Ross BD, Hoffman W, Morrison ML, Beyea J, Johnson B, Lester MB, Ross E (1999) Short-term understory plant community responses to timber-harvesting intensity on non-industrial private forestlands in Pennsylvania. For Ecol Manag 116:129–139

Gilliam FS (2002) Effects of harvesting on herbaceous layer diversity of a central Appalachian hardwood forest in West Virginia, USA. For Ecol Manag 155:33–43

Gilliam FS, Turril NL, Adams MB (1995) Herbaceous-layer and overstory species in clear-cut and mature Appalachian hardwood forests. Ecol Appl 5:947–955. doi:10.2307/2269345

Gómez-Aparicio L, Gómez JM, Zamora R, Boettinger JL (2005) Canopy vs soil effects of shrubs facilitating tree seedlings in Mediterranean montane ecosystems. J Veg Sci 16:191–198. doi:10.1658/1100-9233(2005)016[0191:CVSEOS]2.0.CO;2

Götmark F, Paltto H, Norden B, Götmark E (2005) Evaluating partial cutting in broadleaved temperate forest under strong experimental control: short-term effects on herbaceous plants. For Ecol Manag 214:124–141

Halpern CA, Spies TA (1995) Plant species diversity in natural and managed forests of the Pacific Northwest. Ecol Appl 5:913–934. doi:10.2307/2269343

Härdtle W, von Oheimb G, Wesphal C (2003) The effects of light and soil conditions on the species richness of the ground vegetation of deciduous forest in northern Germany (Schleswig-Holstein). For Ecol Manag 182:327–338

Hughes JW, Fahey TJ (1991) Colonization dynamics of herbs and shrubs in a disturbed northern hardwood forest. J Ecol 79:605–616. doi:10.2307/2260656

Hummel SS (2003) Managing structural and compositional diversity with silviculture. In: Monserud RA, Haynes RW, Johnson AC (eds) Compatible forest management. Kluwer Academic Publishers, the Netherlands, pp 85–120

Intergovernmental Panel on Climate Change (IPCC) (2007) The physical science basis. Cambridge University Press, New York

Jobidon R (1990) Short-term effect of three mechanical site preparation methods on species diversity. Tree Plant Notes 41:39–42

Junta de Castilla y León (1988) Análisis del medio físico de Segovia. EPYPSA, Valladolid

Kimmins JP (2004) Forest ecology: a foundation for sustainable forest management and environmental ethics in forestry. Prentice Hall, NJ

Krebs CJ (1999) Ecological methodology. Addison-Welsey Educational Publishers, Menlo Park, CA

Krzic M, Newman RF, Broersma K (2003) Plant species diversity and soil quality in harvested and grazed boreal aspen stands of northeastern British Columbia. For Ecol Manag 182:315–325

Luis-Calabuig E, Torres O, Valbuena L, Calvo L, Marcos E (2002) Impact of large fires on a community of Pinus pinaster. In: Trabaud L, Prodon R (eds) Fire and biological processes. Backhuys Publishers, Leiden, pp 1–12

Madon O, Médail F (1997) The ecological significance of annuals on a Mediterranean grassland. Plant Ecol 129:189–199. doi:10.1023/A:1009759730000

Magurran AE (2004) Measuring biological diversity. Blackwell Publishing, Oxford

M.A.P.A (1987) Caracterización agroclimática de la provincia de Segovia. Ministerio de Agricultura Pesca y Alimentación, Madrid

Margalef R (1972) Homage to Evelyn Hutchinson, or why is there an upper limit to diversity. Trans Conn Acad Arts Sci 44:211–235

Nagai M, Yoshida T (2006) Variation in understory structure and plant species diversity influenced by silvicultural treatments among 21- to 26-year old Picea glehnii plantations. J For Res 11:1–10. doi:10.1007/s10310-005-0176-5

Newmaster SG, Parker WC, Bell FW, Paterson JM (2007) Effects of forest floor disturbances by mechanical site preparation on floristic diversity in a central Ontario clearcut. For Ecol Manag 246:196–207

North M, Chen J, Smith G, Krakowiak L, Franklin J (1996) Initial response of understory plant diversity and overstory tree diameter growth to a green tree retention harvest. Northwest Sci 70:24–35

Oria de Rueda JA (2003) Guía de los árboles y arbustos de Castilla y León. Calamo, Palencia

Pausas JG, Bladé C, Valdecantos A, Seva JP, Fuentes D, Alloza JA et al (2004) Pines and oaks in the restoration of Mediterranean landscapes of Spain: new perspectives for an old practice-a review. Plant Ecol 171:209–220. doi:10.1023/B:VEGE.0000029381.63336.20

Peet RK (1978) Forest vegetation of the Colorado Front Range: pattern of species diversity. Vegetatio 37:65–78. doi:10.1007/BF00126830

Peltzer DA, Bast ML, Wilson SD, Gerry AK (2000) Plant diversity and tree responses following contrasting disturbances in boreal forest. For Ecol Manag 127:191–203

Pérez B, Moreno JM (1998) Fire-type and forestry management effects on the early postfire vegetation dynamics of a Pinus pinaster woodland. Plant Ecol 134:27–41. doi:10.1023/A:1009733818670

Pielou EC (1969) An introduction to mathematical ecology. Wiley, New York

R Development Core Team (2008) R: a language and environment for statistical computing. R Foundation for Statistical Computing, Vienna, Austria. ISBN 3-900051-07-0, URL: http://www.R-project.org

Ramovs BV, Roberts MR (2003) Understory vegetation and environment responses to tillage, forest harvesting, and conifer plantation development. Ecol Appl 13:1682–1700. doi:10.1890/02-5237

Roberts MR, Gilliam FS (1995) Patterns and mechanisms of plant diversity in forested ecosystems: implications for forest management. Ecol Appl 5:969–977. doi:10.2307/2269348

Scarascia-Mugnozza G, Oswald H, Piussi P, Radoglou K (2000) Forests of the Mediterranean region: gaps in knowledge and research needs. For Ecol Manag 132:97–109

Shannon CE, Weaver W (1949) The mathematical theory of communication. University of Illinois Press, Urbana

Small JC, McCarthy BC (2002) Spatial and temporal variability of herbaceous vegetation in an eastern deciduous forest. Plant Ecol 164:37–48. doi:10.1023/A:1021209528643

Sternberg M, Danin A, Noy-Meir I (2001) Effects of clearing and herbicide treatments on coniferous seedling establishment and growth in newly planted Mediterranean forests. For Ecol Manag 148:179–184

Swindel BF, Conde LF, Smith JE (1983) Plant cover and biomass response to clear-cutting, site preparation, and planting in Pinus elliottii flatwoods. Science 219:1421–1422. doi:10.1126/science.219.4591.1421

Tárrega R, Calvo L, Marcos E, Taboada A (2006) Forest structure and understory diversity in Quercus pyrenaica communities with different human uses and disturbances. For Ecol Manag 227:50–58

Westman EW (1990) Managing for biodiversity: unresolved science and policy questions. Bioscience 40:26–33. doi:10.2307/1311236

Zar JH (1996) Biostatistical analysis. Prentice Hall, London

Zenner EK, Kabrick JM, Jensen RG, Peck JE, Grabner JK (2006) Responses of ground flora to a gradient of harvest intensity in the Missouri Ozarks. For Ecol Manag 222:326–334
Acknowledgements
We thank Sonia García-Muñoz, Cristobal Ordóñez and Ana I. de Lucas for fieldwork assistance, and Pilar Zaldívar for species nomenclature assistance. This study was supported by a grant from the Basque-Country Government to J. González-Alday (BFI06.114), and Research Projects from the Spanish Science National Program (codes AGL2001-1780 and AGL2004-07094-C02-02/FOR) to Felipe Bravo.
About this article
Cite this article
González-Alday, J., Martínez-Ruiz, C. & Bravo, F. Evaluating different harvest intensities over understory plant diversity and pine seedlings, in a Pinus pinaster Ait. natural stand of Spain. Plant Ecol 201, 211–220 (2009). https://doi.org/10.1007/s11258-008-9490-2
Received:

Accepted:

Published:

Issue Date:
Keywords
Anthropogenic disturbance

Herbaceous layer

Mediterranean ecosystem

Silviculture

Woody species