Abstract
We surveyed the prevalence and amount of leaf damage related to herbivory and pathogens on 12 pairs of exotic (invasive and noninvasive) and ecologically similar native plant species in tallgrass prairie to examine whether patterns of damage match predictions from the enemy release hypothesis. We also assessed whether natural enemy impacts differed in response to key environmental factors in tallgrass prairie by surveying the prevalence of rust on the dominant C4 grass, Andropogon gerardii, and its congeneric invasive exotic C4 grass, A. bladhii, in response to fire and nitrogen fertilization treatments. Overall, we found that the native species sustain 56.4% more overall leaf damage and 83.6% more herbivore-related leaf damage when compared to the exotic species. Moreover, we found that the invasive exotic species sustained less damage from enemies relative to their corresponding native species than the noninvasive exotic species. Finally, we found that burning and nitrogen fertilization both significantly increased the prevalence of rust fungi in the native grass, while rust fungi rarely occurred on the exotic grass. These results indicate that reduced damage from enemies may in part explain the successful naturalization of exotic species and the spread of invasive exotic species in tallgrass prairie.
This is a preview of subscription content, log in to check access.
Access options
Buy single article
Instant access to the full article PDF.
US$ 39.95
Price includes VAT for USA
Subscribe to journal
Immediate online access to all issues from 2019. Subscription will auto renew annually.
US$ 199
This is the net price. Taxes to be calculated in checkout.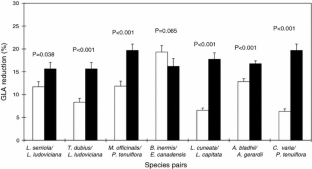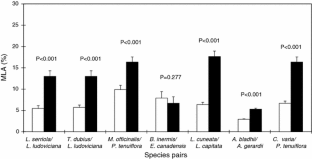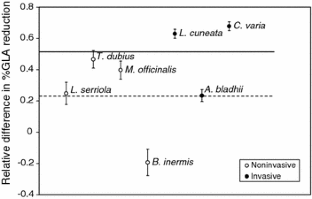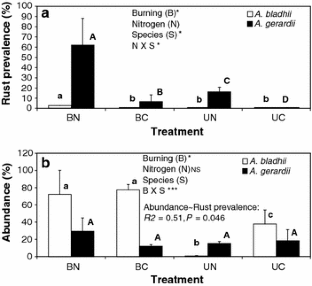 References
Agrawal AA, Kotanen PM (2003) Herbivores and the success of exotic plants: a phylogenetically controlled experiment. Ecol Lett 6(8):712–715

Agrawal AA, Kotanen PM, Mitchell CE, Power AG, Godsoe W, Klironomos J (2005) Enemy release? An experiment with congeneric plant pairs and diverse above- and belowground enemies. Ecology 86(11):2979–2989

Beckstead J, Augspurger CK (2004) An experimental test of resistance to cheatgrass invasion: limiting resources at different life stages. Biol Invasions 6(4):417–432

Bellingham PJ (1998) Shrub succession and invasibility in a New Zealand montane grassland. Aust J Ecol 23(6):562–573

Blair JM, Seastedt TR, Rice CW, Ramundo RA (1998) Terrestrial nutrient cycling in tallgrass prairie. In: Knapp AK, Briggs JM, Hartnett DC, Collins SL (eds) Grassland dynamics: long-term ecological research in tallgrass prairie. Oxford University Press, New York

Blumenthal DM (2006) Interactions between resource availability and enemy release in plant invasion. Ecol Lett 9(7):887–895

Bockus WW, O'Connor JP, Raymond PJ (1983) Effect of residue management method on incidence of Cephalosporium stripe under continuous winter-wheat production. Plant Dis 67(12):1323–1324

Branson DH, Joern A, Sword GA (2006) Sustainable management of insect herbivores in grassland ecosystems: New perspectives in grasshopper control. Bioscience 56(9):743–755

Callaway RM, Thelen GC, Rodriguez A, Holben WE (2004) Soil biota and exotic plant invasion. Nature 427(6976):731–733

Carpenter D, Cappuccino N (2005) Herbivory, time since introduction and the invasiveness of exotic plants. J Ecol 93(2):315–321

Christiansen S, Svejcar T (1987) Grazing effects on the total nonstructural carbohydrate pools in Caucasian bluestem. Agron J 79(5):761–764

Colautti RI, Ricciardi A, Grigorovich IA, MacIsaac HJ (2004) Is invasion success explained by the enemy release hypothesis? Ecol Lett 7(8):721–733

Collins SL, Wallace LL (1990) Fire in North American tallgrass prairies. Unversity of Oklahoma Press, Norman, Oklahoma, USA

Collins SL, Steinauer EM (1998) Disturbance, diversity, and species interactions in tallgrass prairie. In: Knapp AK, Briggs JM, Hartnett DC, Collins SL (eds) Grassland dynamics: long-term ecological research in tallgrass prairie. Oxford University Press, New York

DeWalt SJ, Denslow JS, Ickes K (2004) Natural-enemy release facilitates habitat expansion of the invasive tropical shrub Clidemia hirta. Ecology 85(2):471–483

Dietz H, Wirth LR, Buschmann H (2004) Variation in herbivore damage to invasive and native woody plant species in open forest vegetation on Mahe, Seychelles. Biol Invasions 6(4):511–521

Ehrenreich JH, Aikman JM (1963) An ecological study of effect of certain management practices on native prairie in Iowa. Ecol Monogr 33(2):113–130

Elton CS (1958) Ecology of invasions by animals and plants. Methuen, London

Eppinga MB, Rietkerk M, Dekker SC, De Ruiter PC, Van der Putten WH (2006) Accumulation of local pathogens: a new hypothesis to explain exotic plant invasions. Oikos 114(1):168–176

Gandon S (1998) Local adaptation and host-parasite interactions. Trends Ecol Evol 13(6):214–216

Garrett KA, Dendy SP, Power AG, Blaisdell GK, Alexander HA, McCarron JK (2004) Barley yellow dwarf disease in natural populations of dominant tallgrass prairie species in Kansas. Plant Dis 88(5):574

Gibson DJ (1989) Hulbert's study of factors effecting botanical composition of tallgrass prairie. In: Bragg TB, Stubbendieck J (eds) Prairie pioneers: ecology, history and culture. Proc. Eleventh North American Prairie Conference

Goergen E, Daehler CC (2001) Inflorescence damage by insects and fungi in native pili grass (Heteropogon contortus) versus alien fountain grass (Pennisetum setaceum) in Hawai. Pacific Sci 55:129–136

Gross EM, Johnson RL, Hairston NG (2001) Experimental evidence for changes in submersed macrophyte species composition caused by the herbivore Acentria ephemerella (Lepidoptera). Oecologia 127:105–114

Hardison JR (1976) Fire and flame for plant disease control. Annu Rev Phytopathol 14:355–379

Hayden BP (1998) Regional climate and the distribution of tallgrass prairie. In: Knapp AK, Briggs JM, Hartnett DC, Collins SL (eds) Grassland dynamics: long-term ecological research in tallgrass prairie. Oxford University Press, New York

Heim J (1990) Vegetation management guideline: trailing crown vetch (Coronilla varia L). Ilinois Nature Preserves Commission, Springfield, IL

Herms DA, Mattson WJ (1992) The dilemma of plants: to grow or defend. Q Rev Biol 67(3):283–335

Hulbert LC (1988) Causes of fire effects in tallgrass prairie. Ecology 69(1):46–58

invasive.org. The University of Georgia, USDA APHIS PPQ and USDA Forest Service Forest Health Technology Enterprise Team (2003) Southeast Exotic Pest Plant Council Invasive Plant Manual. http://www.invasive.org/eastern/eppc/COVA.html. Cited 13 Feb 2005

Joern A (2005) Disturbance by fire frequency and bison grazing modulate grasshopper assemblages in tallgrass prairie. Ecology 86(4):861–873

Kalburtji KL, Mosjidis JA (1992) Effects of Sericea lespedeza residues on warm-season grasses. J Range Manage 45(5):441–444

Kaufman DW, Kaufman GA, Fay PA, Zimmerman JL, Evans EW (1998) Animal populations and communities. In: Knapp AK, Briggs JM, Hartnett DC, Collins SL (eds) Grassland dynamics: long-term ecological research in tallgrass prairie. Oxford University Press, New York

Keane RM, Crawley MJ (2002) Exotic plant invasions and the enemy release hypothesis. Trends Ecol Evol 17(4):164–170

Knapp AK, Briggs JM, Hartentt CD, Collins SL (1998) Grassland dynamics: long-term ecological research in tallgrass prairie. Oxford University Press, New York

Kolar CS, Lodge DM (2001) Progress in invasion biology: predicting invaders. Trends Ecol Evol 16(4):199–204

Langdale GW, Giddens JE (1967) Phytotoxic phenolic compounds in Sericea lespedeza residues. Agron J 59(6):581–584

Lau JA, Strauss SY (2005) Insect herbivores drive important indirect effects of exotic plants on native communities. Ecology 86(11):2990–2997

Mack RN, Simberloff D, Lonsdale WM, Evans H, Clout M, Bazzaz FA (2000) Biotic invasion: causes, epidemiology, global consequences, and control. Ecol Appl 10:689–710

Maron JL, Vila M (2001) When do herbivores affect plant invasion? Evidence for the natural enemies and biotic resistance hypotheses. Oikos 95(3):361–373

McIntosh RA, Wellings CR, Park RF (1995) Wheat rusts: an atlas of resistance genes. University of Sydney, Melbourne, Australia

Mitchell CE (2003) Trophic control of grassland production and biomass by pathogens. Ecol Lett 6(2):147–155

Mitchell CE, Power AG (2003) Release of invasive plants from fungal and viral pathogens. Nature 421(6923):625–627

Mitchell CE, Tilman D, Groth JV (2002) Effects of grassland plant species diversity, abundance, and composition on foliar fungal disease. Ecology 83(6):1713–1726

Mooney HA, Drake JA (1987) The ecology of biological invasions. Environment 29(5):10–15 & 34–37

Parker JD, Burkepile DE, Hay ME (2006) Opposing effects of native and exotic herbivores on plant invasions. Science 311(5766):1459–1461

Poulin R, Mouillot D (2003) Host introductions and the geography of parasite taxonomic diversity. J Biogeogr 30(6):837–845

Rejmanek M, Richardson DM (1996) What attributes make some plant species more invasive? Ecology 77(6):1655–1661

Rice CW, Todd TC, Blair JM, Seastedt TR, Ramundo RA, Wilson GWT (1998) Belowground biology and processes. In: Knapp AK, Briggs JM, Hartnett DC, Collins SL (eds) Grassland dynamics: long-term ecological research in tallgrass prairie. Oxford University Press, New York

Roy BA, Gusewell S, Harte J (2004) Response of plant pathogens and herbivores to a warming experiment. Ecology 85(9):2570–2581

Sala OE, Chapin FS, Armesto JJ, Berlow E, Bloomfield J, Dirzo R, Huber-Sanwald E, Huenneke LF, Jackson RB, Kinzig A, Leemans R, Lodge DM, Mooney HA, Oesterheld M, Poff NL, Sykes MT, Walker BH, Walker M, Wall DH (2000) Global biodiversity scenarios for the year 2100. Science 287(5459):1770–1774

Schierenbeck KA, Mack RN, Sharitz RR (1994) Effects of herbivory on growth and biomass allocation in native and introduced species of Lonicera. Ecology 75(6):1661–1672

Siemann E, Rogers WE (2003) Herbivory, disease, recruitment limitation, and success of alien and native tree species. Ecology 84(6):1489–1505

Smith MD, Knapp AK (1999) Exotic plant species in a C4-dominated grassland: invasibility, disturbance, and community structure. Oecologia 120(4):605–612

Smith MD, Knapp AK (2001a) Size of the local species pool determines invasibility of a C4 dominated grassland. Oikos 92(1):55–61

Smith MD, Knapp AK (2001b) Physiological and morphological traits of exotic, invasive exotic, and native plant species in tallgrass prairie. Int J Plant Sci 162(4):785–792

Stoner KJL, Joern A (2004) Landscape vs. local habitat scale influences to insect communities from tallgrass prairie remnants. Ecol Appl 14(5):1306–1320

Svejcar T, Christiansen S (1987) Grazing effects on water relations of Caucasian bluestem. J Range Manage 40(1):15–18

Towne EG (2002) Vascular plants of Konza prairie biological station: an annotated checklist of species in a Kansas tallgrass prairie. SIDA 20(1):269–294

Vitousek PM, DAntonio CM, Loope LL, Rejmanek M, Westbrooks R (1997) Introduced species: A significant component of human-caused global change. New Zeal J Ecol 21(1):1–16

Wilcove DS, Rothstein D, Dubow J, Phillips A, Losos E (1998) Quantifying threats to imperiled species in the United States. Bioscience 48(8):607–615

Wolfe LM (2002) Why alien invaders succeed: support for the escape-from-enemy hypothesis. Am Nat 160(6):705–711
Acknowledgments
We thank J. O'Mara (Kansas State University) for identification of pathogen species and B. Roy for helpful discussions. We also thank the two anonymous reviewers for their valuable suggestions. This research was supported by the Yale University EEB Graduate Student Discretionary Fund, the NSF Long Term Ecological Research Program at the Konza Prairie Biological Station, the US NSF under grant DEB-0130692 (K. Garrett), and support by the Kansas State Experiment Station (08-132-J).
About this article
Cite this article
Han, X., Dendy, S.P., Garrett, K.A. et al. Comparison of damage to native and exotic tallgrass prairie plants by natural enemies. Plant Ecol 198, 197–210 (2008). https://doi.org/10.1007/s11258-008-9395-0
Received:

Accepted:

Published:

Issue Date:
Keywords
Enemy release hypothesis

Grassland

Invasiveness

Leaf damage

Rust fungi