Abstract
Plant litter may play an important role in herbaceous plant communities by limiting primary production and influencing plant species richness. However, it is not known how the effect of litter interacts with fertilization. We tested for the role of litter and fertilization in a large-scale experiment to investigate effects on diversity and biomass of plant species, growth forms, native vs. non-native groups, and abiotic ecosystem components (e.g., soil moisture, PAR). We manipulated plant litter (removed vs. left in situ) and nutrient availability (NPK-fertilized vs. unfertilized) for 4 years in 314-m2 plots, replicated six times, in an old-field grassland. While many of our species-level results supported previously published studies and theory, our plant group results generally did not. Specifically, grass species richness and forb biomass was not affected by either fertilization or plant litter. Moreover, plant litter removal significantly increased non-native plant species richness. Relative to native plant species, all of our experimental manipulations significantly increased both the biomass and the species richness of non-native plant species. Thus, this grassland system was sensitive to management treatments through the facilitation of non-native plant species. We coupled biotic and abiotic components within a nonmetric multidimensional scaling (NMS) analysis to investigate treatment effects, which revealed that specific treatments altered ecosystem development. These results suggest that fertilization and plant litter may have larger impacts on plant communities and on ecosystem properties than previously understood, underscoring the need for larger-scale and longer-term experiments.
Access options
Buy single article
Instant access to the full article PDF.
USD 39.95
Price excludes VAT (USA)
Tax calculation will be finalised during checkout.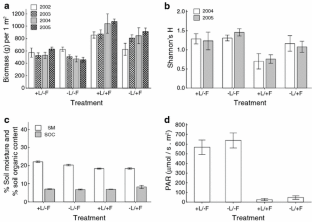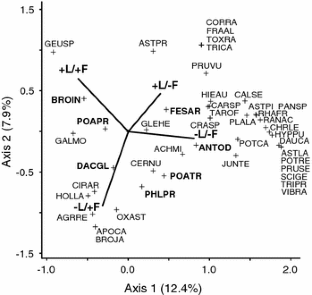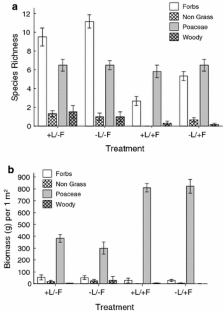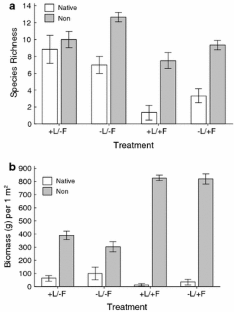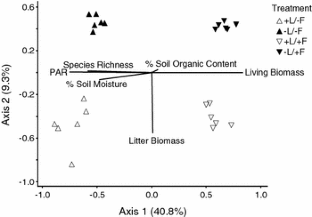 References
Andreas BK, Mack JJ, McCormac JS (2004) Floristic Quality Assessment Index (FQAI) for vascular plants and mosses for the State of Ohio. Ohio Environmental Protection Agency, Division of Surface Water, Wetland Ecology Group, Columbus

Bobbink R, Hornung M, Roelofs JGM (1998) The effects of air-borne nitrogen pollutants on species diversity in natural and semi-natural European vegetation. J Ecol 86:717–738

Bosy JL, Reader RJ (1995) Mechanisms underlying the suppression of forb seedling emergence by grass (Poa pratensis) litter. Funct Ecol 9:635–639

Carson WP, Barrett GW (1988) Succession in old-field plant communities: effects of contrasting types of nutrient enrichment. Ecology 69:984–994

Carson WP, Peterson CJ (1990) The role of litter in an old-field plant community: impact of litter quantity in different seasons on plant species richness and abundance. Oecologia 85:8–13

Clarke KR (1993) Non-parametric multivariate analyses of changes in community structure. Aust J Ecol 18:117–143

Cook WM, Yao J, Foster BL, Holt RD, Patrick LB (2005) Secondary succession in an experimentally fragmented landscape: community patterns across space and time. Ecology 86:1267–1279

Dyer MI, Turner CL, Seastedt TR (1991) Mowing and fertilization effects on productivity and spectral reflectance in Bromis inermus plots. Ecol Appl 1:443–452

Edwards GR, Crawley MJ (1999) Herbivores, seed banks and seedling recruitment in mesic grassland. J Ecology 87:423–435

Eck HV, Wilson GC, Martinez T (1981) Tall fescue, Festuca arundinacea, and smooth brome, Bromis inermis, 2. Effects of nitrogen fertilization and irrigation regimes on quality. Agron J 73:453–456

Facelli JM (1994) Multiple indirect effects of plant litter affect the establishment of woody seedlings in old fields. Ecology 75:1727–1735

Facelli JM, Pickett STA (1991) Plant litter: light interception and effects on an old-field plant community. Ecology 72:1024–1031

Fenn ME, Baron JS, Allen EB, Rueth HM, Nydick KR, Geiser L, Bowman WD, Sickman JO, Meixner T, Johnson DW, Neitlich P (2003) Ecological effects of nitrogen deposition in the western United States. Bioscience 53:404–420

Foster BL, Gross KL (1997) Partitioning the effects of plant biomass and litter on Andropogon gerardii in old-field vegetation. Ecology 78:2091–2104

Foster BL, Gross KL (1998) Species richness in a successional grassland: effects of nitrogen enrichment and plant litter. Ecology 79:2593–2602

Galloway JN, Aber JD, Erisman JW, Seitzinger SP, Howarth RW, Cowling EB, Cosby BJ (2003) The nitrogen cascade. Bioscience 53:341–355

Gleason HA, Cronquist A (1991) Manual of vascular plants of northeastern United States and adjacent Canada, 2nd edn. New York Botanical Garden

Goldberg DE, Werner PA (1983) The effects of size of opening in vegetation and litter cover on seedling establishment of goldenrods (Solidago spp.). Oecologia 60:149–155

Grime JP (1979) Plant strategies and vegetation processes. John Wiley and Sons, London

Hamrick JL, Lee JM (1987) Effect of soil surface topography and litter cover on the germination, survival, and growth of musk thistle (Carduus nutans). Am J Bot 74:451–457

Hector A, Schmid B, Beierkuhnlein C, Caldeira MC, Diemer M, Dimitrkopoulos PG, Finn JA, Freitas H, Giller PS, Good J, Harris R, Högberg P, Huss-Danell K, Joshi J, Jumpponen A, Körner C, Leadley PW, Loreau M, Minns A, Mulder CPH, O'Donovan G, Otway SJ, Pereira JS, Prinz A, Read DJ, Scherer-Lorenzen M, Schulze E-D, Siamantziouras A-SD, Spehn EM, Terry AC, Troumbis AY, Woodward FI, Yachi S, Lawton JH (1999) Plant diversity and productivity experiments in European grasslands. Science 286:1123–1127

Hulme PE (1996) Herbivores and the performance of grassland plants: a comparison of arthropod, mollusk and rodent herbivory. J Ecol 84:43–51

Köchy M, Wilson SD (2005) Variation in nitrogen deposition and available soil nitrogen in a forest-grassland ecotone in Canada. Landsc Ecol 20:191–202

Kruskal JB (1964) Nonmetric multidimensional scaling: a numerical method. Psychometrika 29:115–129

Larsen TH, Williams N, Kremen C (2005) Extinction order and altered community structure rapidly disrupt ecosystem functioning. Ecol Lett 8:538–547

Levine JM, Brewer JS, Bertness MD (1998) Nutrients, competition and plant zonation in a New England salt marsh. J Ecol 86:285–292

Long ZT, Mohler CL, Carson WP (2003) Extending the resource concentration hypothesis to plant communities: effects of litter and herbivores. Ecology 84:652–665

McCann KS (2000) The diversity-stability debate. Nature 405:228–233

McCune B, Mefford MJ (1999) Multivariate analysis of ecological data version 4.37. MjM Software, Gleneden Beach

Mielke PW Jr (1984) Meteorological applications of permutations techniques based on distance functions. In: Krishnaiah PR, Sen PK (eds) Handbook of statistics, vol 4. Elsevier, pp 813–830

Pennings SC, Clark CM, Cleland EC, Collins SL, Gough L, Gross KL, Milchunas DG, Suding KN (2005) Do individual plant species show predictable responses to nitrogen addition across multiple experiments? Oikos 110:547–555

Ritchie A, Steiger JR (1974) Soil Survey of Summit County Ohio. United States Department of Agriculture, Soil Conservation Service in cooperation with Ohio Department of Natural Resources, Division of Lands and Soil and the Ohio Agricultural Research and Development Center

Sala OE, Warton WJ, Joyce LA, Lauenroth WK (1988) Primary production of the central grasslands region of the United States. Ecology 69:40–45

SAS Institute Inc (1999) SAS system for windows. SAS Institute Inc, Cary

Semmartin M, Aguiar MR, Distel RA, Moretto AS, Ghersa CM (2004) Litter quality and nutrient cycling affected by grazing-induced species replacements along a precipitation gradient. Oikos 107:148–160

Suding KN, Collins SL, Gough L, Clark C, Cleland EE, Gross KL, Milchunas DG, Pennings S (2005) Functional- and abundance-based mechanisms explain diversity loss due to N fertilization. Proc Natl Acad Sci USA 102:4387–4392

Throop HL (2005) Nitrogen deposition and herbivory affect biomass production and allocation in an annual plant. Oikos 111:91–100

Tilman D, Knops J, Wedin D, Reich P (2002a) Plant diversity and composition: effects on productivity and nutrient dynamics of experimental grasslands. In: Loreau M, Naeem S, Inchausti P (eds) Biodiversity and ecosystem functioning. Synthesis and perspectives. Oxford University Press, Oxford, pp 21–35

Tilman D, Knops J, Wedin D, Reich P (2002b) Experimental and observational studies of diversity, productivity, and stability. In: Kinzig AP, Pacala SW, Tilman D (eds) The functional consequences of biodiversity. Princeton University Press, Princeton, pp 42–70

Turkington R, John E, Watson S, Seccombe-Hett P (2002) The effects of fertilization and herbivory on the herbaceous vegetation of the boreal forest in north-western Canada: a 10-year study. J Ecol 90:325–337

US EPA (2005) Clean air status and trends network (CASTNET). http://www.epa.gov/castnet/

Violle C, Richarte J, Navas M (2006) Effects of litter and standing biomass on growth and reproduction of two annual species in a Mediterranean old-field. J Ecol 94:196–205

Vitousek PM, Mooney HA, Lubchenco J, Melillo JM (1997) Human domination of Earth's ecosystems. Science 277:494–499

Weltzin JF, Keller JK, Bridgham SD, Pastor J, Allen PB, Chen J (2005) Litter controls plant community composition in a northern fen. Oikos 110:537–546

Wilsey BJ, Polley HW (2006) Aboveground productivity and root-shoot allocation differ between native and introduced grass species. Oecologia 150:300–309

Xiong S, Nilsson C (1999) The effects of plant litter on vegetation: a meta-analysis. J Ecol 87:984–994
Acknowledgments
The authors would like to thank J. Yao, W. Cook, and R. Holt for helpful comments on an early draft of this paper. We also thank C. Carlyle, C. Picard, T. Miletti, J. Karnezis, S. Carty, E. Madson, A. Landau, E. Lawrence, several other graduate and undergraduate students for their help in the field and laboratory, B. Andreas for help identifying some plant species, and The University of Akron and the Bath Township Trustees for allowing us to use the BNP. A Research Initiative II grant to L. Fraser from the University of Akron helped fund the project and a Canada Research Chair awarded to L. Fraser provided the time to finish the writing.
About this article
Cite this article
Patrick, L.B., Fraser, L.H. & Kershner, M.W. Large-scale manipulation of plant litter and fertilizer in a managed successional temperate grassland. Plant Ecol 197, 183–195 (2008). https://doi.org/10.1007/s11258-007-9369-7
Received:

Accepted:

Published:

Issue Date:

DOI: https://doi.org/10.1007/s11258-007-9369-7
Keywords