Abstract
Monitoring of ecological restoration treatments often focuses on changes in community structure and function. We suggest that long-term changes in community composition also need to be explicitly considered when evaluating the success of restoration treatments. In 1992, we initiated an experiment in a ponderosa pine-bunchgrass ecosystem to evaluate responses to restoration treatments: (a) thinning the overstory vegetation ('thinning'), (b) thinning plus forest floor manipulation with periodic prescribed burning ('composite'), and (c) untreated 'control.' Treatments were further stratified by forest patch type: presettlement tree clumps (trees that established prior to the onset of fire exclusion in 1876), patches of retained postsettlement trees, patches where all postsettlement trees were removed, and remnant grass openings. Species richness did not differ among treatments for 10 years, but was highest in the composite treatment in 11th and 12th year after initial treatment. Community composition diverged among treatments 5 years after initial treatment, and compositional changes were greatest in the composite treatment. Species richness and composition differed among patch types prior to treatment. Remnant grass patches were the most diverse and presettlement patches were the least diverse. Following treatment, species richness in the postsettlement removed and retained patches, gradually approached levels found in remnant grass patches. Compositional differences among patch types changed a little by 2005. Species richness at the 2 m2 scale increased only where the overstory was thinned and the understory was burned. However, these changes may not be detectable for many years, and can vary temporally in response to events such as severe droughts. Nonnative species establishment may be reduced by scheduling longer burn intervals or by refraining from burning where fuel loads are not hazardous, though these options may hinder goals of increasing diversity. Restoring species diversity and community composition continues to be more difficult than restoring ecosystem structure and function.
Access options
Buy single article
Instant access to the full article PDF.
US$ 39.95
Tax calculation will be finalised during checkout.
Subscribe to journal
Immediate online access to all issues from 2019. Subscription will auto renew annually.
US$ 119
Tax calculation will be finalised during checkout.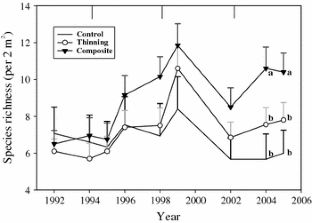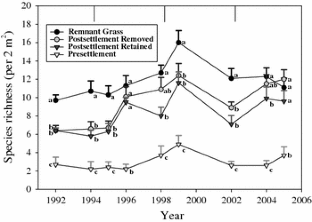 References
Allen CD, Savage M, Falk DA, Suckling KF, Swetnam TW, Schulke T, Stacey PB, Morgan P, Hoffman M, Klingel JT (2002) Ecological restoration of southwestern ponderosa pine ecosystems: a broad perspective. Ecol Appl 12:1418–1433

Anderson MJ (2001) A new method for non-parametric multivariate analysis of variance. Austral Ecol 26:32–46

Avery CC, Larson FR, Schubert GH (1976) Fifty-year records of virgin stand development in southwestern ponderosa pine. USDA Forest Service General Technical Report RM-22. 71 p

Bakker JD (2005) Long-term vegetation dynamics of ponderosa pine forests PhD Dissertation. Northern Arizona University, Flagstaff

Bakker JD, Moore MM (2007) Controls on vegetation structure in southwestern ponderosa pine forests, 1941 and 2004. Ecology 88:2305–2319

Boyle SI, Hart SC, Kaye JP, Waldrop MP (2005) Restoration and canopy type influence soil microflora in a ponderosa pine forest. Soil Sci Soc Am J 69:1627–1638

Breshears DD, Cobb NS, Rich PM, Price KP, Allen CD, Balice RG, Romme WH, Kastens JH, Floyd ML, Belnap J, Anderson JJ, Myers OB, Meyer CW (2005) Regional vegetation die-off in response to global-change-type drought. Proc Natl Acad Sci 102:15144–15148

Christian JM, Wilson SD (1999) Long-term ecosystem impacts of an introduced grass in the northern Great Plains. Ecology 80:2397–2407

Cortina J, Maestre FT, Vallejo R, Baeza MJ, Valdecantos A, Pérez-Devesa M (2006) Ecosystem structure, function, and restoration success: are they related? J Nat Conserv 14:152–160

Covington WW, Moore MM (1994) Southwestern ponderosa pine forest structure: changes since Euro-American settlement. J For 92:39–47

Covington WW, Fulé PZ, Moore MM, Hart SC, Kolb TE, Mast JN, Sackett SS, Wagner MR (1997) Restoring ecosystem health in ponderosa pine forests of the Southwest. J For 95:23–29

Crawford JA, Wahren C-HA, Kyle S, Moir WH (2001) Responses of exotic plant species to fires in Pinus ponderosa forests in northern Arizona. J Veg Sci 12:261–268

Dietrich JH (1980) Chimney Spring forest fire history. USDA Forest Service Research Paper RM-220

Dodson EK, Fiedler CE (2006) Impacts of restoration treatments on alien plant invasion in Pinus ponderosa forests, Montana, USA. J Appl Ecol 43:887–897

Dufrêne M, Legendre P (1997) Species assemblages and indicator species: the need for a flexible asymmetrical approach. Ecol Monogr 67:345–366

Faith DP, Minchin PR, Belbin L (1987) Compositional dissimilarity as a robust measure of ecological distance. Vegetation 69:57–68

Feeney SR, Kolb TE, Wagner MR, Covington WW (1998) Influence of thinning and burning restoration treatments on presettlement ponderosa pines at the Gus Pearson Natural Area. Can J For Res 28:1295–1306

Fuhlendorf SD, Engle DM (2004) Application of the fire-grazing interaction to restore a shifting mosaic on tallgrass prairie. J Appl Ecol 41:604–614

Fulé PZ, Covington WW, Moore MM (1997) Determining reference conditions for ecosystem management of southwestern ponderosa pine forests. Ecol Appl 7:895–908

Fulé PZ, Laughlin DC, Covington WW (2005) Pine-oak forest dynamics five years after ecological restoration treatments, Arizona, USA. For Ecol Manage 218:129–145

Fulé PZ, Laughlin DC (2007) Wildland fire effects on forest structure over an altitudinal gradient, Grand Canyon National Park, USA. J Appl Ecol 44:136–146

Gaines EM, Kallander HR, Wagner JE (1958) Controlled burning in southwestern ponderosa pine: results from the Blue Mountain plots, Fort Apache Indian Reservation. J For 56:323–327

Griffis KL, Crawford JA, Wagner MR, Moir WH (2001) Understory response to management treatments in northern Arizona ponderosa pine forests. For Ecol Manage 146:239–245

Grime JP (1977) Evidence for the existence of three primary strategies in plants and its relevance to ecological and evolutionary theory. Am Nat 111:1169–1195

Grime JP (1979) Plant strategies and vegetation processes. John Wiley & Sons, New York

Huston M (1979) A general hypothesis of species diversity. Am Nat 113:81–101

Jones TA (1998) Viewpoint: the present status and future prospects of squirreltail research. J Range Manage 51:326–331

Kaye JP, Hart SC (1998) Ecological restoration alters nitrogen transformations in a ponderosa pine-bunchgrass ecosystem. Ecol Appl 8:1052–1060

Keddy P (2005) Putting the plants back into plant ecology: six pragmatic models for understanding diversity and conserving plant diversity. Ann Bot 96:177–189

Keddy PA, Smith L, Campbell DR, Clark M, Montz G (2006) Patterns of herbaceous plant diversity in southeastern Louisiana pine savannas. Appl Veg Sci 9:17–26

Keeley JE, Rundel PH (2005) Fire and the Miocene expansion of C4 grasslands. Ecol Lett 8:683–690

Keeley JE (2006) Fire management impacts on invasive plants in the western United States. Conserv Biol 20:375–384

Kerns BK, Moore MM, Timpson ME, Hart SC (2003) Soil properties associated with vegetation patches in a Pinus ponderosa-bunchgrass mosaic. West N Am Nat 63:452–462

Kolb TE, Holmberg KM, Wagner MR, Stone JE (1998) Regulation of ponderosa pine foliar physiology and insect resistance mechanisms by basal area treatment. Tree Physiol 18:375–381

Korb JE, Springer JD, Powers SR, Moore MM (2005) Soil seed banks in Pinus ponderosa forests in Arizona: clues to site history and restoration potential. Appl Veg Sci 8:103–112

Laughlin DC, Bakker JD, Stoddard MT, Daniels ML, Springer JD, Gildar CN, Green AM, Covington WW (2004) Toward reference conditions: wildfire effects on flora in an old-growth ponderosa pine forest. For Ecol Manage 199:137–152

Laughlin DC, Bakker JD, Fule PZ (2005) Understorey plant community structure in lower montane and subalpine forests, Grand Canyon National Park, USA. J Biogeogr 32:2083–2102

Laughlin DC, Moore MM, Bakker JD, Casey CA, Springer JD, Fulé PZ, Covington WW (2006) Assessing targets for restoration of herbaceous vegetation in ponderosa pine forests. Restor Ecol 14:548–560

Legendre P, Legendre L (1998) Numerical ecology, 2nd edn. Developments in environmental modelling 20. Elsevier Science B.V., Amsterdam, The Netherlands. 853 p

Lindborg R, Eriksson O (2004) Effects of restoration on plant species richness and composition in scandinavian semi-natural grasslands. Restor Ecol 12:318–326

Lockwood JL, Pimm SL (1999) When does restoration succeed? In: Weiher E, Keddy P (eds) Ecological assembly rules: perspectives, advances, retreats. Cambridge University Press, Cambridge

MacDougall AS, Turkington R (2005) Are invasive species the drivers or passengers of change in degraded ecosystems? Ecology 86:42–55

Mast JN, Fulé PZ, Moore MM, Covington WW, Waltz AEM (1999) Restoration of presettlement age structure of an Arizona ponderosa pine forest. Ecol Appl 9:228–239

McArdle BH, Anderson MJ (2001) Fitting multivariate models to community data: a comment on distance-based redundancy analysis. Ecology 82:290–297

McCune B, Grace JB (2002) Analysis of ecological communities. MjM Software Design, Gleneden Beach, OR. 300 p

McLaughlin SP (1978) Overstory attributes, light, throughfall, and the interpretation of overstory–understory relationships. For Sci 24:550–553

Milchunas DG (2006) Responses of plant communities to grazing in the southwestern United States. USDA Forest Service, Rocky Mountain Research Station, Fort Collins, CO, USA, RMRS-GTR-169

Moore MM, Deiter DA (1992) Stand density index as a predictor of forage production in northern Arizona pine forests. J Range Manage 45:267–271

Moore MM, Casey CA, Bakker JD, Springer JD, Fulé PZ, Covington WW, Laughlin DC (2006) Herbaceous vegetation responses (1992–2004) to restoration treatments in a ponderosa pine forest. Rangeland Ecol Manage 59:135–144

National Oceanic and Atmospheric Administration [NOAA] (2005) Accessed 25 January, 2005 (http://www.noaa.gov)

Naumburg E, DeWald LE (1999) Relationships between Pinus ponderosa forest structure, light characteristics, and understory graminoid species presence and abundance. For Ecol Manage 124:205–215

Naumburg E, DeWald LE, Kolb TE (2001) Shade responses of five grasses native to southwestern Pinus ponderosa forests. Can J Bot 79:1001–1009

Olberding SD (2000) Fort Valley: the beginnings of forest research. Forest History Today, Spring, 9–15

Riegel GM, Miller RF, Krueger WC (1995) The effects of aboveground and belowground competition on understory species composition in a Pinus ponderosa forest. For Sci 41:864–889

SAS Institute, Inc. (2004) JMP-IN ver 5.1.2. Statistical analysis software. SAS Institute, Inc., Cary, NC

Schwartz MW, Brigham CA, Hoeksma JD, Lyons KG, Mills MH, van Mantgem PJ (2000) Linking biodiversity to ecosystem function: implications for conservation ecology. Oecologia 122:297–305

Skov KR, Kolb TE, Wallin KF (2004) Tree size and drought affect ponderosa pine physiological response to thinning and burning treatments. For Sci 50:81–91

Smith DM, Larson BC, Kelty MJ, Ashto PMS (1997) The practice of silviculture: applied forest ecology. John Wiley & Sons, Inc., New York

Springer JD, Laughlin DC (2004) Seeding with natives increases species richness in a dry ponderosa pine forest (Arizona). Ecol Restor 22:220–221

Tilman D (1982) Resource competition and community structure. Monographs in Population Biology. Princeton University Press, Princeton

Tilman D (1989) Ecological experimentation: strengths and conceptual problems. In: Likens GE (eds), Long-term studies in ecology: approaches and alternatives. Springer-Verlag, New York

Tilman D, Knops J, Wedin D, Reich P (2002) Plant diversity and composition: effects on productivity and nutrient dynamics of experimental grasslands. In: Loreau M, Naeem S, Inchausti I (eds) Biodiversity and ecosystem functioning: synthesis and perspectives. Oxford University Press, Oxford, UK

USDA, NRCS [United States Department of Agriculture, Natural Resources Conservation Service] (2006) The PLANTS Database (http://plants.usda.gov, 5 September 2006). National Plant Data Center, Baton Rouge, LA 70874–4490 USA

Vose JM, White AS (1991) Biomass response mechanisms of understory species the first year after prescribed burning in an Arizona ponderosa-pine community. For Ecol Manage 40:175–187

Whelan RJ (1995) The ecology of fire. Cambridge University Press, Cambridge

Whitlock MC (2005) Combining probability from independent tests: the weighted Z-method is superior to Fisher's approach. J Evol Biol 18:1368–1373

Wolfson BAS, Kolb TE, Sieg CH, Clancy KM (2005) Effects of post-fire conditions on germination and seedling success of diffuse knapweed in northern Arizona. For Ecol Manage 216:342–358
Acknowledgments
We thank the staff and students of the Ecological Restoration Institute at Northern Arizona University (NAU). Particular thanks go to W. W. Covington, P. Z. Fulé, J. P. Roccaforte, J. Barber, L. Labate, M. Stoddard, L. Machina, and S. Curran. Thanks to the USDA Forest Service Coconino National Forest, especially for assistance with prescribed burns, and the Rocky Mountain Research Station, especially C. Edminster, for helping establish the experiment. Funding was provided by a National Science Foundation grant (DEB-9322706), McIntire-Stennis appropriations to the NAU School of Forestry, and the Ecological Restoration Institute. Funding for remeasurement and analysis in 2004 was provided by the USDA Forest Service, #03-DG-11031600–088.
About this article
Cite this article
Laughlin, D.C., Bakker, J.D., Daniels, M.L. et al. Restoring plant species diversity and community composition in a ponderosa pine-bunchgrass ecosystem. Plant Ecol 197, 139–151 (2008). https://doi.org/10.1007/s11258-007-9367-9
Received:

Accepted:

Published:

Issue Date:
Key-words
Long-term studies

Permutational MANOVA

Pinus ponderosa

Prescribed fire

Species richness

Thinning

Understory