Abstract
In the Okavango Delta 98–99% of the water from inflow and rainfall is lost to the atmosphere through evapotranspiration. As a consequence 94% of inflowing solutes are retained within the Delta landscape. This process might be expected to result in an entirely saline environment, but that is not the case: the surface waters have very low salinity, supporting a typical freshwater biota. It has been deduced that the numerous islands in the Delta (about 150,000 within an area of 13,500 km2) have been formed through evapotransporative concentration in the groundwater, of infiltrating solutes, followed by precipitation and volume increase. Evidence of this is the large amount of calcrete in island soils. These islands of 3–10 m thickness with clayey soils are underlain by fine Kalahari sand to a depth of 200–300 m, which also indicates that they are formed through surface processes. The infiltration rate of surface water from floodplains and streams into islands is very high, and is predominantly a lateral process that is unidirectional. Evapotranspiration in the riparian woodland zone cause the ground-waters in the central area of islands—with halophyte grasslands—to have very high salinities. By use of chloride as a conservative element the concentration factor between central island groundwater and surface water is calculated to be 500–1,000. This groundwater is depleted of calcium and magnesium supporting the early deductions that these elements have precipitated as calcrete. There is also a large depletion of silicate and potassium that probably have precipitated as well forming the clayey soils typical of the islands. The central island groundwater is dominated by sodium, bicarbonate and dissolved organic matter. The gradual increase of salinity here causes a periodic let off of this water through a density-driven process to deeper layers. This process together with island growth through precipitation of solutes are the two major sink processes of inflowing solutes and explains why the Okavango Delta is at present a freshwater system. The whole island complex is calculated to be 100,000–400,000 years old while some intensely studied islands may be younger: 80,000–240,000 years. The discrepancy is explained by a biassed selection of islands currently in flooded areas with better growth conditions. The uniqueness of the Okavango Delta and ideas for future research are discussed.
Access options
Buy single article
Instant access to the full article PDF.
USD 39.95
Price excludes VAT (USA)
Tax calculation will be finalised during checkout.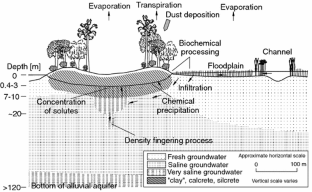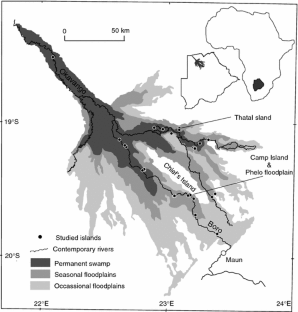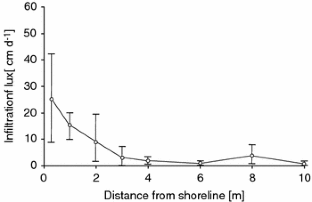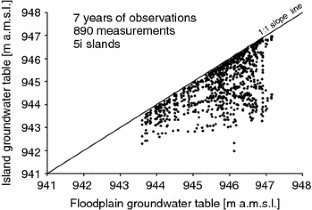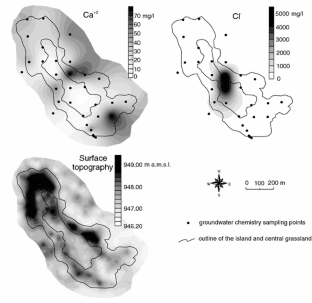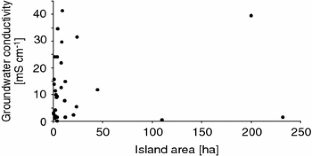 References
Allen RG, Pereira LS, Raes D, Smith M (1998) Crop evapotranspiration. Guidelines for computing crop water requirements. FAO irrigation and drainage paper 56. FAO, Rome

Bauer P (2004) Flooding and salt transport in the Okavango Delta, Botswana: key issues for sustainable wetland management. PhD dissertation, Swiss Federal Institute of Technology, Zurich

Bauer-Gottwein P, Langer T, Prommer H, Wolski P, Kinzelbach W (2007) Okavango Delta Islands: interaction between density-driven flow and geochemical reactions under evapo-concentration. J Hydrol 335:389–405

Bauer P, Thabeng G, Stauffer F, Kinzelbach W (2004) Estimation of the evapotranspiration rate from diurnal groundwater level fluctuations in the Okavango Delta, Botswana. J Hydrol 288:344–355

Conley DJ (2002) Terrestrial ecosystems and the global biogeochemical silica cycle. Global Biogeochem Cy 16:1121

Cronberg G, Gieske A, Martins E, Prince Nengu J, Stenstrom I-M (1996) Major ion chemistry, plankton, and bacterial assemblages of the Jao/Boro River, Okavango Delta, Botswana: the swamps and floodplains. Archive fur Hydrobiologie Supplement 107(3):335–407

Eriksson E (1959) The yearly circulation of chloride and sulphur in nature; meteorological, geochemical and pedological implications. Part I. Tellus 11:375–403

Eriksson E (1960) The yearly circulation of chloride and sulphur in nature; meteorological, geochemical and pedological implications. Part II. Tellus 12:63–109

Fernkvist P, Liden A (2003) Inorganic ions and nutrients in groundwater of Okavango Delta islands, Botswana. Report. Department of Water and Environmental Studies, Linkoping University, Sweden

Gazal RM, Scott RL, Goodrich DC et al (2006) Controls on transpiration in a desert riparian cottonwood forest. J Agr Forest Meteorol 137:56–67

Gumbricht T, McCarthy TS, Merry CL (2001) The topography of the Okavango Delta, Botswana, and its tectonic and sedimentological implications. S Afr J Geol 104:243–264

Gumbricht T, McCarthy TS (2003) Spatial patterns of islands and salt crusts in the Okavango Delta, Botswana. S Afr Geogr J 85:164–169

Gumbricht T, McCarthy J, McCarthy TS (2004) Channels, wetlands and islands in the Okavango Delta, Botswana, and their relation to hydrological and sedimentological processes. Earth Surf Proc Land 29:15–29

Gumbricht T, McCarthy TS, Bauer P (2005) The micro-topography of the wetlands of the Okavango Delta, Botswana. Earth Surf Proc Land 30(1):27–39

Hargreaves GH, Samani ZA (1982) Estimating potential evapo-transpiration. J Irr Drain Div—ASCE 108(3):225–230

Hogberg P, Lindholm M, Ramberg L, Hessen DO (2002) Aquatic food web dynamics on a floodplain in the Okavango Delta, Botswana. Hydrobiologia 470:23–30

Langer T, Heusser D (2004) Geochemical groundwater evolution and age estimations for islands in the Okavango Delta. MSc dissertation, Swiss Federal Institute of Technology, Zurich

Liebau F, Condie KC, Siever R (1973) Silicon. In: Wedepohl KH (ed) Handbook of geochemistry. Springer Verlag, Heidelberg

McCarthy TS, McIver JR, Cairncross B (1986) Carbonate accumulation on islands in the Okavango Delta, Botswana. S Afr J Sci 82:588–591

McCarthy TS, Metcalfe J (1990) Chemical sedimentation in the Okavango Delta, Botswana. J Chem Geol 89:157–178

McCarthy TS, Ellery WN, Ellery K (1993) Vegetation-induced, subsurface precipitation of carbonate as an aggradational process in the permanent swamps of the Okavango (delta) fan, Botswana. Chem Geol 107:111–131

McCarthy TS, Ellery WN (1998) The Okavango Delta. T Roy Soc S Afr 53:157–182

McCarthy TS, Bloem A, Larkin PA (1998) Observations on the hydrology and geohydrology of the Okavango Delta. S Afr J Geol 101(2):101–117

Persuad N, Sakamoto CM, Joshua WD et al (1990) Coefficients of Penman's formula for calculating evaporation and potential evaporation in Botswana. Department of Agricultural Research, Gaborone, Botswana

Ramberg L Krah M, Wolski P et al (2000) Groundwater recharge from a seasonal floodplain in the Okavango Delta, Botswana, Paper presented at American Society of Limnology and Oceanography, Kopenhagen

Ramberg L, Wolski P, Krah M (2006) Infiltration loss from a seasonal floodplain—A major hydrological process in the Okavango Delta, Botswana. Wetlands 26(3):677–690

Reeves CV (1978) The gravity survey of Ngamiland 1970–71. Bulletin 11. Geological Survey Department, Gaborone, Botswana

Ringrose S, Huntsman-Mapila P, Kampunzu AB et al (2005) Sedimentological and geochemical evidence for palaeo-environmental change in the Makgadikgadi subbasin, in relation to the MOZ rift depression, Botswana. Palaeogeogr Palaeoclimatol Palaeoecol 217:265–287

Stumm W, Morgan JJ (1970) Aquatic chemistry. An introduction emphasizing chemical Equilibria in natural waters. Wiley-Interscience, New York

Tiercelin J, Lezzar KF (2002) A 300 million year history of rift lakes in Central and East Africa: an updated broad review. In: Odada EO, Olago DO (eds) The East African Great Lakes, Limnology, Palaeolimnology, and Biodiversity. Kluwer Academic Publishers, Dortrecht

Water Resource Consultants (2003) Maun Groundwater Development Project, Project Review. Department of Water Affairs, Gaborone, Botswana

Weast RC (1975–1976) Handbook of Chemistry and Physics, 56th edn. CRC Press, Cleveland

Wolski P, Savenije HHS (2003) Update of conceptual hydrological model of the Delta. Project report, ICA-4-CT-2001–10040, D2.1. Harry Oppenheimer Okavango Research Centre, Maun, Botswana

Wolski P, Savenije HHG (2006) Dynamics of floodplain-island groundwater flow in the Okavango Delta, Botswana. J Hydrol 320:283–301

Wolski P, Savenije HHG, Murray-Hudson M, Gumbricht T (2006) Modelling of the flooding in the Okavango Delta, Botswana, using a hybrid reservoir-GIS model. J Hydrol 331:58–72

Wooding RA, Tyler SW, White I, Anderson PA (1997) Convection in groundwater below an evaporating salt lake: 2. Evolution of finger plumes. Water Resour Res 33(6):1219–1228

Zimmermann S, Bauer P, Held R et al (2006) Salt transport on islands in the Okavango Delta: numerical investigations. Adv Water Res 29:11–29
Acknowledgements
We are indebted to Professor Susan Ringrose for a review of an early version of this article, for stimulating discussions on island formation and growth, and in particular for the insights on silicate geochemistry that this lead to. The final version was critically read by Dr. Phillippa Huntsman-Mapila and Mr. Mike Murray-Hudson who both made many useful comments. The article has also benefited from inputs from Mr. Thoralf Meier, who helped with data processing.
About this article
Cite this article
Ramberg, L., Wolski, P. Growing islands and sinking solutes: processes maintaining the endorheic Okavango Delta as a freshwater system. Plant Ecol 196, 215–231 (2008). https://doi.org/10.1007/s11258-007-9346-1
Received:

Accepted:

Published:

Issue Date:

DOI: https://doi.org/10.1007/s11258-007-9346-1
Keywords
Okavango

Wetland

Island growth

Density fingering

Calcrete

Saline groundwater