Abstract
Areas of 2,800–3,000 m a.s.l. represent the alpine-nival ecotone in the Alps. This transition zone connecting the closed swards of the alpine belt and the scattered vegetation of the nival belt may show particularly strong climate warming driven fluctuations in plant species richness compared to the nival belt. To test this hypothesis, 12 summits within this range were investigated in the canton of Grisons, Switzerland in 2004. Complete lists of vascular plant species consisting of 5–70 species were collected on each summit and the elevation of the uppermost occurrence of each species was recorded. These data were compared to historical records over 120 years in age. Within this time, vascular plant species richness increased by 11% per decade on summits in the alpine-nival ecotone. Despite this considerable change, a comparison with nival summits did not support the hypothesis that species richness increase at the alpine-nival ecotone is higher than in the nival belt. A general trend of upward migration in the range of several metres per decade could be observed. Anemochorous species were more often found to be migrating than zoochorous or autochorous species and migration was higher on calcareous than on siliceous bedrock. A comparison between the summits with the adjacent slopes in our study revealed that changes in species number could be used as an indicator for climate-induced changes—if at all—only for the narrow summit areas.
This is a preview of subscription content, log in to check access.
Access options
Buy single article
Instant access to the full article PDF.
US$ 39.95
Price includes VAT for USA
Subscribe to journal
Immediate online access to all issues from 2019. Subscription will auto renew annually.
US$ 199
This is the net price. Taxes to be calculated in checkout.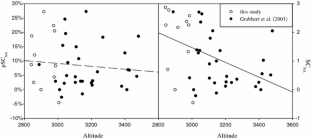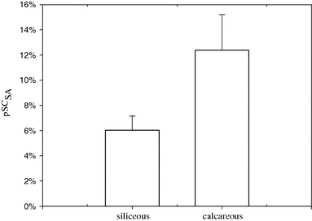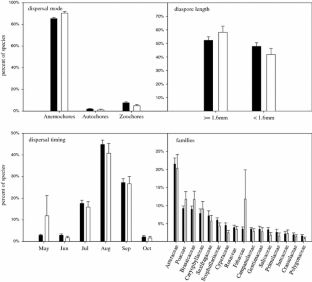 References
Bader S, Bantle H (2004) Das Schweizer Klima im Trend. Temperatur- und Niederschlagsentwicklung 1864–2001. Veröff MeteoSchweiz 68:45ff

Begert M, Schlegel T, Kirchhofer W (2005) Homogeneous temperature and precipitation series of Switzerland from 1864 to 2000. Int J Climatol 25:65–80

Braun-Blanquet J (1913) Die Vegetationsverhältnisse der Schneestufe in den Rätisch-Lepontischen Alpen. Neue Denkschr Schweiz nat forsch Ges 48:1–348

Braun-Blanquet J (1958) Über die obersten Grenzen pflanzlichen Lebens im Gipfelbereich des schweizerischen Nationalparks. Kommission Schweiz nat forsch Ges zur wiss Erforsch des Nationalparks 6:119–142

Camenisch M (2002) Veränderungen der Gipfelflora im Bereich des Schweizerischen Nationalparks: Ein Vergleich über die letzten 80 Jahre. Jahresber nat forsch Ges Graubünden 111:27–37

Choler P, Michalet R, Callaway RM (2001) Facilitation and competition on gradients in alpine plant communities. Ecology 82:3295–3308

di Castri F, Hansen AJ, Holland MM (1988) A new look at ecotones: emerging international projects on landscape boundaries. Biol Int 17:1–163

Dubey B, Yadav R (2006) Migration of plant species in response to recent climate change in the western Himalaya, India. In: Price MF (ed) Global change in mountain regions. Sapiens, Duncow, UK

Dubey B, Yadav RR, Singh J, Chaturvedi R (2003) Upward shift of Himalayan pine in western Himalaya, India. Curr Sci 85:1135–1136

Ellenberg H, Weber HE, Dull R, Wirth V, Werner W, Paulissen D (1991) Zeigerwerte von Pflanzen in Mitteleuropa. Scr Geobot 18:1–248

Fischer M, Adler W, Oswald K (1994) Exkursionsflora von Österreich. Ulmer, Stuttgart

Gigon A, Rorison IH (1972) The response of some ecologically distinct plant species to nitrate- and to ammonium-nitrogen. J Ecol 60:93–102

Gottfried M, Pauli H, Grabherr G (1998) Prediction of vegetation patterns at the limits of plant life: a new view of the alpine-nival ecotone. Arctic Alpine Res 30:207–221

Grabherr G (1997) The high-mountain ecosystems of the Alps. In: Wielgolaski FE (ed) Polar and alpine tundra ecosystems of the world 3. Elsevier, Amsterdam, pp 97–121

Grabherr G, Gottfried M, Gruber A, Pauli H (1995) Patterns and current changes in alpine plant diversity. In: Chapin FSI, Körner C (eds) Arctic and alpine biodiversity: patterns, causes and ecosystem consequences. Ecological Studies 113. Springer, Heidelberg, pp 167–181

Grabherr G, Gottfried M, Pauli H (1994) Climate effects on mountain plants. Nature 369:448

Grabherr G, Gottfried M, Pauli H (2001) Aspects of global change in the Alps and in the high arctic region. Long-term monitoring of mountain peaks in the Alps. In: Burga CA, Kratochwil A (eds) Biomonitoring: General and applied aspects on regional and global scales. Kluwer Academic Publishers, Dordrecht, pp 153–177

Heer O (1885) Über die nivale Flora der Schweiz. Neue Denksch Allg Schweiz Ges Gesamt Nat wiss 29:1–114

Hofer HR (1985) Veränderungen in der Vegetation von 14 Gipfeln des Berninagebietes zwischen 1905 und 1985. Ber Geobot Inst Eidgenöss Tech Hochsch Stift Rübel 58:39–54

IPCC (2007) Climate change 2007: working Group 1, fourth assessment Report. WMO, UNEP

Kammer PA, Mohl A (2002) Factors controlling species richness in alpine plant communities: an assessment of the importance of stress and disturbance. Arctic Antarct Alpine Res 34:398–407

Keller F, Kienast F, Beniston M (2000) Evidence of response of vegetation to environmental change on high-elevation sites in the Swiss Alps. Reg Environ Change 1:70–77

Klanderud K, Birks HJB (2003) Recent increases in species richness and shifts in altitudinal distributions of Norwegian mountain plants. Holocene 13:1–6

Körner C (2003) Alpine plant life. Functional plant ecology of high mountain ecosystems. Springer, Berlin

Kullman L (2002) Rapid recent range-margin rise of tree and shrub species in the Swedish Scandes. J Ecol 90:68–77

Kullman L (2006) Increase in plant species richness on alpine summits in the Swedish Scandes—impacts of recent climate change. In: Price MF (ed) Global change in mountain regions. Sapiens, Duncow, UK

Lauber K, Wagner G (1996) Flora Helvetica. Paul Haupt, Bern

MathSoft (1999) S-Plus 2000 Math Soft, Data analysis products division. Seattle, Washington, USA

Müller-Schneider P (1986) Verbreitungsbiologie der Blütenpflanzen Graubündens. Veröff Geobot Inst Eidgenöss Tech Hochsch Zürich 85:1–263

Pauli H, Gottfried M, Grabherr G (1996) Effects of climate change on mountain ecosystems - upward shifting of alpine plants. World Resource Rev 8:382–390

Pauli H, Gottfried M, Grabherr G (1999) Vascular plant distribution patterns at the low-temperature limits of plant life—the alpine-nival ecotone of Mount Schrankogel (Tyrol, Austria). Phytocoenologia 29:297–325

Pauli H, Gottfried M, Grabherr G (2001) High summits of the Alps in a changing climate. The oldest observation series on high mountain plant diversity in Europe. In: Walther G-R, Burga CA, Edwards PJ (eds) Fingerprints of climate change—Adapted behaviour and shifting species ranges. Kluwer Academic Publisher, New York, pp 139–149

Peteet D (2000) Sensitivity and rapidity of vegetational response to abrupt climate change. PNAS 97:1359–1361

Rothmaler W (2002) Exkursionsflora von Deutschland. Spektrum, Heidelberg

Rübel E (1912) Pflanzengeographische Monographie des Berninagebietes. Engelmann, Leipzig

Sakai A, Larcher W (1987) Frost survival in plants: responses and adaptation to freeing stress. Ecological studies 62. Springer, Berlin

Schibler W (1898) Über die nivale Flora der Landschaft Davos Jahrb Schweiz Alpenclubs 33

Theodose TA, Bowman WD (1997) The influence of interspecific competition on the distribution of an alpine graminoid: evidence for the importance of plant competition in an extreme environment. Oikos 79:101–114

Theurillat J-P, Guisan A (2001) Potential impact of climate change on vegetation in the European Alps: a review. Clim Change 50:77–109

Thuiller W, Lavorel S, Araujo MB, Sykes MT, Prentice IC (2005) Climate change threats to plant diversity in Europe. PNAS 102:8245–8250

van der Pijl L (1972) Principles of dispersal in higher plants. Springer, Berlin

Virtanen R, Dirnböck T, Dullinger S, Grabherr G, Pauli H, Staudinger M, Villar L (2003) Plant diversity of European mountains- –a regional synthesis. In: Nagy L, Grabherr G, Körner C, Thompson DBA (eds) Alpine biodiversity in Europe: a Europe-wide assessment of biological richness and change Ecological Studies 167. Springer, Heidelberg, pp 149–172

Walther GR (2003) Plants in a warmer world. Perspect Plant Ecol Evol Systemat 6:169–185

Walther GR, Beissner S, Burga CA (2005) Trends in the upward shift of alpine plants. J Veg Sci 16:541–548

Walther GR, Burga CA, Edwards PJ (eds) (2001) Fingerprints of climate change—adapted behaviour and shifting species ranges. Kluwer Academic Publishers, New York

Walther GR, Pott R, Beissner S (2004) Climate change and high mountain vegetation. In: Keplin B, Broll G, Mattes H (eds) Mountain and northern ecosystems: Arbeiten aus dem Institut für Landschaftsökologie. Westfälische Wilhelms-Universität. Münster
Acknowledgements
We would like to thank Helfrid Rossiter, Richard Brauer and Michael Hofmeier for their assistance in the field. Data about diaspore length were kindly provided by Siegrun Ertl. We thank Manuela Winkler, Siegrun Ertl and Matthias Seeger for useful comments on the early versions of this manuscript. The inputs and suggestions of the two anonymous reviewers greatly helped to improve this manuscipt. The work was funded by the Forschungskommission des Schweizerischen Nationalparks.
About this article
Cite this article
Holzinger, B., Hülber, K., Camenisch, M. et al. Changes in plant species richness over the last century in the eastern Swiss Alps: elevational gradient, bedrock effects and migration rates. Plant Ecol 195, 179–196 (2008). https://doi.org/10.1007/s11258-007-9314-9
Received:

Accepted:

Published:

Issue Date:
Keywords
Alpine-nival ecotone

Climate change

Functional species groups

Migration rates

Species richness change

Switzerland