Abstract
Non-random seed shadows are commonly seen in plant species whose seeds are dispersed by animals, in particular by birds. The behaviour of birds can influence the spatial pattern of seed dispersal and, consequently, the entire regeneration process of fleshy-fruited trees. This study examined regeneration patterns in a fleshy-fruited tree species, rowan (Sorbus aucuparia L.), growing in West Carpathian subalpine spruce forests, focussing on two problems: the temporal relationship between rowan regeneration and gap formation, and the spatial relationship between rowan regeneration and stand structure. It was found that rowan seedlings and saplings were recruited in advance of gap formation. Establishment of new rowan individuals in gaps was infrequent, but gaps enhanced their regeneration nearby under spruce canopy, where they occurred densely in a narrow belt about 15 m wide. Inside spruce stands, the highest density of young rowans was directly under crowns, especially near trunk bases. Few rowan saplings were found growing under mature rowan trees. The presence of a rowan seedling and sapling bank determines whether rowans fill spruce stand gaps. Dense rowan groves can develop mainly in extensive but slowly expanding gaps.
Access options
Buy single article
Instant access to the full article PDF.
US$ 39.95
Tax calculation will be finalised during checkout.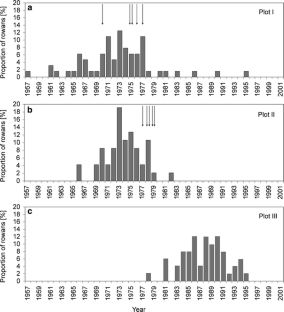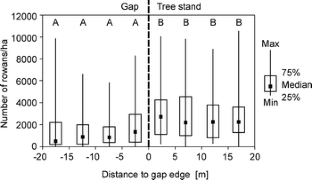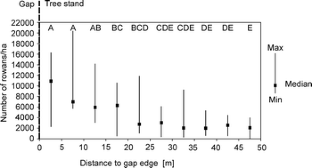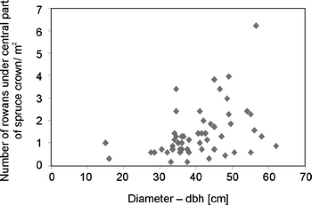 References
Abe S, Masaki T, Nakashizuka T (1995) Factors influencing sapling composition in canopy gaps of temperate deciduous forest. Vegetatio 120:21–32

Brokaw N (1987) Gap-phase regeneration of three pioneer tree species in a tropical forest. J Ecol 75:9–19

Brokaw NV, Scheiner SM (1989) Species composition in gaps and structure of a tropical forest. Ecology 70(3):538–541

Canham CD (1988) An index for understory light levels in and around canopy gaps. Ecology 69(5):1634–1638

Canham CD (1989) Different responses to gaps among shade-tolerant tree species. Ecology 70(3):548–550

Canham C, Marks P (1985) The response of woody plants to disturbance: patterns of establishment and growth. In: Pickett ST, White PS (eds) The ecology of natural disturbance and patch dynamics. Academic Press, Orlando, pp 197–216

Ceitel J (1994) Naturalne formy regeneracji lasu w wylesionych obszarach Gór Izerskich. Prace IBL Ser B 21:14

Clark JS, Macklin E, Wood L (1998). Stages and spatial scales of recruitment limitation in southern Appalachian forests. Ecol Monogr 68(2):213–235

Dalling J, Muller-Landau H, Wright S, Hubbell S (2002) Role of dispersal in the recruitment limitation of neotropical pioneer species. J Ecol 90:714–727

Denslow JS (1987) Tropical rainforest gaps and tree species diversity. Ann Rev Ecol Syst 18:431–451

Dynesius M, Jonsson BG (1991) Dating uprooted trees: comparison and application of eight methods in a boreal forest. Can J For Res 21:655–665

Fuentes M (2000) Frugivory, seed dispersal and plant community ecology. Tree 15(12):487–488

Guevara S, Purata E, Van der Maarel E (1986) The role of remant forest trees in tropical secondary succession. Vegetatio 66:77–86

Herrera CM, Jordano P, López-Soria L, Amat JA (1994) Recruitment of a mast-fruiting, bird-dispersed tree: bridging frugivore activity and seedling establishment. Ecol Monogr 64(3):315–344

Hofgaard A (1993) Structure and regeneration patterns in a virgin Picea abies forest in northern Sweden. J Veg Sci 4:601–608

Holeksa J (1998) Rozpad drzewostanu i odnowienie świerka a struktura i dynamika karpackiego boru górnoreglowego. Monographiae Botanicae 82:1–209

Holeksa J (2003) Relationship between field-layer vegetation and canopy openings in a Carpathian subalpine spruce forest. Plant Ecol 168:57–67

Holeksa J, Żywiec M (2005) Spatial pattern of a pioneer tree seedling bank in old-growth European subalpine spruce forest. Ekológia 24(3):263–276

Holl KD (1998) Do bird perching structures elevate seed rain and seedling establishment in abandoned tropical pasture. Restor Ecol 6(3):253–261

Hoppes WG (1987) Pre- and post-foraging movements of frugivorus birds in an eastern deciduous forest woodland, USA. Oikos 49:281–290

Hoppes WG (1988) Seedfall pattern of several species of bird-dispersed plants in an Illinois woodland. Ecology 69(2):320–329

Howe HF (1979) Fear and frugivory. Am Nat 114:925–931

Izhaki I, Walton PB, Safriel UN (1991) Seed shadows generated by frugivorous birds in an eastern Mediterranean scrub. J Ecol 79:575–590

Jonášova M, Prach K (2004) Central-European mountain spruce (Picea abies (L.) Karst.) forests: regeneration of tree species after a bark beetle outbreak. Ecol Eng 23:15–27

Jordano P, Schupp E (2000) Seed disperser effectiveness: the quantity component and patterns of seed rain for Prunus mahaleb. Ecol Monogr 70(4):591–615

Kirby K, May J (1989) The effects of enclosure, conifer planting and subsequent removal of conifers in Dalavich oakwood (Argyll). Scott For 43(4):280–288

Kollmann J, Pirl M (1995) Spatial pattern of seed rain of fleshy-fruited plants in a scrubland-grassland transition. Acta Oecol 16(3):313–329

Kollman J (2000) Dispersal of fleshy-fruited species: a matter of spatial scale? Perspectives in plant ecology. Evol Syst 3(1):29–51

Levely D (1988) Tropical wet forest treefall gaps and distributions of understory birds and plants. Ecology 69(4):1076–1089

Linder P, Elfving B, Zackrisson O (1997) Stand structure and succesional trends in virgin boreal forest reserves in Sweden. For Ecol Manage 98:17–33

Loch J (1998) Strategia życiowa jarzębu pospolitego – Sorbus aucuparia L. ssp. aucuparia L. a dynamika drzewostanów świerczyny górnoleglowej Plagiothecio-Piceetum tatricum. Zesz Nauk Akad Rol w Krakowie 332 sesja nauk 56:197–212

Marks P, Gardescu S (1998) A case study of sugar maple (Acer saccharum) as a forest seedling bank species. J Torrey Bot Soc 125(4):287–296

Matuszkiewicz W, Matuszkiewicz JM (1996) Pflanzensoziologishe Übersicht der Waldgesellschaften von Polen. (in Polish). Phytocoenosis 8 (N.S.), Seminarium Geobotanicum 3:3–79

McEuen AB, Curran LM (2004) Seed dispersal and recruitment limitation across spatial scales in temperate forest fragments. Ecology 85(2):507–518

Motta R (2003) Ungulate impact on rowan (Sorbus aucuparia L.) and Norway spruce (Picea abies (L.) Karst.) height structure in mountain forests in the eastern Italian Alps. For Ecol Manage 181(1–2):139–150

Packer A, Clay K (2000) Soil pathogens and spatial patterns of seedling mortality in temperate tree. Nature 404:278–281

Packer A, Clay K (2003) Soil pathogens and Prunus serotina seedling and sapling growth near conspecific trees. Ecology 84(1):108–119

Paulsen T, Högstedt G (2002) Passage through bird guts increases germination rate and seedling growth in Sorbus aucuparia. Funct Ecol 16:608–616

Peterson CJ, Pickett ST (1995) Forest reorganization: a case study in an old-growth forest catastrophic blowdown. Ecology 76(3):763–774

Raspé O, Findlay C, Jacquemart AL (2000) Sorbus aucuparia. J Ecol 88:910–930

Reif A, Przybilla M (1995) Zur Regeneration der Fichte (Picea abies) in den Hochlagen des Nationalparks Bayerischer Wald Hoppea. Denkschr Regebsb Bot Ges 56:467–514

Schaminée J, Jansen J, Hennekens S (1992) Scrub communities dominated by Sorbus species in the subalpine zone of the Monts du Forez (Massif Central, France). Proc Kon Ned Akad V Wetensch 95(4):473–497

Schupp E (1993) Quantity, quality and the effectiveness of seed dispersal by animals. Vegetatio 107/108:15–29

Schupp E, Howe H, Augspurger C, Levey D (1989) Arrival and survival in tropical treefall gaps. Ecology 70(3):562–564

Senn J, Wasem U, Odermatt O, Schönenberger W, Fischer A, Innes JL (2002) Impact of browsing ungulates on plant cover and tree regeneration in windthrow areas. For Snow Land Res 77(1–2):161–170

Uhl C, Clark C, Dezzeo N, Maquirino P (1988) Vegetation dynamics in Amazonian treefall gaps. Ecology 69(3):751–763

Van der Meer PJ, Sterck FJ, Bongers F (1998) Tree seedlings performance in canopy gaps in a tropical rain forest at Nouragues, French Guiana. J Trop Ecol 14:119–137

Venable D, Brown J (1993) The population-dynamics functions of seed dispersal. Vegetatio 107/108:31–55

Willson M (1993) Dispersal mode, shadows, and colonization patterns. Vegetatio 107/108:261–280

Yamaguchi DK (1991) A simple method for cross-dating increment cores from living trees. Can J For Res 21:414–416

Zerbe S (2001) On the ecology of Sorbus aucuparia (Rosaceae) with special regard to germination, establishment and growth. Polish Bot J 46(2):229–239

Zielonka T, Niklason M (2001) Dynamics of dead wood and regeneration pattern in natural spruce forest in the Tatra Mountains, Poland. Ecol Bull 49:159–163

Żywiec M (2004) Regeneration of rowan Sorbus aucuparia versus tree stand decline in the Carpathian subalpine spruce forest. Dissertation, Institute of Botany, Polish Academy of Sciences, Kraków
Acknowledgements
We are grateful to Jan Holeksa for encouragement, helpful discussions and valuable suggestions during the preparation of the manuscript. This study was funded by the Polish State Committee for Scientific Research (grant no. 3P04G11125).
About this article
Cite this article
Żywiec, M., Ledwoń, M. Spatial and temporal patterns of rowan (Sorbus aucuparia L.) regeneration in West Carpathian subalpine spruce forest. Plant Ecol 194, 283–291 (2008). https://doi.org/10.1007/s11258-007-9291-z
Received:

Accepted:

Published:

Issue Date:
Keywords
Dispersal limitations

Fleshy-fruited tree

Gap regeneration

Seedling bank