Abstract
Characteristics of giant panda herbivory sites and clonal regeneration of an arrow bamboo Fargesia qinlingensis following giant panda grazing were studied in the Qinling Mountains of China. Three types of plots were located in a pandas' summer habitat in 2002: herbivory (naturally grazed by giant pandas), clipped (simulated panda herbivory), and control. Average area of herbivory sites was 2.92 m2 and average distance from herbivory sites to the closest tree (dbh > 10 cm) was 1.0 m. Pandas avoided thin bamboo culms with basal diameters <5 mm. Average height of stumps of culms grazed by panda was 0.67 m and average density of grazed culms was 9.0 culms m−2. Annual culm mortality rate was significantly greater in herbivory and clipped plots than in control plots while annual recruitment rate was not significantly different among the three plot types in 2003. Neither recruitment rate nor mortality rate were significantly different among the three plot types in 2004. Annual recruitment rate was significantly greater than annual mortality rate only in control plots in both 2003 and 2004, suggesting static ramet dynamics in disturbed plots (herbivory and clipped). Density of new shoots was not significantly different, but basal diameter of new shoots was significantly less in herbivory plots compared to control plots in 2002. Differences of annual mortality rate and growth of new shoots found between control plots and herbivory plots suggest that clonal regeneration of F. qinlingensis culms was negatively affected by giant panda grazing. Therefore, no evidence of a clonal integration compensatory response to panda herbivory was found in F. qinlingensis.
Access options
Buy single article
Instant access to the full article PDF.
USD 39.95
Price includes VAT (USA)
Tax calculation will be finalised during checkout.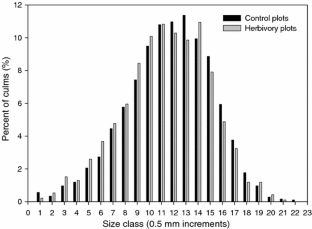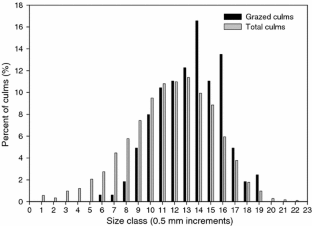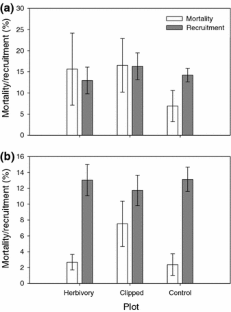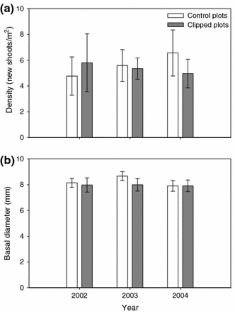 References
Alpert P (1999) Clonal integration in Fragaria chiloensis differes between populations: ramets from grassland are selfish. Oecologia 120:69–76

Baldwin IT (1990) Herbivory simulations in ecological research. Trends Ecol Evol 5:91–93

Bergelson J, Juenger T, Crawley MJ (1996) Regrowth following herbivory in Ipomopsis aggregate: compensation but not overcompensation. Am Nat 148:744–755

Bullock JM, Hill BC, Silvertown J (1994) Tiller dynamics of two grasses-responses to grazing, density and weather. J Ecol 82:331–340

Campbell J, Qin Z, Zhang X (1983) Flowering and population dynamics of bamboo stems in the range of giant pandas, China. World Wildlife Fund, Mimeo Report

Danell K, Niemelä P, Varvikko T, Vuorisalo T (1991) Moose browsing on Scots pine along a gradient of plant productivity. Ecology 72:1624–1633

Dyer MI, Turner CL, Seastedt TR (1991) Mowing and fertilization effect on productivity and spectral reflectance in Bromus inermis plots. Ecol Appl 1:443–452

Gadgil M, Prasad SN (1984) Ecological determinants of life history evolution of two Indian bamboo species. Biotropica 16:161–172

Gough L, Goldberg DE, Hershock C, Pauliukonis N, Petru M (2002) Investigating the community consequences of competition among clonal plants. Evol Ecol 15:547–563

Haukioja E (1991) The influence of grazing on the evolution, morphology and physiology of plants as modular organisms. Phil Trans Biol Sci 333:241–247

Herms DA, Mattson WJ (1992) The dilemma of plants: to grow or defend. Quart Rev Biol 67:283–335

Hu J, Reid DG, Dong S, Wang W, Huang Y (1990) Giant panda behavior and carring capacity following a bamboo die-off. In: Hu J (ed) Research and progress in biology of the giant panda. Sichuan Publishing House of Science of Technology, Chengdu, China, pp 246–262

Janzen DH (1976) Why bamboos wait so long to flower. Annu Rev Ecol Syst 7:347–391

Jónsdóttir IS, Callaghan TV (1989) Localized defoliation stress and the movement of 14C-photoassimilates between tillers of Carex bigelowii. Oikos 54:211–219

Li Y (2002) Studies on the taxonomy and distribution of bamboo as the main food of giant panda and the biomass of Bashania fargesii in Mt. Qinling. MA Thesis, Northwest University, Xi'an, China

Li R, Werger MJA, de Kroon H, During HJ, Zhong ZC (2000) Interactions between shoot age structure, nutrient availability and physiological integration in the giant bamboo Phyllostachys pubescens. Plant Biol 2:437–446

Linderman M, Bearer S, An L, Tan Y, Ouyang Z, Liu J (2005) The effects of understory bamboo on broad-scale estimates of giant panda habitat. Biol Conserv 121:383–390

Liu X (2001) Mapping and modeling the habitat of giant pandas in Foping Nature Reserve, China. PhD Dissertation, Wageningen University, The Netherlands

Long Y, Lu Z, Wang D, Zhu X, Wang H, Zhang Y, Pan W (2004) Nutritional strategy of giant pandas in the Qinling Mountains of China. In: Lindburg D, Baragona K (eds) Giant pandas: biology and conservation. University of California Press, Berkeley/Los Angeles, CA, pp 90–100

Mackinnon J, Sha M, Cheung C, Carey G, Zhu X, Melville D (1996) A biodiversity review of China. WWF International, Hong Kong

McClure F (1966) Bamboos—a fresh perspective. Harvard University Press, Cambridge, MA, USA

McNaughton SJ (1984) Grazing lawns: animals in herds, plant form, and coevolution. Am Nat 124:863–886

Paige KN (1999) Regrowth following ungulate herbivory in Ipomopsis aggregata: geographic evidence for overcompensation. Oecologia 118:316–323

Pan W, Gao Z, Lu Z, Xia Z, Zhang M, Ma L, Meng G, Zhe X, Liu X, Cui H, Chen F (1988) The giant panda's natural refuge in the Qinling Mountains. Beijing University Press, Beijing, China

Peltzer DA (2002) Does clonal integration improve competitive ability? A test using aspen (Populus tremuloides [Salicaceae]) invasion into prairie. Am J Bot 98:494–499

Peterson CJ, Squires ER (1995) Competition and succession in an aspen-white-pine forest. J Ecol 83:449–457

Reid DG, Hu J (1991) Giant panda selection between Bashania fangiana bamboo habitats in Wolong Reserve, Sichuan, China. J Appl Ecol 28:228–243

Reid DG, Taylor AH, Hu J, Qin Z (1991) Environmental influences on bamboo Bashania fangiana growth and implications for giant panda conservation. J Appl Ecol 28:855–868

Ren Y (1998) Plants of giant panda's habitat of Qinling Mountain. Shaanxi Science and Technology Press, Xi'an, China

Romme WH, Turner MG, Wallace LL, Walker JS (1995) Aspen, elk, and fire in northern Yellowstone National Park. Ecology 76:2097–2106

Rooke T (2003) Growth responses of a woody species to clipping and goat saliva. Afr J Ecol 41:324–328

Rooney TP (1997) Escaping herbivory: refuge effects on the morphology and shoot demography of the clonal forest herb Maianthemum canadense. J Torr Bot Club 124:280–285

Rounds R (1979) Height and species as factors determining browsing of shrubs by wapiti. J Appl Ecol 16:227–241

Sackville Hamilton NR, Schmid B, Harper JL (1987) Life-history concepts and the population biology of clonal organisms. Proc Roy Soc London B 232:35–57

Saitoh T, Seiwa K, Nishiwaki A (2002) Importance of physiological integration of dwarf bamboo to persistence in forest understorey: a field experiment. J Ecol 90:78–85

SAS (2001) SAS users guide: Statistics, 8.2 edition. SAS institute, Cary, NC, USA

Schaller GB, Hu J, Pan W, Zhu J (1985) The giant pandas of Wolong. The University of Chicago Press, Chicago, USA

Schmid B, Miao SL, Bazzaz FA (1990) Effects of simulated root herbivory and fertilizer application on growth and biomass allocation in the clonal perennial Solidago canadensis. Oecologia 84:9–15

Slade AJ, Hutchings MJ (1987) Clonal integration and plasticity in foraging behaviour in Glechoma hederacea. J Ecol 75:1023–1036

Solangaraachi SM, Harper JL (1987) The effect of canopy filtered light on the growth of white clover (Trifolium repens L). Oecologia 72:372–375

Stuefer JF, Erschamber B, Huber H, Suzuki J-I (2002) The ecology and evolutionary biology of clonal plants: an introduction to the proceedings of Clone-2000. Evol Ecol 15:223–230

Swihart RK, Picone PM (1998) Selection of mature growth stages of coniferous browse in temperate forests by white-tailed deer (Odocoileus virginianus). Am Midl Nat 139:269–274

Taylor AH, Qin Z (1987) Culm dynamics and dry matter production of bamboos in the Wolong and Tangjiahe giant panda reserves, Sichuan, China. J Appl Ecol 24:419–433

Taylor AH, Qin Z. (1988a) Regeneration from seed of Sinarundinaria fangiana, a bamboo, in the Wolong giant panda reserve, Sichuan, China. Am J Bot 75:1065–1073

Taylor AH, Qin Z (1988b) Regeneration patterns in old-growth Abies-Betula forests in the Wolong natural reserve, Sichuan, China. J Ecol 76:1204–1218

Taylor AH, Qin Z (1989) Structure and composition of selectively cut and uncut Abies-Tsuga forest in Wolong natural reserve and implications for panda conservation in China. Biol Conserv 47:83–108

Taylor AH, Qin Z (1993) Bamboo regeneration after flowering in the Wolong giant panda reserve, China. Boil Conserv 63:231–234

Taylor AH, Reid DG, Qin Z, Hu J (1991) Spatial patterns and environmental associates of bamboo (Bashania fangiana Yi) after mass-flowering in southwestern China. Bull Torr Bot Club 118:247–254

Tian X (1987) Ecological observation on flowering and regeneration of bamboo forests in Mt. Qinling. Bamboo Res 2:39–43

Tolvanen A, Schroderus J, Henry GHR (2002) Age- and stage-based bud demography of Salix artica under contrasting muskox grazing pressure in the High Arctic. Evol Ecol 15:443–462

Wei FW, Feng Z, Wang Z, Hu J (2000) Habitat use and separation between the giant panda and the red panda. J Mamm 81:448–455

Wei FW, Feng Z, Wang Z, Zhou A, Hu J (1999) Use of the nutrients in bamboo by the red panda (Ailurus fulgens). J Zool Lond 248:535–541

Wilsey B (2002) Clonal plants in a spatially heterogeneous environment: effects of integration on Serengeti grassland response to defoliation and urine-hits from grazing mammals. Plant Ecol 159:15–22

Yong Y (1989) A preliminary observation of giant pandas in Foping Natural Reserve. The survey of natural resources in Foping Natural Reserve. Foping, China

Yong Y, Wang K, Wang T (1994) Movement habits of the giant pandas in Foping. Acta Theriol Sin 14:9–14

Zeigenfuss LC, Singer FJ, Williams SA, Johnson TL (2002) Influences of herbivory and water on willow in elk winter range. J Wildl Manage 66:788–795
Acknowledgements
We are grateful to Dr. Arnold van der Valk and two anonymous reviewers whose comments greatly improved the manuscript. We would like to thank the Foping National Nature Reserve for logistic support of our fieldwork in the reserve. We also thank Gaodi Dang, Leigang Zhao, Xichun Du, and Haining Li for their assistance in the field. This study was supported by the Memphis Zoo.
About this article
Cite this article
Wang, W., Franklin, S.B. & Ouellette, J.R. Clonal regeneration of an arrow bamboo, Fargesia qinlingensis, following giant panda herbivory. Plant Ecol 192, 97–106 (2007). https://doi.org/10.1007/s11258-006-9229-x
Received:

Accepted:

Published:

Issue Date:
Keywords
Basal diameter

Clonal integration

Culm

Fertilizer effect

Mortality

New shoot

Recruitment