Abstract
Because of the changing nature of race the role of antiracist teaching is a forever-evolving process. Acknowledging that the majority of the U.S. teaching force, from K-12 to teacher education in institutions of higher education, are white middle-class females, it becomes imperative to unveil pedagogical applications of critical whiteness studies. Unwillingness to do so maintains the recycled nature of the hegemonic whiteness that dominates the field of education. This reflective paper examines the implemented pedagogies of a teacher education diversity course which begin to break down the whiteness ideology embedded in teacher candidates (i.e., pre-service teachers). Although the course's application of critical whiteness studies was in no way complete, it framed a pedagogical strategy for self-interrogation of whiteness, one that can be implemented in other teacher education courses across the nation. Adding to the existing field of research, this paper provides concrete teaching strategies about how to employ critical whiteness studies in teacher education, and examines the implications of such pedagogies in relation to the roles of racial justice and antiracist teaching. By including feedback from teacher candidates themselves, this paper demonstrates how effective the pedagogies were in preparing a majority of white female teacher candidates for urban teaching.
This is a preview of subscription content, log in to check access.
Access options
Buy single article
Instant access to the full article PDF.
US$ 39.95
Price includes VAT for USA
Subscribe to journal
Immediate online access to all issues from 2019. Subscription will auto renew annually.
US$ 99
This is the net price. Taxes to be calculated in checkout.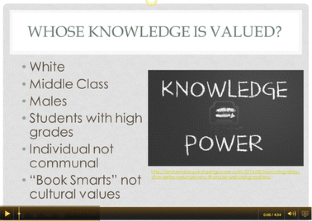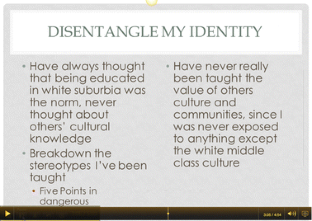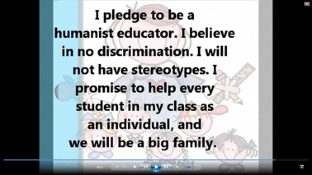 Notes
1.

The "Marshmallow Activity" instructs each group to make the tallest structure using only the materials inside a certain bag.  Teacher candidates notice that some bags have skewers and large marshmallows, while others hold small marshmallows and toothpicks.  Claiming a need for equity in the distribution of the materials, the professor hands out another set of bags all with equal materials; the caveat is that the students must build on existing structure.  In the end, those who were given the larger marshmallows still "win.".

2.

3.

From 1932 to 1972 under the guise of free health care, the U.S. Public Health Service and the Tuskegee Institute conducted a secret study on 600 African American male sharecroppers, most of whom had syphilis. The men were purposely untreated despite the known cure of penicillin and the study gave rise to informed consent laws. Huerta cofounded the United Farm Workers and stood on the podium alongside Bobby Kennedy when he was killed; in 1988 she was brutally beaten by police while attending a peaceful rally against George Bush's presidential run.
References
Ahmed, S. (2004). The cultural politics of emotion. New York: Routledge.

Allen, R. L. (2001). The globalization of white supremacy: Toward a critical discourse on the racialization of the world. Educational Theory, 51(4), 467–485.

Baldwin, J. (1963). Talk to teachers. http://richgibson.com/talktoteachers.htm

Ball, J. (2013). Hip Hop fight club: Radical theory, education, and practice in and beyond the classroom. Radical Teacher, 97, 50–59.

Banks, J. A., & Banks, C. A. M. (Eds.). (2009). Multicultural education: Issues and perspectives. New Jersey: John Wiley & Sons.

Beauboeuf-Lafontant, T. (2002). A womanist experience of caring: Understanding the pedagogy of exemplary Black women teachers. Urban Review, 34(1), 71–86.

Bell, D. (1992). Faces at the bottom of the well: The permanence of racism. New York: Basic Books.

Boler, M. (1999). Feeling power: Emotions and education. New York: Routledge.

Bonilla-Silva, E. (2006). Racism without racists: Color-blind racism and the persistence of racial inequality in the United States. New York: Rowman & Littlefield Publishers.

Brodkins, K. (2000). How did Jews become white?. New Jersey: Rutgers University Press.

Cabrera, N. L., & Cabrera, G. A. (2008). Counterbalance assessment: The chorizo test. Phi Delta Kappan, 89(9), 677–678.

Crash clip (YEAR). https://www.youtube.com/watch?v=_QXyyj1RiCE

de Jesús, M. L., & Ma, S. M. (2004). RAW: "Raunchy Asian Women" and resistance to queer studies in the Asian Pacific American studies classroom. The Radical Teacher, 26–31. Retrieved from http://www.jstor.org/stable/20710257

Dubois, W. (2005). Souls of black folk. Stilwell: Digireads.com Publishing.

Fanon, F. (1967). Black skin, white masks. New York: Grove Press.

Fordham, S. (1988). Racelessness as a factor in Black students' school success: Pragmatic strategy or pyrrhic victory? Harvard Educational Review, 58(1), 54–84.

Freire, P. (1970). Pedagogy of the oppressed. New York: Continuum.

Freire, P. (2004). Pedagogy of hope: Reliving Pedagogy of the oppressed (New ed.). New York, NY: Continuum.

Garcia, A. (2013). Beautiful dark twisted pedagogy: Kanye West and the lessons of participatory culture. Radical Teacher, 97, 30–35.

Gay, G. (2010). Culturally responsive teaching: Theory, research, and practice. New York: Teachers College Press.

Gillborn, D. (2006). Rethinking white supremacy: Who counts in 'WhiteWorld'. Ethnicities, 6(3), 318–340.

Giroux, H. A. (1988). Teachers as intellectuals: Toward a critical pedagogy of learning. Connecticut: Greenwood Publishing Group.

Haj-Ali, R. (2006). Just because I choose to be me. In C. Stanley (Ed.), Faculty of color in predominantly white institutions (pp. 175–181). MA: Anker Publishing Company.

Helms, J. (1990). Black and white racial identity. Westport: Praeger Publishers.

Hooks, B. (2003). Teaching community: A pedagogy of hope (Vol. 36). Psychology Press.

Hooks, B. (1994). Teaching to transgress: Education as the practice of freedom. New York: Routledge.

Howard, G. R. (2006). We can't teach what we don't know: White teachers, multiracial schools. New York: Teachers College Press.

Ignatiev, N., & Garvey, J. (1996). Race traitor. New York: Routledge.

Kellner, D. (1995). Media culture. New York: Routledge.

Ladson-Billings, G. (1995). Toward a theory of culturally relevant pedagogy. American Educational Research Journal, 32(3), 465–491.

Leonardo, Z. (2009). Race, whiteness, and education. New York: Routledge.

Leonardo, Z. (2013). Race frameworks: A multidimensional theory of race. New York: Teachers College Press.

Leonardo, Z., & Porter, R. (2010). Pedagogy of fear: Toward a Fanonian theory of "safety" in race dialogue. Race, Ethnicity and Education, 13(2), 139–157.

Lipstiz, G. (2006). The possessive investment in whiteness: How white people profit in identity politics. Philadelphia: Temple University Press.

Lorde, A. (2001). Age, race, class and sex: Women redefining difference. In M. Andersen & P. Collins (Eds.), Race, class and gender: An anthology. Belmont: Wadsworth/Thomas Learning.

Lynn, M. (1999). Toward a critical race pedagogy a research note. Urban Education, 33(5), 606–626.

Matias, C. E. (2013). On the" Flip" side: A teacher educator of color unveiling the dangerous minds of white teacher candidates. Teacher Education Quarterly, 40(2), 53.

Matias, C. E. (2014). "And our Feelings Just Don't Feel it Anymore": Re-Feeling Whiteness, Resistance, and Emotionality. Understanding and Dismantling Privilege, 4(2).

Matias, C. E., & Liou, D. D. (2014). Tending to the heart of communities of color: Toward critical race teacher activism. Urban Education, doi:10.1177/0042085913519338.

Matias, C. E., & Zembylas, M. (2014). 'When saying you care is not really caring': Emotions of disgust, whiteness ideology, and teacher education. Critical Studies in Education, 55(3), 319–337.

McIntosh, P. (2001). Unpacking the invisible knapsack. In M. Andersen & P. Collins (Eds.), Race, class, and gender (pp. 95–105). Belmont: Wadsworth.

Mills, C. (2007). White ignorance. In S. Sullivan & N. Tuana (Eds.), Race and epistemologies of ignorance. New York: State University of New York Press.

National Center for Education Statistics. (2012). Fast facts: Teacher trends. Retrieved from Institute of Educational Sciences. Retrieved from http://nces.ed.gov/fastfacts/display.asp?id=28

Netcoh, S. (2013). Droppin knowledge on race: Hip Hop, white adolescents and anti-racism education. Radical Teacher, 97, 10–19.

Neuman, W. L. (2011). The meanings of methodology. In social research methods (7th ed.). NY: Allyn Bacon.

Nieto, S. & Bode, P. (2008). Racism, discrimination, and expectations of students' achievement. In Affirming diversity: The sociopolitical context of multicultural education. Boston: Allyn & Bacon.

Oliver, M., & Shapiro, T. (1997). Black wealth/white wealth: A new perspective on racial inequality. New York: Routledge.

Picower, B. (2009). The unexamined whiteness of teaching: How white teachers maintain and enact dominant racial ideologies. Race Ethnicity and Education, 12(2), 197–215.

Rodriguez, D. (2009). The usual suspect: Negotiating white student resistance and teacher authority in a predominantly white classroom. Cultural Studies↔Critical Methodologies, 9(4), 483–508.

Roediger, D. (2005). Working toward whiteness. How America's Immigrants Became White. New York: Basic Books.

Shopping Barbie. (2007). https://www.youtube.com/watch?v=ETOnpBtN25c

Sleeter, C. (2001). Preparing teachers for culturally diverse schools: Research and the overwhelming presence of whiteness. Journal of Teacher Education, 52(2), 94–106.

Solomona, R. P., Portelli, J. P., Daniel, B. J., & Campbell, A. (2005). The discourse of denial: How white teacher candidates construct race, racism and 'white privilege'. Race Ethnicity and Education, 8(2), 147–169.

Tatum, B. D. (1997). "Why are all the Black kids sitting together in the cafeteria?": And other conversations about race. New York: Basic Books.

Thandeka, (1999). Learning to be white: Money, race, and God in America. New York: The Continuum International Publishing Group Inc.

Williams, D., & Evans-Winters, V. (2005). The burden of teaching teachers: Memoirs of race discourse in teacher education. The Urban Review, 37(3), 201–219.

Winans, A. E. (2012). Cultivating critical emotional literacy: Cognitive and contemplative approaches to engaging difference. College English, 75(2), 150–170.
Acknowledgments
To my co-author, Dr. Cheryl Matias, mentora, a dynamic educator who taught me how to reach and teach to the soul and minds of youth and how to navigate "Breakin' Down Whiteness."
Additional information
Dedicated to Dr. Cheryl Matias.
To Teachers and Students, may we forever be strong to fight for racial justice worldwide.
About this article
Cite this article
Matias, C.E., Mackey, J. Breakin' Down Whiteness in Antiracist Teaching: Introducing Critical Whiteness Pedagogy. Urban Rev 48, 32–50 (2016). https://doi.org/10.1007/s11256-015-0344-7
Keywords
Critical race theory

Whiteness

Teacher education

Antiracist

Pedagogy

Teaching