Abstract
Purpose
Bladder cancer is one of the most common malignancies of the urinary system, and its screening relies heavily on invasive cystoscopy, which increases the risk of urethral injury and infection. This study aims to use non-targeted metabolomics methods to screen for metabolites that are significantly different between the urine of bladder cancer patients and cancer-free controls.
Methods
In this study, liquid chromatography–mass spectrometry was used to analyze the urine of bladder cancer patients (n = 57) and the cancer-free controls (n = 38) by non-targeted metabolomic analysis and metabolite identification.
Results
The results showed that there were significant differences in the expression of 27 metabolites between bladder cancer patients and the cancer-free controls.
Conclusion
In the multivariate statistical analysis of this study, the urinary metabolic profile data of bladder cancer patients were analyzed, and the receiver operating characteristic curve analysis showed that it is possible to perform non-invasive clinical diagnoses of bladder cancer through these candidate biomarkers.
Access options
Buy single article
Instant access to the full article PDF.
USD 39.95
Price excludes VAT (USA)
Tax calculation will be finalised during checkout.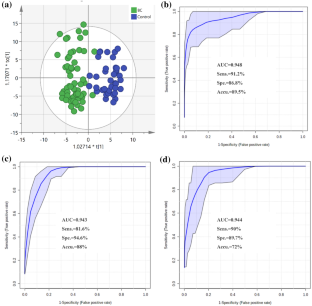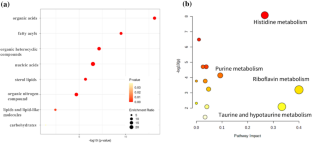 Acknowledgements
JL and PB are grateful to Zhongshan Hospital Xiamen University, and Xiamen University School of Medicine, for their fellowships. This work was supported by PeiMing Bai from the National Natural Science Foundation of China (Grant no. 21535007).
Ethics declarations
Conflict of interest
All authors declare that they have no conflict of interest.
Ethical approval
The study design was carried out in accordance with the Declaration of Helsinki and was approved by the Ethics Committee of Zhongshan Hospital Affiliated to Xiamen University (XMZSYY-AF-SC-12-03).
Consent to participate
All individuals had given written informed consent to be included in this study before participation.
Consent to publish
All individuals had signed informed consent for the publishing of their data.
Additional information
Publisher's Note
Springer Nature remains neutral with regard to jurisdictional claims in published maps and institutional affiliations.
Supplementary Information
Below is the link to the electronic supplementary material.
About this article
Cite this article
Li, J., Cheng, B., Xie, H. et al. Bladder cancer biomarker screening based on non-targeted urine metabolomics. Int Urol Nephrol 54, 23–29 (2022). https://doi.org/10.1007/s11255-021-03080-6
Received:

Accepted:

Published:

Issue Date:

DOI: https://doi.org/10.1007/s11255-021-03080-6
Keywords
Bladder cancer

Metabolomics

Liquid chromatography

Biomarker