Abstract
Background
Gut dysbiosis is common in patients with chronic kidney disease (CKD) and is closely related to inflammatory processes. Some nutritional strategies, such as bioactive compounds present in curcumin, have been proposed as an option to modulate the gut microbiota and decrease the production of uremic toxins such as indoxyl sulfate (IS), p-cresyl sulfate (pCS) and indole-3 acetic acid (IAA).
Objective
To evaluate the effects of curcumin supplementation on uremic toxins plasma levels produced by gut microbiota in patients with CKD on hemodialysis (HD).
Methods
Randomized, double-blind trial in 28 patients [53.6 ± 13.4 years, fourteen men, BMI 26.7 ± 3.7 kg/m2, dialysis vintage 37.5 (12–193) months]. Fourteen patients were randomly allocated to the curcumin group and received 100 mL of orange juice with 12 g carrot and 2.5 g of turmeric and 14 patients to the control group who received the same juice but without turmeric three times per week after HD sessions for three months. IS, pCS, IAA plasma levels were measured by reverse-phase high-performance liquid chromatography
Results
After three months of supplementation, the curcumin group showed a significant decrease in pCS plasma levels [from 32.4 (22.1–45.9) to 25.2 (17.9–37.9) mg/L, p = 0.009], which did not occur in the control group. No statistical difference was observed in IS and IAA levels in both groups.
Conclusion
The oral supplementation of curcumin for three months seems to reduce p-CS plasma levels in HD patients, suggesting a gut microbiota modulation.
Access options
Buy single article
Instant access to the full article PDF.
US$ 39.95
Tax calculation will be finalised during checkout.
Subscribe to journal
Immediate online access to all issues from 2019. Subscription will auto renew annually.
US$ 79
Tax calculation will be finalised during checkout.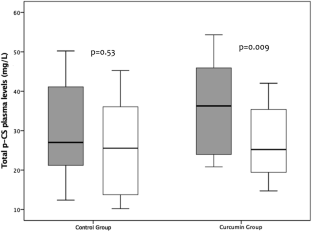 Acknowledgements
Conselho Nacional de Pesquisa (CNPq) and Fundação de Amparo à Pesquisa do Estado do Rio de Janeiro (FAPERJ) support Denise Mafra research. CAPES-COFECUB (Comité Français d´Evaluation de la Coopération Universitaire avec le Brésil) support Denis Fouque and Denise Mafra.
Ethics declarations
Conflict of interest
The authors confirm that this article content has no conflicts of interest.
Additional information
Publisher's Note
Springer Nature remains neutral with regard to jurisdictional claims in published maps and institutional affiliations.
About this article
Cite this article
Salarolli, R.T., Alvarenga, L., Cardozo, L.F.M.F. et al. Can curcumin supplementation reduce plasma levels of gut-derived uremic toxins in hemodialysis patients? A pilot randomized, double-blind, controlled study. Int Urol Nephrol (2021). https://doi.org/10.1007/s11255-020-02760-z
Received:

Accepted:

Published:
Keywords
Chronic kidney disease

Hemodialysis

Uremic toxins

Curcumin

Gut microbiota