Abstract
The intestinal barrier is the first line of defense against foreign antigens. Tight junctions play an important role in maintaining the function of the intestinal wall. Zonulin is the only physiological protein discovered in recent years that can reversibly regulate tight junctions in human body. It changes the permeability of intestinal epithelial cells by regulating the state of tight junctions. Increased intestinal permeability can lead to abnormal activation of intestinal mucosal immune and bacterial translocation, then inducing systemic inflammation. It has already been reported that zonulin plays an important pathogenic role in a variety of diseases by regulating tight junctions leading to an abnormal increase of intestinal permeability. However, the research on the pathogenic role and mechanism of zonulin pathway in kidney disease is still in its infancy. Therefore, we reviewed the progress on pathophysiological characteristics of zonulin as well as the pathogenesis of zonulin in kidney disease in this paper.
Access options
Buy single article
Instant access to the full article PDF.
USD 39.95
Price excludes VAT (USA)
Tax calculation will be finalised during checkout.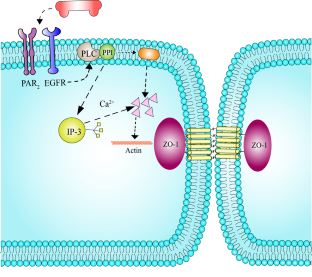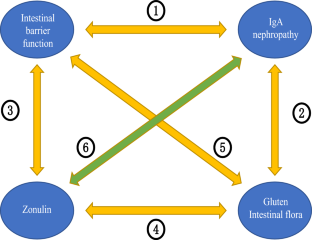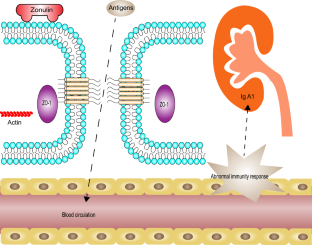 References
Buckley A, Turner JR (2018) Cell biology of tight junction barrier regulation and mucosal disease. Cold Spring Harb Perspect Biol. https://doi.org/10.1101/cshperspect.a029314

Fasano A (2000) Regulation of intercellular tight junctions by zonula occludens toxin and its eukaryotic analogue zonulin. Ann N Y Acad Sci 915:214–222. https://doi.org/10.1111/j.1749-6632.2000.tb05244.x

Tripathi A, Lammers KM, Goldblum S, Shea-Donohue T, Netzel-Arnett S, Buzza MS, Antalis TM, Vogel SN, Zhao A, Yang S, Arrietta MC, Meddings JB, Fasano A (2009) Identification of human zonulin, a physiological modulator of tight junctions, as prehaptoglobin-2. Proc Natl Acad Sci USA 106(39):16799–16804. https://doi.org/10.1073/pnas.0906773106

Hollande F, Blanc EM, Bali JP, Whitehead RH, Pelegrin A, Baldwin GS, Choquet A (2001) HGF regulates tight junctions in new nontumorigenic gastric epithelial cell line. Am J Physiol Gastrointest Liver Physiol 280(5):G910-921. https://doi.org/10.1152/ajpgi.2001.280.5.G910

Jin ML, Barron E, He S, Ryan SJ, Hinton DR (2002) Regulation of RPE intercellular junction integrity and function by hepatocyte growth factor. Invest Ophth Vis Sci 43(8):2782–2790

Fasano A (2011) Zonulin and its regulation of intestinal barrier function: the biological door to inflammation, autoimmunity, and cancer. Physiol Rev 91(1):151–175. https://doi.org/10.1152/physrev.00003.2008

El Asmar R, Panigrahi P, Bamford P, Bert I, Not T, Coppa GV, Catassi C, Fasano A (2003) Host-dependent zonulin secretion causes the impairment of the small intestine barrier function after bacterial exposure (vol 123, pg 1607, 2002). Gastroenterology 124(1):275–275

Wang WL, Uzzau S, Goldblum SE, Fasano A (2000) Human zonulin, a potential modulator of intestinal tight junctions. J Cell Sci 113(24):4435–4440

Lu R, Wang W, Uzzau S, Vigorito R, Zielke HR, Fasano A (2000) Affinity purification and partial characterization of the zonulin/zonula occludens toxin (Zot) receptor from human brain. J Neurochem 74(1):320–326. https://doi.org/10.1046/j.1471-4159.2000.0740320.x

Li CW, Gao M, Zhang W, Chen CY, Zhou FY, Hu ZX, Zeng CY (2016) Zonulin regulates intestinal permeability and facilitates enteric bacteria permeation in coronary artery disease. Sci Rep UK. https://doi.org/10.1038/srep29142

Ciccia F, Guggino G, Rizzo A, Alessandro R, Luchetti MM, Milling S, Saieva L, Cypers H, Stampone T, Di Benedetto P, Gabrielli A, Fasano A, Elewaut D, Triolo G (2017) Dysbiosis and zonulin upregulation alter gut epithelial and vascular barriers in patients with ankylosing spondylitis. Ann Rheum Dis 76(6):1123–1132. https://doi.org/10.1136/annrheumdis-2016-210000

Clemente MG, De Virgiliis S, Kang JS, Macatagney R, Musu MP, Di Pierro MR, Drago S, Congia M, Fasano A (2003) Early effects of gliadin on enterocyte intracellular signalling involved in intestinal barrier function. Gut 52(2):218–223. https://doi.org/10.1136/gut.52.2.218

Barone MV, Gimigliano A, Castoria G, Paolella G, Maurano F, Paparo F, Maglio M, Mineo A, Miele E, Nanayakkara M, Troncone R, Auricchio S (2007) Growth factor-like activity of gliadin, an alimentary protein: implications for coeliac disease. Gut 56(4):480–488. https://doi.org/10.1136/gut.2005.086637

Lammers KM, Lu RL, Brownley J, Lu B, Gerard C, Thomas K, Rallabhandi P, Shea-Donohue T, Tamiz A, Alkan S, Netzel-Arnett S, Antalis T, Vogel SN, Fasano A (2008) Gliadin induces an increase in intestinal permeability and zonulin release by binding to the chemokine receptor CXCR3. Gastroenterology 135(1):194–204. https://doi.org/10.1053/j.gastro.2008.03.023

Ritz E (2011) Intestinal-renal syndrome: mirage or reality? Blood Purif 31(1–3):70–76. https://doi.org/10.1159/000321848

Vaziri ND, Wong J, Pahl M, Piceno YM, Yuan J, DeSantis TZ, Ni ZM, Nguyen TH, Andersen GL (2013) Chronic kidney disease alters intestinal microbial flora. Kidney Int 83(2):308–315. https://doi.org/10.1038/ki.2012.345

Vaziri ND, Yuan J, Norris K (2013) Role of urea in intestinal barrier dysfunction and disruption of epithelial tight junction in chronic kidney disease. Am J Nephrol 37(1):1–6. https://doi.org/10.1159/000345969

Yang J, Lim SY, Ko YS, Lee HY, Oh SW, Kim MG, Cho WY, Jo SK (2019) Intestinal barrier disruption and dysregulated mucosal immunity contribute to kidney fibrosis in chronic kidney disease. Nephrol Dial Transpl 34(3):419–428. https://doi.org/10.1093/ndt/gfy172

Sandberg DH, Bernstein CW, McIntosh RM, Carr R, Strauss J (1977) Severe steroid-responsive nephrosis associated with hypersensitivity. Lancet 1(8008):388–391. https://doi.org/10.1016/s0140-6736(77)92603-4

Lagrue G, Laurent J, Rostoker G (1989) Food allergy and idiopathic nephrotic syndrome. Kidney Int Suppl 27:S147-151

Laurent J, Rostoker G, Robeva R, Bruneau C, Lagrue G (1987) Is adult idiopathic nephrotic syndrome food allergy? Value Oligoantigenic Diets Nephron 47(1):7–11. https://doi.org/10.1159/000184448

Lemley KV, Faul C, Schramm K, Meyers K, Kaskel F, Dell KM, Gipson DS, Gibson K, Trachtman H (2016) The effect of a gluten-free diet in children with difficult-to-manage nephrotic syndrome. Pediatrics. https://doi.org/10.1542/peds.2015-4528

Trachtman H, Gipson DS, Lemley KV, Troost JP, Faul C, Morrison DJ, Vento SM, Ahn DH, Goldberg JD, Sedor J, Dell K, Schachere M, Lemley K, Whitted L, Srivastava T, Haney C, Sethna C, Grammatikopoulos K, Appel G, Toledo M, Greenbaum L, Wang C, Lee B, Adler S, Nast C, La Page J, Athavale A, Itteera M, Neu A, Boynton S, Fervenza F, Hogan M, Lieske J, Chernitskiy V, Kaskel F, Kumar N, Flynn P, Kopp J, Castro-Rubio E, Brede E, Trachtman H, Zhdanova O, Modersitzki F, Vento S, Lafayette R, Mehta K, Gadegbeku C, Johnstone D, Pfeffer Z, Cattran D, Hladunewich M, Reich H, Ling P, Romano M, Fornoni A, Barisoni L, Bidot C, Kretzler M, Gipson D, Williams A, Pitter R, Nachman P, Gibson K, Grubbs S, Froment A, Holzman L, Meyers K, Kallem K, Cerecino FJ, Sambandam K, Brown E, Johnson N, Jefferson A, Hingorani S, Tuttle K, Klepach K, Dismuke S, Cooper A, Freedman B, Lin JJ, Spainhour M, Gray S, Kretzler M, Barisoni L, Gadegbeku C, Gillespie B, Gipson D, Gizinski B, Holzman L, Mariani L, Sampson M, Song P, Troost J, Zee J, Herreshoff E, Kincaid C, Lienczewski C, Mainieri T, Williams A, Group NC (2019) Plasma zonulin levels in childhood nephrotic syndrome. Front Pediatr. https://doi.org/10.3389/fped.2019.00197

Madhusudhan T, Wang HJ, Straub BK, Grone E, Zhou QX, Shahzad K, Muller-Krebs S, Schwenger V, Gerlitz B, Grinnell BW, Griffin JH, Reiser J, Grone HJ, Esmon CT, Nawroth PP, Isermann B (2012) Cytoprotective signaling by activated protein C requires protease-activated receptor-3 in podocytes. Blood 119(3):874–883. https://doi.org/10.1182/blood-2011-07-365973

Schell C, Huber TB (2017) The evolving complexity of the podocyte cytoskeleton. J Am Soc Nephrol 28(11):3166–3174. https://doi.org/10.1681/Asn.2017020143

Kotanko P, Carter M, Levin NW (2006) Intestinal bacterial microflora—a potential source of chronic inflammation in patients with chronic kidney disease. Nephrol Dial Transpl 21(8):2057–2060. https://doi.org/10.1093/ndt/gfl281

Gupta J, Mitra N, Kanetsky PA, Devaney J, Wing MR, Reilly M, Shah VO, Balakrishnan VS, Guzman NJ, Girndt M, Periera BG, Feldman HI, Kusek JW, Joffe MM, Raj DS, Investigators CS (2012) Association between albuminuria, kidney function, and inflammatory biomarker profile in CKD in CRIC. Clin J Am Soc Nephrol 7(12):1938–1946. https://doi.org/10.2215/Cjn.03500412

Ficek J, Wyskida K, Ficek R, Wajda J, Klein D, Witkowicz J, Rotkegel S, Spiechowicz-Zaton U, Kocemba-Dyczek J, Ciepal J, Wiecek A, Olszanecka-Glinianowicz M, Chudek J (2017) Relationship between plasma levels of zonulin, bacterial lipopolysaccharides, d-lactate and markers of inflammation in haemodialysis patients. Int Urol Nephrol 49(4):717–725. https://doi.org/10.1007/s11255-016-1495-5

Lukaszyk E, Lukaszyk M, Koc-Zorawska E, Tobolczyk J, Bodzenta-Lukaszyk A, Malyszko J (2015) Iron status and inflammation in early stages of chronic kidney disease. Kidney Blood Press R 40(4):366–373. https://doi.org/10.1159/000368512

Lukaszyk E, Lukaszyk M, Koc-Zorawska E, Bodzenta-Lukaszyk A, Malyszko J (2018) Zonulin, inflammation and iron status in patients with early stages of chronic kidney disease. Int Urol Nephrol 50(1):121–125. https://doi.org/10.1007/s11255-017-1741-5

Malyszko J, Koc-Zorawska E, Levin-Iaina N, Malyszko J (2014) Zonulin, iron status, and anemia in kidney transplant recipients: are they related? Transpl Proc 46(8):2644–2646. https://doi.org/10.1016/j.transproceed.2014.09.018

Al-Obaide MAI, Singh R, Datta P, Rewers-Felkins KA, Salguero MV, Al-Obaidi I, Kottapalli KR, Vasylyeva TL (2017) Gut microbiota-dependent trimethylamine-N-oxide and serum biomarkers in patients with T2DM and advanced CKD. J Clin Med. https://doi.org/10.3390/jcm6090086

Ambruzs JM, Walker PD, Larsen CP (2014) The histopathologic spectrum of kidney biopsies in patients with inflammatory bowel disease. Clin J Am Soc Nephrol 9(2):265–270. https://doi.org/10.2215/Cjn.04660513

Zhou N, Shen Y, Fan L, Sun Q, Huang C, Hao J, Lan J, Yan H (2020) The characteristics of intestinal-barrier damage in rats With IgA nephropathy. Am J Med Sci 359(3):168–176. https://doi.org/10.1016/j.amjms.2019.11.011

Peng SN, Zeng HH, Fu AX, Chen XW, Zhu QX (2013) Effects of rhein on intestinal epithelial tight junction in IgA nephropathy. World J Gastroenterol 19(26):4137–4145. https://doi.org/10.3748/wjg.v19.i26.4137

De Angelis M, Montemurno E, Piccolo M, Vannini L, Lauriero G, Maranzano V, Gozzi G, Serrazanetti D, Dalfino G, Gobbetti M, Gesualdo L (2014) Microbiota and metabolome associated with immunoglobulin A nephropathy (IgAN). PLoS ONE 9(6):e99006. https://doi.org/10.1371/journal.pone.0099006

Coppo R, Mazzucco G, Martina G, Roccatello D, Amore A, Novara R, Bargoni A, Piccoli G, Sena LM (1989) Gluten-induced experimental IgA glomerulopathy. Lab Invest 60(4):499–506

Coppo R (2018) The gut-renal connection in IgA nephropathy. Semin Nephrol 38(5):504–512. https://doi.org/10.1016/j.semnephrol.2018.05.020
Ethics declarations
Conflict of interest
The authors declare that they have no competing interest.
Additional information
Publisher's Note
Springer Nature remains neutral with regard to jurisdictional claims in published maps and institutional affiliations.
About this article
Cite this article
Yu, J., Shen, Y. & Zhou, N. Advances in the role and mechanism of zonulin pathway in kidney diseases. Int Urol Nephrol 53, 2081–2088 (2021). https://doi.org/10.1007/s11255-020-02756-9
Received:

Accepted:

Published:

Issue Date:

DOI: https://doi.org/10.1007/s11255-020-02756-9
Keywords