Abstract
Purpose
To compare everolimus (EVR) plus low-dose tacrolimus (TAC) with mycophenolic acid (MPA) plus standard-dose TAC with regards to rates of cytomegalovirus (CMV) disease in de novo kidney-transplant recipients (KTRs).
Methods
This single-center retrospective study included 187 de novo KTRs; 59 patients (31.6%) received EVR/low-dose TAC (group 1); 128 patients (68.4%) received MPA with standard-dose TAC (group 2). All received anti-thymocyte globulins as the induction therapy, and steroid-sparing strategy. Valganciclovir prophylaxis was mandatory for CMV D+/R− KTRs (seronegative recipients of a seropositive donor) in both groups and for R+ seropositive recipients (only in group 2).
Results
The 2-year incidence of CMV disease was low and comparable between groups: 6.8% and 7.0% in groups 1 and 2, respectively (p = 0.94). There was no statistical difference in CMV serostatus (p = 1). However, CMV disease tended to be less frequent, though not statistically different, in R+ KTRs receiving EVR without prophylaxis (3.7% vs. 8.5% in groups 1 and 2, respectively) and in patients without EVR discontinuation (2.6% vs. 6.9% in patients who did not discontinue MPA (p = 0.29). Two-year graft function was good and comparable between groups (median eGFR of 54.2 and 53.0 mL/min in groups 1 and 2, respectively; p = 0.47); incidence of immunological events was low. Significantly more patients in group 1 discontinued EVR because of adverse events than patients that discontinued MPA in group 2 (35.6% in group 1 vs. 10.2% in group 2; p < 0.001).
Conclusions
Everolimus plus low-dose TAC given to de novo KTRs was associated with low rates of CMV disease, especially in R+ patients with no CMV prophylaxis.
This is a preview of subscription content, log in to check access.
Access options
Buy single article
Instant access to the full article PDF.
US$ 39.95
Tax calculation will be finalised during checkout.
Subscribe to journal
Immediate online access to all issues from 2019. Subscription will auto renew annually.
US$ 99
Tax calculation will be finalised during checkout.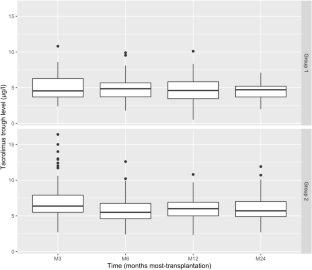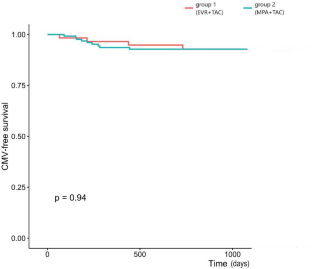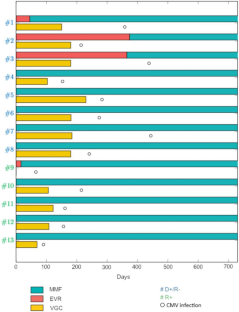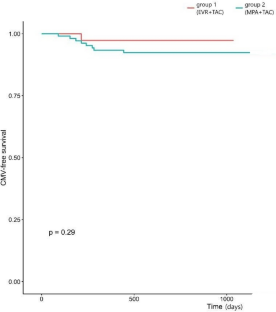 Funding
This study was not funded.
Ethics declarations
Conflict of interest
None.
Additional information
Publisher's Note
Springer Nature remains neutral with regard to jurisdictional claims in published maps and institutional affiliations.
About this article
Cite this article
Manière, L., Noble, J., Terrec, F. et al. Cytomegalovirus disease in de novo kidney-transplant recipients: comparison of everolimus-based immunosuppression without prophylaxis with mycophenolic acid-based immunosuppression with prophylaxis. Int Urol Nephrol (2020). https://doi.org/10.1007/s11255-020-02676-8
Received:

Accepted:

Published:
Keywords
Kidney transplantation

Everolimus

Mycophenolic acid

Valganciclovir

Cytomegalovirus

Prophylaxis