Abstract
Aim
To evaluate the efficacy of sexual intercourse in the expulsion of distal ureteric stones in women.
Materials and methods
A total of seventy woman patients with distal ureteral or intramural stone were randomly divided into two groups. Group 1 included 35 patients who were advised to do sexual intercourse 3–4 times/week with the administration of symptomatic treatment, and group 2 (control group) included 35 patients receiving symptomatic treatment only and were instructed not to do sexual intercourse or masturbation during the study. After 4 weeks follow up; the expulsion rate, need for analgesic and ureterorenoscopic lithotripsy were compared for each group.
Results
The mean ages of the patients in groups 1 and 2 were 36.4 ± 10.8, 37.1 ± 12.4, respectively. The mean stone size was 7.01 ± 1.6 in group 1, 6.67 ± 1.4 mm in group 2 (p: 0.3). Stone expulsion rate, in the first 2 weeks for group 1 was 80% (28/35), while 51.4% (18/35) in group 2 (p < 0.001). In the 4th week, the expulsion rate for group 1 was 85.7%, but 60% in group 2 (p < 0.001). The mean expulsion time was shorter in group 1 (12 ± 4.2 days) than group 2 (16.1 ± 6.4 days) (p < 0.01). The analgesic needs in groups 1 and 2 were found to be 1.9 ± 0.7, 2.6 ± 0.8 times/a day respectively, and were significantly lower in group 1 (p < 0.001).
Conclusion
At least three or four sexual intercourses per week seem to increase the spontaneous passage for distal or intramural ureteral stones in women. Furthermore, sexual intercourse reduces the need for analgesics.
Access options
Buy single article
Instant access to the full article PDF.
US$ 39.95
Tax calculation will be finalised during checkout.
Subscribe to journal
Immediate online access to all issues from 2019. Subscription will auto renew annually.
US$ 79
Tax calculation will be finalised during checkout.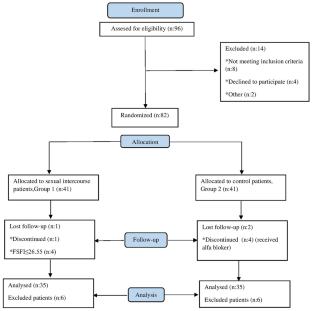 Funding
No funding received for this work.
Ethics declarations
Conflict of interest
All authors declare no conflict of interest
Ethical approval
The study was approved by the local ethics committee (Approval no:2018/01/270) and written informed consent was received from all participants. The study protocol conformed to the ethical guidelines of the 1975 Helsinki Declaration
Additional information
Publisher's Note
Springer Nature remains neutral with regard to jurisdictional claims in published maps and institutional affiliations.
About this article
Cite this article
Turgut, H. Evaluation of the efficacy of sexual intercourse on distal ureteral stones in women: a prospective, randomized, controlled study. Int Urol Nephrol 53, 409–413 (2021). https://doi.org/10.1007/s11255-020-02661-1
Received:

Accepted:

Published:

Issue Date:
Keywords
Masturbation

Sexual intercourse

Ureteral stone