Abstract
Introduction
Prostate cancer (PC) is the most common neoplasia in men. With aging of solid organ transplant recipients (SOTR), its incidence is likely to increase. The aim of this study was to analyze PC screening results retrospectively in renal transplant recipients (RTR), hepatic transplant recipients (HTR) and cardiac transplant recipients (CTR).
Patients and methods
A retrospective monocentric study of PC diagnosed in renal, hepatic or cardiac transplanted patients since 1989 was performed. All the patients were followed annually by digital rectal examination and prostate serum antigen (PSA) dosage.
Results
57 PC were diagnosed in 1565 SOTR male patients (3.6%): 35 RTR, 15 HTR, and 7 CTR. Standard incidence ratio (SIR) was 41.9. Mean age at the time of diagnosis was 64.5 (60.5–69.2). Mean time between transplantation and PC diagnosis was 95.7 (39.0–139.5) months. Median PSA rate was 7.0 (6.2–13) ng/mL. Clinical stages were T1, T2, and T3, respectively, for 29, 22 and 6 patients. Diagnosis was done by screening in 52 patients, after prostatitis in 1 and bone pain in another. Three PC were discovered on prostate chips after transurethral resection. Two patients were treated by active surveillance. 39 (68%) patients (25 RTR, 11 HTR and 3 CTR) were treated by radical prostatectomy. Histological results were 30 pT2 and 9 pT3 tumors, with 7 positive surgical margins. Gleason score was 5, 6, 7, 8 and 9 in, respectively, in 2, 24, 11, 1 and 1 patients. One patient with positive pelvic nodes was treated with hormonal therapy (HT). One had a biochemical relapse at 10 months and underwent salvage radiotherapy. Median follow-up was 85.2 months (46.1–115.0). 23 (40.4%) patients died. Two (3.6%) RTR and 1 (1.8%) CTR died from their PC. Standard incidence ratio were, respectively, 42.4, 48.2 and 39 in RTR, HTR and CTR.
Conclusion
Systematic screening in male SOTR after 50 years old could not be recommended. In the last 3 decades, we diagnosed too many low-risk prostate cancers strongly increasing the SIR but failing to decrease prostate cancer related mortality. SOTR should undergo individual screening with prior MRI when PSA rates are high. Management should not be different from that of the general population.
Access options
Buy single article
Instant access to the full article PDF.
USD 39.95
Price includes VAT (USA)
Tax calculation will be finalised during checkout.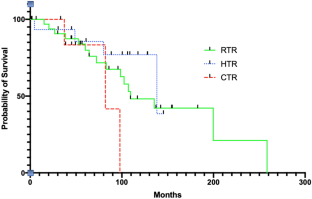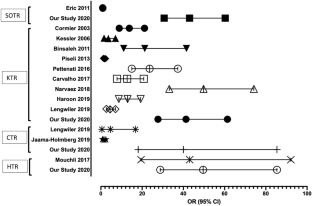 References
1.

Hall EC, Pfeiffer RM, Segev DL, Engels EA (2013) Cumulative incidence of cancer after solid organ transplantation. Cancer 12:2300–2308

2.

Siegel R, Ma J, Zou Z, Jemal A (2014) Cancer statistics, 2014. CA Cancer J Clin 64:9–29

3.

Soulié M, Grosclaude P, Villers A, Ménegoz F, Schaffer P, Mace-Lesech J, Molinier L, Sauvage-Machelard M (2001) A population-based study on management of prostate cancer in four regions of France. Prostate Cancer Prostatic Dis 4:154–160

4.

Narváez A, Suarez J, Riera L, Castells-Esteve M, Cocera R, Vigués F (2018) Our experience in the management of prostate cancer in renal transplant recipients. Actas Urol Esp 42:249–255

5.

Pettenati C, Jannot A-S, Hurel S, Verkarre V, Kreis H, Housset M, Legendre C, Méjean A, Timsit M-O (2016) Prostate cancer characteristics and outcome in renal transplant recipients: results from a contemporary single center study. Clin Transplant 30:964–971

6.

Carvalho JA, Nunes P, Dinis PJ, Antunes H, Parada B, Marconi L, Moreira P et al (2017) Prostate cancer in renal transplant recipients: diagnosis and treatment. Transpl Proc 49:809–812

7.

Kleinclauss F, Gigante M, Neuzillet Y, Mouzin M, Terrier N, Salomon L, Iborra F et al (2008) Prostate cancer in renal transplant recipients. Nephrol Dial Transplant 23:2374–2380

8.

Hevia V, Boissier R, Rodríguez-Faba Ó, Fraser-Taylor C, Hassan-Zakri R, Lledo E, Regele H et al (2018) Management of localised prostate cancer in kidney transplant patients: a systematic review from the EAU guidelines on renal transplantation panel. Eur Urol Focus 4:153–162

9.

Gin GE, Pereira JF, Weinberg AD, Mehrazin R, Lerner SM, Sfakianos JP, Phillips CK (2016) Prostate-specific antigen screening and prostate cancer treatment in renal transplantation candidates: a survey of U.S. transplantation centers. Urol Oncol 34:57 (e9–13)

10.

Prashanth R (2019) Epidemiology of prostate cancer. World J Oncol 10:63–89

11.

Engels EA, Pfeiffer RM, Fraumeni JF Jr, Kasiske BL, Israni AK et al (2011) Spectrum of cancer risk among U.S. solid organ transplant recipients: the transplant cancer match study. JAMA 306:1891–1901

13.

Rozet F, Hennequin C, Beauval JB, Beuzeboc P, Cormier L, Fromont-Hankard G, Mongiat-Artus P, Ploussard G, Mathieu R, Brureau L, Ouzzane A, Azria D, Brenot-Rossi I, Cancel-Tassin G, Cussenot O, Rebillard X, Lebret T, Soulié M, Renard Penna R, Méjean A (2018) French ccAFU guidelines—update 2018–2020: prostate cancer. Prog Urol 28(Suppl 1):R81–R132

14.

Mottet N, Bellmunt J, Bolla M, Briers E, Cumberbatch MG, De Santis M, Fossati N, Gross T, Henry AM, Joniau S, Lam TB, Mason MD, Matveev VB, Moldovan PC, van den Bergh RCN, Van den Broeck T, van der Poel HG, van der Kwast TH, Rouvière O, Schoots IG, Wiegel T, Cornford P (2017) EAU-ESTRO-SIOG guidelines on prostate cancer part 1: screening, diagnosis, and local treatment with curative intent. Eur Urol 71:618–629

15.

Defossez G, Le Guyader‐Peyrou S, Uhry Z, Grosclaude P, Colonna M, Dantony E et al (2019) Estimations nationales de l'incidence et de la mortalité par cancer en France métropolitaine entre 1990 et 2018. Synthèse. Santé publique France, Saint‐Maurice

16.

Kidney Disease: Improving Global Outcomes (KDIGO) Transplant Work Group (2009) KDIGO clinical practice guideline for the care of kidney transplant recipients. Am J Transplant 9:S1–155

17.

Piselli P, Serraino D, Segoloni GP et al (2013) Risk of de novo cancers after transplantation : results from a cohort of 7217 kidney transplant recipients, Italy 1997–2009. Eur J Cancer 49:336–344

18.

Lengwiler E, Stampf S, Zippelius A, Salati E, Zaman K, Schäfer N, Schardt J, Siano M, Hofbauer G (2019) The Swiss Transplant Cohort Study Solid cancer development in solid organ transplant recipients within the Swiss Transplant Cohort Study. Swiss Med Wkly 149:20078

19.

Kessler M, Jay N, Molle R, Guillemin F (2006) Excess risk of cancer in renal transplant patients. Transpl Int 19:908–914

20.

Jäämaa-Holmberg S, Salmela B, Lemström K, Pukkala E, Lommi J (2019) Cancer incidence and mortality after heart transplantation—a population-based national cohort study. Acta Oncol 58:859–863

21.

Cormier L, Lechevallier E, Barrou B, Benoit G, Bensadoun H, Boudjema K, Descottes JL, Doré B, Guy L, Malavaud B, Patard JJ, Petit J, Salomon L (2003) Diagnosis and treatment of prostate cancers in renal-transplant recipients. Transplantation 27(75):237–239

22.

Binsaleh S (2012) Diagnosis and treatment of prostate cancer in renal-transplant recipients. Int Urol Nephrol 44:149–155

23.

Haroon UH, Davis NF, Mohan P, Little DM, Smyth G, Forde JC, Power RE (2019) Incidence, management, and clinical outcomes of prostate cancer in kidney transplant recipients. Exp Clin Transplant 17:298–303

24.

Mouchli MA, Singh S, Loftus EV Jr, Boardman L, Talwalkar J, Rosen CB, Heimbach JK, Wiesner RH, Hasan B, Poterucha JJ, Kymberly WD (2017) Risk factors and outcomes of de novo cancers (excluding nonmelanoma skin cancer) after liver transplantation for primary sclerosing cholangitis. Transplantation 101:1859–1866

25.

Liauw SL, Ham SA, Das LC, Rudra S, Packiam V, Koshy M, Weichselbaum RR, Becker YT, Bodzin A, Eggener SE (2020) Prostate cancer outcomes following solid-organ transplantation: a SEER-medicare analysis. J Natl Cancer Inst 112:847–854

26.

Cooperberg MR, Broering JM, Litwin MS, Lubeck DP, Mehta SS, Henning JM, Carroll PR, CaPSURE Investigators (2004) The contemporary management of prostate cancer in the United States: lessons from the cancer of the prostate strategic urologic research endeavor (CapSURE), a national disease registry. J Urol 171:1393–1401

27.

Grabowska M, Kędzierska K, Michalek K, Słuczanowska-Głąbowska S, Grabowski M, Piasecka M, Kram M, Rotter I, Ryl A, Laszczyńska M (2016) Effects of an immunosuppressive treatment on the rat prostate. Drug Des Dev Ther 12:2899–2915
Ethics declarations
Conflict of interest
The authors declare that they have no conflict of interest.
Additional information
Publisher's Note
Springer Nature remains neutral with regard to jurisdictional claims in published maps and institutional affiliations.
About this article
Cite this article
Waeckel, T., Ait Said, K., Altieri, M. et al. Over-diagnosed prostate cancer in solid organ recipients: lessons from the last 3 decades. Int Urol Nephrol 53, 241–248 (2021). https://doi.org/10.1007/s11255-020-02636-2
Received:

Accepted:

Published:

Issue Date:
Keywords
Prostate cancer

Transplantation

Cancer screening

Prostatectomy

Active surveillance